Last week's edition of Wedding Wednesday had us at Jennettes Pier which is where we'll pick up again this week.
After we had meandered around in the December chill for about a half hour (snapping pictures all the while), we finally decided it was time to call it a day.
As Nathan and Meagan headed back toward the gift shop leading out to the parking lot, I ran along behind them like the rabid mamarazzi that I am.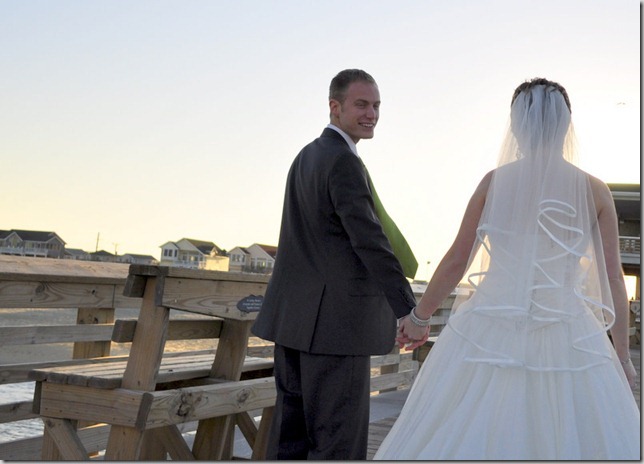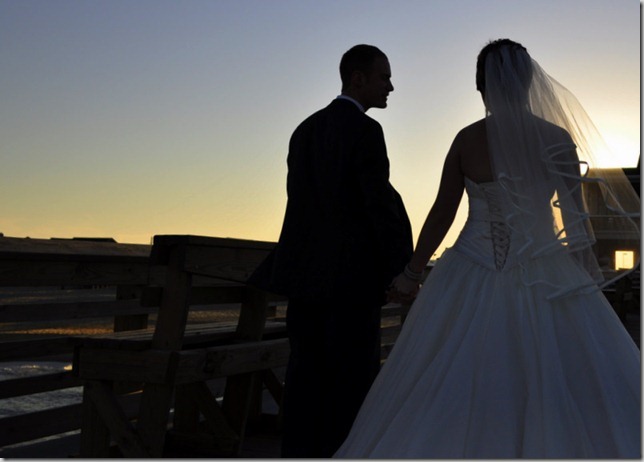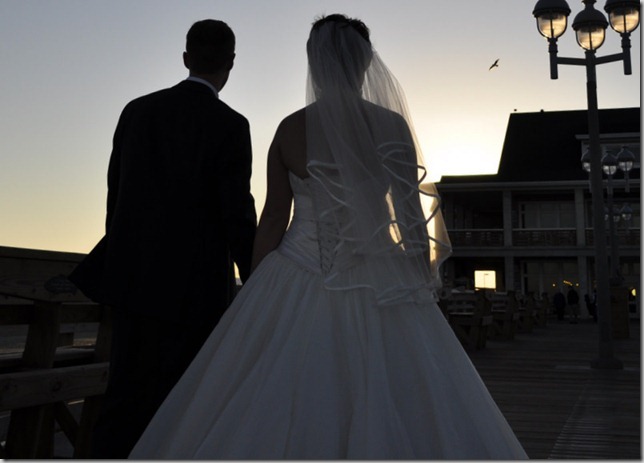 When our Very Own Personal Royal Couple swept through the doors of the store, they created the same kind of stir as when they first arrived.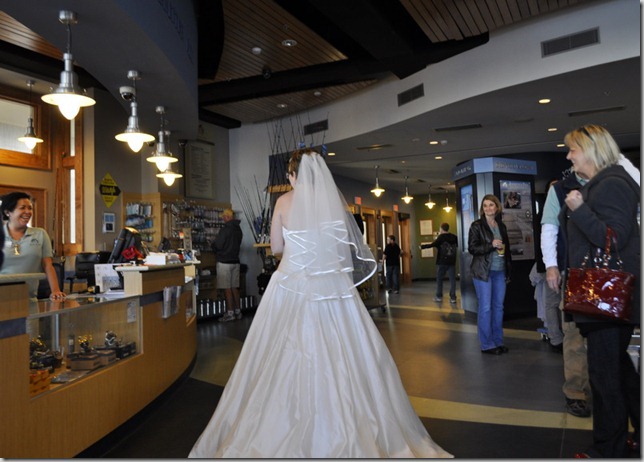 It's always nice to make people smile!
The store's warmth was so wonderful that Meagan wasn't too excited about walking back outside into the 45 degree temperature.  So Nathan did his gallant husbandly duty and gave his suit coat to Meagan to wear out to the car.
I'm not sure that anything in his 22 years of life had quite prepared him for the task of applying a suit coat to a woman wearing a wedding gown and a veil.
But they worked as a team and made it happen–much to the delight of the other store patrons who were still casting smiles in their direction.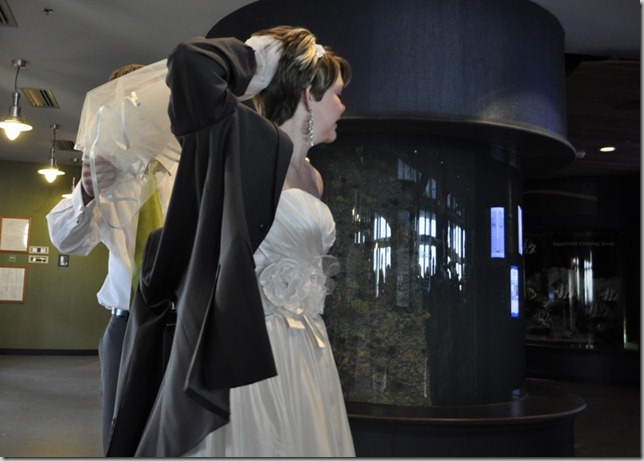 As we were leaving, an employee held the door open for us and said, "Thanks for coming in and for making us all happy!" And then he added, "Are you going to the reception now?"
I said,  "Well, no, the reception is already over."  (Like six MONTHS over!)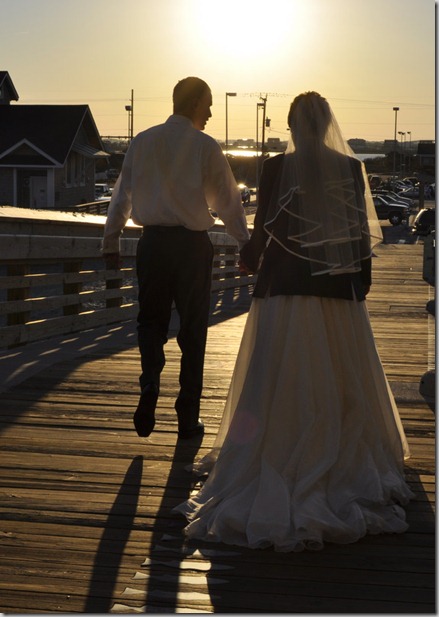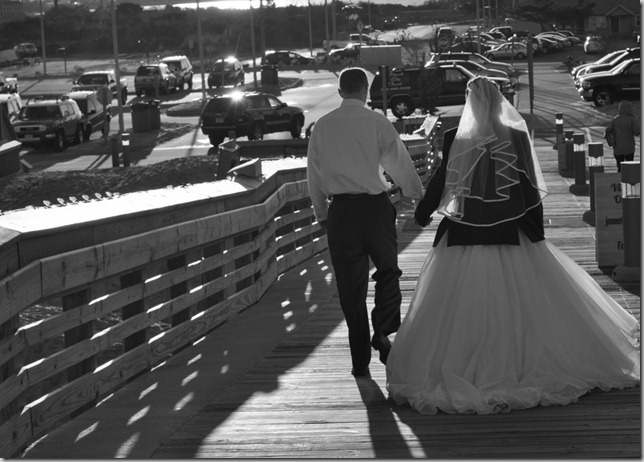 Nathan got his suit coat bedecked bride tucked into the car  . . .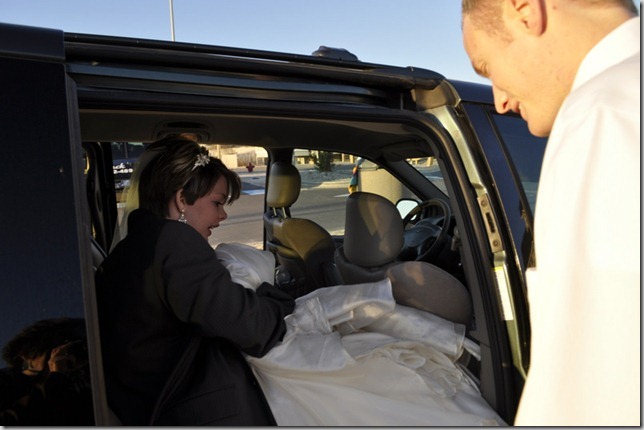 . . . and we made our way home.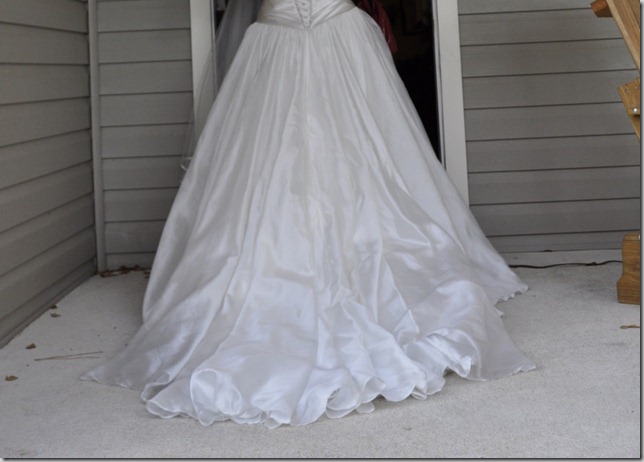 It took all of us to get Meagan (and her dress) back up the stairs. . .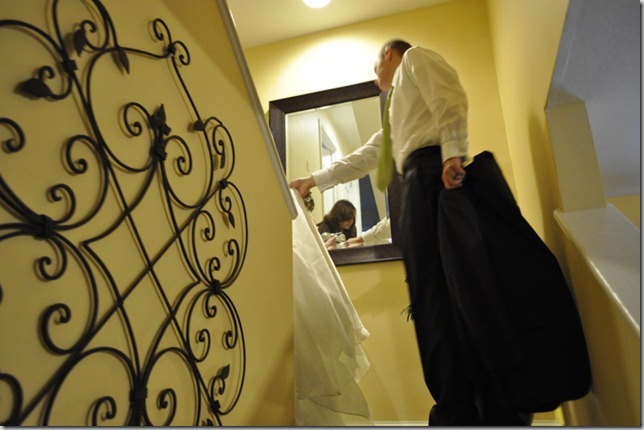 . . . laughing all the way.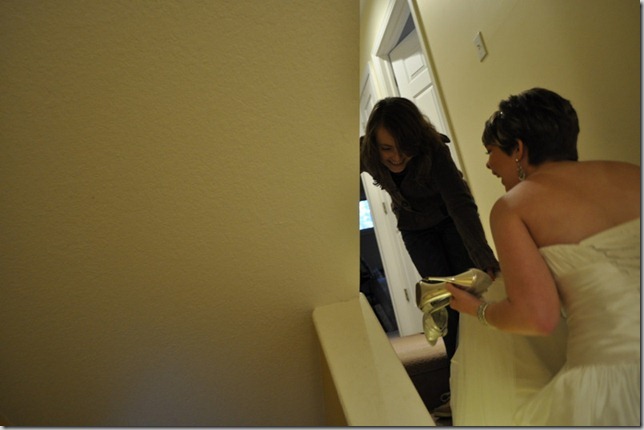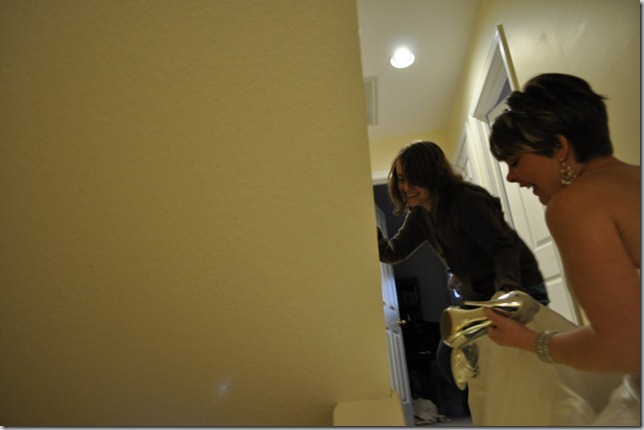 It was so much fun to get to recapture the laughter and beauty of a wedding celebrated in the bright warmth of July, and to commemorate it in the cool, crispness of a December afternoon by the sea.
I'll close out today's Wedding Wednesday with one of my favorite shots of the series, which I think I overlooked posting earlier.  It captures so perfectly (calm, lovely) Meagan and (wacky, teasing) Nathan.  What a pair!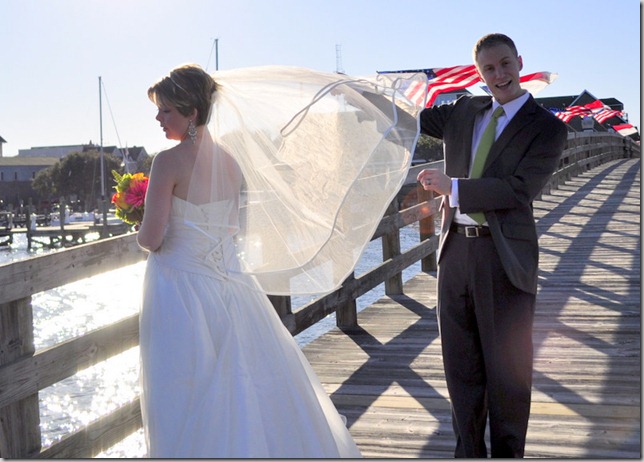 In other news, tomorrow Steve and I will head to the airport in Norfolk to pick up some Very Special Guests whom we are incredibly excited about seeing.  (Any guesses at to who it might be?)
Also, I am happy to announce that after  years of motherly nagging,  my very own daughter has started her very own blog.   Be sure to stop by and say hello.  (And also leave a comment.  Because you know how we bloggin' ladies love comments!)