Welcome To A Special Edition of Smithellaneous As We Celebrate The
One Year Anniversary of Nathan and Meagan Smith
We'll get things started with a word from the happy couple themselves.  I asked them to write down two things that they love most about their spouse after being married for a year.   Since they're currently on a weekend anniversary getaway, I didn't want their assignment to be too time-consuming; I told them just a couple of sentences would be fine.
Here's Nathan's Response:

SENTENCE NUMBER 1: Through this first year of marriage Meagan has challenged me to push past some challenges we have faced and also helped me to keep my attitude joyful. She is great at making me laugh and helping me see all the blessings in our life.

SENTENCE NUMBER 2: I have been so impressed with Meagan's skill at taking care of children as well as her family. She is a nurturing person and ALWAYS puts others first before herself. I am the luckiest man alive!

 

And Here's Meagan's Reply:

I've been trying to think about this two sentence thing and it has been very hard to get it down to just two things. I have learned so much about Nathan in just one year that I'm not sure what is the best to tell.

I have realized that he is the love of my life and God definitely gave me the desires of my heart for a husband in him. He is a hard worker, a man of his word, trustworthy, a great friend, he is wise in his words, patient, loving, and an amazing care giver. Some things he has taught me in this year is that rest is important and as long as we have God in the center and we are together, it doesn't matter what we have, what we do or where we go.  Life is good. I am truly blessed!! 
 Is that sweet, or what? 
Just to get you a little up to date with what Nathan and Meagan are doing these days, they're still very involved in their church, especially with the music.  (Nathan plays drums and Meagan sings.)  They are also  greatly looking forward to moving to their own apartment around September of this year. 
In the fall, Meagan will go back to her job teaching 4th grade at an excellent Christian Academy near where they live.   Nathan is a manager at Chick-Fil-A and has been moved to a different store to train the new employees there.  Nathan has always been an excellent teacher so he's well suited for that sort of responsibility.
However, he continues to put out feelers and look around for another job more tied in with what he went to school for and also a job that will bring in a little more income.
Today  I'd like to celebrate their first year of marriage with some of my favorite pictures of their engagement and wedding.  And then, guess what?  Tomorrow I will have VIDEO to post! 
I finally figured out how to convert the video format of their wedding  to something that I could make work here on the blog.  So you can actually look forward to seeing them during the wedding!  How exciting is that?
Let's move on to a few pictures . . .
It all started on the day she said yes, the day he blindfolded her and took her to a candlelit, lakeside gazebo to propose.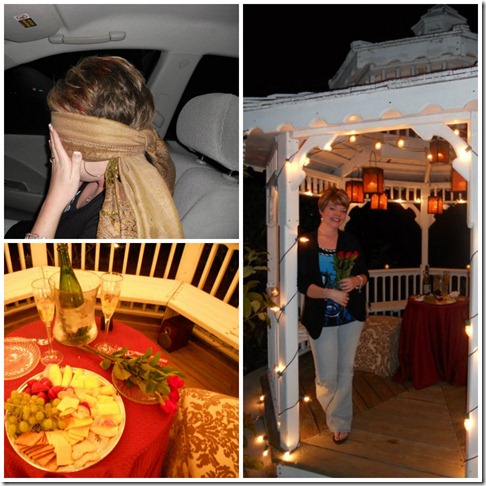 And the journey began . . .
On the morning of the ceremony, Meagan wrote Nathan a sweet letter and had it delivered to him, along with the purity ring that she had worn up to that day.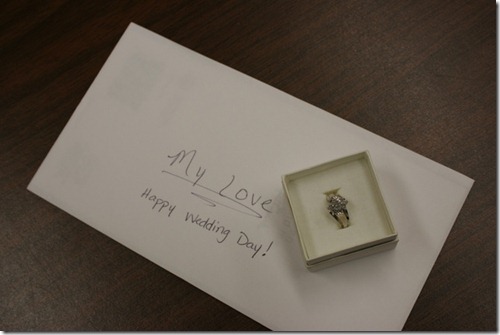 Her sisters and Mom helped Meagan get dressed . . .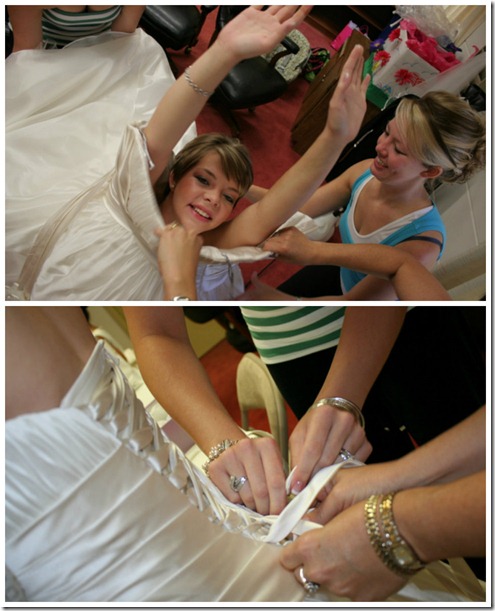 . . . and I took a picture of Nathan and Sarah one last time together before he became a husband, as well as a brother.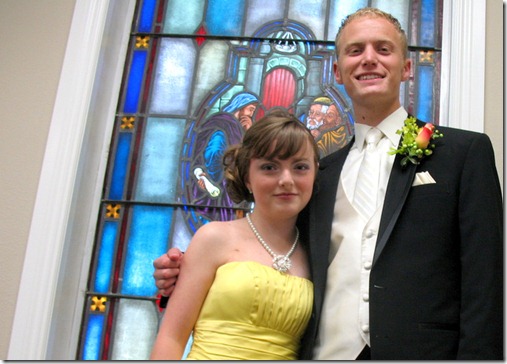 The two families gathered for one last prayer before the ceremony.  (Since Sarah was a bridesmaid, she got to take part in both families' prayer times.)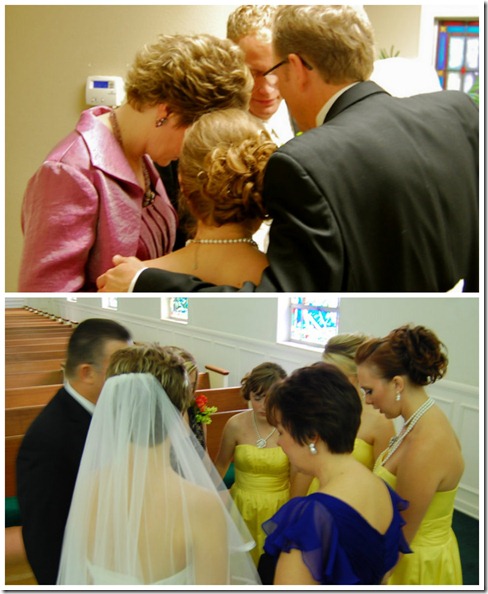 And then it was time for the Big Moment!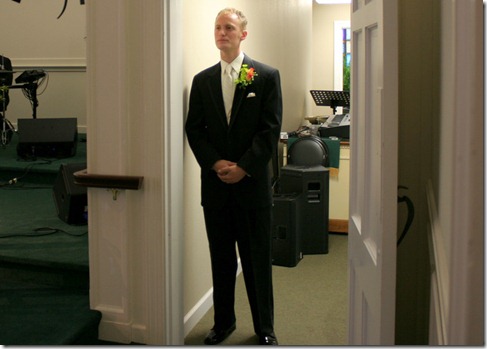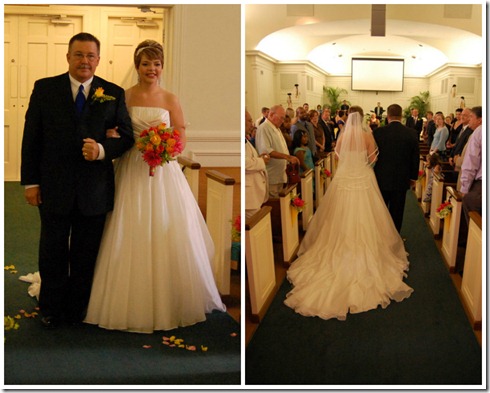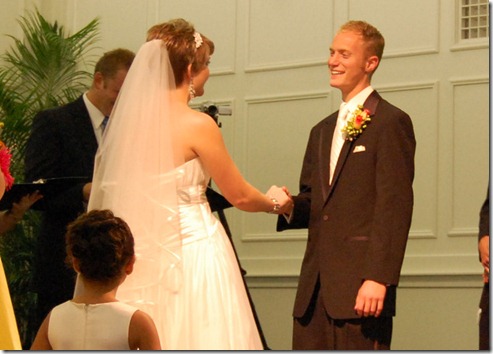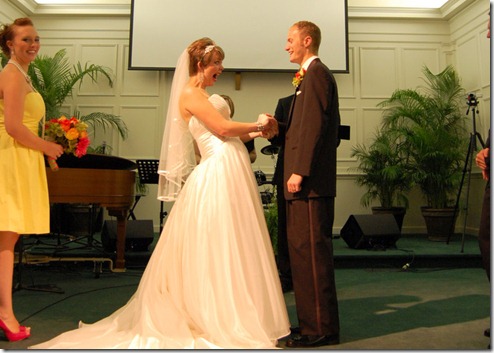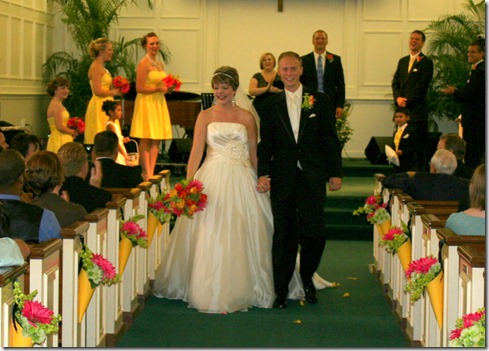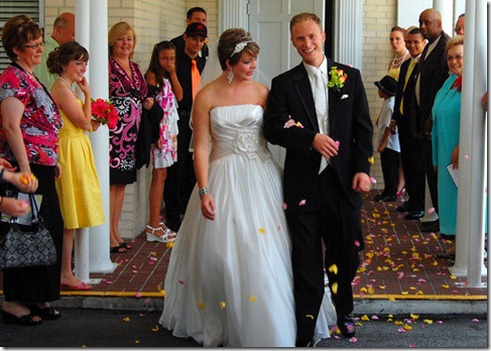 A growing up daughter. . .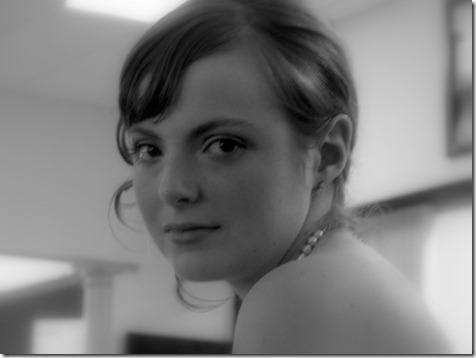 . . . and a grown up son and new daughter-in-law made it a memorable, fabulous, heart-happy day!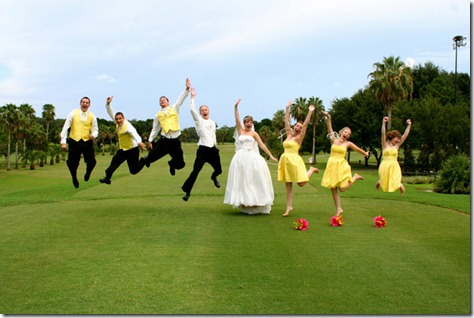 And then we got to the extend the celebration a little longer when Nathan and Meagan came home at Christmas.  She brought her dress and asked me to take a few more photos of them.
How fun was that?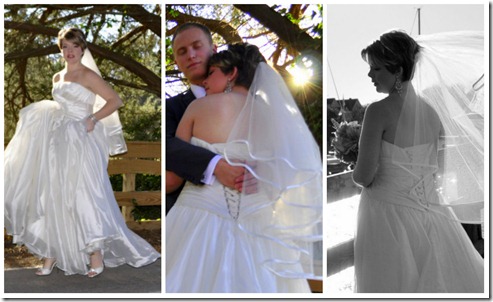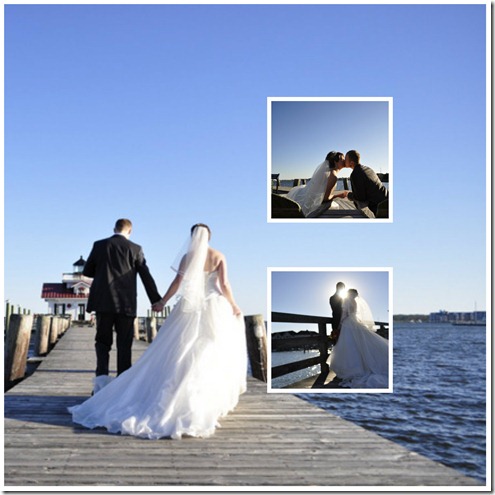 Happiest anniversary to two wonderfully special and precious people.
We love you, Nathan and Meagan!