As promised, today's post features some prom pictures of a certain favorite daughter of ours.
The prom prep started about 3 pm last Saturday with the arrival of Taylor who came early to assist Sarah with hair and make up–since I am not at all gifted in those areas.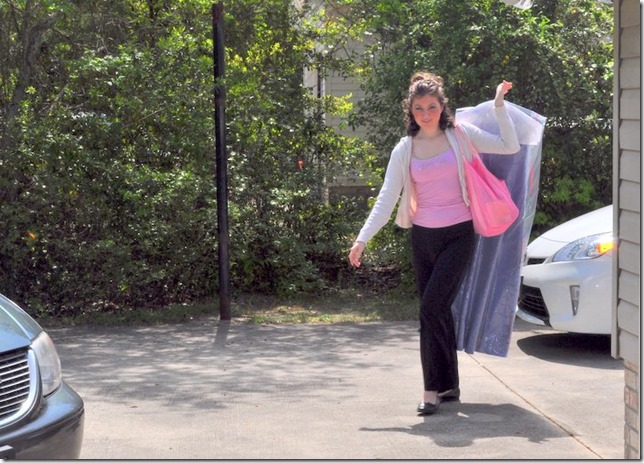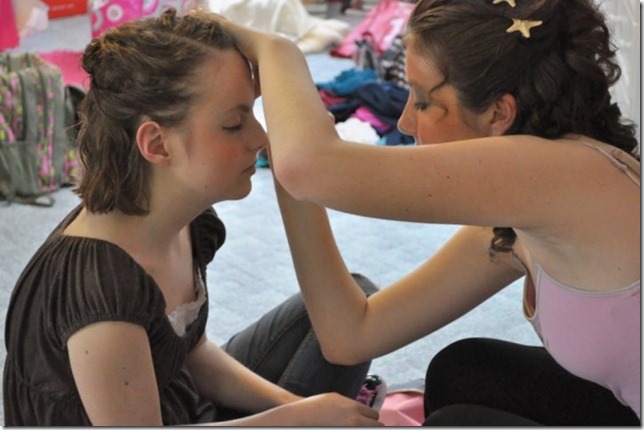 But all the prep was worth it when Steve and I got behold the final unveiling!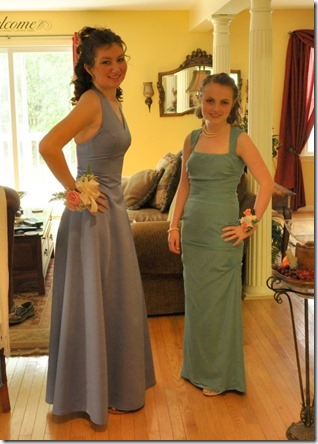 .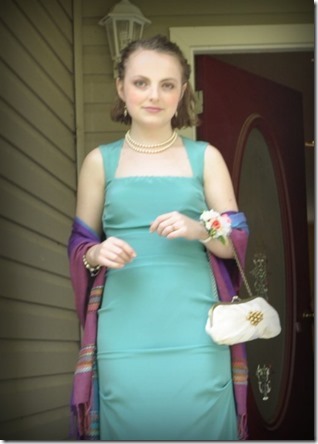 We were delighted to have found a dress for Sarah so easily because it could have been a very complicated process. So many prom dresses are bold, dramatic colors (red, black, fuchsia, purple, etc) but Sarah looks better in softer colors. Also, many of the dresses aren't suitable from a modesty standpoint because of long slits, short hemlines, and/or plunging necklines.
When we found this dress–affordable, modest and in a lovely, subdued color–we were tempted to dance in the store aisles. (But we didn't.) Sarah found her evening bag at the same consignment store where we got the dress. (Dress: $27. Purse: $14.)
The pearls were given to Sarah by a sweet blog friend of ours and the shawl came from India, a gift from Sarah's friend, Victoria. The pearl earrings were on loan from Miss Libby, the wonderful woman in our church who loaned me all of my gorgeous accessories for Nathan's wedding. (Edited to add: I forgot to mention that Taylor found her dress at Goodwill for $4. She had seen it somewhere else and it was really expensive and she happened to be in Goodwill and found the very dress she wanted–in HER size!)
Sarah, Taylor and I spent an hour driving around Manteo, getting pictures. Because while I can't do hair and make up, I CAN do pictures!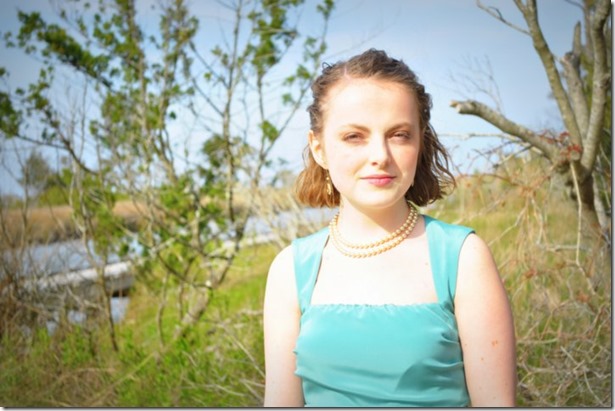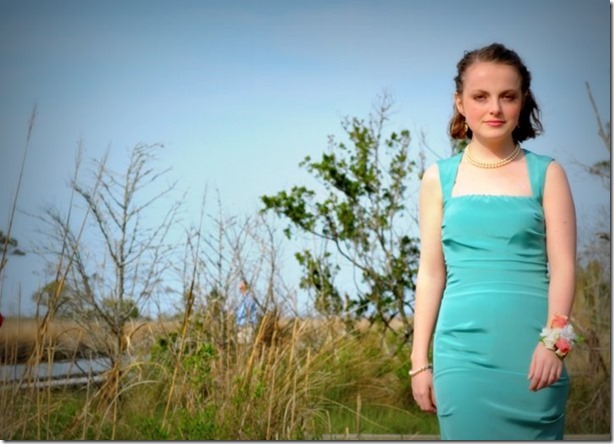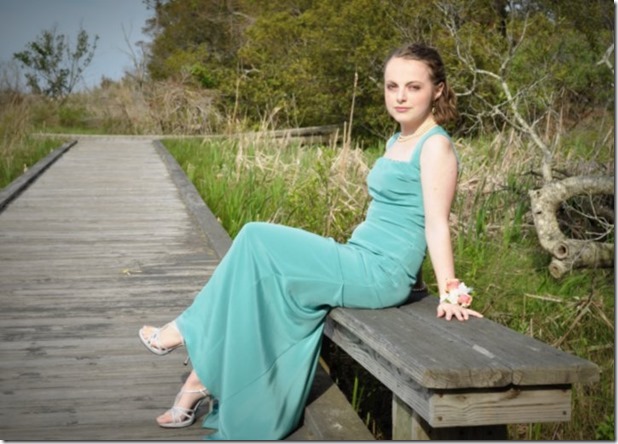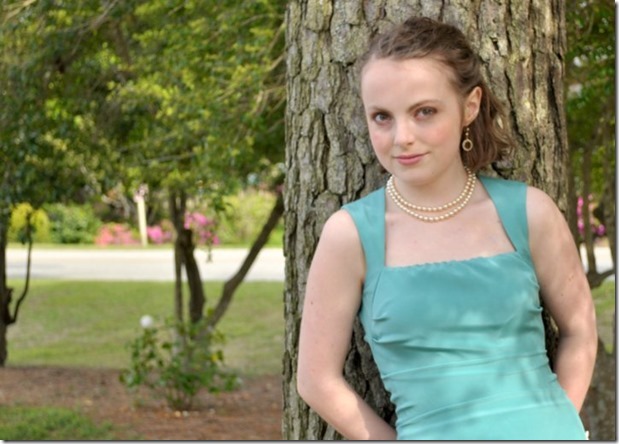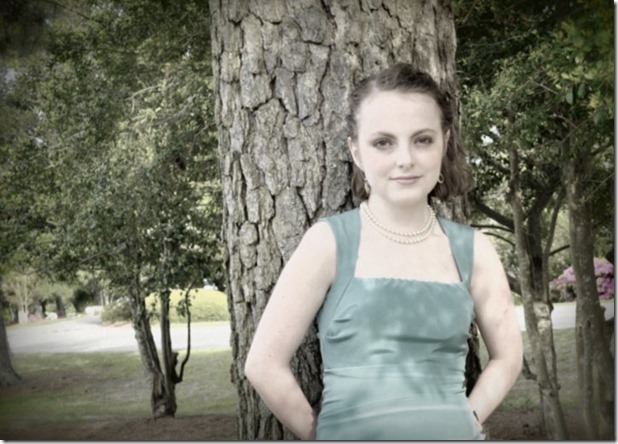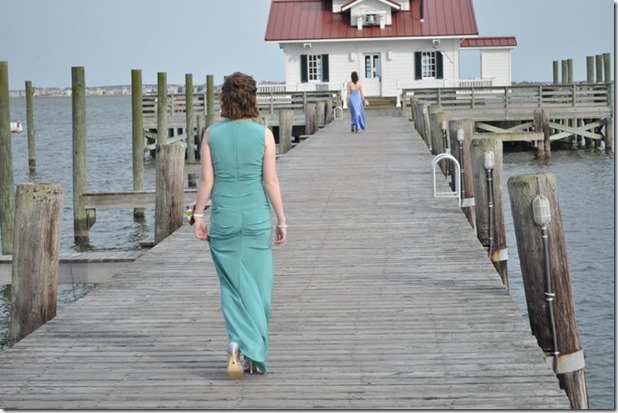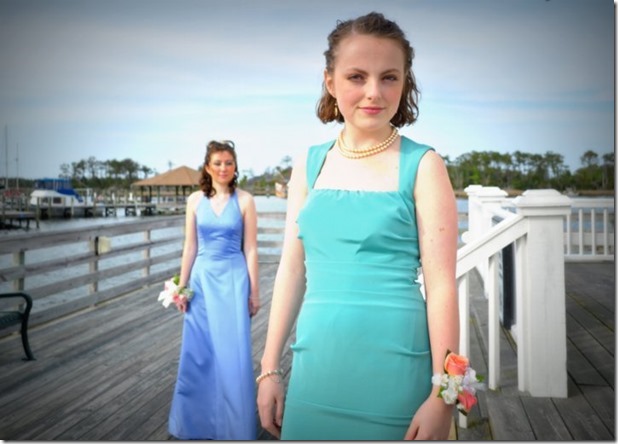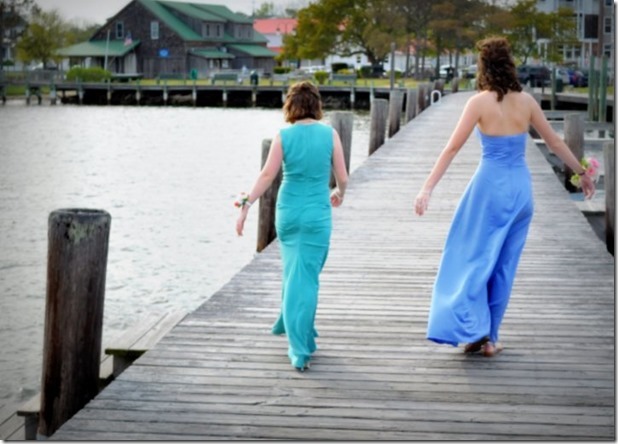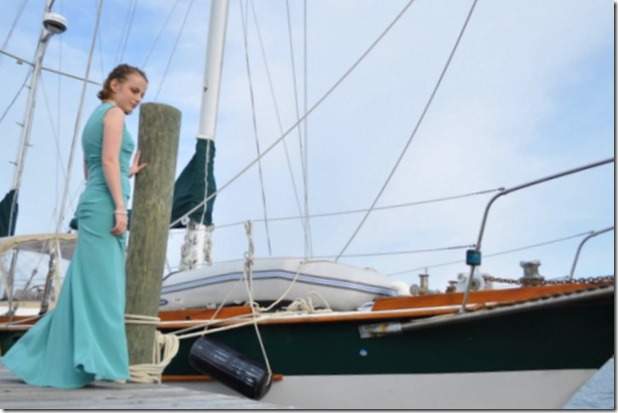 Here are a couple I took of Taylor that I especially like.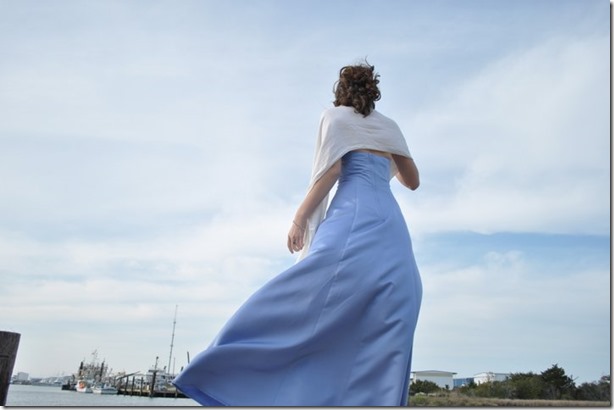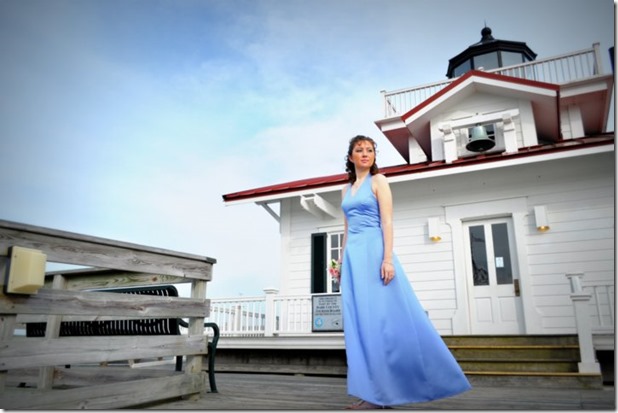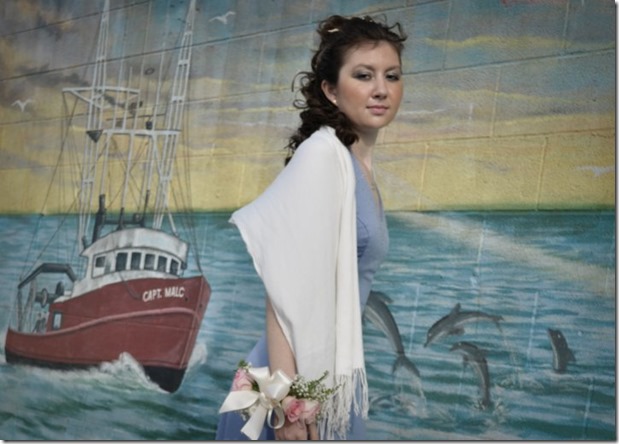 The girls ate in Wanchese (the opposite end of Roanoke Island from Manteo) at a wonderful restaurant called Fisherman's Wharf. We went around back to take pictures by the water and as we were getting ourselves positioned, I snapped this one of Sarah.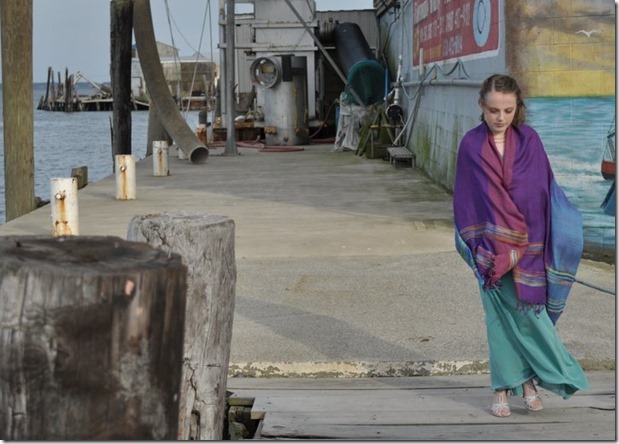 It struck me as an interesting shot because she was so lovely and the scene behind her because was so unlovely. I guess I just loved the contrast. Of course, not-so-lovely spots do provide some wonderful qualities in the area of fresh seafood; the dock behind Sarah is where fishermen unload their catch straight into the restaurant. Food doesn't get much fresher than that!
Here are a few more photos I took near that restaurant.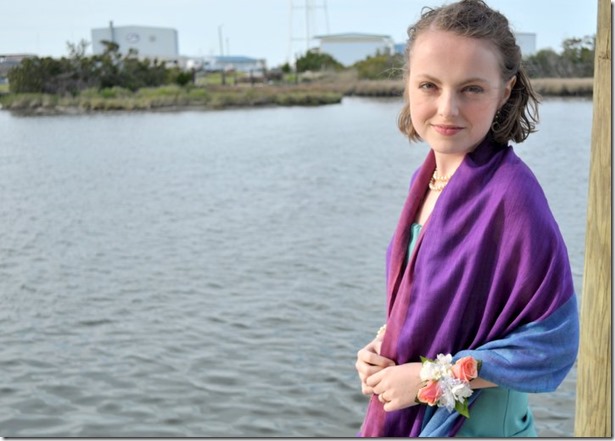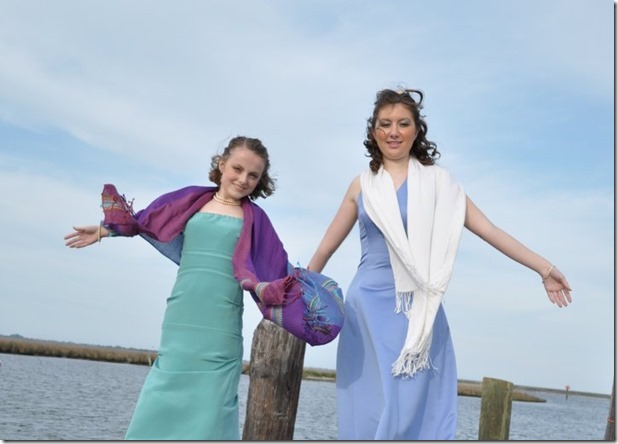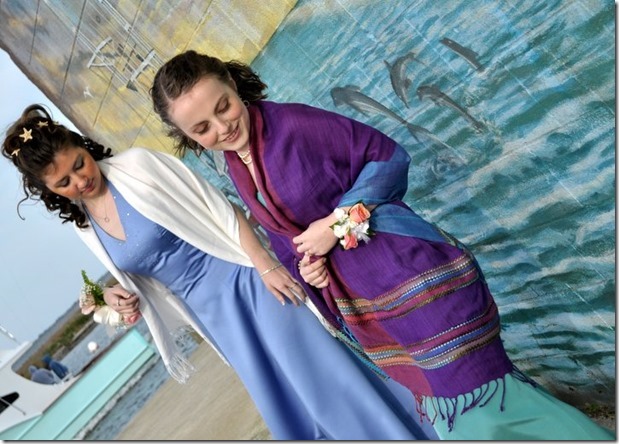 I took just one more . . .
before the two of them disappeared up the stairs and into the big adventure of their evening. (Since Taylor has her license, she and Sarah drove to the prom on their own after dinner.)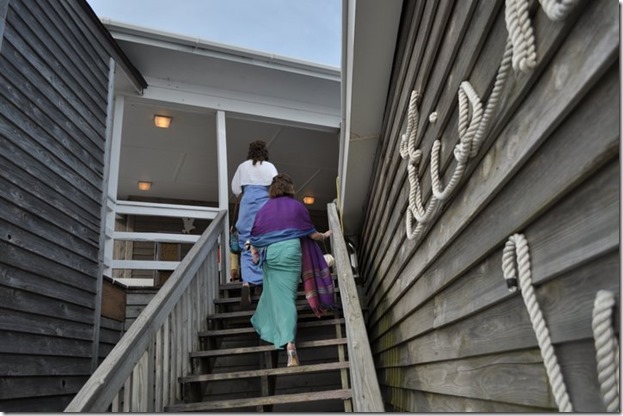 The Manteo High School proms alternate each year between Jeanette's Pier and the NC Aquarium on Roanoke Island. This year it was at the aquarium. This is a wedding reception photo, not a prom pictures but their tables for eating were set up in the same area. Pretty cool, huh?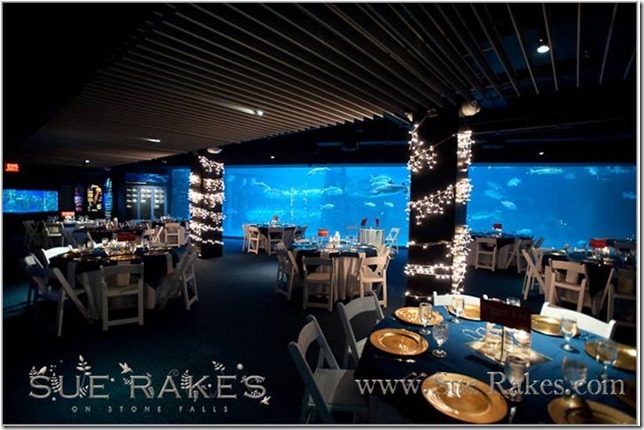 Sarah ended up staying at the prom about an hour and a half before texting me to be picked up. She said she had a good time but she seemed more than ready to come home. A lot of the kids were going to an all night party at the YMCA (sponsored in part, by local churches) but in Sarah's words, "You couldn't pay me a million dollars to go to that." Sarah doesn't love large doses of crowds and noise, so her prom experience was just the right length for her.
I have one or two more prom stories to tell but for now I'll leave you with this lovely photo of our lovely gal.