About a month ago, Sarah started her first real job.  (Well, other than her jobs of washing dishes and emptying the garbage at home for which she gets paid non-munificent amounts of moolah.
After two weeks of working at the gift shop of a local restaurant, the big day arrived.  She got to take her first paycheck to the bank to cash it.
We do all of our business at this bank (the manager attends our church) so we had to be sure to share with the teller that this was Sarah's very first check.  She was properly impressed.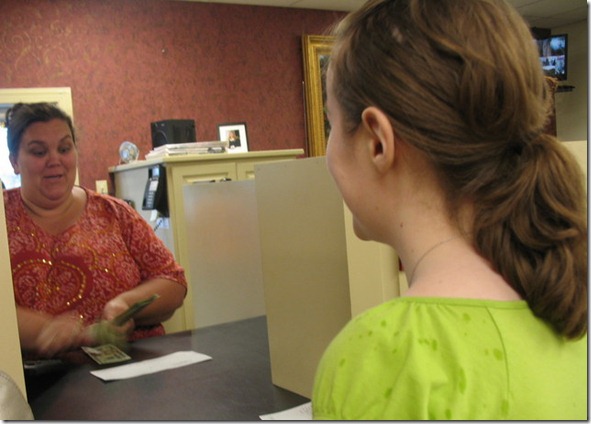 Does she look just a little bit proud?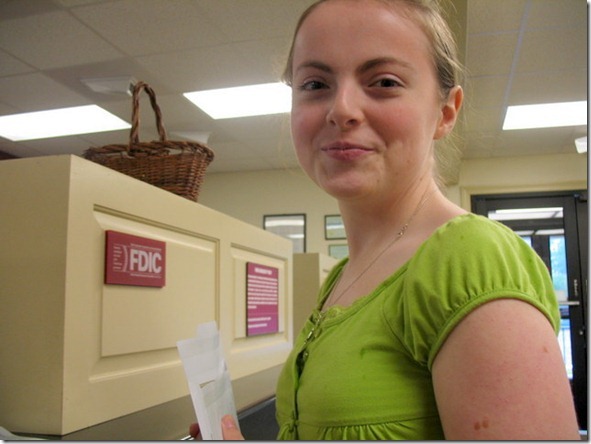 As soon as we left the bank, I  thought I would ask my money-laden daughter for a loan.
She turned me down flat.
Sigh.  It seems as though she already had plans for that money, like putting part of it in savings for her first car and giving another part of it in the offering at church.   (We have taught both kids since they were small to give 10% of everything they earn to God. Nathan and Meagan, as newlyweds, are still following that principle.)
Thankfully though, my wage-earning progeny did decide to designate a few dollars for a Goodwill shopping trip with me where she scored several stylish shirts for about three bucks each.
What a gal!
And speaking of first jobs, Sarah and I would love to hear what you did for YOUR first job.   Do you remember what you got paid per hour?   This could be an interesting trip down memory lane!