You know, it recently occurred to me that all of you wonderful Smthellaneous friends probably have no earthly idea what I do on my job. (My non-blogging job, that is.) So just for the fun of it, I leafed through a couple of weeks in my Day Timer at work and picked out some activities to list here from that period of time.

Before I post the list though, here are a few pictures of the place where I spend 25 hours each week.
My desk.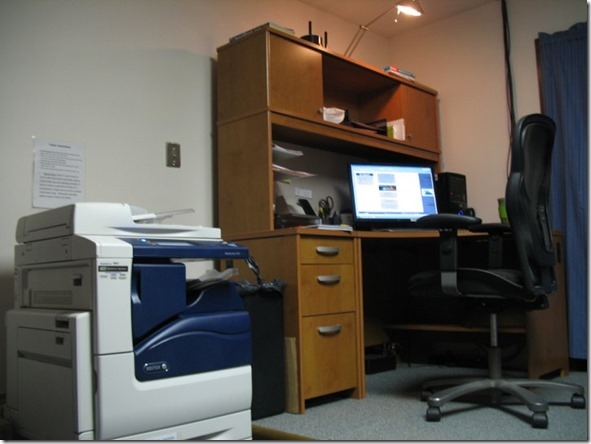 Most of the time, I keep the blue curtain between me and the sanctuary closed, but occasionally I open it up so that I can see the big screens at the front of the auditorium and get an idea of what the graphics look like that I'm working on that day.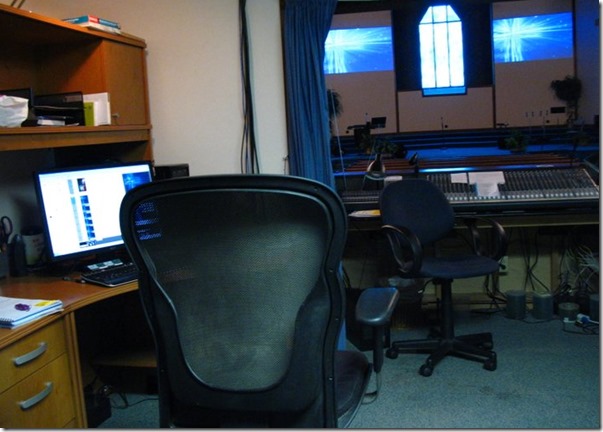 At the other end of the office is a work table and filing box where I organize all the music that the worship band uses each week. (Sarah is my official music filing person.)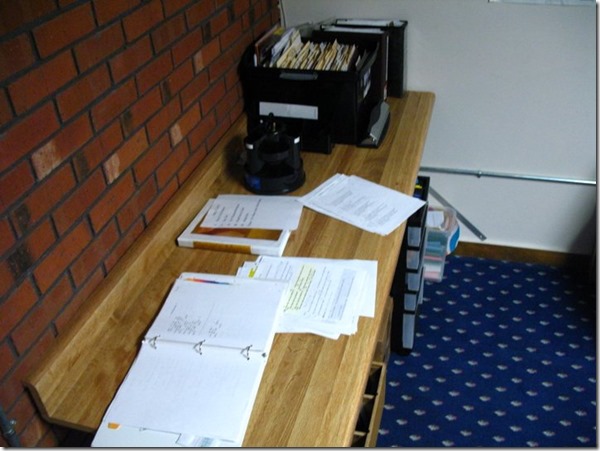 So. Here's my list of stuff I do, as retrieved from notes and lists from recent workdays. Most are self-explanatory but a few needed a little explanation. This list will probably give you a good idea of why I refer to myself as "The Minister of Miscellaneous."
1. Retype new song with changes
2. Will 18 sandwiches be enough?
3. Rock and roll oldies (I was doing a slide show of pictures for a memorial service and asked the widow what kind of music her late husband liked.)
4. Sit in with Steve on a counseling session.
5. 350 x 490 (Written in the margins of my book to remind me of the dimensions that a particular image on our church website has to be)
6. All grad pictures in? (Working on media presentation for the Sunday when we will honor our grads)
7. Bird guy respond? (The nickname I gave a guy who contacted the church through our website whose email address had "bird" in it.)
8. Sign up sheet for church lunch.
9. Buy 3 reams of legal sized, 60 lb paper.
10. Find Mother's Day video; download and insert into media script.
11. Make up new singer schedule
12. Who is running media on Sunday?
13. Pizza with Pastor event?
14. Do visitor letters
15. Organize Board get together
16. Record "Redeemer" on piano
17. Make sign for the food donation box
18. Work on chord chart for new worship song
19. Change directory listing
20. Worship Choir announcement
21. Start Sunday's bulletin
22. Begin designing poster/flyers for Craft Sale
23. Find a sunrise video
24. Email Sunday's video to Linda
25. Find music for skit
26. Make new signs for offices
27. Set up table in lobby
28. Offertory slide show
29. Make 30 copies for Steve
30. Order flowers for funeral
31. Call Marsha about date change
32. Start designing graphics for upcoming sermon series.
33. Pull music for Sunday's service
34. Set up media script for Sunday
35. Replenish supply of "feminine products" in womens' bathroom
36. Turn in receipts from last week.
37. Send two thank you notes.
38. Create new graphic for website home page
39. Update calendar on church website
40. Order toner for copier.
41. Kiss my boss (Ha. That one was just thrown in there for those of you who read all the way to the end. And of course, my boss is my husband.)
What about you? What do you do on YOUR job?
I think what people do for a living is fascinating and would love a description or a list of what YOU do!