I did make it to my weekend getaway in the woods despite the storm and am home now, watching the wind and the rain and the fury from my comfy recliner, with Summer tucked in beside me.
Thankfully she has done well so far; we bought her a Thundershirt and she has stayed quite calm most of the time, with a few episodes of shaking and shivering thrown in there intermittently.
There is something so cozy about being inside during a bad storm.  We cancelled church services this morning (due to power being out for 8 hours) so we're enjoying a day just to stay home together and create a small haven of peace within view of the tumult outside the windows.   And plus, Steve got us doughnuts from Dunkin' Donuts this morning this morning, which we hardly ever have.  
Snuggles and doughnuts.  It's been a good day so far.
Unfortunately, there are other areas around the Outer Banks (Ocracoke and Hatteras, in particular) that are experiencing much flooding and wind damage.  This is a picture taken today (by Erica Mason) of a the Frisco pier–actually the one that was in the movie, Nights at Rodanthe.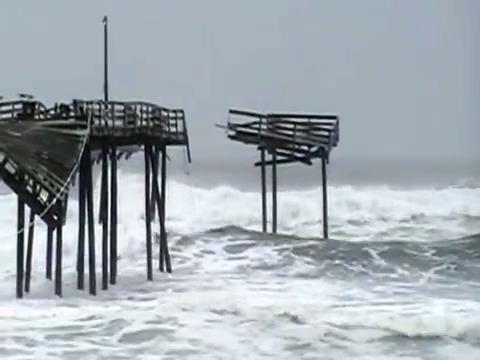 Our hearts are with all of the residents of those hard hit areas–our fellow neighbors of the ocean.