Since it's Monday morning, my brain is not quite geared up for the creation of a cogent, cognizant, coherent, and cohesive post. So instead, I am going to write in Flitting Blog Entry Style, which is a style of writing that is not yet included in the great classic writing books.  (I can't imagine why!)
Basically, it just means that I will flit from one topic to another with no worries about flow or transitions or connectivity, or any of that other tedious stuff I usually sweat over when writing a post.
So let's get flitting,  shall we?
Flitting Topic One (Your Photos)
You know how I always post pictures of scenery around Manteo, and you all are always so sweet to say how beautiful it is around here?  Well,  I'm convinced that every single part of the country (and the world) has plenty of its own beauty.  It recently occurred to me (when I was in a serious-thinking, non-flitting mood) that it would be  cool to provide a forum for you to share your own local beauty with the Smithellaneous community.
So here's the deal.
Over the next two weeks,  e-mail a picture (or two) to me that showcases the beauty or uniqueness of where you live.   On Monday, February 20, I'll post all your pictures, along with any accompanying  descriptive notes; I'll also include your blog address, if you're a blogger.  (I'm all about spreading blogger love!)
And as an added bonus?  After all the pictures have come in, I'll draw a name from the participants and the winner will be the first Smithellaneous reader to get a pack of my new photo cards.
So get to shooting!  And when you're done shooting, send your photo(s) to smithellaneousATyahooDOT com,   I'm so looking forward to seeing all the places where my Smithellaneous friends live.
Flitting Topic Two (Getting To Know You)
Last week Trine (from Denmark) had the great idea of having all of y'all (yes, I'm a Southerner) tell a little bit about yourselves in the comments area which I think is a lovely idea.  Some of you who have been reading here for a while see other readers' names over and over in the comments area and I know it would be fun for you (and for me!) to be able to put a "story" with those names.
So over the next day or two (or three) would you take five minutes and leave a few words about yourself in the comments area underneath this post?  And then when you're done writing, read through what the others have written and maybe leave a comment beneath what they've said, as well.
If you don't know what to say, you can just list your three favorite things to do in your spare time, or how long you've been married, you have, or what your favorite kind of dessert is, or what your first job was, or even how many brownies you've eaten at one sitting!  Anything will work as long as it gives the rest of us a little peek into your life.     
Flitting Topic Three (Mysteriously Changing Header)
I've been on this new blog site for almost a month now and I am really loving  it!     Over the past few weeks,  you may have noticed that the header of the blog (the bar across the top with my picture)  has changed a time or two.  (Or three.)
At this point,   I'm just messing around with it on my own until I am able to hire a professional blog designer to lay out everything in a really lovely fashion.  Until that happens though, I'm just going to keep on experimenting and having fun with it; feel free to ignore all the random changes until a real professional can get a hold of it!
Flitting Topic Four (Social Media Guru)
One of the many things I love about blogging is the way the blogging community is very quick to offer help and advice when needed.  Recently, I went to my online blogging group and threw out a plea for someone! anyone! to help me with a particular technical issue I was having.   I said that I would be happy to hire someone to do this particular bit of work for me because my brain just wasn't up to one more Blog Thinking Challenge.
Well, much to my delighted surprise,  Dustin Stout,  offered to do the task free of charge.  What would have taken me two hours of hair pulling and nerve shredding  took him just a few minutes to accomplish.   
So as a way of saying thanks to him, I wanted to mention that he blogs here about Christianity, Creativity, and Social Media and makes a living consulting, speaking, and building websites here.
If you're a blogger and need practical help, his site is chock full of stuff you can put to use immediately.  Also, if you've heard of Google+, the newest social networking site, and have no foggy clue what it's all about, Dustin is a Google+ Guru.  (I just made that up but it sounds pretty good doesn't it?)
In short, his website has helpful info about Google+, Facebook, blogging,  Twitter and a whole lot more.
Flitting Topic Five (The Thin and The Thick Of It)
Remember back in the day when a book had pages and a cover and was really thick?  Well, here's an interesting book comparison.
On the left you will see a beautiful, leather-bound, thick book containing the complete works of Sir Arthur Conan Doyle, one of Steve's favorite authors.
On the right, you will see a Kindle (given to Sarah for her 16th birthday by a thoughtful blog reader) containing that entire book, along with many other books besides.  (Although Sarah adores her Kindle, she said she will never give up real books–she loves them too much!)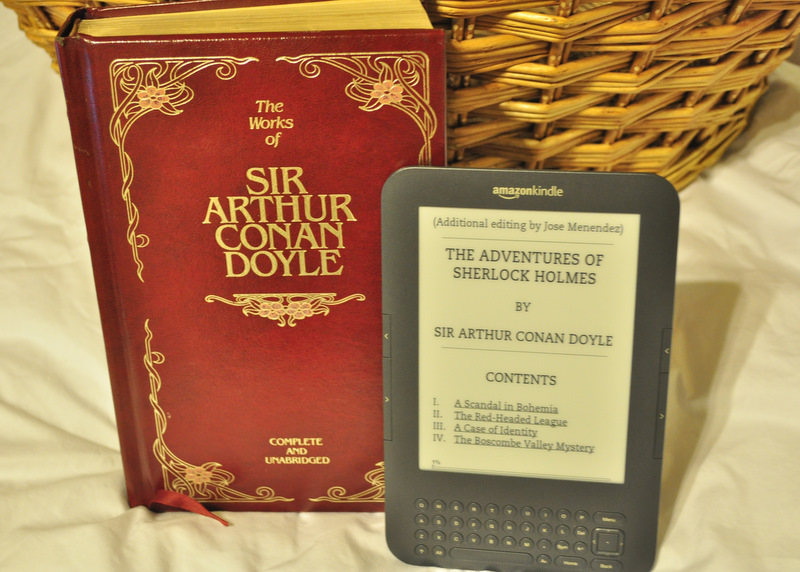 The thick and the thin of it.  It is truly amazing.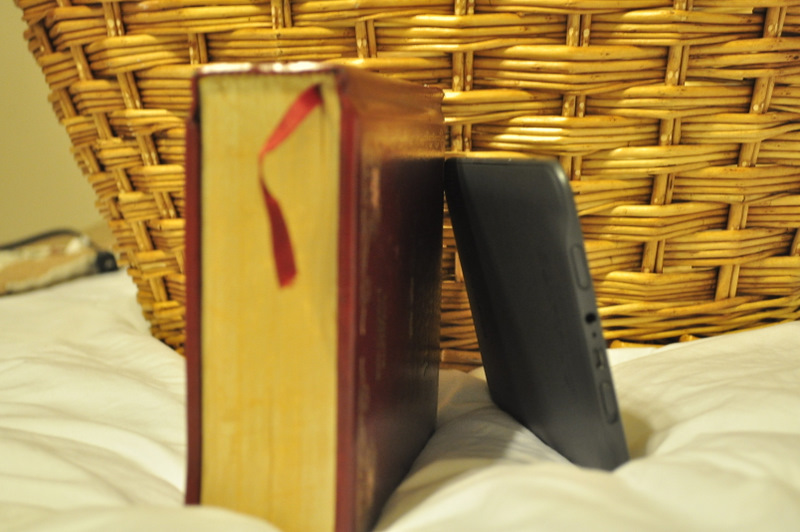 While I'm on this subject, I thought I'd share a cartoon that I love.  I guarantee that the Smith House library will never, ever look like this one—but it's still funny!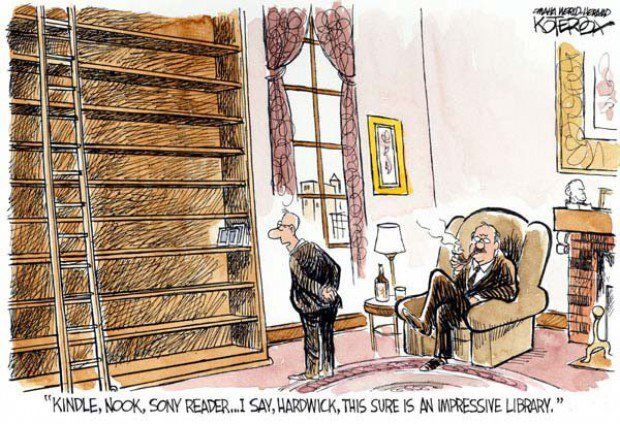 Not that any of this book stuff has anything to do with any of the rest of today's post, but when you think about it, the very fact that it doesn't tie in means that it really does tie in because it's another unrelated topic to flit to!   So actually,  it's perfect!
Thanks for stopping by today.  Remember, to leave a comment with some info about yourself and be thinking of pictures of your town that can be shared here on Smithellaneous.
Flitting Topic Six  (The End)