For years and years, whenever I heard the word granola I would picture Birkenstocks, daily batches of homemade bread, charming wood stoves, and clothes hung out on a line to dry. In other words, I never considered that granola could be a part of my life because granola seemed to belong to a world that this modern, microwave mama could never aspire to.
I also had no clue what was in granola.  Bean sprouts? Crushed eggs shells? Tofu? Bird seed? Mysterious, organic, naturally grown health foods?  Exotic seeds and seasonings?  Certainly no ingredients that would ever be stocked on my non-exotic pantry shelves.
And so I spent many (sad and wasted) years convincing myself that granola was weird and that it probably tasted awful and all healthy-ish, and was definitely not a food for me. (Talk about making a decision based on zero evidence!)
But change was a'comin'!
My wonderful dad-in-law, Ken, is convinced that people's taste buds change every seven years and lo and behold, somewhere in my 49th year, I found myself parked in the middle of the cereal aisle staring at a box of granola.  Yes, granola.  (And no, I was not wearing Birkenstocks.)
I pondered the picture on the front of box and thought, "You know what?  That looks like it would taste good sprinkled on some yogurt!"    
So I bought a box of granola. And sprinkled said granola on said yogurt.  And was happily surprised to find that I liked it.  Hooray for the 7-Year Taste Bud Switch!
Now fast forward from that Moment In The Cereal Aisle to the Saturday after Thanksgiving when we had some special guests coming for breakfast.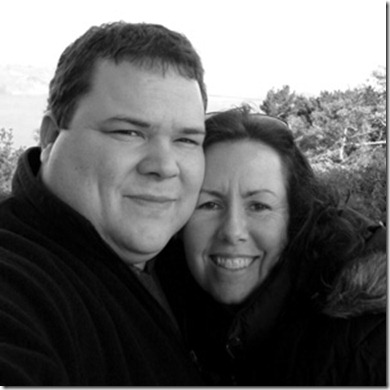 We had never even met Matt and Theresa Steen in real life  but I've always believed that just because people are complete strangers is no reason not to have them over a meal.  I had run across Matt in an online blogging group I'm a part of and quickly discovered that in addition to being a blogger, he is also a pastor and has a website dedicated to pastors.  When I read on his blog that he and Theresa were coming to the Outer Banks, I invited them over for breakfast.  And they came!  And we had such fun!
And just how does this fit in with granola?
Well, when I woke up on the morning of the Steen's visit and pondered my planned menu  (fresh baked muffins, yogurt, juices, grapes and sliced oranges), I thought, "It would sure be nice to have some granola to sprinkle on our yogurt but I don't have any in the house and I don't know how to make it.  And even if I did, I doubt if I have any granola-ish ingredients on hand."
Imagine my surprise when I Googled granola and found recipes!  Tons of recipes! And I even found a recipe that called for ingredients that were actually on my shelves. 
I was so excited!  In one year, I had gone from a granola hater to a granola MAKER!
Here is the result of my first granola making expedition. And it was delicious!
I served it to Matt and Theresa for our breakfast together . . .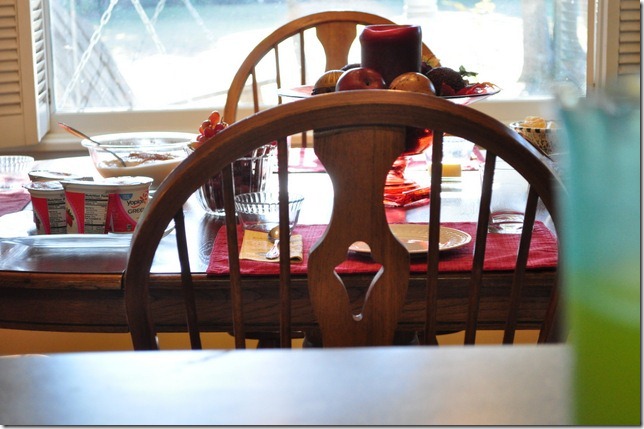 and I have eaten it for breakfast every day since.
I. Am. Hooked.
Here is this morning's granola-centric breakfast.  
I started with old fashioned oatmeal with unpeeled diced apples stirred in halfway.  (I've also used blueberries, strawberries and peaches.)   I also added a couple teaspoons of brown sugar.  (A little vanilla stirred in is delicious, too.)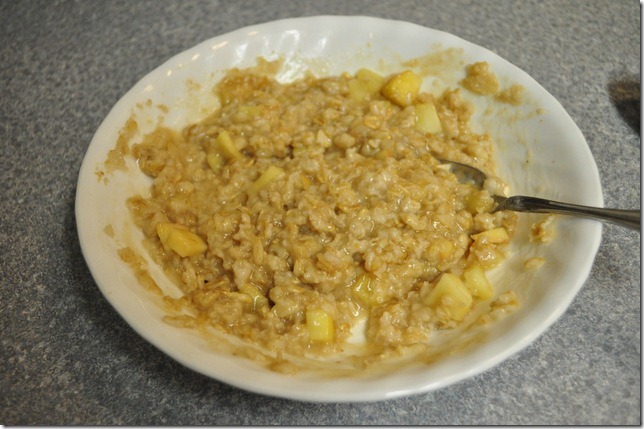 I spooned on a couple dollops of vanilla yogurt.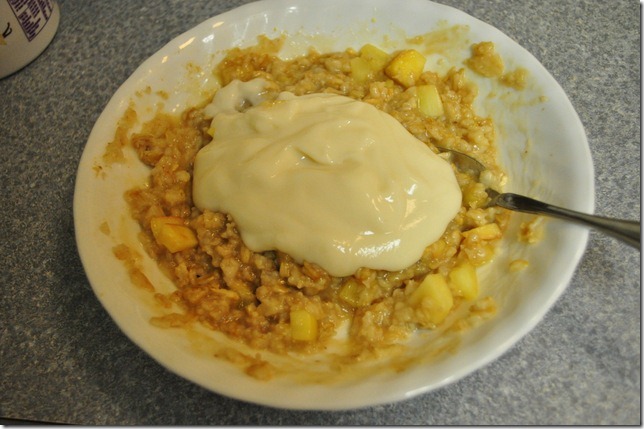 And then I added the crowning touch: Becky's Homemade Granola . . .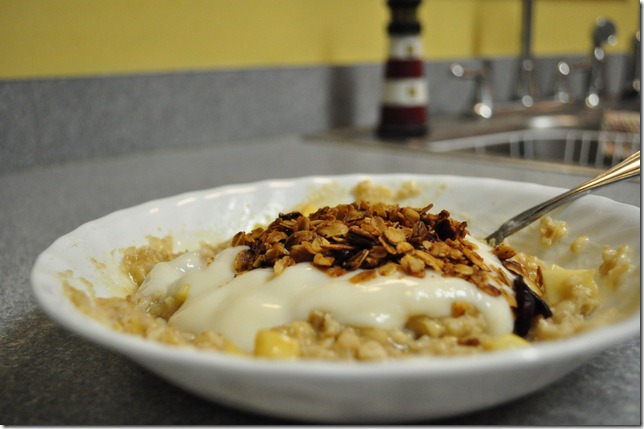 topped by a sprinkle of cinnamon.   
Just think!  In one bowl I am getting honey, olive oil, nuts, two kinds of fruit, oats, and dairy.  You just can't believe how good and healthy and simple this breakfast is.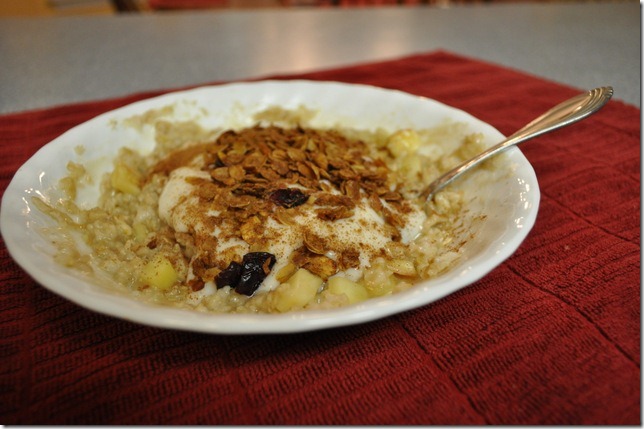 Here is the granola recipe which I got from A Beautiful Mess.
2 cups oats (old-fashioned, not the quick cooking kind)
1 1/2 cups nuts/seeds of your choice  (I've used pecans and almonds–both are delicious.)
1/3 cup oil (I use olive oil)
1 teaspoon salt
1/4 teaspoon cinnamon
a pinch of nutmeg
a pinch of ginger
1/3 cup honey or maple syrup  (I used honey)
1/2 teaspoon vanilla extract 
1/4 cup dried fruit or other additions you like. (I used Craisins.)
1. In a bowl, combine the oats and nuts/seeds.
2. Pour in oil and honey (or maple syrup) and stir to combine.
3. Add in seasonings and vanilla and mix well.
4. Spread out on a baking sheet covered in parchment paper and bake at 350 F for 30-35 minutes, stirring every 15 to make sure all pieces bake evenly.  
5. Add in dried fruit during the last 10 minutes of baking.
(To make chunky granola, simply don't mix during the baking process. Once you remove your granola from the oven break it up into small chunks for a different kind of texture. This is great for snacking granola; like for camping or carrying around in your purse)
This will last for two weeks in an air tight container.
By the way, if you like cooking ideas and instructions, scroll down the right column of this blog to the BlogHer TV Video.  The videos change frequently and all of them have to do with great cooking tips. (And if you watch the video, I get a little extra advertising money, so  feel free to watch them often!)   🙂