When Sarah was around sixteen, we asked if she was interested in taking Driver's Ed.
She replied rather unequivocally that she was not. At that point in her life, the very thought of even sitting behind the wheel of a car gave her a severe case of the of heebie-jeebies which was a pretty clear sign to us that anything driving-related should be delayed.
Every few months we would ask her if she wanted to just try driving around a large empty parking lot just to see how she felt about it.  And the answer was always, "No, I'm not ready."   (Which I thought showed maturity and wisdom on her part, that she didn't try to rush into something she wasn't ready for, even though many of her friends were driving.)
But about a week ago, The Moment arrived and Sarah said she was ready to give 'er a whirl. She donned her festive new red hat and scarf and posed for a Before the Driving Lesson picture.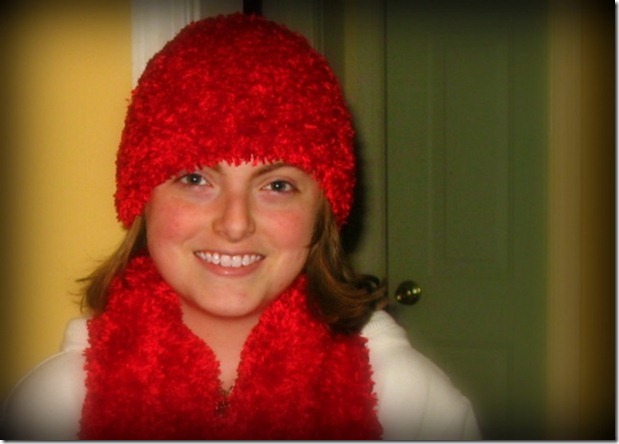 When we got to the deserted high school parking lot, I went to the backseat, Steve went to the passenger side and Sarah got behind the wheel.  For the first time.  And sat there. And felt the heebie-jeebies subside. And said, "Okay.  I'm really going to try  it.""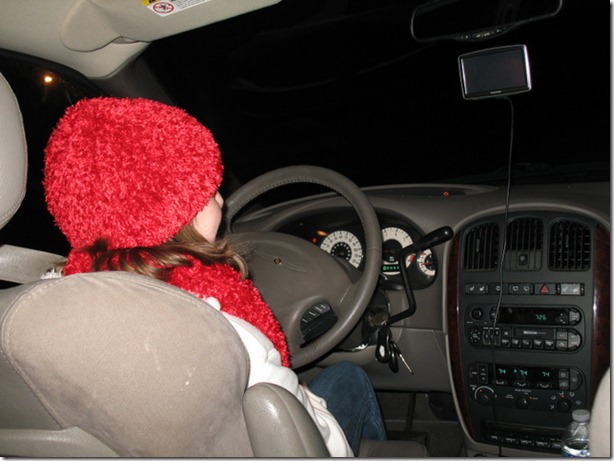 With Steve at her side giving instruction, she very capably drove 'round and 'round the parking lot for about twenty minutes.  And did great!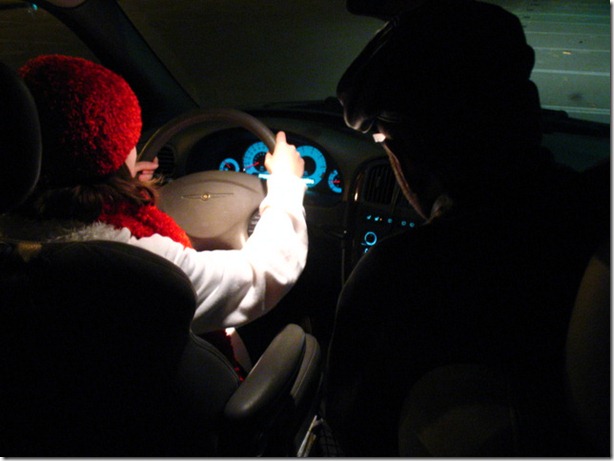 At the end of it, she posed for a celebratory picture while I wiped a furtive tear, knowing that a new era in her life–in our lives–was beginning.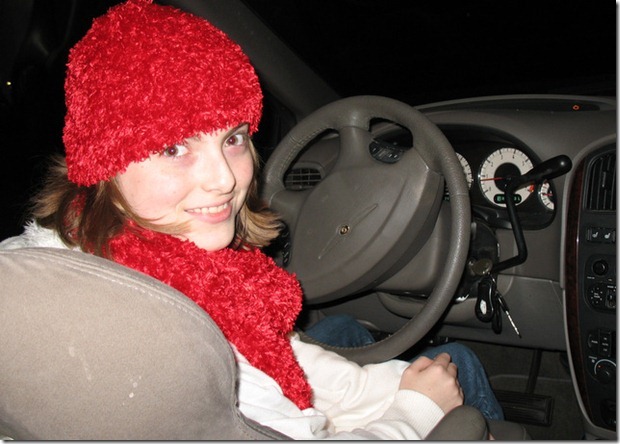 A child getting his or her driver's license is probably the biggest steps toward independence there is. I could so easily picture her driving off to college and to faraway places, leaving her little girlhood (and her sniffling mom) behind.
I was tempted to say, "Sarah, maybe you should just wait another twenty years to get your license.  I think 17 1/2 is a little too young to be thinking about it."
But I zipped my lip and wiped my tears and when we got home, I gave her a big hug of congratulations.
Since she still has to take Driver's Ed and get her permit, she will be at least 18 before getting her license which is kind of funny because I was 18 when I got mine and so was Nathan. I guess we Smiths are just (slightly) late bloomers.
Can you remember when you first started driving?
Who taught you?
Was it a stick shift or automatic?
Did you have power steering? 
Were you out in the country or in town? 
Do you have a funny driving story to share?
I know Sarah (and all the rest of us) would love to hear YOUR first "behind the wheel" experiences.