Earlier this year, Meagan's mom sent me an e-mail with some pictures of the creatively, hilarious ways guys do things.
Like this.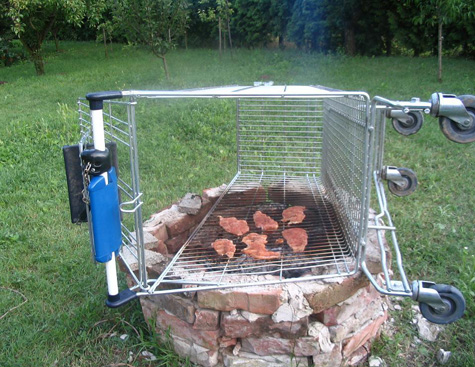 Well, after I showed the pictures to Steve and we had both guffawed (well, he guffawed and I giggled demurely) I thought it would be fun to put the pictures into a video and play it for our Father's Day service at church.
So I did!
I just came across the video again this week and since it made me smile,  I thought I would pass it along to you.   So click and grin.  (And enjoy!)
Recipe News
I know that most of us love to try to new recipes and since you all have such great ones to share, I have installed a Readers' Recipes tab in the navigation bar at the top of the page.   There are a few recipes in there already, but if you have others you'd like to share, you can leave them in the comments area of a post or click on the Contact tab in the nav bar and e-mail them to me.   I'll grab the recipes from the comments or the e-mails and post them in the right spot.
I've made a way for comments to be left under each of the recipe categories so if you try a recipe and make an alteration, or if you have a question about the recipe, please free to leave a comment.
In the next week or two, I am also going to add a Becky's Recipes tab and bring over some of my old recipes from  Smithellaneousclassic  as well as add new ones as I go along.
So let's get recipe-ing, shall we?