Today we are celebrating Sarah's seventeenth birthday!
Yes, I really did say seventeen.  And no, I can't believe it either.
There was a time in our lives when we never dared dream that we would get to celebrate this milestone.  In fact, Trine, a faithful, long time reader from Denmark, recently reminded me of a post I had written on that very subject way back in 2005.  She and I both thought it would be a great idea to feature that post again on the day Sarah turned seventeen.  And so I am!
 
By way of a little history, this post was written shortly after we had been through a health scare with Sarah and had just been to Duke for a variety of scans to rule out  a possible relapse.  We had just gotten good results back when I wrote this.
Written on May 29, 2005 
As you can probably guess, we've spent this whole past week hugging Sarah and kissing her sweet face every chance we've had because we are so very happy about the good news we got about her scans. In fine Sarah fashion, she has patiently endured our onslaught of happy hugs and parental puckers.
She continues to feel great. No more pain, no more fevers, just a hearty, healthy appetite and a happy, healthy girl. And speaking of happy, she is always at her very happiest when she is out in her beloved back yard, playing with Snowy, and letting her imagination have free reign. When  I looked out at her yesterday, she was sitting cross-legged on the hammock, smiling, talking, and waving her arms around, obviously narrating whatever story was going on in her head.
Snowy had stationed himself on the grass in front of her and was doggedly doing his duty to diligently guard her from all manner of dastardly back yard dangers– like killer squirrels, aggressive robins, and threatening blades of grass. He is an intimidating six pounds of fluffy fury and unswerving vigilance.
It gives me extra special joy to watch Sarah playing because I know that if that scan had gone the other way last week, she could be lying in a hospital bed right now receiving chemo. So much to be thankful for!
In fact, I was made thankful all over again when I happened upon a picture of Sarah during treatment. I just sat and stared at that photo for the longest time because, among other things, I had forgotten just how thin she had gotten during that time.   The change between then and now is just amazing.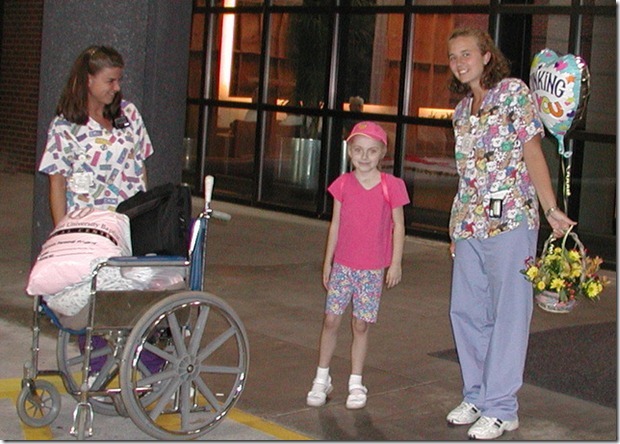 Pictures are such potent reminders of all the things that have gone before and I could sit and look at them for hours, never failing to be moved by the power that they possess.
I was aware of another sort of "picture power" last week when we attended our friend, Meagan's, High School graduation party. (Edited to add:  Yep, that would be a 2005 reference to the newest Mrs. Smith!)
One of the highlights of the event was when Meagan's dad, Frank, called her forward to pray over her future and God's plan for her life.  I will never forget how sweet that moment was,  the two of them praying hand in hand with her picture up on the screen behind them.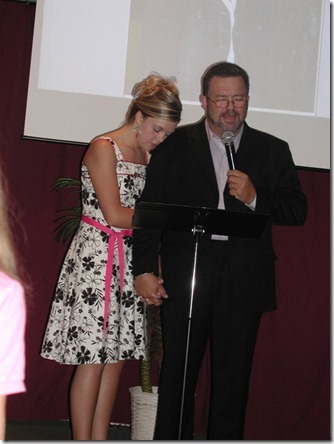 After the prayer was finished, we all watched a Power Point presentation that Frank and Sheri had put together, depicting Meagan's life from birth to the present.
I sat with all the other Fans of Meagan and laughed at the silly and sweet pictures of her as a baby, a toddler, a gap-toothed six-year old, a preteen.
Then the pictures progressed a few more years to when she was twelve, and then fifteen, and then seventeen.   As they displayed all the sweetness and maturity that developed over the years, I felt my eyes fill with tears and I breathed a quiet prayer, "Oh Lord, please let Sarah live. Let us have the joy of seeing her when she is twelve, and fifteen and seventeen; let us be able to see her graduate from high school. Let Steve and I have the honor of putting together our very own slide show to honor her as she graduates."
And then I began to picture just what that might look like. I imagined pictures being projected of a darling, rosy-cheeked baby, a curious, full-of-life toddler, and a spunky, sparkling-eyed  six-year-old. And then in my mind, I saw the pictures continue to change and I tried to imagine the impact the next set of photos would have on all the assembled Sarah Fans.  
I imagined pictures of feeding tubes, hospital beds and syringes; I imagined photos of a pale face, a bald head and stick thin legs. I thought about how the viewers would be impacted by seeing the pain and questions on a young child's face as her simple childhood disappeared into the gray complexity of cancer treatment.
And then, I imagined the gathered friends and family seeing a strong and sturdy 12-year old riding a bike (with no training wheels!), a fifteen year old driving a car (with mom hanging on for dear life), and a seventeen year old being picked up for her first date (with Steve hovering in the background wielding an official form called "One Thousand Questions You Have To Answer Before I Let You Date My Daughter.").
In short, I pictured life being lived, not life being lost.  I imagined Sarah being one of the few children diagnosed with Stage IV Neuroblastoma who would beat the odds and still be alive at her high school graduation.  
Can you picture her as a 17-year old? Can you imagine the young woman she will become? I sure can.
Right now, though, she's still nine, still enjoying every moment of life, still teaching all of us Sarah Fans how to live. Really, really, live.  And right now, as a family, we are making the memories and taking the pictures that will be blended together eventually to tell her story.
 In eight years, when her face beams at me out of her graduation pictures, I know I will witness the same determined but joyful look I saw when she was six years old and fighting so very hard not to die.  Most importantly, I will see a face that beautifully reflects the joy of being alive.  Only a person who has been close to death can appreciate the fact that every day is a birthday of sorts, because every single day that we are given is a celebration of life. 
Happy Celebration Day, baby girl!
(It would be so interesting to Sarah–and for all the rest of us, too–if you would leave a comment sharing what advice you would give yourself if you were seventeen again.)