As I sat in the doctor's office this past Monday, the questions came at me fast and furious:
Have you ever smoked? 

Were you ever exposed to a lot of second-hand smoke? 

Have you been exposed to work-related chemicals or occupational or  environmental pollutants?

Have you ever had a positive blood test for the AAT gene?
Although the pulmonologist's face was different, the questions were the same ones  I have been asked by various pulmonologists in the past.  They've all seemed to be both intrigued and frustrated by a patient who doesn't fit any of their criteria for COPD; in fact, I've seen them finally stop their barrage of questions long enough to say to me, "Well, then WHY in the world do you have COPD?"  
And I want to say, "Well, isn't that the question I should be asking YOU?"
It seems that I fit into a tiny percentage of people who have COPD but shouldn't.  And since COPD is the third leading cause of death in America and since is it is a disease that gets worse over time for which there is no cure—well, it's not a disease I am overly thrilled to have.
And I'm also not thrilled about the fact that after a couple years of stability, this past appointment revealed that there has been a decrease in my lung function since last year's appointment.
I am having more frequently occurring episodes of "air hunger" which basically means that I have to take frequent, really deep breaths in order to feel like I have enough air.  The reason for this is that my lungs are not emptying out the way they should when I exhale and so when I inhale, the lungs are already partly full and my inhalation doesn't provide for me all the oxygen I need.  
The pulmonologist's first instinct was to send me for a couple of high dollar heart and lung tests but since those costs would be out of pocket for us, I asked him if we could hold off on them and try something less expensive first and see where that takes us.
And so. 
I was sent home with three inhalers and instructions to take the two "regular" inhalers concurrently.  (The third inhaler on the right is a rescue inhaler.)  In the past, I've only ever used one regular inhaler at any given time but the doctor wants to see if he can get my lungs to start emptying out better and is pulling out the "big guns" (medicine wise) to try and make that happen.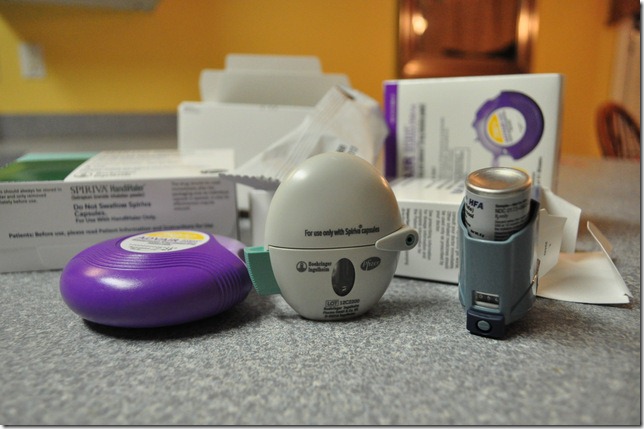 I'll stay on this regimen for 8 weeks and then go back for a follow-up appointment; if things haven't improved, then we may have to look at doing some more extensive testing.
The good news is that after being on these meds for a couple of days,  I have seen a 20% increase on my peak flow meter!  The bad news is that at least one of the meds (Advair) may not work for long term use, since it includes a steroid.
The other bad news is that some of the side effects of the medicines include throat irritation, hoarseness and voice changes.
And as it turns out, almost immediately after starting the meds, I got hoarse.  I tried to sing a little this morning and produced nothing more than a croak.  Which would be perfectly fine if I were a frog but I just happen to be a person who sings in public on a pretty regular basis.  So croaking is not a good thing.
So. Having said all that, I will admit to you that I felt pretty discouraged (and exhausted) when I got up Tuesday morning after my long journey to Greenville (5 hours round trip) and the disheartening doctor's visit.  I did a little crying, ate a little chocolate (for therapeutic reasons, of course), and then went in to work reminding myself that my life and (and lungs) are in God's hands.
He gave me my very first breath and has been unstintingly providing me with breath ever since.  I don't know how things will go for me over the coming years but I'm quite sure that God knows.  And since He is most certainly not pacing back and forth in heaven, wringing His hands and saying, "Oh, I am so worried about Becky's COPD" I guess there's no reason for me to do any pacing or wringing down here, either.
I will keep breathing, smiling,  living, singing.
(Or croaking, as the case may be.)
And to leave you on a happy note, here are a few pictures I took on the way to the doctor on Monday morning.  I've always thought that a lovely sunrise is good for the soul  and that is why I am sharing the soul goodness of these views with you.