Some of you may be wondering how we're getting along in the Smith household without our smallest member.
I must say that taking Sarah to school on Monday without him was really tough. It's been a long time since she and I have made that trip without our fluffy, white accomplice riding shotgun.  
When I was cooking last night, I dropped a piece of meat on the floor and immediately looked for Snowy to materialize and do his "Clean Up On Aisle Four" routine.
But he didn't come.
 And I never know when those "missing Snowy" moments will come. A couple of days ago, I was in the living room getting something out of the coffee table drawer when I reached in and pulled out  . . . this.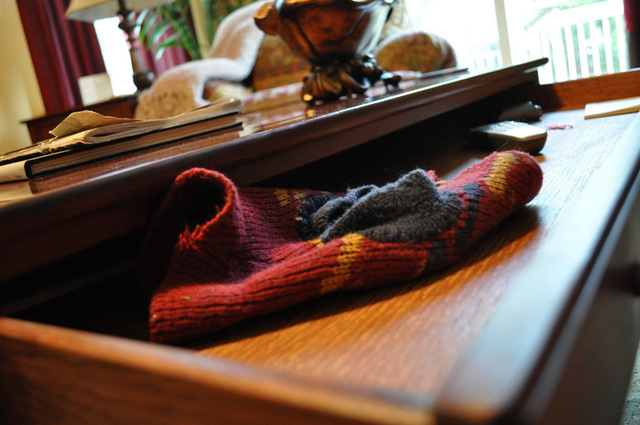 Oh my.  Tears, tears, and more tears.  
 I have so many memories of Snowy wearing that little sweater when it got cold.  He always fought like a crazy man when we tried to get it on him but as soon as he was wearing it he was  like, "Ah.  This feels so good. Why in the world didn't you put this on me sooner?"  (Logic was not one of Snowy's strong points.)
Seeing that sweater reminded me of a video I had shot of Snowy and Sarah about five years ago when she was making one of her first attempts to put the sweater on him. At the end of the video, when he finally runs away from her, you can tell that he easily could have left any ol' time he wanted; he was just having too much fun making her task impossible. 
What I really love about the video is his savoir faire attitude about the whole thing; he seems so intent on humoring Sarah as she engages in this mysterious (but sort of fun) activity.
Be sure to watch till the end when you'll see a picture taken a few years later; the tables are turned and Sarah has won!  The expressions on their faces in that last photo (Snowy chagrined; Sarah triumphant) make me laugh every time.