Today is all about miscellaneous family news including a working daughter, a fabulous husband, a picture of our grandson's mother and a picture of our doggy's grandson!

First bit of news–Sarah has gotten a new job!
Last year Sarah worked in the gift shop of a local restaurant but she wasn't able to get as many hours as she needed. We weren't sure what we were going to do about a summer job for her and then out of the blue, a friend who manages a department at our local grocery store (Food Lion) asked Sarah if she'd like to come and work for her.
It was perfect timing and it's a job very well suited to Sarah—low pressure and perfect for someone who is diligent, organized and detail-oriented.
Basically, Sarah has a little cart she pushes around and one of those little laser gun thingies that you point at bar codes to get prices. She checks the price listed on the shelf and compares it with the price that comes up on the gun; she also changes out stickers on items as they go on (and off) sale.
This week she's had to be there at 7:30 a.m.and so today, instead of just dropping her off and making the 20-minute trek back home, I went inside with her and got my grocery shopping done. How lovely to shop in a store that's mostly empty; I'll have to do that more often.
(Side note: As I was shopping I couldn't help but notice a guy standing forlornly in front of the feminine products display. He looked overwhelmed. And also embarrassed. I wanted to pat him on the back and shake his hand for his bravery in making the Dreaded Grocery Store Trip that at some point, comes into the life of every man. Instead of the hand shake, I just sent "kudo vibes" his way as I passed.)
I'm sure you've probably figured out by now that it would have been impossible for me to skulk around a grocery store that my daughter was working at without sneaking into her aisle and snapping a picture or two. (Because we all know that if I didn't take a picture of it, it didn't happen. Right?)
Isn't that the cutest price checker you've ever seen?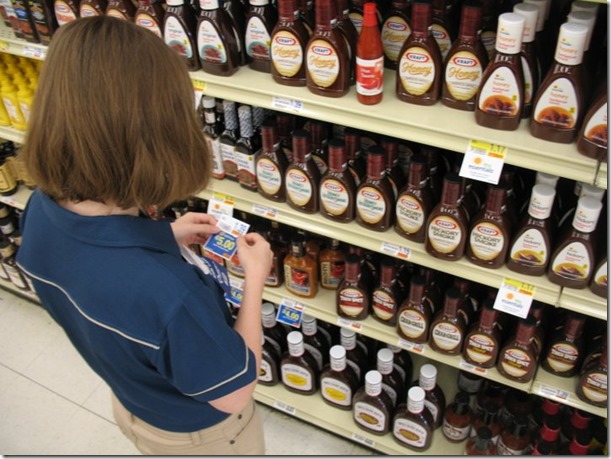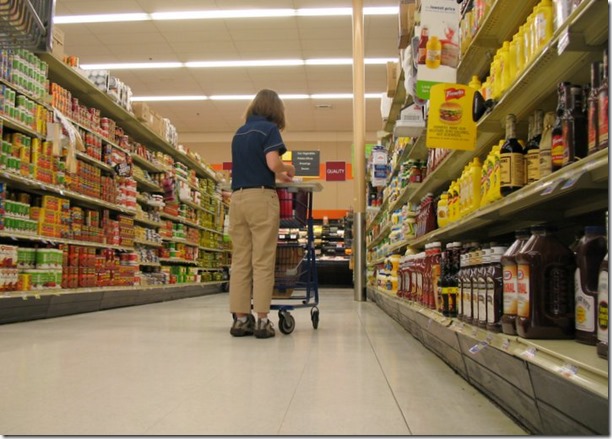 This week she's working 16 hours but over the next couple of weeks, she'll work up to 30 hours a week. Since she's diligently saving up for her first car, those extra hours will make a big difference when the Big Car Buying Day comes along. (Which I'm hoping won't happen until she's somewhere in her fifties.)
And speaking of cars, Sarah starts Driver's Ed next week. She'll go four hours in the morning and then work four hours in the afternoon. A busy gal who is growing up way, way too fast. (Can you believe she'll be eighteen years old in just nine weeks?)
And while I'm on the subject of family . . .
I want to take a moment to give a shout out to my very own Mister Smith for the way he helped me last week when I was sick. (I felt so bad I never got out of my pajamas even one time between Wednesday night and Sunday morning.)
Here is a list of the things that he did for me while I was out of commission:
1. Brought me breakfast in bed on Saturday which consisted of his famous cheese omelet, toast with two kinds of jelly, ice water and orange juice all delivered on a lovely tray right to my room.
2. Did three loads of laundry
3. Took Sarah shopping for the tennis shoes and khaki pants she needed for her new job.
4. Listened patiently while I enumerated my list of woeful symptoms to him. More than once.
5. Prayed for me (out loud) every single day for strength and healing.
6. Asked me several times a day if he could bring me anything .
7. Told me I could stay home from church on Sunday morning if I needed to. I compromised and went for band rehearsal and the music segment of the service and then came home when my piano playing part was done. (A pastor's wife playing hooky. What is the world coming to?)
8. Stopped and picked up prescriptions for me in a little teeny window of time he had between a 9-hour day on the road and an evening rehearsal.
9. Took Sarah to work several times.
10. Picked up groceries.
So, what do you think? Is this a fabulous guy, or what?
He's made the last thirty-one years the best years of my life.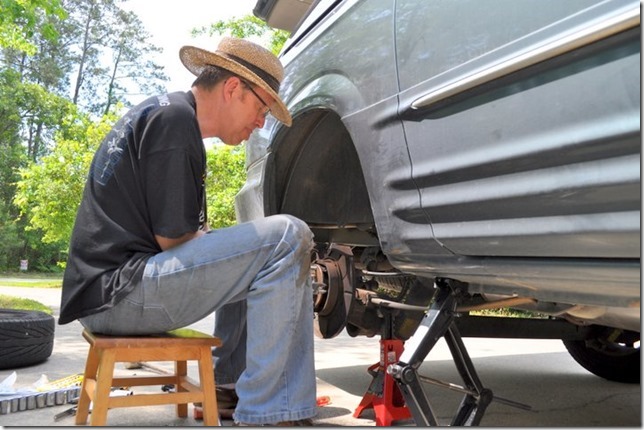 And now onto the subject of grand babies . . .
This is Meagan and a friend of hers at church. Meagan is 20 weeks pregnant and her friend is 40 weeks.
That's part of the fun of pregnancy–getting to compare baby bumps.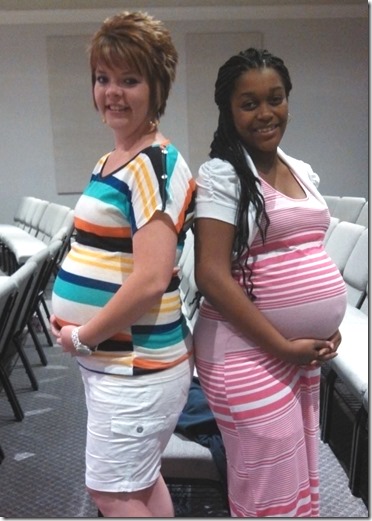 We are planning a trip to Florida during the first part of August so that we can see our grandson's pregnant mama in person and also attend the baby shower their church is throwing for them. Good times!
And lastly . . .
Summer's former owner emailed me yesterday to say how much she enjoyed my recent post about Summer. She included this photo of one of Summer's grandsons named Blakely.
After receiving this picture it occurred to me that Summer and I differ quite a little bit on one particular aspect of being grandmothers. I have every intent of posting a thousand pictures of MY grandson on my blog, on Facebook, and Twitter; I am also planning to take out some full-page ads in USA Today and rent one of the marquees in Times Square.
Summer, on the other hand, took one little look at the picture of HER grandson and promptly fell asleep.
No big deal. No hysteria. No hype. Just, "Yep, that's my grandson, alrighty. I think I'll have a nap now."
Could it be possible that by the end of Noah's first year (and the ten thousandth picture), you're all going to be desperately wishing I would take more after Summer?
Probably.