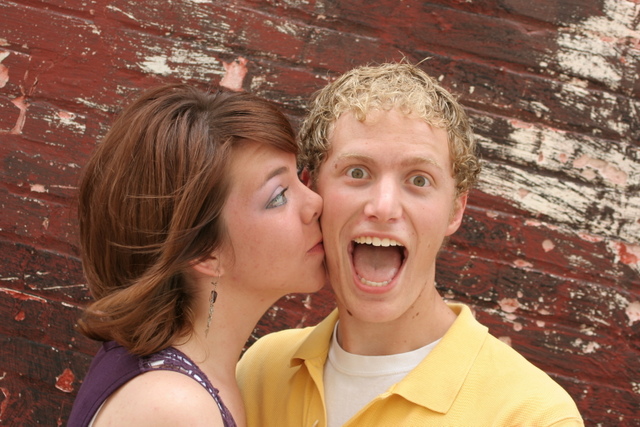 As most of you have probably noticed by now, I have a contract with an ad network called BlogHer whose ads appear in the right column.   I get a little income each month from running the ads and then every week or two, one of my posts is featured on some of the other blogs in the network which provides a little extra blogging exposure. Well, a couple days ago, I received an unexpected email from BlogHer.  It said:
My name is Shannon Carroll, and I'm the conference programming manager at BlogHer. I'm writing to let you know that we've selected  your piece, "Grateful For The Scars" to be honored at the Fifth Annual Voices of the Year Community Keynote! Out of nearly 1,700 submissions, the committee has chosen one of your posts to be one of only 110 pieces that will be honored as a 2012 Voice of the Year at BlogHer '12 held in New York City.
(Note:  Although I can't really afford to go to New York City for the event, it's nice to have my post represent me in abstentia.)
While I was quite thrilled to hear that something I had written was receiving this  honor in the national blogging community, I don't actually remember submitting anything! The only possibility I can think of is that about 6 weeks ago, I sent in "Grateful for the Scars" to what I thought was just a "regular" editor.  (I had submitted it be considered for inclusion in a Blogher program that features selected posts across a broader spectrum of the ad network other than just the biweekly feature.) It appears as though I managed to submit the post to the "wrong" person and entered myself in this competition instead. Anyway, in the blogging world at least, this honor seems to be a pretty big deal; in fact, I found out after the fact that everyone who had (purposefully) submitted something was aware of the day when the winners would be revealed and were counting down the days until the announcement.  And then here comes clueless ol' me who didn't even know I had submitted anything. Because I am organized like that. Here are a few more details about the selection process.
Each year, The Voices of the Year Community Keynote honors up to 120 of the brightest voices in the blogging community, as chosen by the community.  All submissions go to the category judges, who will carefully review each one. Once the judges have worked their magic, the executive committee takes over,  finalizing the selections. The event's scope grew exponentially over the years, along with the blogosphere itself, and women's presence in it. In 2008, over 200 entries were read by a committee of about seven people; this year, almost 1700 were read by 26 readers, and were filtered yet once more by another six readers before the winners were chosen.
I really appreciate you humoring me for a few moments and letting me write about this honor; I feel so gratified that all my typing and toiling away in the guest bedroom for hours on end has actually gotten a bit of recognition--even though I was rather (happily) surprised by it all.
A Trip!
In one week, Steve, Sarah will set off on a major road trip, hitting Washington, D.C. first for a little sightseeing, before driving to Wisconsin for a family reunion. (I haven't been home in almost three years, since my dad's funeral.)
Nathan and Meagan will be flying in from Florida and I will get to see my mom and my five siblings and their spouses and my nieces and nephews.  I might even get a chance to take my kids around my home town of Sparta, WI and show them where I used to live and where I used to go to school.  I'm sure they'll be quite fascinated.
I'm sure I'll have all sorts of stories and pictures to share from the Great Road Trip of 2012!
And now, since I can't bring myself to post something without a picture, I'll close out with a few vintage photos of Nathan and Meagan back in their mid-dating, pre-engagement  years.  The ones of them kissing each other on the cheek are two of my all time favorite pictures of them.
Aren't they so very, very cute?