When Nathan was attending High School at a small Christian academy, he won a good number of athletic and academic awards every year.
One day as Steve and I sat out in the audience and watched as  he was honored yet again, Steve leaned over to me and whispered, "When Sarah is in High School, we'll have to work hard at finding other things besides academics to celebrate with her since she'll never be able to receive the academic recognition Nathan gets."

He was making that statement based on multi-paged studies we'd gotten from Sarah's neuropsych testing at Duke following her cancer treatment.  Basically the reports stated that Sarah would struggle in school, she would need extra help, and her slow processing speed and cognitive disabilities caused by massive doses of chemo would ensure that she would always have extra difficulty in her academic pursuits.
Well.  Last night Steve and I attended an Award's Ceremony at Manteo High School.   There were just a few kids called forward who had earned straight A's for the year.
Sarah was one of them. (And that's even with taking a couple of Honors classes.)
There was just one student who was called forward for the Sophomore English Award.
It was Sarah.
As I watched her walk forward for her first award, I couldn't help but think back to that somber conversation that Steve and I had had during Nathan's award ceremony and I just had to smile to myself.   Because even highly trained doctors and highly learned psychologists don't know everything.
The doctors told us Sarah would probably die.  The psychologists told us Sarah would never do well academically.  With those two prognoses in mind, can you just imagine my emotions last night as I watched my very much alive daughter walk forward not once but twice, to be honored for her academics?  (I'm teary even as I type this.)
Yes, I realize that she does have some cancer-caused learning issues.  And based on Duke's recommendations, she has an Individualized Education Plan (IEP) in place at school.  But she hardly uses any of the modifications available in the plan and the fact that she was awarded those grades DESPITE the learning issues? Well, I just have to say that some things in life have no logical explanations.   And I, for one, am glad  because life would be one dismal and non-inspiring journey without the joyous mysteries of the unexplained.
Smart people I know–doctors, psychologists–get it wrong sometimes.  And another smart person I know–Sarah–is going to quite happily spend the rest of her life continuing to prove them wrong.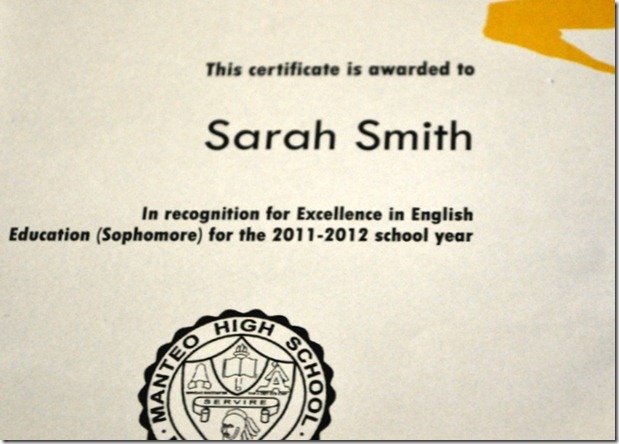 Sarah, holding her awards after the ceremony.  You go, girl!