Have you ever known someone in their forties who was quite certain they were done having children?
Well, we have a married couple in our church like that. They have a daughter in the sixth grade and two sons who are adults and their baby-in-the-house days are far, far behind them.

However, Delia has always secretly harbored a desire for another baby although the surgery she had several years ago precluded her bearing any more of her own.  Her husband, Lauris, on the other hand, said he was most definitely done with having kids and so that's pretty much where things were left. Until a month ago.
Lauris and Delia went out to eat and ran into a second cousin of Lauris's who was due to give birth any day. That night, after seeing his cousin, Lauris had a dream. It was a dream about a baby who was being attacked by wolves while Lauris tried to protect her. He told Delia about the dream but then didn't give it a second thought, thinking he'd just eaten too much spicy food before bed.
A couple days passed and Delia got a phone call from this cousin of Lauris's; she asked Delia if she would come and visit her in the hospital. When Delia arrived, she discovered that the cousin had given birth to a tiny baby girl but was unable to keep her. She said to Delia, "I want to sign the baby over to you and have you and Lauris adopt her."  (Lauris and Delia's 6th grade daughter was adopted when she was small so they are not newbies in that area.)
Well, Delia was all for it!
But Lauris?  Not so much. In fact, he was adamant. "No way, no how. We are NOT starting over. We are NOT having another baby. The discussion is closed."
As the days went by, Delia did not want to let the baby issue drop and she spent a lot of time praying about it.  Lauris spent time praying too—except HE was praying that Delia would stop talking about this baby and that they could just be finished with having any more children!
Delia kept asking Lauris if she could bring Baby Maleigha home for just a little visit. He said no. She asked again. He said no. She asked again. And finally he said she could.
When she arrived at home with the precious package in her arms she said to Lauris, "Will you hold Maleigha for a minute? I need to run and take a quick shower."
Lauris sighed and said, "Well, hurry up then. Don't leave me out here too long with this baby."
As Lauris grudgingly took the baby in his arms and looked down into her sleeping face, he suddenly became aware of a Voice speaking in his heart.  It said, "Lauris, this is the baby from your dream.This is the baby you were protecting from the circling wolves."
You have to understand that  Maleigha had plenty of wolves in her life—even at such a young age. Her mom had used several kinds of hard drugs during her pregnancy and when Maleigha was born, she'd had to endure several difficult days of withdrawal from those drugs. The nurses were amazed at how well she did despite all the trauma and nicknamed her, "Miracle Baby."
Well, Lauris is not usually given to tears. But when he heard that voice and understood that dream, he started to cry.  And then he fell in love with Maleigha on the spot.
When Delia came back out to where he was sitting and saw him crying over Maleigha, she was astounded. And amazed. And grateful.
And with Lauris' fullest support, the two of them are now providing full time foster care for Maleigha with the intent to adopt.
Last Sunday, our church threw a shower for the family since starting over with a new baby at the age of forty is not the easiest thing in the world!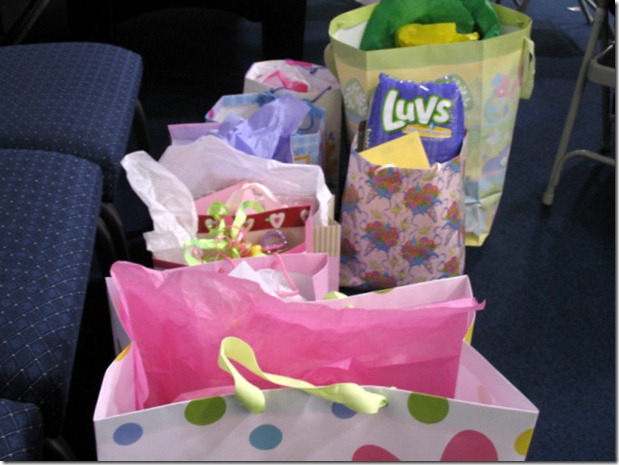 Here's the star of the show. Is she precious, or what?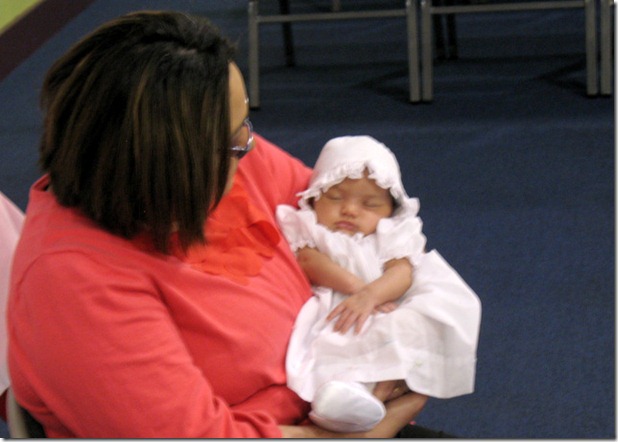 The Sunday after Lauris's miraculous change of heart, he and Delia asked if they could stand up in church and tell everyone what I just told you. He ended their amazing story with the words, "Thank God for unanswered prayers."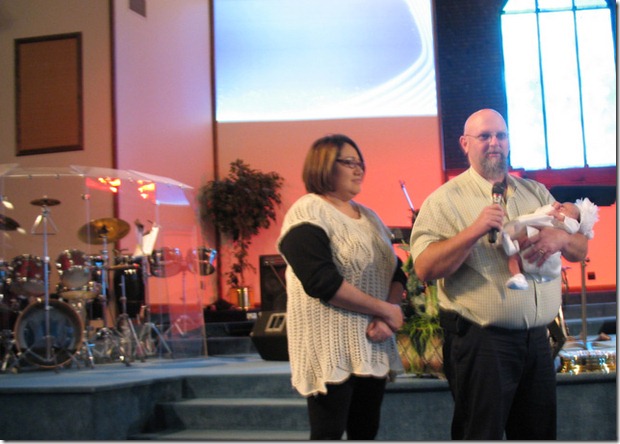 Thank God, indeed.