Non-riotous. Quiet. Serene.
Those are the three words that best describe Sarah's 19th birthday last Saturday. Since we did a big party for her 18th birthday party, she requested that this year's celebration include just Steve and me.
The day started with Steve making her breakfast.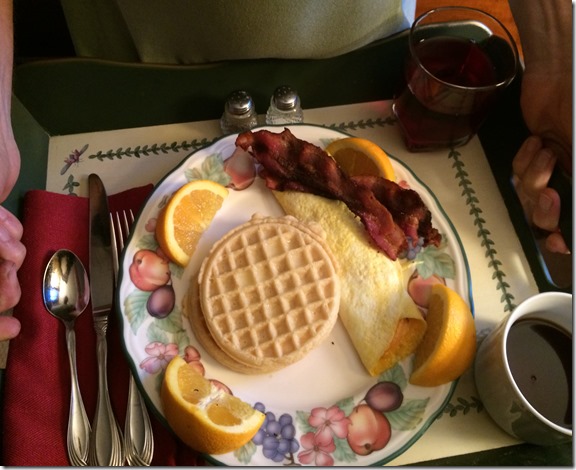 And he not only cooked it, he also delivered it!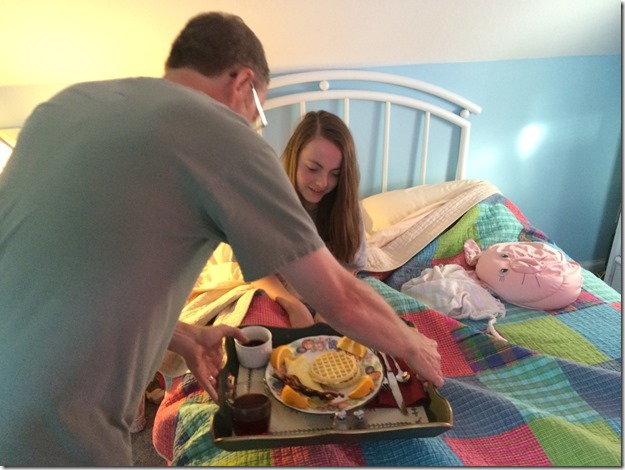 After Sarah had finished eating and left the room for a minute, I took a picture of her empty bed. It occurred to me that when she was married with a family of her own, I would come across this picture one day and remember the morning of her nineteenth birthday and the sweetness of her presence in our lives.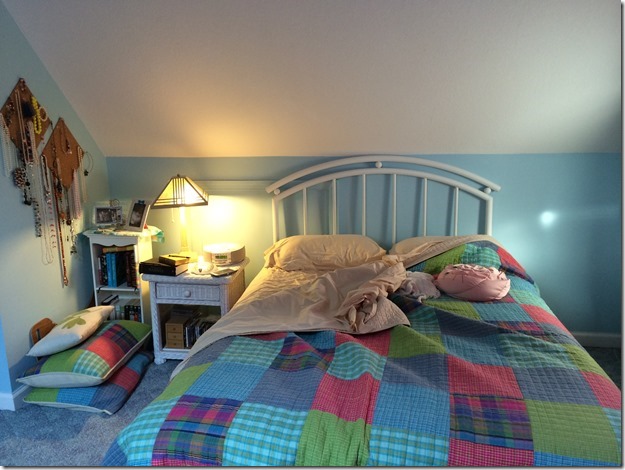 My cooking contribution to the day was to make Sarah's birthday cake. I managed to make a fairly big mess in the process, mainly because I goofed something up and had to start all over again.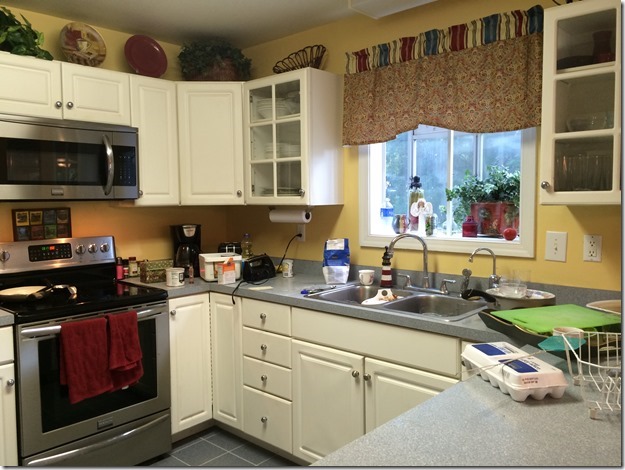 Can you tell this recipe has been in the family a long time? I've been making it for at least 25 years.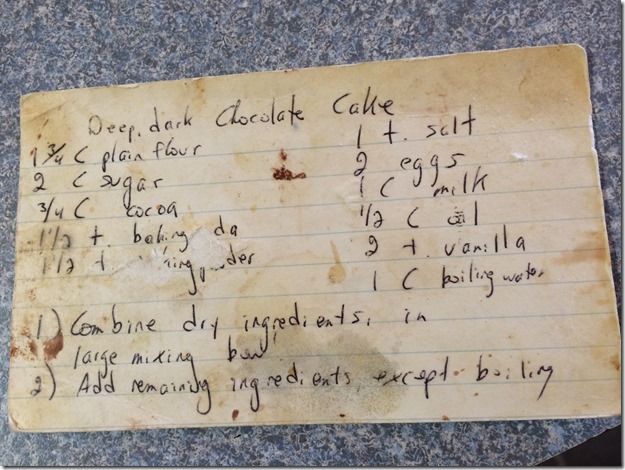 After I had finished the second cake and cleaned up the accumulated mess, I collected my sweet girl and took her to lunch–a rare treat since we don't eat out very often. On the way to the restaurant, she checked her voice mail and found that Nathan and Meagan had left her a sweet and funny message involving a lot of laughing and comically histrionic singing.
Sarah chose to eat at Lafagotas, a local Mexican restaurant that is well-loved by locals and tourists alike.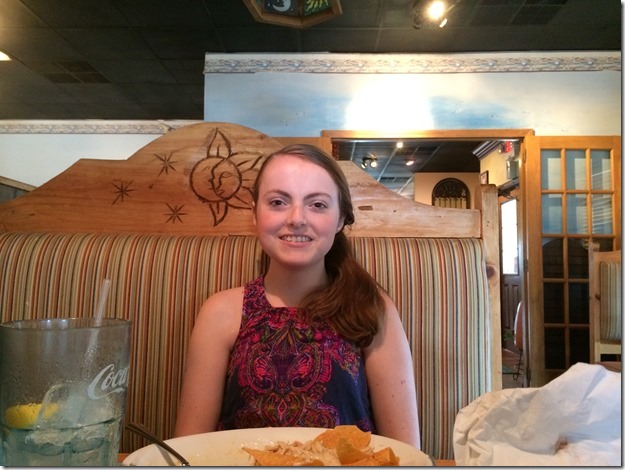 After lunch, we did a little shopping (about twenty minutes worth) and then it was back home for a quiet afternoon for her and work at the church for me. I got home in time to make her birthday dinner and then it was time for the gifts.
I don't know about your family but in our house, Steve is the Professional Wrapper of the Gifts. He is very precise in his wrappingness and is all about right angles and perfectly placed tape and seams being properly lining up.
Me? Not so much. I wrap 'em fast and I wrap 'em haphazardly and if the whole thing ends up slightly crookedly then–oh well.
Not only is Steve a great wrapper, he also finds unique containers to put gifts in. He packaged the gold infinity scarf I got for Sarah in a round plastic pretzel container.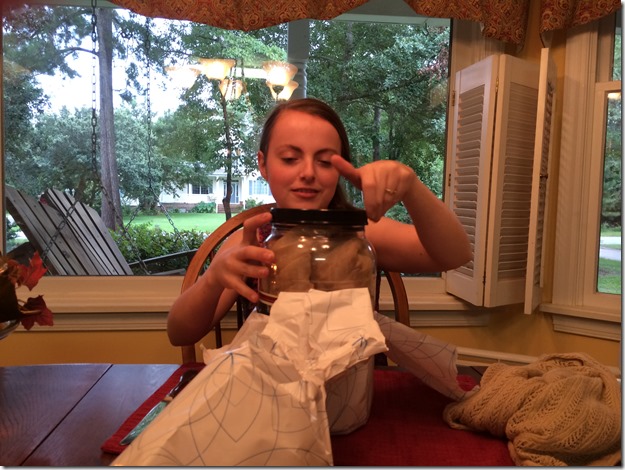 It's pretty impossible to guess what's inside a plastic pretzel container but Sarah had an excellent guess on the next gift she picked up. She felt it for a minute and said, "Hmmm. This feels like a small, decorative typewriter."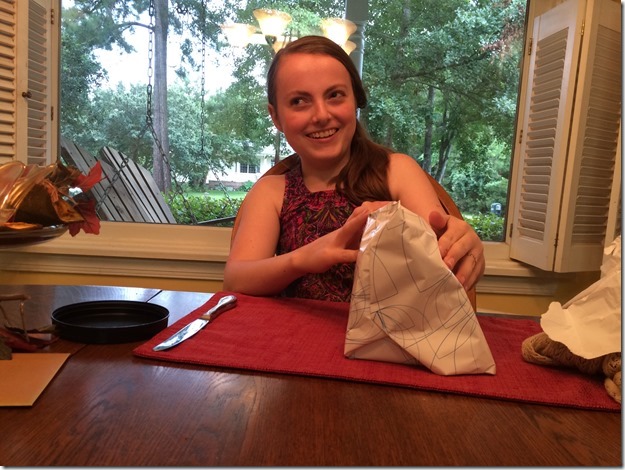 The stinker! That's exactly what it WAS!
Isn't it just so cute? I found it at T.J. Maxx and thought it would be great in her room.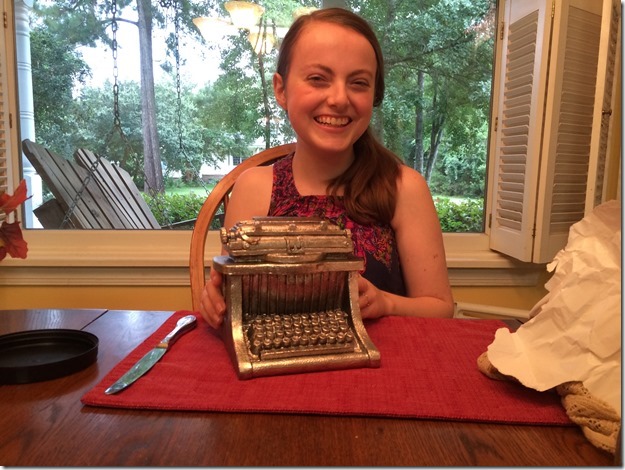 Of course, a Sarah Birthday always has to include at least one book.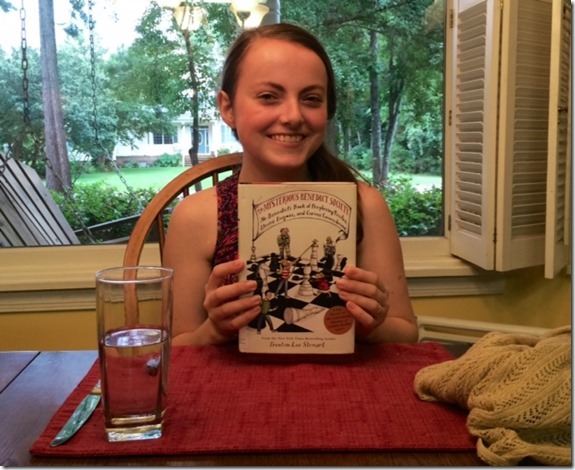 And then it was time to bring out my "twice-baked" birthday cake. Please overlook the fact that the cake sported a collection of mismatched birthday candles; I am an inveterate recycler of birthday candles.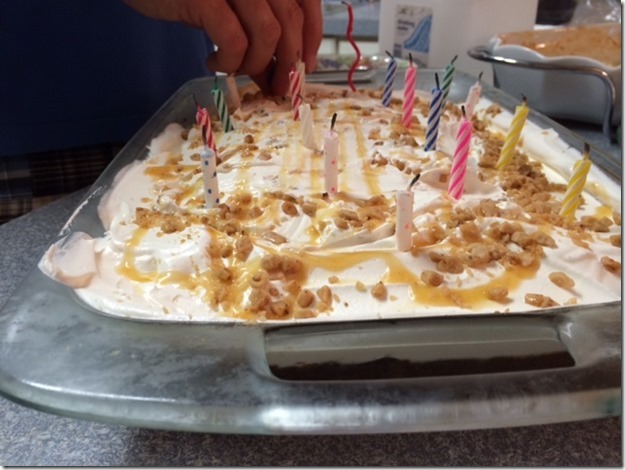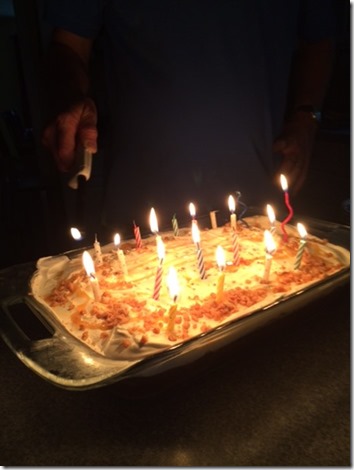 Sarah donned the Birthday Hat and got down to the business of blowing out those nineteen candles.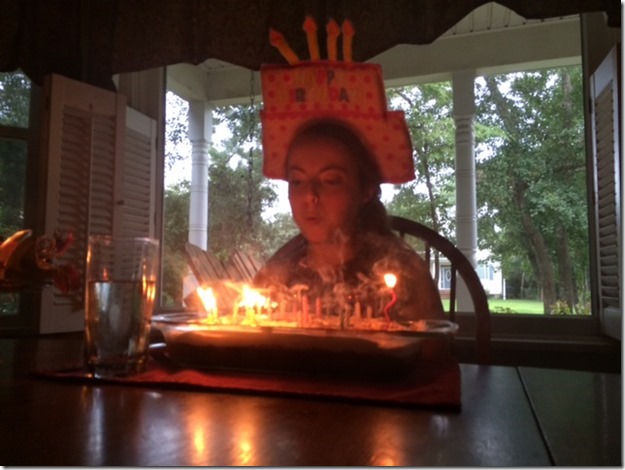 Nineteen.
Just one more year to have a teenager in the house and then those days will be forever gone. I'm not quite sure I'm ready to have two children who are in their twenties so it's a good thing I have a year to get used to the idea.
Happy, happy day, darling girl!
We'll never forget your journey to this place.