NOTE: Check the comments area on Friday's post for Sarah's and my response to the Guess Her Age Game. It was fun!
Last Sunday morning, our drummer, David, was telling a funny story before worship team rehearsal, a story which provided him with numerous opportunities to throw in dramatic sound effects (Which he did with the greatest gusto.)
When he finished, our sound man Charles, laughed and said, "David, some things just never change. That's the same way you used to tell stories back in High School!"
Now if you didn't know differently, you might assume that David and Charles are two fellas in their twenties or thirties and that their reminiscing goes back just a decade or so.
But no. Those guys are both grandfathers—David is in his late 50's and Charles is ten years older. (Charles taught David Driver's Ed.) The reason the two of them can still reminisce about High School is that they are among the many Roanoke Island residents who have lived here a very long time.
On the same subject, I happened to overhear a couple of 70-ish women in our church talking about when they attended kindergarten together. Kindergarten! When you are in your seventies, kindergarten is a really long time ago!
We have come to find that Roanoke Island is a place where it's not uncommon for families and friends to be linked together for significant amounts of time; in fact, one particular family here goes back twelve generations. And the matriarch of another family actually showed us a particular place on the beach and said, "Right here is where my family washed ashore after a shipwreck."
Her ancestors (literally) landed on the Outer Banks hundreds of years ago and just decided not to leave. And who can blame them?
To be frank, these kinds of stories tend to boggle the Collective Smith Brain a bit since Steve and I both grew up traveling and moving around a lot. The very idea of living on one island for seven or eight decades? Or two or three hundred years? Can't. Even. Fathom.
When our family was first thinking about moving here, we actually discussed the closeness of this community and the fact that many people who live here have been friends forever. And even longer.
We wondered, "How are they going to treat people who come in from the outside, people whose roots go back just twelve weeks and not twelve generations?"
Well, we needn't have worried. Even though Roanoke Island's inhabitants have more shared history in their veins than we can ever comprehend, we have found them to be open hearted and welcoming people.
That open heartedness also applies to the neighborhood we live in; it's a great place for bike riding, and dog walking, and front yard chatting. And to make things all the better, last week the neighborhood hosted it's first annual Block Party.
One of the guys putting it together caught wind of the fact that Steve played bass guitar and so he invited him to join him and two other guys while they played a little classic rock during the party. That was an interesting experience for Steve because it took him back (in extremely loud fashion) to his high school/ college days when rock bands made up a large part of his life.
Steve's only caveat in playing with the band was they would jettison any songs in the proposed line up that had sexual lyrics. The guys were perfectly fine with doing that and they all ended up having a grand time. (Unfortunately, I didn't get to attend the party and hear Steve play since I was sick that weekend.)
This picture is pretty bad but it does give you the gist of what Steve and the gang looked like as they were doing their Garage Band Thing. (That's Steve on the right.)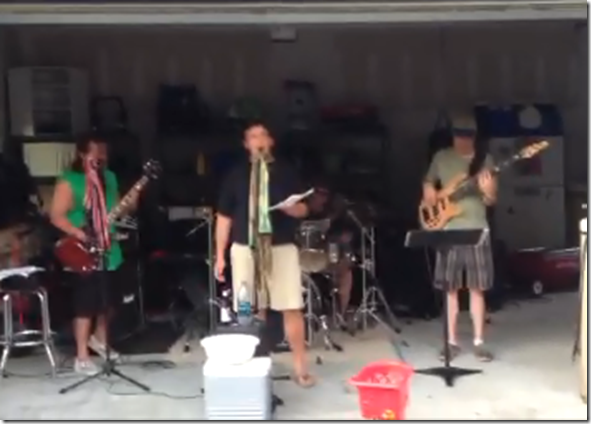 Another community that we're thankful to have as part of our lives is the group of guys who serve on the church board. Two weeks ago, we put together a cookout with the guys and their wives as a farewell party for one of our board members who is moving out of the area.
Here's Maleigha, one of the cookout attenders.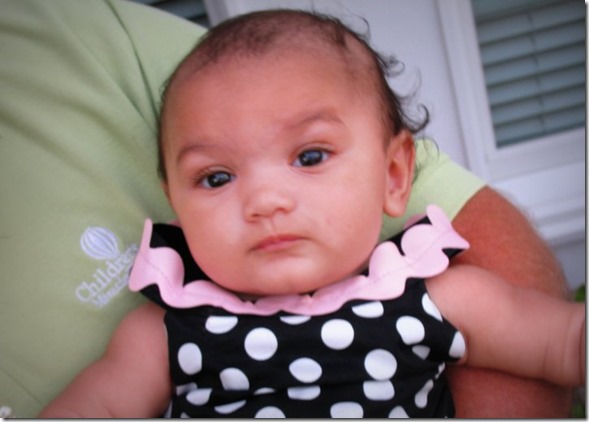 She is NOT one of the Board Members. (In case you're were wondering.)
However, she is someone you have met on this blog before. I'm happy to report she is doing well and suffering no ill effects from her mother's drug abuse.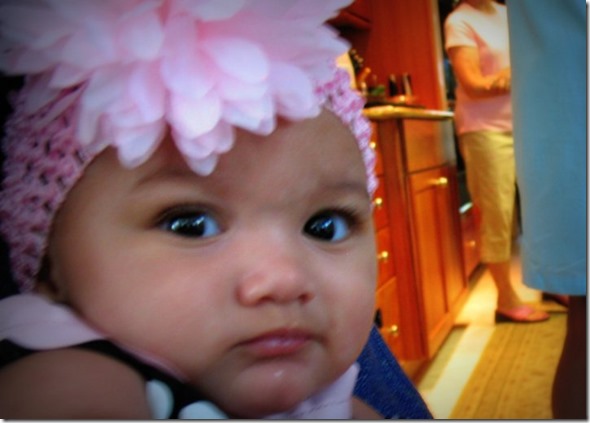 This cookout proved all over again that one of the many things our church people know how to do well is to cook. That chicken, for example? It was seasoned to perfection and grilled at a low temp for two hours. Absolutely amazing.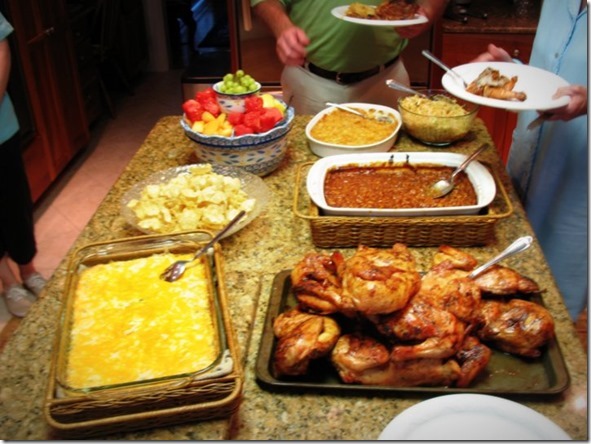 It was a perfectly lovely North Carolina evening with perfectly lovely surroundings. . . .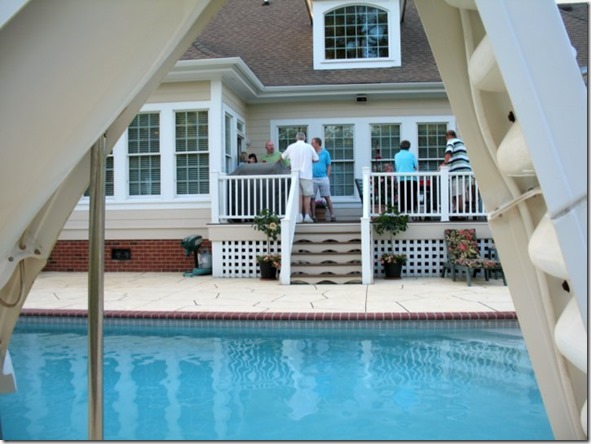 . . . and perfectly friendly, Southern folk.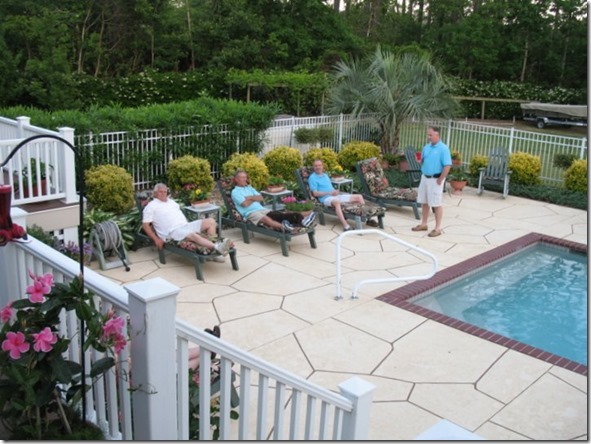 Here are the church Board Members, the men who Steve closely works with as he leads Manteo First Assembly.
The man on the right is the one who hosted the dinner; he owns a construction company here on the island and built his own house as well. A talented fella!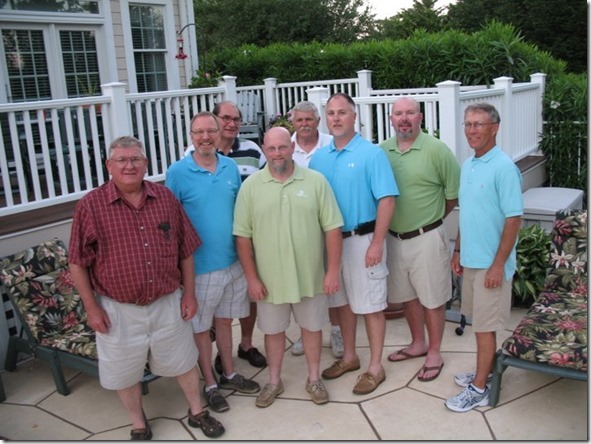 I just had to take this particular photo because I loved how Steve's shirt matched the water in the pool. (We photographers notice strange things.)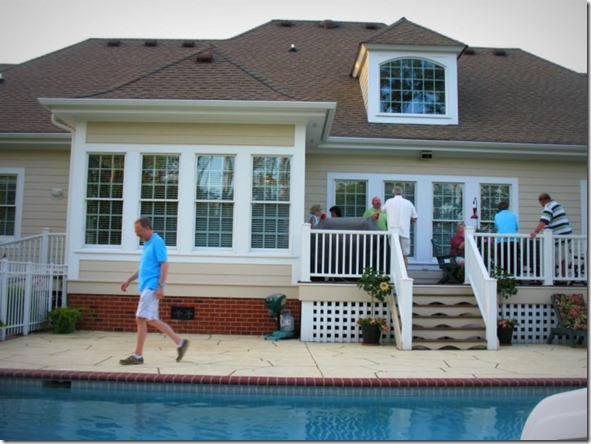 Ever since Virginia Dare (the first English child born in America), made her appearance on Roanoke Island in 1587, a great many people have followed behind her; I'm so thankful to be one of them. Steve, Sarah, and I have come to appreciate the area's beauty, hospitality, generosity of spirit, and especially its people who don't close their hearts to the arrival of newcomers and new seasons.
We've so enjoyed getting to know people like David and Charles, the guys in the neighborhood rock band, and the darling ol' ladies who stand in the church lobby and talk about sharing color crayons in kindergarten.
And we have especially appreciated the fact that by living and pastoring here, we have gotten to be a part of stories like little Maleigha's, the darling baby girl who found adoptive parents with hearts as big as the Atlantic. We have gotten to see miracles of lives changed by love, we've gotten to take part in the ebb and flow of a community rooted in history, and we've gotten to be one of the numerous threads that wends its way in and out of the fabric of this wonderful island we call home.
What about you?

What are things about the town or the area you live in that make it unique? Is there a certain industry that makes it well-known? Is there an especially interesting history? Maybe a famous person is from your area?

Since I don't get to travel as much as I used to, I love reading stories about other places—especially when those places are inhabited by wonderful Smithellaneous readers.