In all the hoopla surrounding the ten year anniversary of Sarah's bone marrow transplant, I have managed to overlook another large-ish milestone in my life:
January 2013 marks TEN YEARS that I have been blogging!
And over these past ten years,I have had almost three million page views! (2,857,519)
 *See the end of post for a breakdown of that number*
What a ride it's been!  
I have gotten to know the most fabulous people over these ten years; you have read my stories and you have shared your own stories with me.  My life has been enriched by taking the journey with you all–my dear, sweet readers. Thanks for living our story with us. 
To celebrate ten great years, I'm going to repost one of my favorite stories of all time, a story I wrote in about 2008.  It's called:
The Musty, Dusty, Velvet Elvis-Encrusted Flea Market
Although Steve doesn't preach on money very often, this past Sunday he happened to speak about tithing, which means to give 10 percent of your income to the church. As he preached in his usual wonderful way, I nodded, smiled, and agreed with everything he said about the subject. No big deal. We always tithe. Always have. Always will.
Well, a couple of days after said sermon, Steve and I were sitting together paying bills when we came upon a whopper bill, one that was several times larger than we were anticipating. We had to work hard to get the figures to work out but we managed to get the bill paid, in addition to writing our monthly tithe check which was due at the same time.
I must make a confession to you, though. As I began to write that check to the church, I thought, "I know what the Bible says about tithing. I know what my husband just preached.  I know what we've taught Nathan and Sarah. However, it would sure be nice, just this once, to take that tithe money and put it on some bills!"  (We didn't–but I was tempted!)
Because of that unexpected bill, I didn't have much extra money to spend when I headed out to the grocery store. I shopped carefully with my only splurges being some extra fruit and a box of Little Debbie snack cakes.
Shortly after getting back from the store, I heard that two families in our church were in need of meals due to some medical challenges.  Although our church has many fabulous women who help out in that department, I occasionally just take on those ministry opportunities myself; it's a part of my "stealth ministry" as a pastor's wife!
Providing those meals though, turned out to be an enlightening experience for me because, as I started packing up my homemade chicken pot pie and deciding which side dishes to send along, I felt an unexpected but unmistakable twinge of selfishness shoot through my soul.
I knew it would be nice for the families to have some sort of dessert to go with their meals but the only desserty type things I had in the house were my newly purchased (and highly treasured) snack cakes.
And I knew that fresh fruit is always a nice addition to any meal but I also knew how much Sarah loved those grapes I had just bought. Did I really want to send out the door the groceries I had just selected and purchased with such frugality?  Did I really want to give away my Little Debbie Snack Cakes? The chocolate ones? I mean, really? 
I stood in the middle of my kitchen floor and duked it out with myself over the cakes and the grapes. Do I send them along or do I keep them for my own family? Should I be selfish or unselfish? Should I give or should I keep?
I finally got kind of bored with arguing with myself (it's much more scintillating to argue with someone else) and said, "Okay. I will choose to give this stuff to these families and I will be happy about it and I will believe that as we are faithful to be generous with what we have, than God will be faithful to supply our needs."
And so out the door (in the hands of Steve, the Meal Delivery Guy) went my much longed for snack cakes and grapes, along with the chicken I had been reserving for our own supper. When Steve returned from his delivery run, I had made a quick tuna casserole and the three of us ate a contented (albeit chicken-less) meal together. And that was that!
And now we move along to the subject of junior bridesmaid dresses. (Don't worry–it's all going to tie together eventually!)
Two weeks from now, Sarah (along with three other girls), will take part in an Honor Stars Crowning. The girls have worked very hard in this program (it's kind of like Christian Girl Scouts) to earn badges, read the whole New Testament and memorize a lot of information including all the books of the Bible.
Each girl is supposed to have a white dress for this ceremony and I had started stressing out over that fact because I wanted Sarah to have something lovely; however, I knew I couldn't just sashay into Jewel's Formal Wear downtown and fork over $100 for one of their lovely white junior bridesmaid dresses. I looked a bit online but had no luck there, either.  I was starting to feel the stress rise as I tried to figure out what to do.
Well, last Friday was our day off and Steve and I decided to spend some time on our never-ending quest for a gently used couch to put in his office at the church. Someone had told us that there was a large indoor flea market on the older side of town that sometimes carried used furniture. I told Steve, "Well, we probably won't find anything there, but let's drive out just for the fun of it." 
We hadn't been walking through that flea market for more than five minutes when I glanced up and saw a truly wondrous and incredible sight.  I saw a white, junior bridesmaid dress!
Now to truly understand the significance of that discovery, you have to remember that I was standing smack dab in the middle of a flea market. A dusty flea market. A flea market filled with every sort of unusual piece of junk known to mankind, junk which filled up every crevice and cranny of the cavernous building.

Some of the junk was interesting and wonderful, some of it was ugly and grimy, but the bottom line was that it most definitely was not a place where lovely white dress sightings happened very often.
As soon as I saw the dress, I screeched to a halt, veered off my course and charged across the aisle, leaving my bewildered husband wandering in my wake. I wanted to take a closer look at the dress to make sure it wasn't just an apparition that my over worried imagination had conjured up.
I looked at the size. It was Sarah's size.
I looked at the price. It was $15!
I sternly laid aside the temptation to do a happy little jig and merely asked the man behind the counter if he would hold it till the next day so that Sarah could come back with me to look at it.
When I picked her up after school and told her about the dress she said, "It sounds pretty. What store is it at?"
I said, "Well . . . (long pause) . . . . It's at a flea market."
She said, "Mom, you're wanting to buy my special white dress for my crowning ceremony at a place called a flea market?"
But Sarah is a chip off the old block and is very open-minded in her shopping philosophies. As long as she understood that the dress from the flea market was not going to be flea infested, she was all for going to take a look at it.
Saturday morning, as we pulled up to the weather-beaten warehouse, I had a moment's misgiving. I took a look at the place through the eyes of a 12-year old young lady who is becoming more aware of fashions and brands and style and I thought, "Oh dear. She is going to think this is the worst place ever and she is going to be utterly appalled about the fact that her mom is even thinking about buying her special dress in a place that sells rusty tools and velvet pictures of Elvis!"
But to her credit, she flung her little purse across her shoulder, beamed at me brightly and happily accompanied me through the doors, commenting on how interesting everything was and quickly laying to rest my fears that she had become too hoity toity for such a place.
She saw the dress. She liked it!
She tried it on. It fit!
I felt like crying as I saw how her sweet little eyes overlooked all the strangeness of our shopping environment and I heard her cheerily say, "Yes, I think it's a good idea to buy this. It will save you and daddy some money and I like it just fine."
Now the best part was yet to come.
As we were getting ready to pay, the vendor's wife walked over and said, "I just thought you might like to know that this dress was worn just one time and the people paid $75 for it—on sale! Also, you might be interested to know that it came from Jewel's Formal Wear downtown!" (The very place I knew we couldn't afford to shop at!)
I stood there for a moment in stunned, quiet thankfulness as I was reminded so beautifully that God had seen my challenges throughout the week, my struggles with writing the tithe check and giving away the food. The coincidence of finding such a dress in such a place was not lost on me. And the joy on Sarah's face at finding the lovely, miraculous bargain made my heart smile as I completed the transaction, being extra careful to keep the lovely white frock from coming into contact with the dirty wrenches and pliers that were flung across the table beneath the register.
The final poignant moment came when the man started rummaging around trying to find a clean bag amidst all of the greasy, grimy guy stuff that he had for sale. He finally emerged triumphantly from under the dirt-stained counter with a shopping bag from Nordstrom in his hands. I almost laughed out loud.
I have been in a few Nordstrom stores in my life but have never purchased anything because their merchandise is so expensive. To have our lovely dress from Jewel's packaged in a Nordstrom bag and handed to us over the display of dirty screwdrivers—well, it just seemed precious, funny, dear and surreal, all at the same time. And I knew heaven was smiling!
I felt like God was saying, "Okay. You wrote your tithe check and gave away your food; in return, I arranged to have a white dress waiting for you at a musty, dusty, velvet-Elvis encrusted Flea Market. Is that a good trade-off, or what?"
Later that day, when I told Sarah the whole story behind the grapes and the cakes and the tithe check, we had a chance to share together in the joy of that miraculous provision.
I love it when I am reminded that a great big God loves us enough to care about the smallest pieces of our lives.  Especially when those reminders show up at a flea market.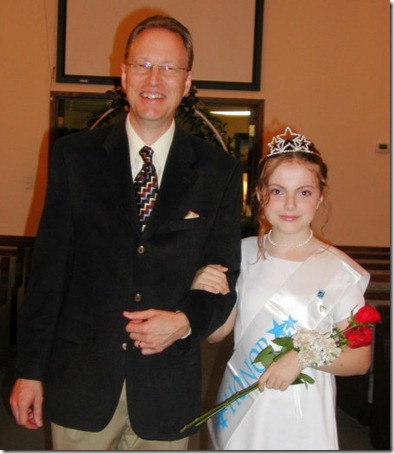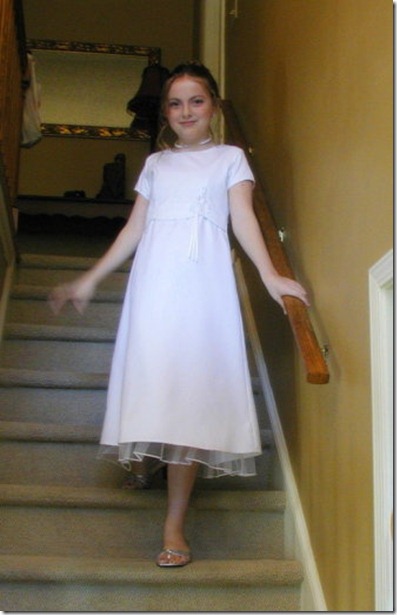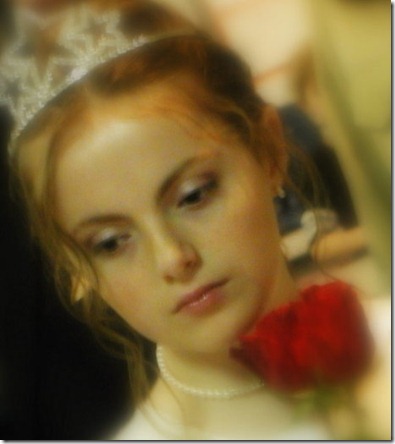 * the breakdown figures about  the page views the blog has had over the past ten years.
1,226,769 from Sarah's site. 
9,306 from Sarah's archive site. 
1,151,879  from Smithellaneous Classic.  (The location of the blog before I switched over to WordPress.) 
And 469,565 from this current blog location, where I've been for a little over a year.