Thank you for everyone who left a memory in yesterday's comments about the first apartment or house you ever lived in.  One of my favorite moments of Smithellaneous Life is when I get to read YOUR stories. They are always so interesting and I love the chance to get to know you better.
You may remember this picture that I posted last week of Summer lying on Steve's work clothes.  As soon as Steve saw that Summer had chosen his clothes to lie on, he started boasting to Sarah and me that Summer liked him best.
Well, I harrumphed at him (in a rather harrumph-y manner) that the reason Summer was lying on HIS clothes was because MY clothes were never on the floor!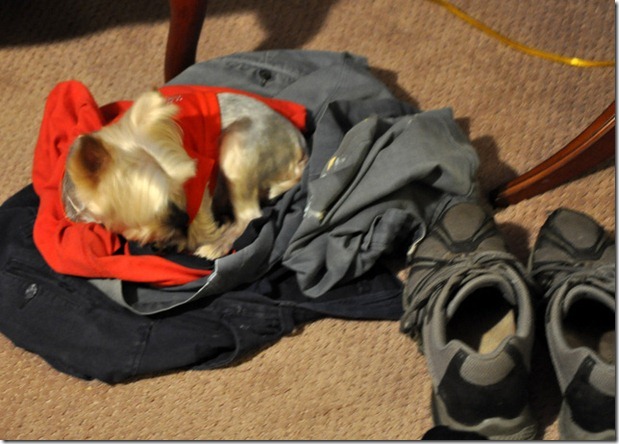 And so?  I put a pair of my green carpi's on the floor next to Steve's clothes and guess what? Summer stretched out on MY clothes!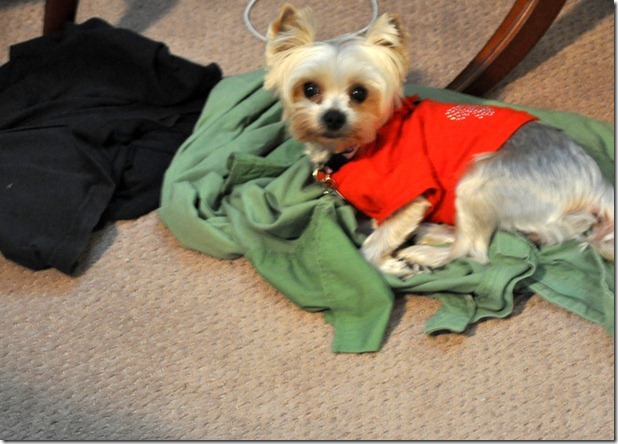 I went to tell Steve about it and do some bragging of my own but the next day, we discovered that Summer had moved herself back to Steve's clothes.
For experimentation's sake, I've left the green pants on the floor for a couple of days now and Summer has been regularly switching between the two items of clothing when it's time for her nap. It's quite apparent that she is one diplomatic doggy!  (She will make an especially great pastor's dog since pastors—and their families–have to be diplomatic.)
Last night, Steve and I were putting fresh sheets on our bed when Summer and Sarah made an appearance in our midst. Summer thought she would show off the new sweater I got for her—a pink Argyle number.  Cute, or what?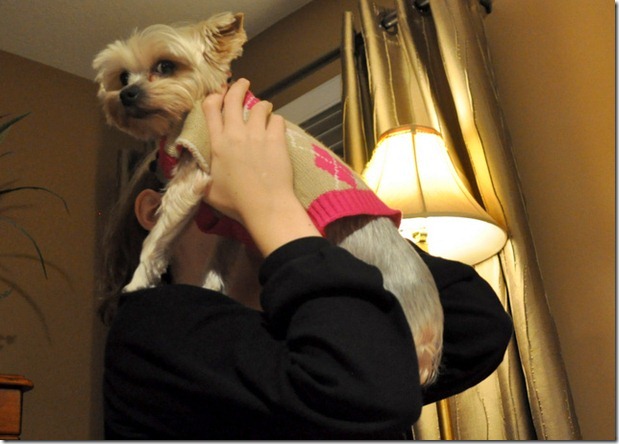 Snowy would never let us hold him like a baby but Summer is all about it..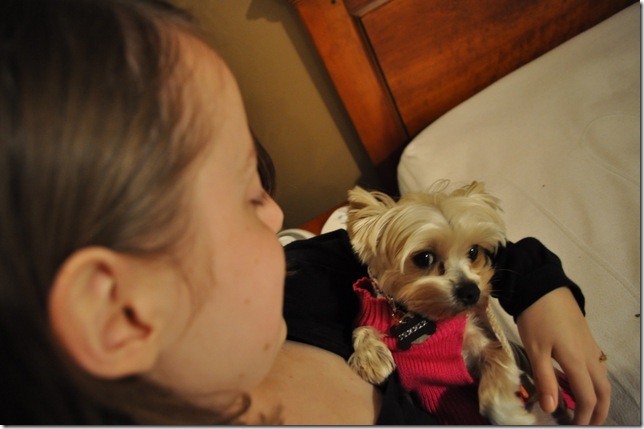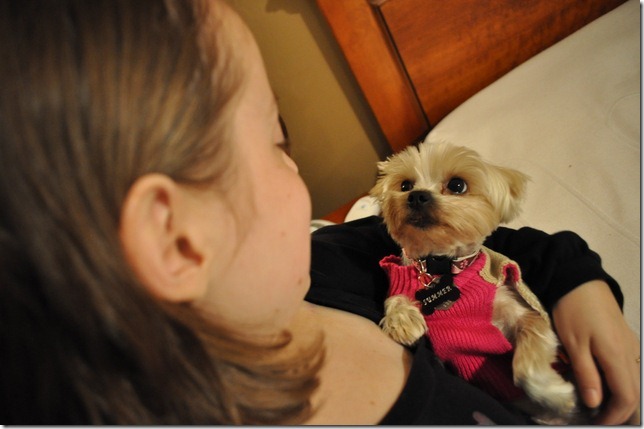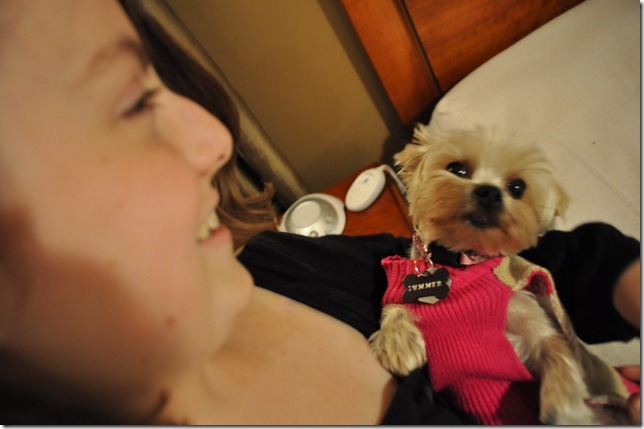 She is the snuggliest creature I have ever seen and she has done so much to heal our "broken-by-a-dying-doggie" hearts.
And speaking of Snowy, Steve and I were talking about him a little bit this morning and without any warning, I burst into tears. I still miss my little buddy so very, very much.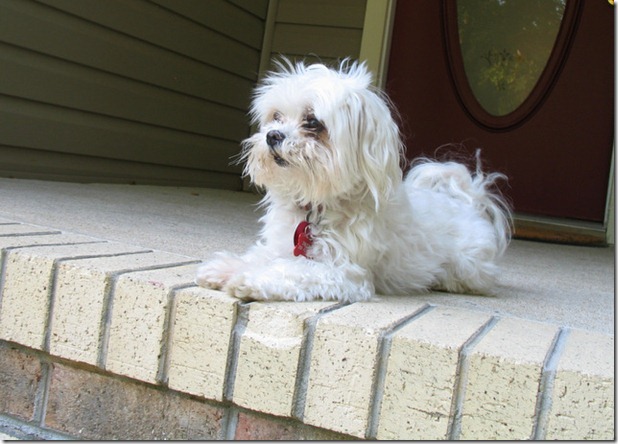 Last year when Sarah was sick, he stayed right with her.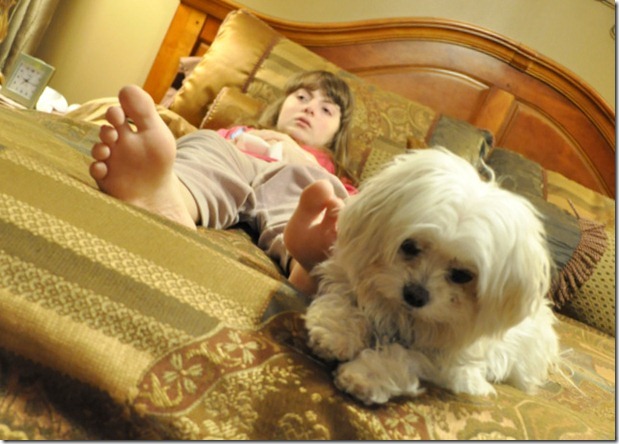 And he was very good at telling me a thing or two when I was trying to take his picture.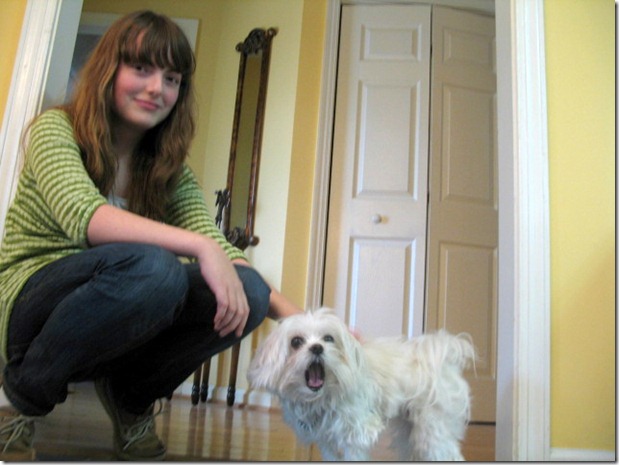 He was especially funny when a little friend of ours accidentally left her little stuffed dog at our house.  Snowy is clearly asking, "Who is this insolent interloper and just what does he think he is doing in my very own personal kitchen?"
Such a sweet friend.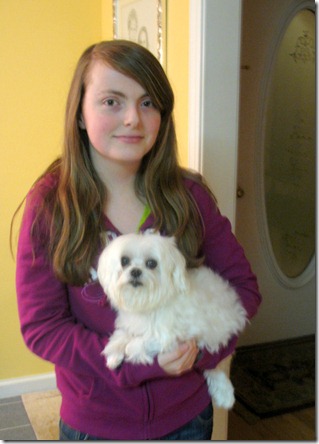 So thankful for the 13 years I had with him.  So thankful for the 17 days I've had with Summer.
She will never, ever take Snowy's place but she is bringing so much healing to our hearts in the wake of his passing
Thankful for the tears. Thankful for the laughter. Thankful for the journey between the two.