On the last day of Nathan and Meagan's visit home, Steve sat on the couch with Nathan and had the kind of talk that no one really likes to have.  
Steve talked to Nathan about what would happen if he and I died unexpectedly.

Not exactly happy talk. 
Not exactly warm fuzzy talk.
But necessary talk.  And I admire and love my husband for taking the time to do that.
Steve got out the blue binder which contains our will.  He showed it to Nathan and told him the executor was his Uncle Randy.  (Nathan will be made executor when he is a little older.)  He told Nathan where the will could be found and they talked about inheritances, life insurance, burial costs and all that stuff that doesn't just automatically take care of itself when parents die early.  
They also talked about who Sarah would live with until she was old enough to live on her own. (At this point in the conversation–I was listening from upstairs to bits and pieces of it–I had to wipe a couple of tears.)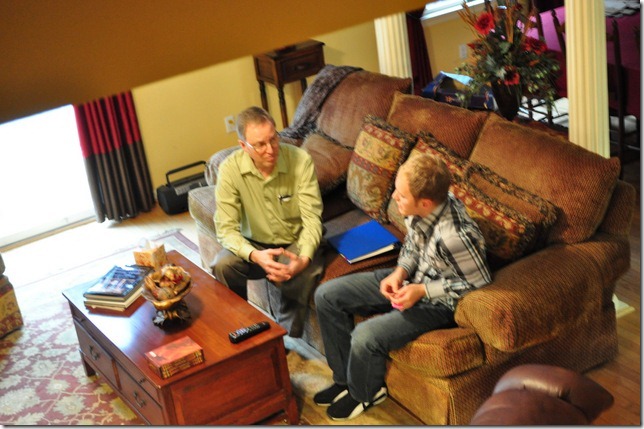 As they moved on to talking about Nathan and Meagan's finances a little,  it warmed my heart  to hear Nathan say at one point, "That's a good point, Dad.  I wouldn't have thought of that."
And it occurred to me that any young person who is willing to sit down with someone a few years older and learn wisdom from them; well, that young person is set on a good road for life.
Unfortunately, we live in a culture that worships youth and tends to set to the side those who have a little gray in their hair and a little arthritis in their joints.  
And Steve and I aren't even that old, relatively speaking. There are people in their 70's, 80's and 90's living among us who have so much wisdom and life experience to share. Those of us who are younger need to listen.  And occasionally we need to be humble enough to say, "Thanks for that insight.  I never would have thought of that."
And so on that winter afternoon, Nathan left our house for the airport a lot wiser and a little more sober. He knows that if he ever gets the unthinkable phone call that his parents were killed in a car accident, he will be better prepared for a future that extends beyond Steve's and my lives.
He will be grateful for a dad who lovingly took the time to look at that future with him.
He will be grateful, always, for the Couch Talk.