Tuesday night, Sarah came into my bedroom dressed like this.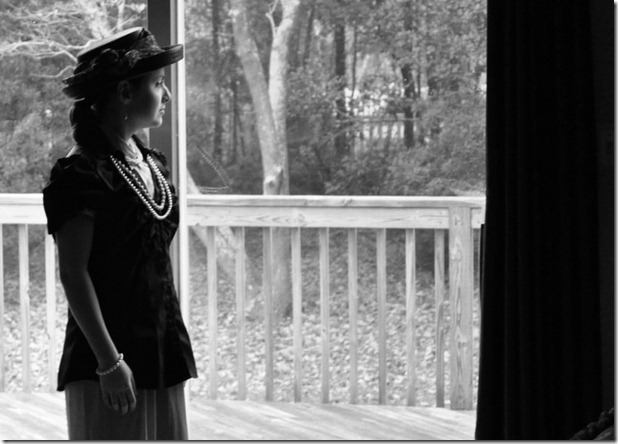 I was a bit taken aback since her usual Tuesday night apparel is sweat pants and an over sized t-shirt, an ensemble she refers to as her "comfy clothes."  As it turned out though, Wednesday was Pirate Day at school and Sarah had been up in her room trying to find something to fit with the theme.
As it turns out, she discovered that she did not really own anything overtly pirate-esque and so her writerly imagination went into overtime. She started playing around with some outfits and finally came up with a variation on the theme, deciding that she would be an aristocratic woman who had been captured by said pirates.
Hence, the hat and gown. And the whole ambient air of aristocracy.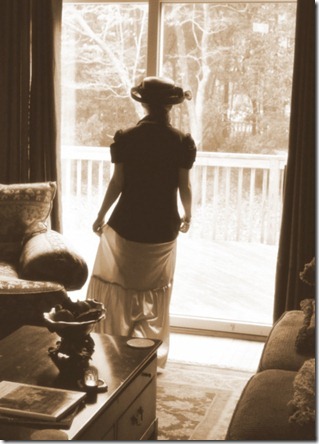 The only problem with that whole idea?  When Sarah got to school on Wednesday, it turned out that only about a dozen other kids had dressed up at all, probably since the event had been put together at the last minute and wasn't real well publicized.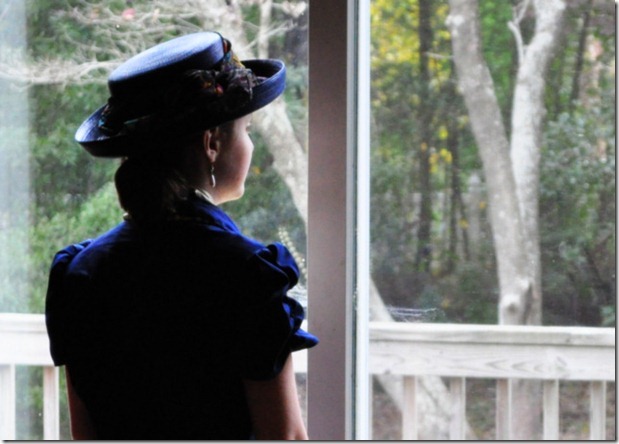 When I dropped Sarah off at the front curb and saw all those teenagers clad in their normal garb of t-shirts and jeans, I had a few mama qualms to cope with.  My sweet captured captive was going to stick out like the proverbial sore thumb.  Would she be made fun of?  Teased? 
How does one fare when one is the only aristocratic woman amidst gathered, giggling hordes of the non-aristocracy?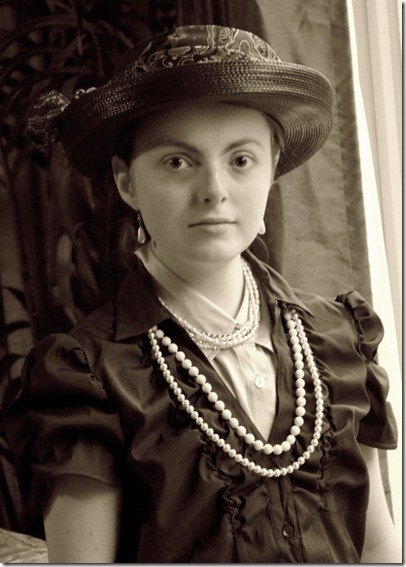 Well, as it turns out, Lady Sarah did just fine. She said a couple of boys who have never talked to her before complimented her dress and she got quite a bit of positive attention. Overall, she was quite pleased with herself for pulling it off and I got to breathe a big sigh of Mama Relief.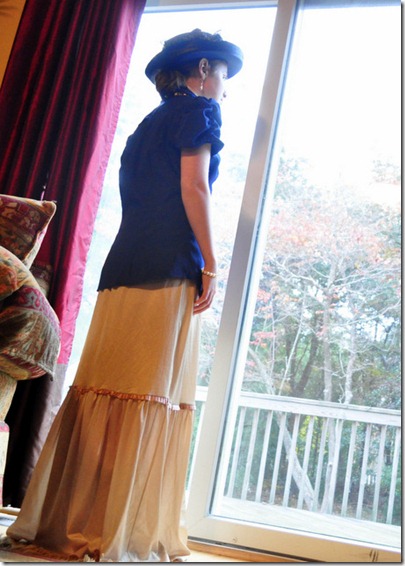 Back when I was in school, I always dreaded Spirit Week and Official Dress Up Days.  I just wanted to wear my usual non-noticeable clothing and disappear into the crowd, since I was quiet and introverted and the unofficial wall flower of my school. The very thought of showing up in something as noticeable as what Sarah wore yesterday would have completely done me in, which is why I especially admired her panache and poise in pulling it off.
What about you?
When you were in school, did you love the Dress Up Day/Spirit Week activities and dress to the hilt?  Or were you more like me, wanting to shrink into the shadows and not be noticed? 
I'd love to hear from you–either your story or stories of your kids (or grandkids) and the way your family deals with Dress Up Days and Spirit Days. Are they days to celebrate or days to dread?
In the meantime, I will sit here and be extra thankful that those days are behind me and that I no longer have to stress out over how to put together an outfit that makes me look my favorite cartoon character. Or don myself in garments that represent my favorite flower.
Ick.  Give me my comfy clothes any ol' day!