Archives For Meagan
Meagan posted on Facebook Saturday about the birthing class she and Nathan were scheduled to attend at the hospital that morning. The picture she posted of the two of them just struck me so funny. (They both have such demonstrative faces.)
Continue Reading…
Note: Just wanted to update you on my brother-in-law, Randy, who had a heart attack a week ago. He went into surgery shortly after getting to the emergency room and had a stent placed; he was sent home the next day. His doctor told him to take at least a week off from work but his wife Debbie (my little sister), told him he is supposed to take TWO weeks off. He is listening to his wife!

Here's a note for you from Debbie: Randy and I would like to extend our heart-felt thanks to all of the wonderful Smithellaneous readers who so kindly let us know you were praying for us after Randy's recent heart attack. We were amazed that even though you only know as extended family of Becky's, you took the time to express care and concern–Cindy from Sonoma, CA even sent a card! That's the kind of stuff that makes the world a better place. Your thoughtfulness means so much–thank you! Randy & Deb Mantik
Today is all about miscellaneous family news including a working daughter, a fabulous husband, a picture of our grandson's mother and a picture of our doggy's grandson!
Continue Reading…
This morning at about 6:30, I rode my bike. . .
Today Steve celebrates half a century plus half a decade plus one.
For those of you who are not good at math—like me—he turns fifty-six.
Continue Reading…
This Saturday is the prom at Sarah's High School. She hadn't planned to attend and I really wasn't all that gung-ho about her going since I've heard more than a few wild stories from prom-goers over the years.
The Chair in its place, getting ready for the 2012 Smith Family Photo.
Welcome To A Special Edition of Smithellaneous As We Celebrate The
One Year Anniversary of Nathan and Meagan Smith
We'll get things started with a word from the happy couple themselves.  I asked them to write down two things that they love most about their spouse after being married for a year.   Since they're currently on a weekend anniversary getaway, I didn't want their assignment to be too time-consuming; I told them just a couple of sentences would be fine.
I know it's hard to believe, but Monday will mark Nathan and Meagan's first wedding anniversary.  Since so many wonderful readers avidly followed along with their story throughout their engagement and wedding, I want to invite you to the anniversary celebration.
You may remember the Wedding Wednesday series I did for a few months following their wedding, highlighting various photos and stories. Well, I'll be bringing that back on Monday except that it will be called . . . well . . . Wedding Monday instead.  (For obvious reasons.)
I'll be featuring some of my absolute favorite photos of them and you will also hear from Nathan and Meagan themselves as each of them shares the two top things they love the most about each other after their first year of marriage.
Don't miss this special time at Smithellaneous!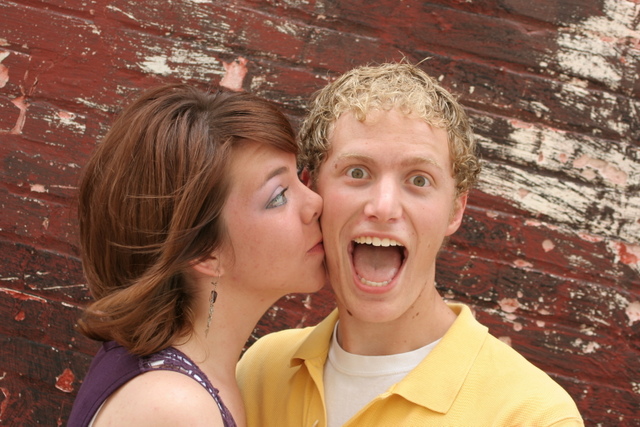 As most of you have probably noticed by now, I have a contract with an ad network called BlogHer whose ads appear in the right column.   I get a little income each month from running the ads and then every week or two, one of my posts is featured on some of the other blogs in the network which provides a little extra blogging exposure.
See if you recognize anyone on this page.  (Tip:  Scroll about halfway down.)
http://www.myacademyoasis.org/#/oasis-value/faculty-1
Yep!  Meagan just landed a teaching position at an excellent Christian Academy in Winter Haven and will be starting on March 19.
Meagan–we're so proud of you!  Those students of yours don't know what a blessing they're in for.