Sunday night, my brother and his family arrived from Minnesota, diligently carting with them some of their cold northern air with which to replace our warm southern air.
But that's okay. We let them stay anyway.
On Monday, we all bundled up to climb Jockey's Ridge. Sarah and Steve started off sedately enough but I wasn't too surprised to see what happened next.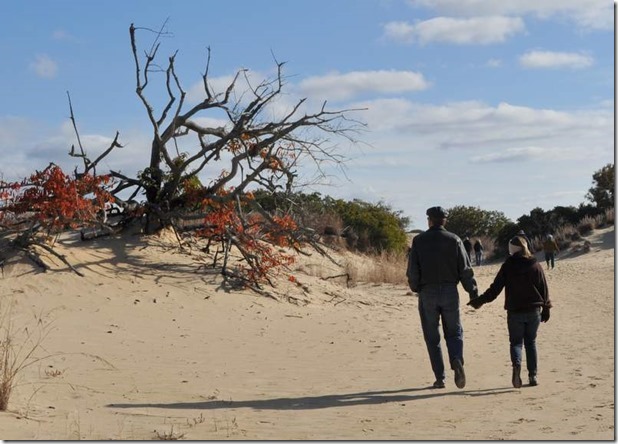 Yep.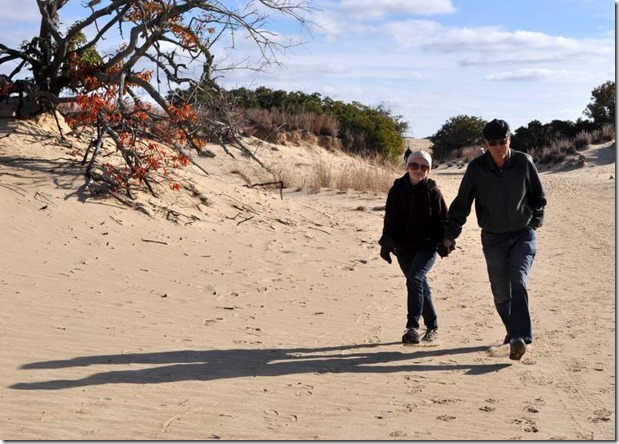 It was the outbreak of . . .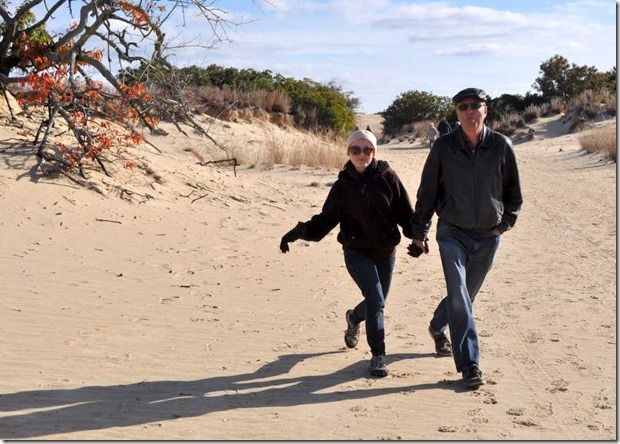 the infamous. . . .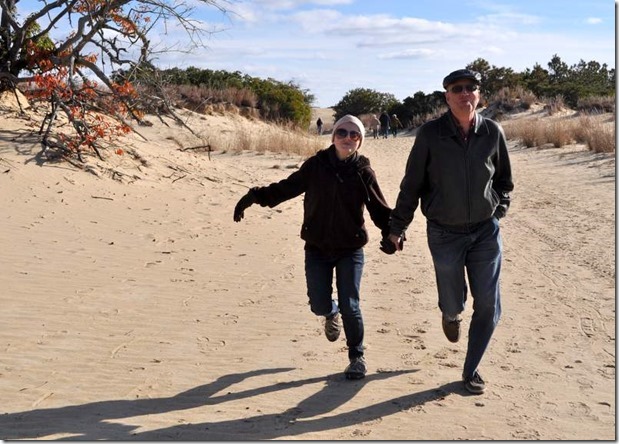 father/daughter . . .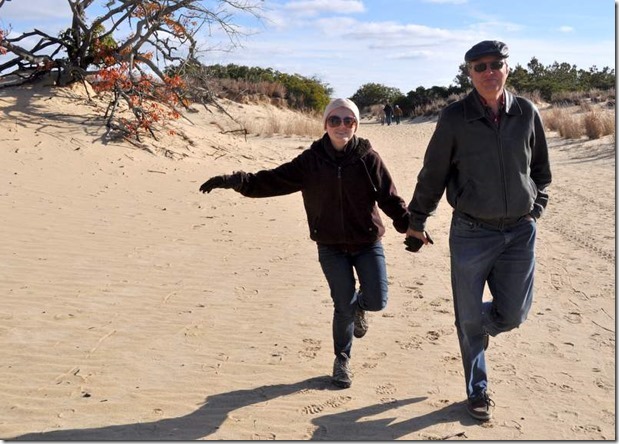 skip!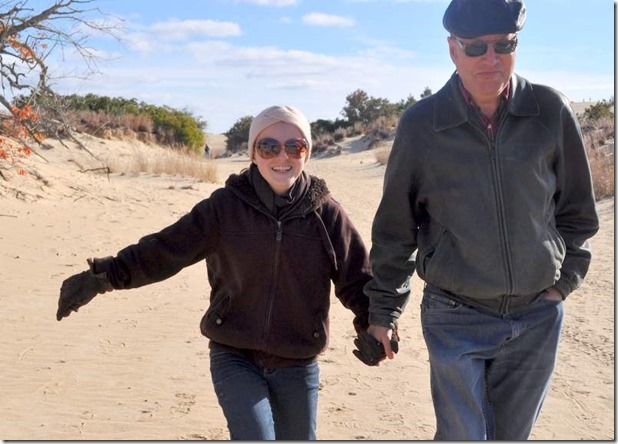 After the skipping had finally subsided, Sarah plopped down on the ground with her cousin, Andrew, where they donned their Cool Photo Personas.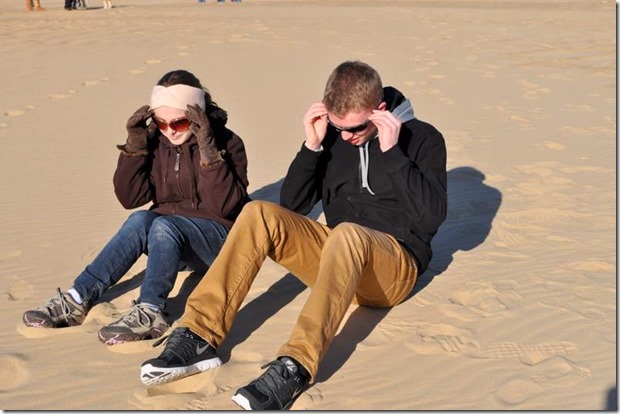 And it worked! They were actually cool!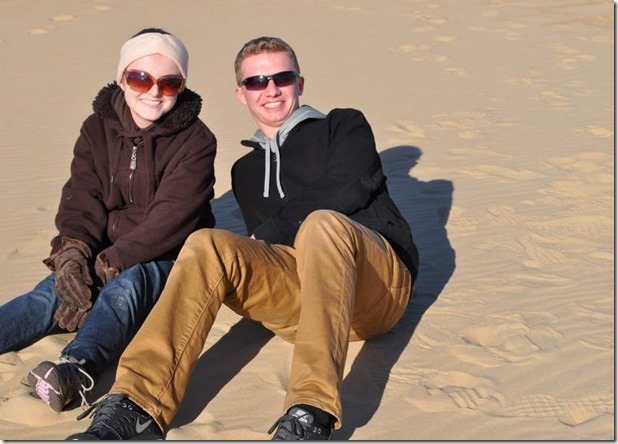 And then?
Then Andrew challenged his Uncle Steve to a race along the dune. It reminded me of another time and another young man. Oh, the memories.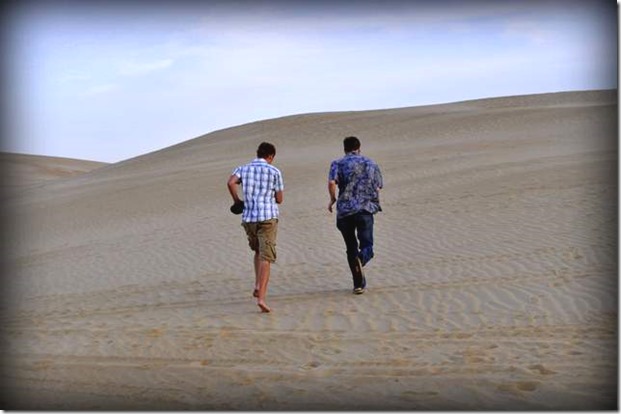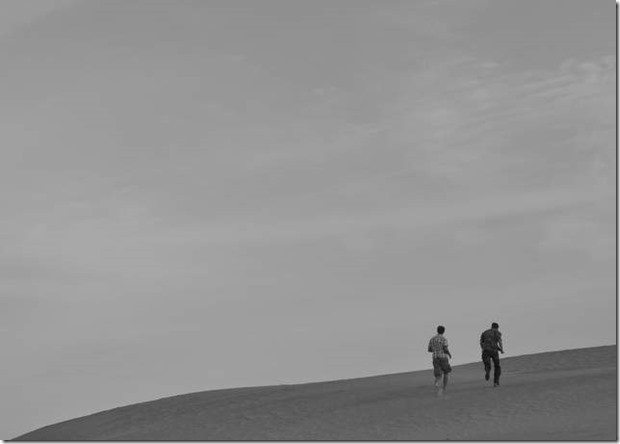 When Andrew first mentioned the possibility of a race Steve replied, "Well, okay, but let me just stretch a little first."
And so Andrew stretched right along with him even though when you're sixteen years old, your bones and muscles kind of do what they're told without too much prior conditioning or convincing.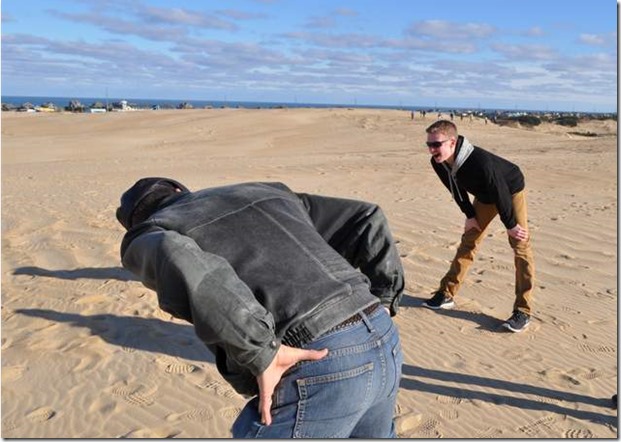 And then? They were off!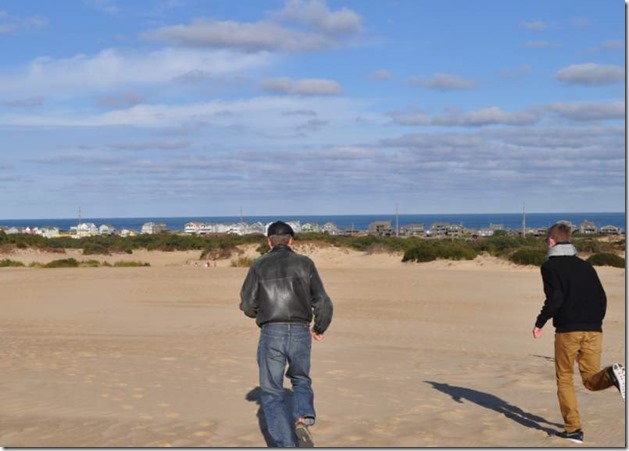 The Big Race!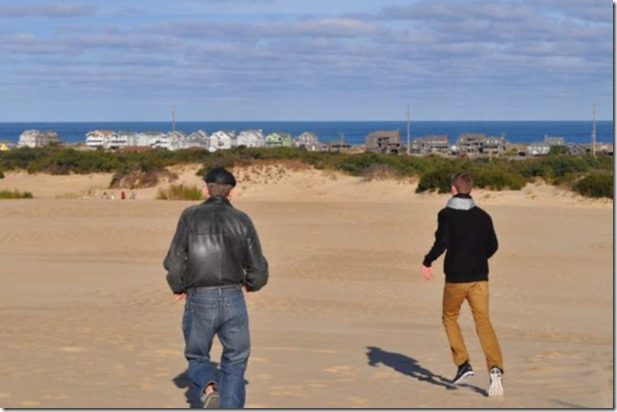 Well, it was a Big Race that is, until Andrew thought he might be beating Uncle Steve by just a little too much. In order to even things up a bit, he thoughtfully turned around and started running (and skipping) backwards.
You can tell he's enjoying himself just a little too much.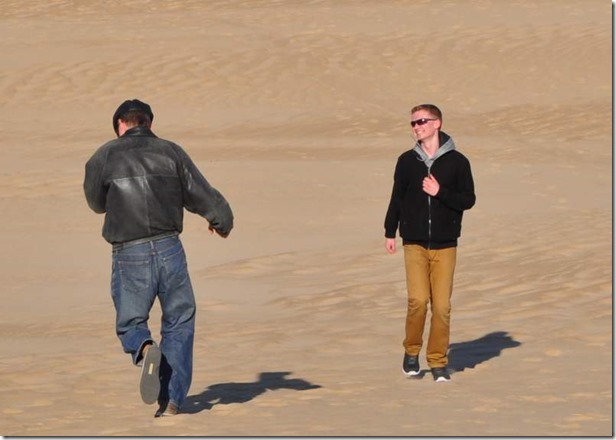 He is just as big a tease as Nathan ever was.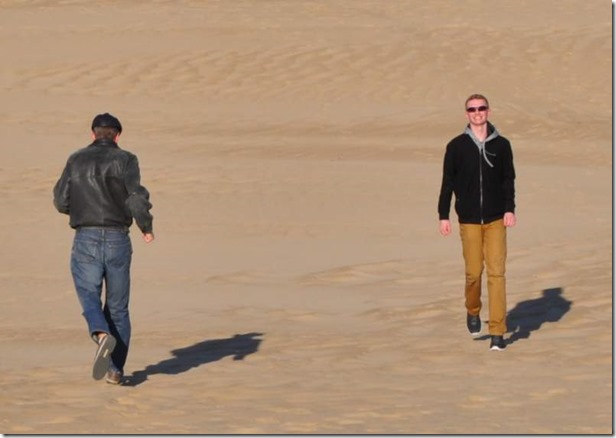 It was so much fun to see them laughing and running . . .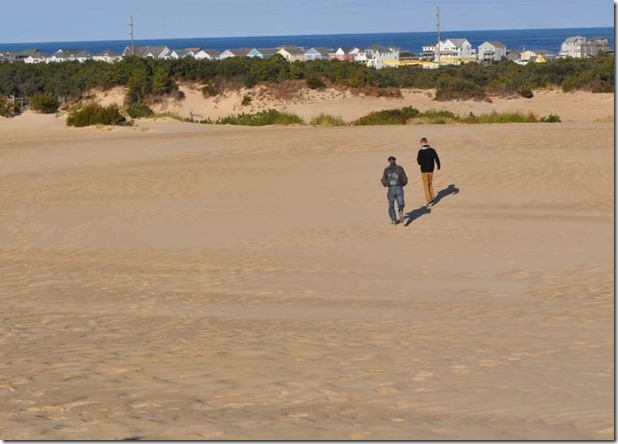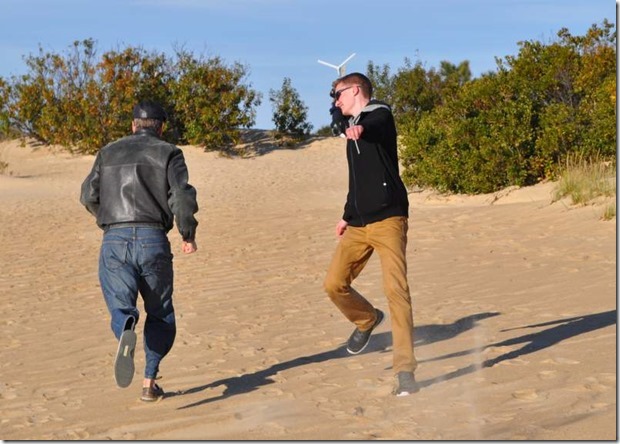 and enjoying the blue sea beyond them and the sea air around them.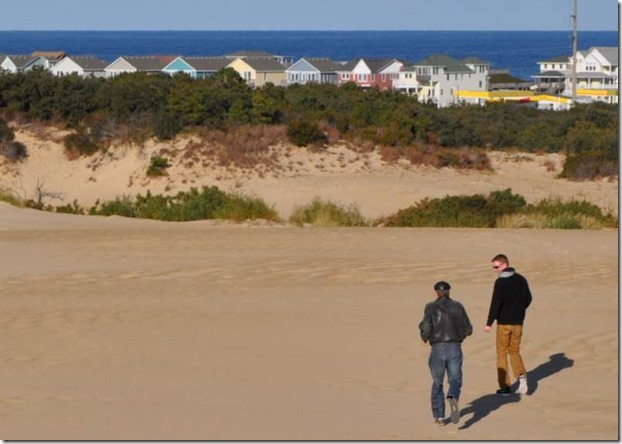 You can see that Sarah was greatly amused by the show her cousin and dad were putting on.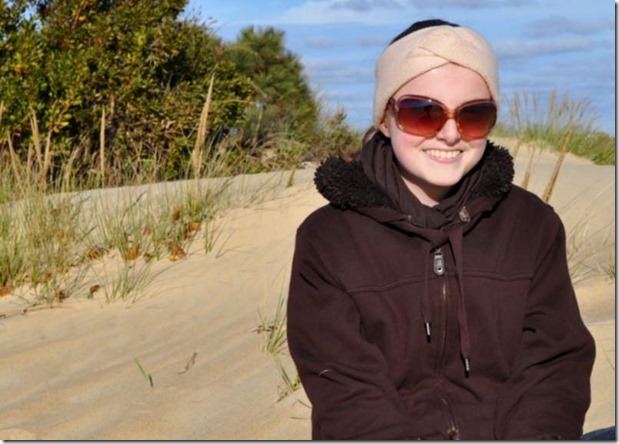 She and I (well, actually ALL of us) kept discussing how much alike Andrew and Nathan are; in fact, they are actually much more like brothers than cousins. (Have I ever mentioned that Nathan's middle name is Andrew?) I mean, really–I could sit here and list at least ten things that Andrew did and said that Nathan is prone to do and say and since they hardly ever see each other, it can't be learned behavior. Heredity is amazing!
We passed this lovely tree on the way off the dune and then headed off to the main attraction . . .the ocean.
My Minnesotan family had to stop and pose for some pictures to mark the oceanic occasion since they live just a little teeny ways from their nearest ocean.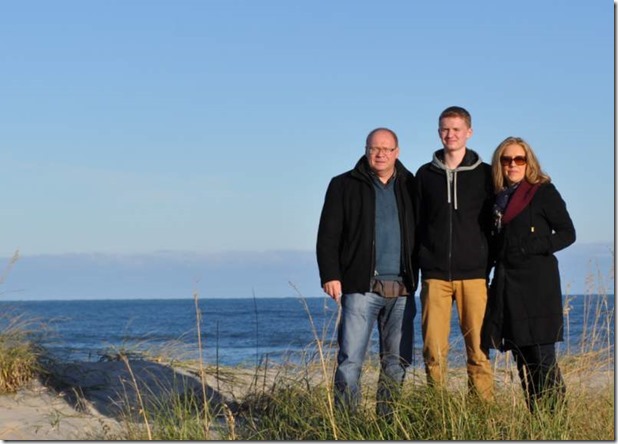 (By the way,Tim is my oldest brother. There are two brothers after him, then there's me, then two younger sisters. Mom had six kids in ten years—she was amazing then and she is amazing now!)
I especially love this photo of Andrew because the shadows to his right are his parents, standing watch over him.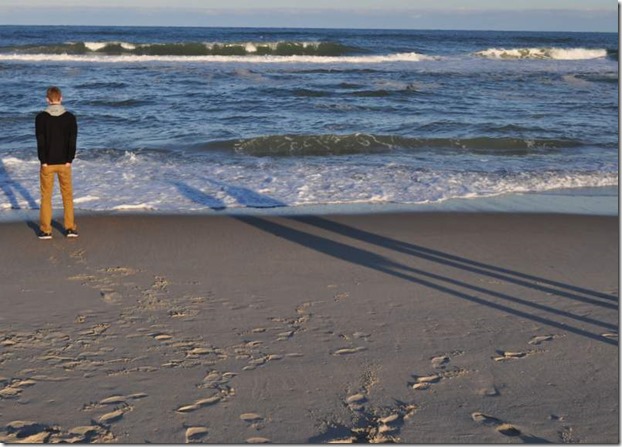 And this one is cool, too.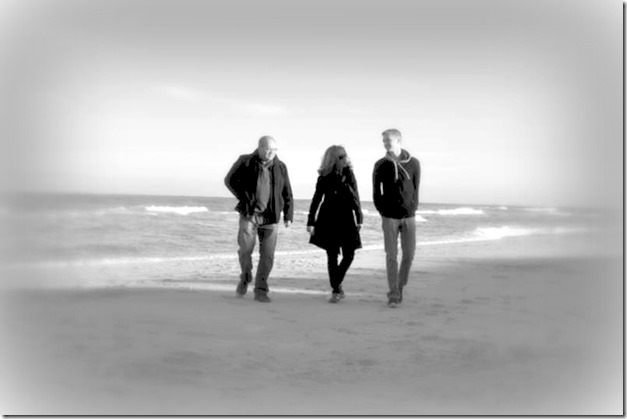 I'll have more photos to share with you from our visit together but for now, I'd better get a move on. I'll be spending the rest of my day like most of you . . wrestling turkeys and hams and sweet potatoes to the ground.
Because tomorrow at 2 pm, this van filled with fifteen hungry guys . . .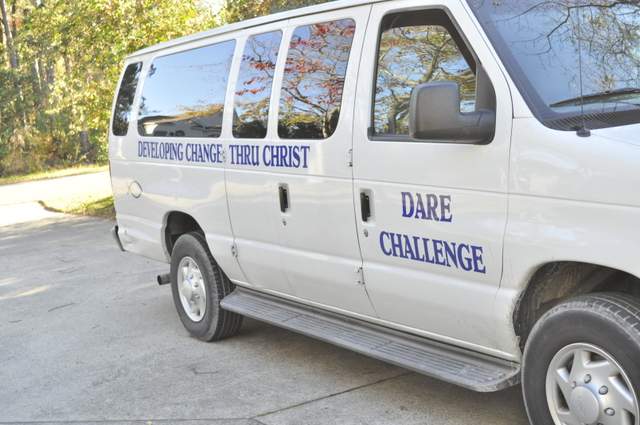 will pull up in front of our house bringing my total of people to feed to twenty.
Our menu will include turkey, ham, broccoli casserole, green bean casserole, strawberry/pretzel salad, collards, marinated carrots, relish tray, cornbread dressing, sweet potatoes, mashed potatoes and gravy, two kinds of bread, and four kinds of desserts. (Some wonderful ladies at our church made the desserts for me.)
Since I won't be talking to you again till after Thanksgiving, I'd like to wish you and the people you love a day full of the joy of giving thanks.
And I'd also like to say thank you for being part of the Smithellaneous family; I appreciate you more than you could ever know.
Happy, happy Thanksgiving!