This post is all about the variety of rooms we've been in recently.
I'll start off with the room we stayed in for the past week at Nathan and Meagan's which will, in just ten weeks, be Noah's room! (Nathan and Meagan moved a queen bed into the room just for our visit—wasn't that so nice of them?)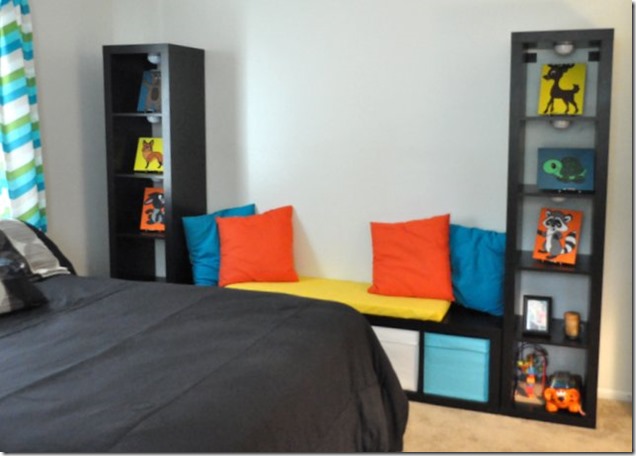 The theme of Noah's room is woodland animals and Meagan painted the two animal pictures you see here. She somehow projected an image on a wall and traced it and then painted it—I don't quite understand complicated stuff like that but they sure turned out cute! (The crib and changing table are on the other side of the room.)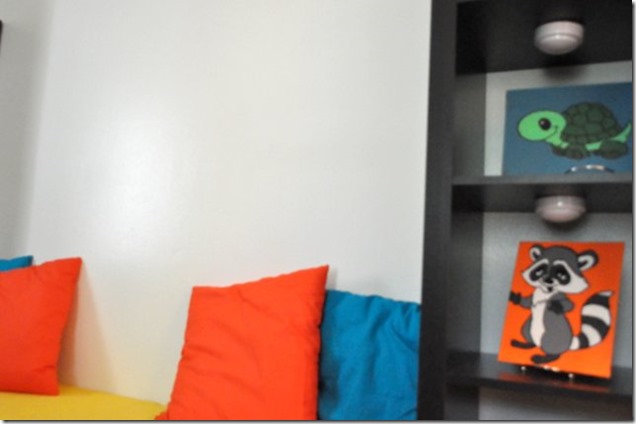 Here is their lovely living room . . .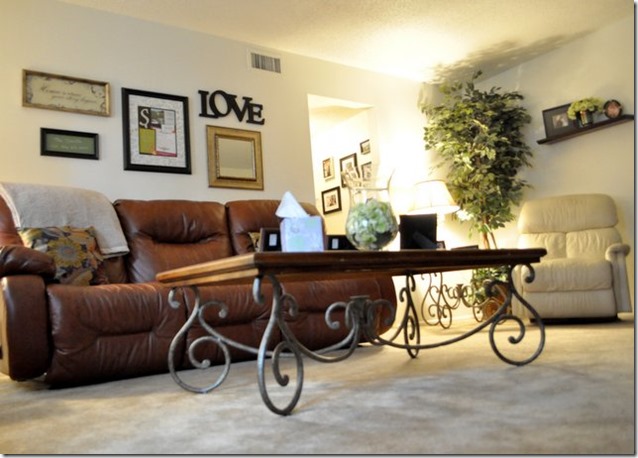 from two perspectives.
And their bedroom.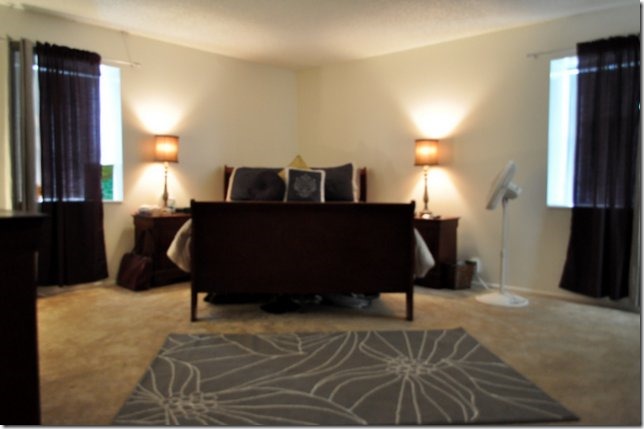 The two of them have done such a great job of taking limited resources and creating a beautiful and homey place to live. And may I also mention what a great host and hostess they were. It's not easy to host relatives for a week and they made us feel nothing but welcome.
And this room? This is where the three of us are staying for a couple of days before heading home. I got it for a really great deal on Priceline.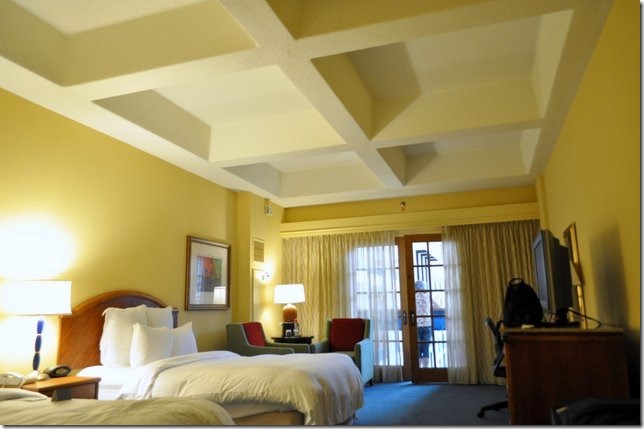 This is the view from our room's balcony.
And this is Steve and Sarah trying to figure out some mystery with the balcony's door.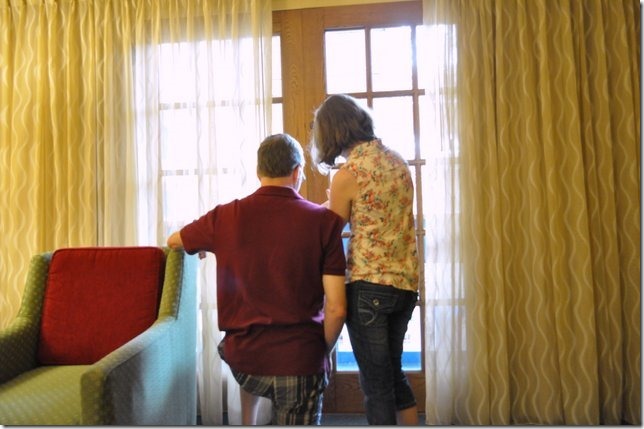 And speaking of rooms, this morning Sarah and I ordered room service. It's not something we do very often, but it's a wonderful luxury every once in a great while. (We split the order to make it more economical and it was just the right amount of food.)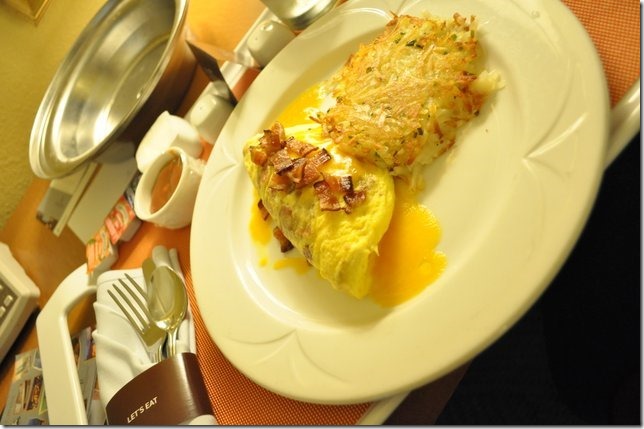 And speaking of food, another room we were in yesterday was the hotel's restaurant. I was so smitten with how the fries were presented (in a pretend fryer basket) that I had to get a photo.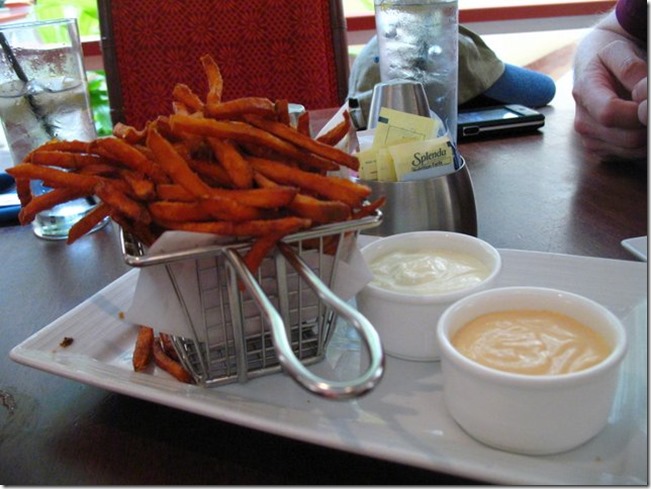 And yet another recent room was the auditorium of Garden Grove Church where Meagan's parents are the pastors. Nathan is the drummer there and since their regular bass player was out of town, he asked Steve if he would play. The two of them, along with Nathan's brother-in-law, John, on keyboard made up an amazing band.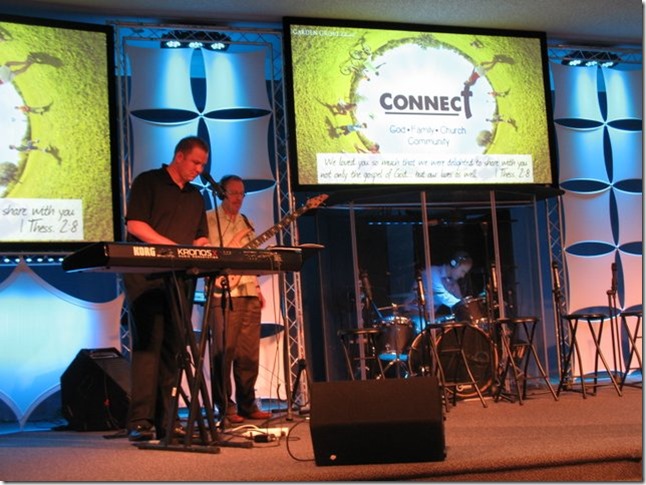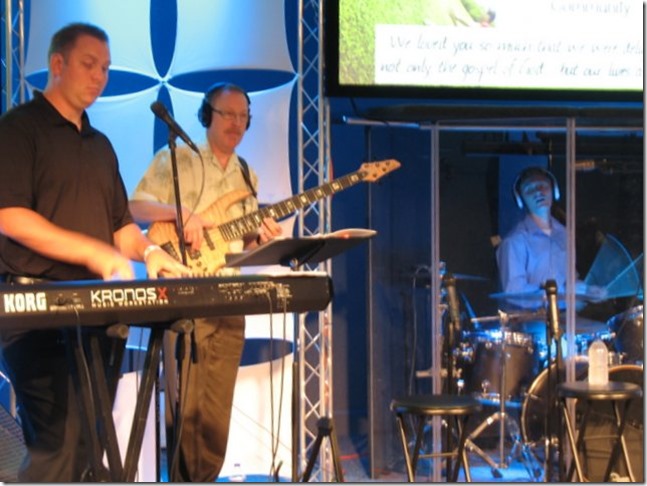 Meagan is one of the worship team members. Her sister, Joy, (on her left—who is married to John) and her other sister, Kristin, are also involved. (Kristin is in the pink at the front of the stage, leading the congregation in worship.) It's definitely a family affair and Nathan loves being a part of it all.
And the last room featured today shows you where we were last night: the Orange County Convention Center in Orlando. This the worship band that opened the meeting.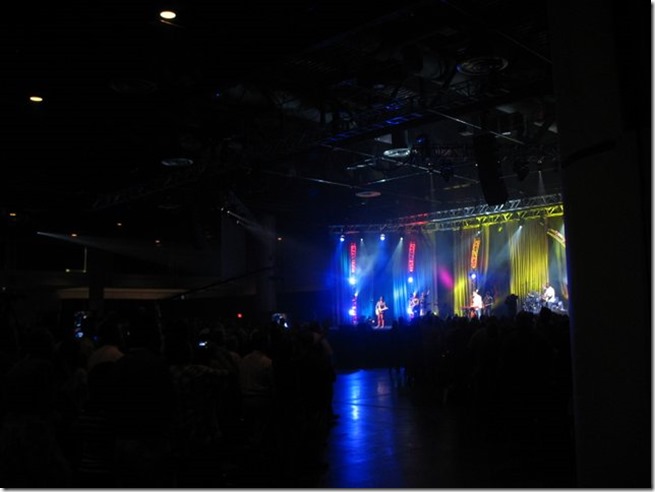 Orlando is hosting the General Council of the Assemblies of God (the denomination that we are a part of) and last night was a pre-council meeting. Tonight,around 25,000 people will be in the arena for the official opening service.
One of the speakers last night was Choco De Jesús who is an Assembly of God pastor in Chicago. His church is well-known for the way it reaches out to prostitutes, gang members, and the homeless and helps them get on their feet and find a new way of life. Pastor De Jesus was just featured by Time Magazine as one of the most 100 influential people in the world, mainly because of the work his church does for so many people in need.
It was an amazing experience to get to hear someone of that caliber speak in person; he was such an inspiration.
I'm looking forward to today and getting to spend time with my sister, Debbie and her family who are in Orlando for same meeting. Then tomorrow we hit the road for North Carolina—I can't wait to see the signs of Manteo welcoming us home!