Steve is on the road tor Raleigh to visit a church member who is having surgery. From there he will head to Charlotte (6 hours away) to visit another person in the hospital—his brother, Jeff.
Jeff was playing a gig with his band Saturday night and in the process of loading equipment, had an 80-pound speaker land on him. He broke a finger in several places (which will need surgery to repair) and also broke six ribs. He will be in the hospital several days and will have a long and uncomfortable recovery ahead of him.
This is a photo of the Smith men eating steamed oysters for Christmas 2012. Jeff is the one in the middle.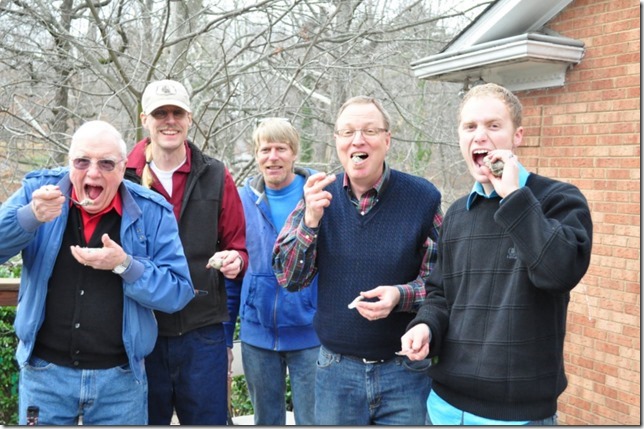 Steve had already been planning to go to Charlotte to celebrate his dad's 83rd birthday so he's thankful the timing worked out so that he'll also get to spend time and lend support to Jeff and his parents.
Another interesting thing that is happening this week is that we're supposed to get up to eight inches of snow in the next couple of days! Eight. Inches. For us southern folk, that is a whole stinkin' lot of Fluffy White Stuff! We're not sure what Steve's journey will be like coming back home in the next couple of days through all that snow. I'm sure he'll have some stories to tell.
And speaking of driving, I mentioned a few weeks ago that Sarah got her Driver's Permit. That is such a huge event for a teenager AND her parents.
All in all, she has been doing fabulously in her driving practice although there was one small incident where she decided to tangle with the fire hydrant at the end of our driveway. The fire hydrant steadfastly stood its ground as fire hydrants are wont to do.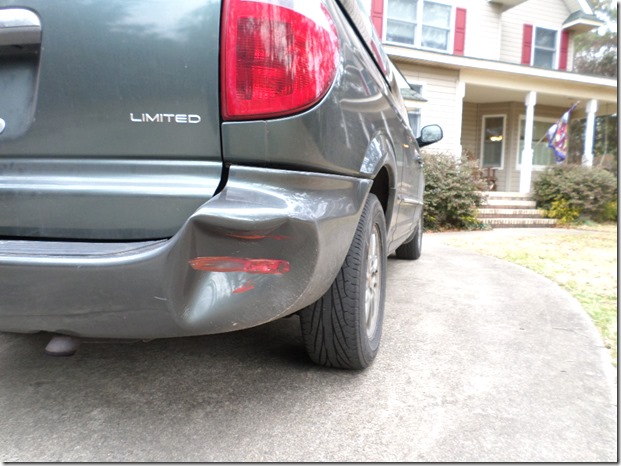 She felt bad about putting the dent in the van but we both agreed that hitting a hydrant is a lot less traumatic than other things she could have hit—like another car! I don't think there are many beginning drivers that don't have at least one fender bender under their belt. I'm glad she got hers over with.
One big benefit of having another driver in the house is that now she can hop out and pump gas for me.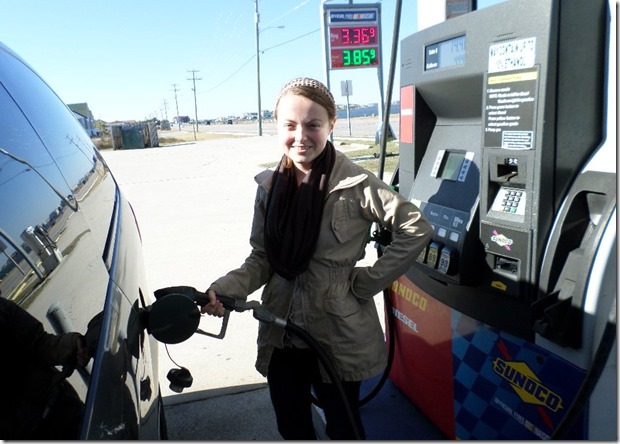 How great is that? I can sit in the comfy warm van and put my offspring to work. (I always knew there was a reason I wanted to have kids.)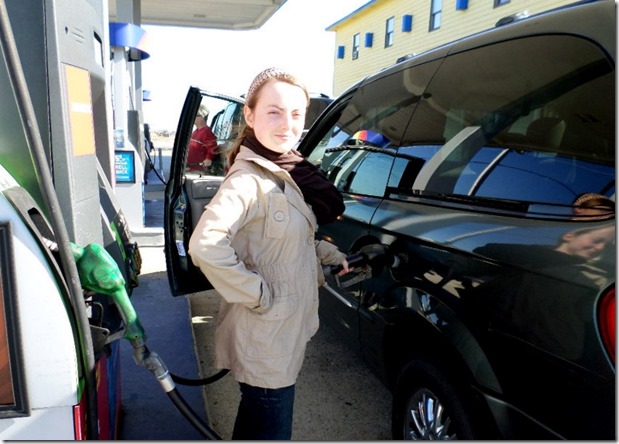 In closing, here's a little blog tidbit for you. Last week: I hit 9,000 comments! (The count goes back to February of 2012 when I moved the blog from Blogspot to Wordpress. And of course that number includes your comments and my replies.)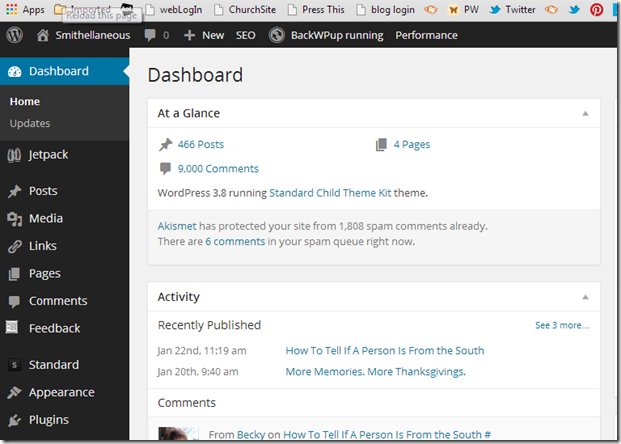 Thanks to all of you who so faithfully read and so faithfully comment—you have done so much to make Smithellaneous into a community and I am grateful for you every single day.
Well, maybe I should put the computer away and start gearing up for the Great Blizzard of 2014. If you don't hear from me for a few days, you can just check under the nearest snowdrift . . . good times!