As we do almost every year, we spent Christmas Day with Steve's parents in Charlotte.  Steve started a tradition last year of bringing along oysters to eat as an appetizer and so the Smith Men ate and the Smith Women watched the Smith Men eat.   (A perfect arrangement, in my opinion.)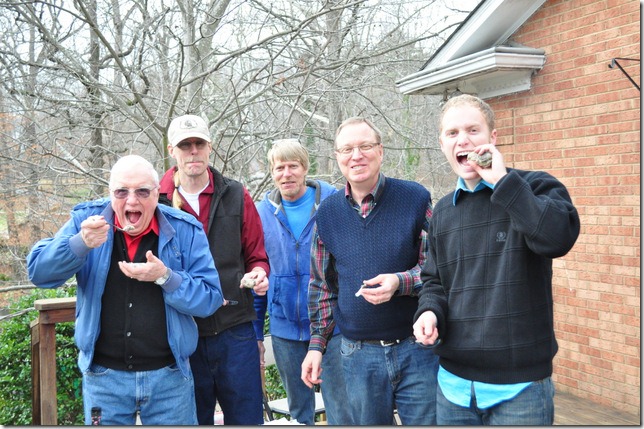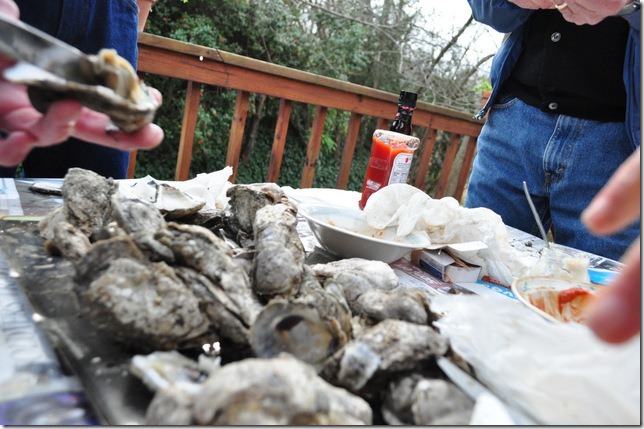 Can you tell where Steve gets his dramatic flair from?  His dad isn't just a ham, he's pure pork.  (He'd just eaten some spicy sauce, by the way.)
After seeing his dad's dramatic reaction, Steve had to try the sauce for himself. 
The Newest Smith Woman joined the oyster-ers, as well.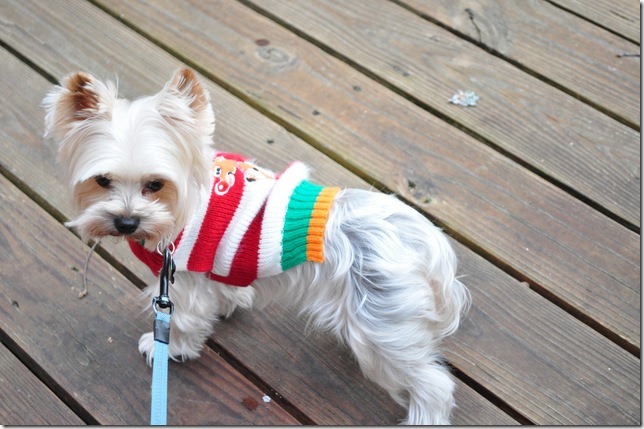 Later on, inside the house, the Smith siblings spent some time hanging out with each other . . .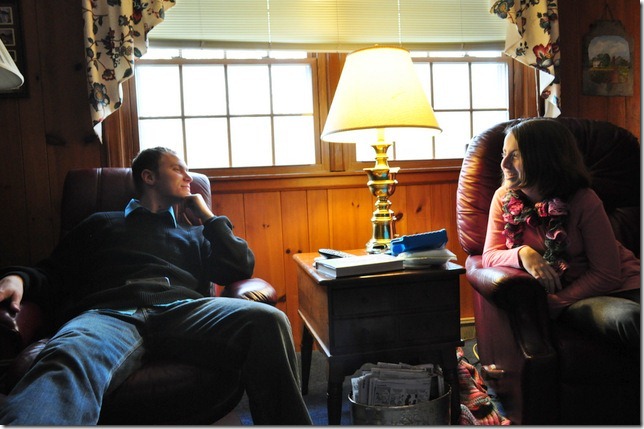 and with their grandparents.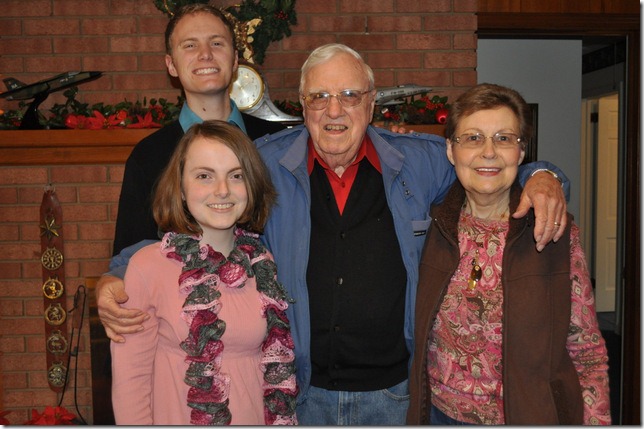 And then I got to see a photo of the future as Nathan and Meagan held the brand newest relative in the family—Steve's great nephew. (Truthfully, I'm surprised that Nathan was able to get little Jason away from Meagan long enough for a picture; she is known as "The Baby Whisperer" in the family and can't wait to get her hands on any miscellaneous babies that come her way.)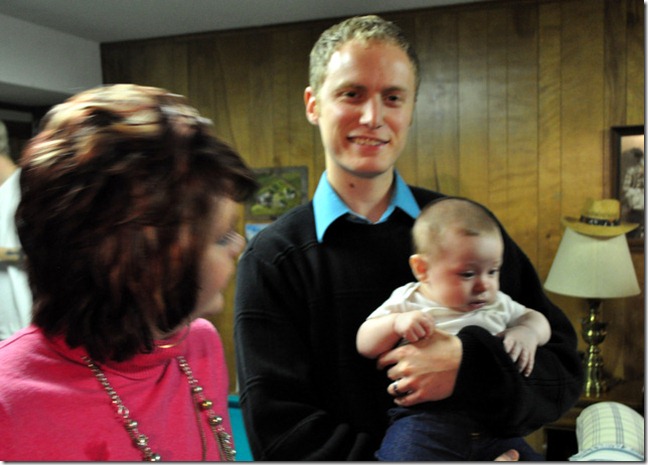 Then it was time for Nathan's and my semi- annual table tennis tournament.  For being an oldish sort of lady, I kept up with him pretty well.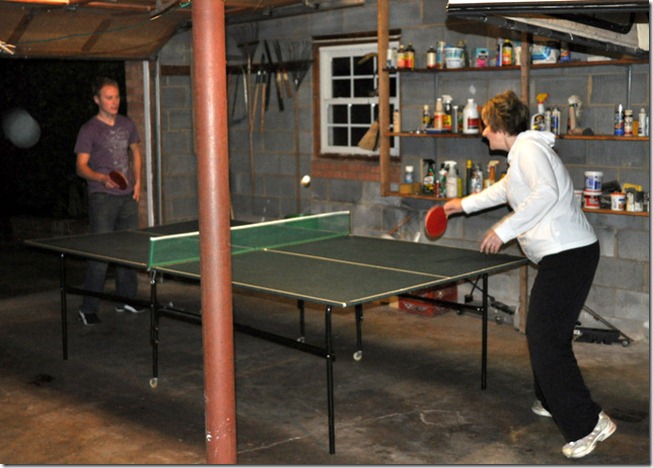 Later that night, someone built a fire in the den fireplace, and we all just hung out and relaxed.  Can you hear the great big "Ahhhh" emitting from this picture?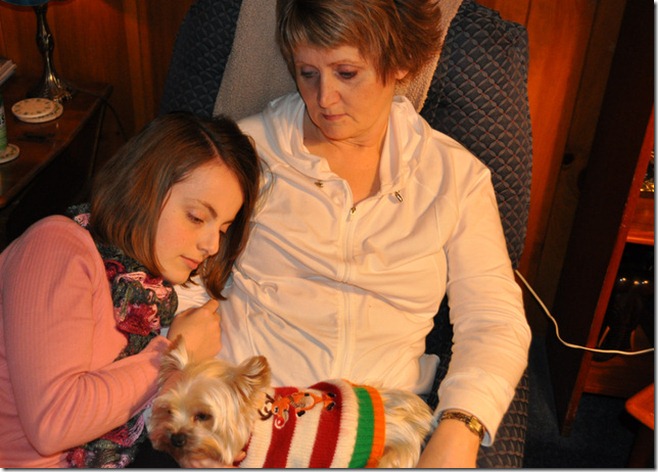 Sounds like a perfectly lovely day, doesn't it?  Well, it was, except for one teeny, weeny thing.
At about 11 am, Steve happened to discover that the floor of the basement bathroom was flooded; after he and his dad did some further investigating, they found out that the septic tank was malfunctioning.
On Christmas Day.
With fifteen relatives gathered.
Who had at least an occasional need to use the restroom.
And there were no septic companies available for an emergency servicing.
I must say that Steve's mom, Vernie, was the very epitome of equanimity and graciousness when she heard that disheartening news;  I'm not sure that I would have taken it quite as well..  Basically, she was hearing that none of her assembled family could use the bathroom, take showers, or run much water for fear of making an already worrisome problem worse.
But she wasn't a military wife for 24 years for nothing.  She kept her smile in place and before we knew it, she had helped to organize some options: a port-a- potty brought in by Steve's brother and a neighbor who offered to let us use her bathroom.
We traded out the nice plates for paper plates  (to cut down on dish washing) and we all survived quite admirably.  In almost forty years of living in that house, they had never had a problem with their septic tank so I thought it was rather rude of said septic tank to make its presence felt on Christmas day, of all days! 
But happily, what I remember the most from the day is not the septic tank's untimely misbehavior but the moments with family, the wonderful food,  the fire in the fireplace, and the beauty that surrounded us–like this arrangement of flowers that Vernie created.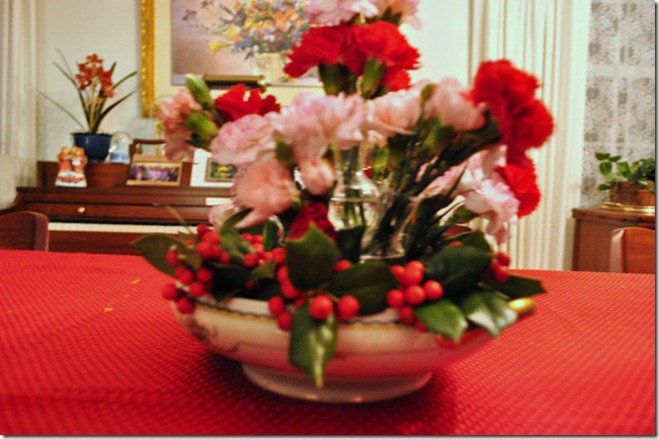 As I watched the family interact with each other throughout the day, I especially noticed the sweet relationship between Steve and Vernie.   And I realized  anew that no matter how old a son grows, even if he reaches the ripe ol' age of 55, a mama never stops loving her "little boy."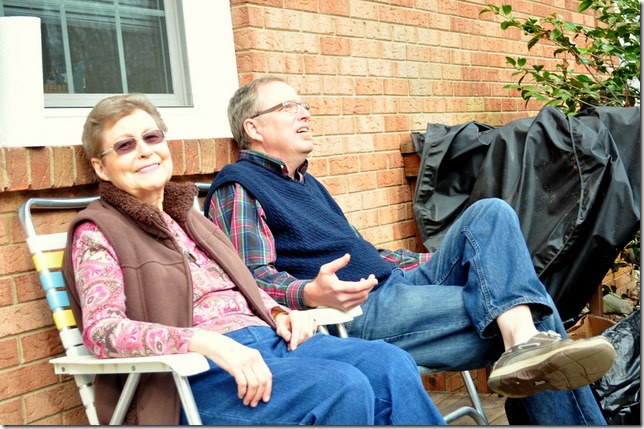 And when I took this photo of the future, I knew that my own grown up son will always be my little boy, too, no matter how old he gets.  And I know that the sons or daughters that he and Meagan eventually have will be the blessed recipients of his own strong and tender love– love passed along from his four grandparents to Steve and to me and then passed on to him.  Hand me down love, if you will.
The best part of this Christmas for me?
The photos of the future.