Note: Just wanted to update you on my brother-in-law, Randy, who had a heart attack a week ago. He went into surgery shortly after getting to the emergency room and had a stent placed; he was sent home the next day. His doctor told him to take at least a week off from work but his wife Debbie (my little sister), told him he is supposed to take TWO weeks off. He is listening to his wife!

Here's a note for you from Debbie: Randy and I would like to extend our heart-felt thanks to all of the wonderful Smithellaneous readers who so kindly let us know you were praying for us after Randy's recent heart attack. We were amazed that even though you only know as extended family of Becky's, you took the time to express care and concern–Cindy from Sonoma, CA even sent a card! That's the kind of stuff that makes the world a better place. :-) Your thoughtfulness means so much–thank you! Randy & Deb Mantik
Finally! I am actually sitting down and going through some more of my pictures from Florida. Do you know what that means? It means it's time for a Baby Shower Post!
(As you may recall, our own church here in Manteo threw a completely unexpected shower for Noah a few weeks ago; I wrote about that shower here.)
The Florida shower was at the church where Nathan and Meagan attend and where Meagan's parents are the co-pastors. The church has a screen in the lobby with scrolling announcements and of course I just had to snap a photo of this particularly momentous announcement when its time came to scroll around. It gave me quite the grandmotherly thrill to see Noah's name appearing somewhere in such an official capacity.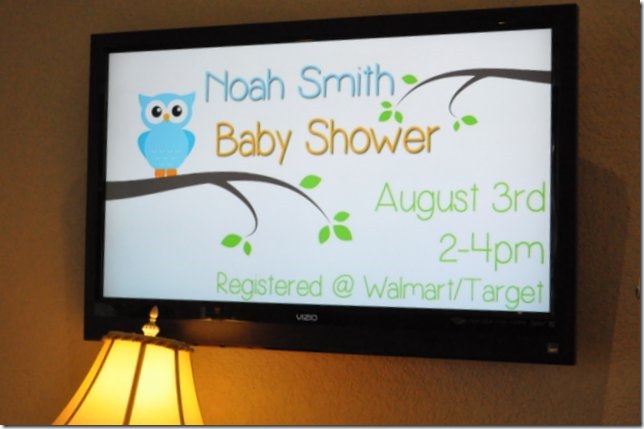 The shower guests were greeted by paper leaves upon which to write wise baby-raising advice. (Hence, the presence of the wise owl overseeing things.)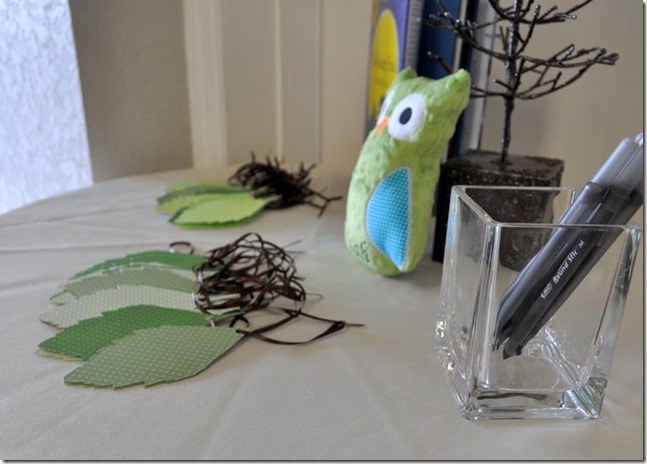 We then hung our leaves on a tree–a veritable Tree of Wisdom!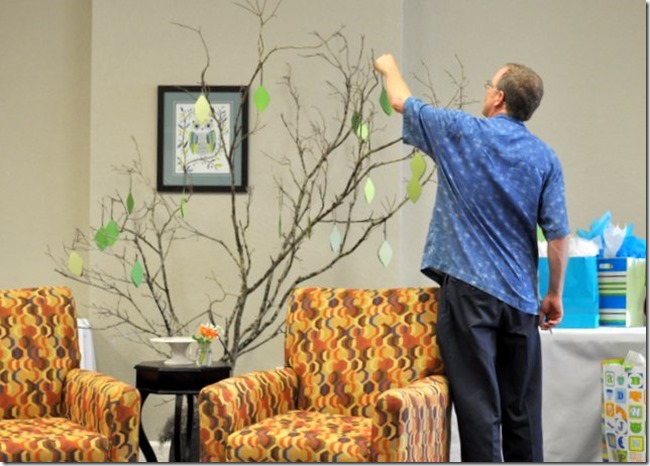 The food was delectable and beautifully displayed.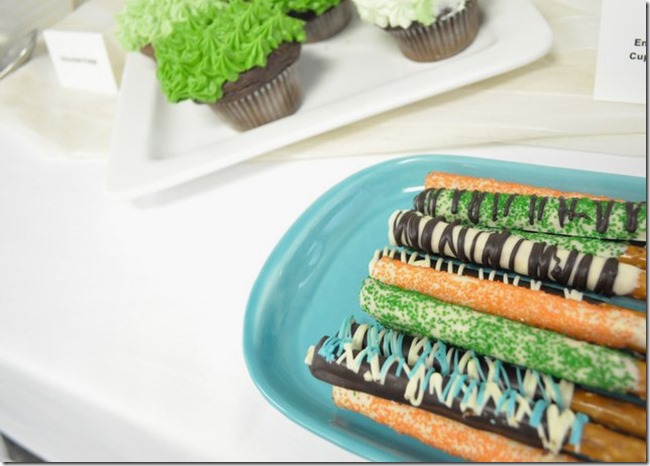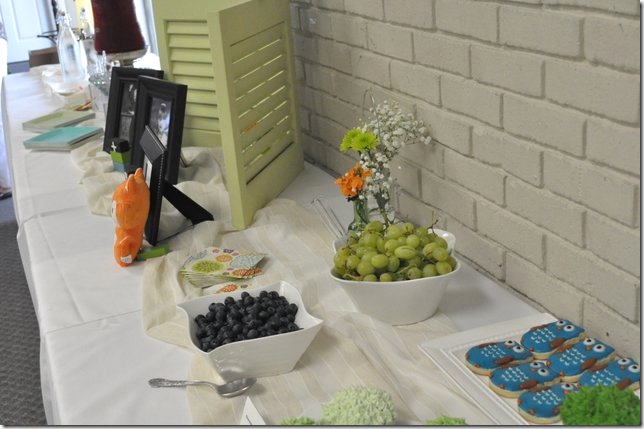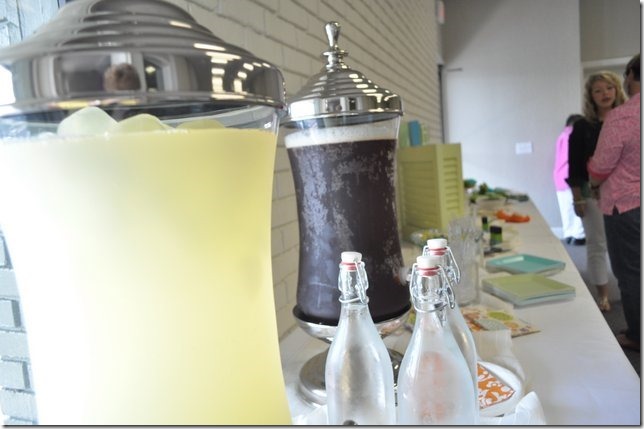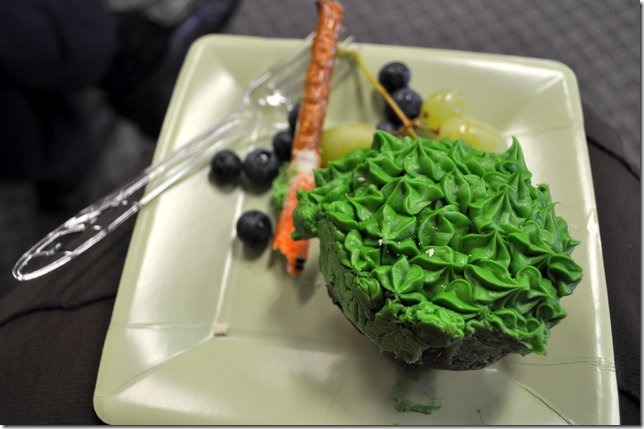 There was even an official Grandparent's Zone, which was a place specifically reserved for the four people who for the rest of their lives will be the Officially Enthusiastic Inveterate Noah Dither-ers.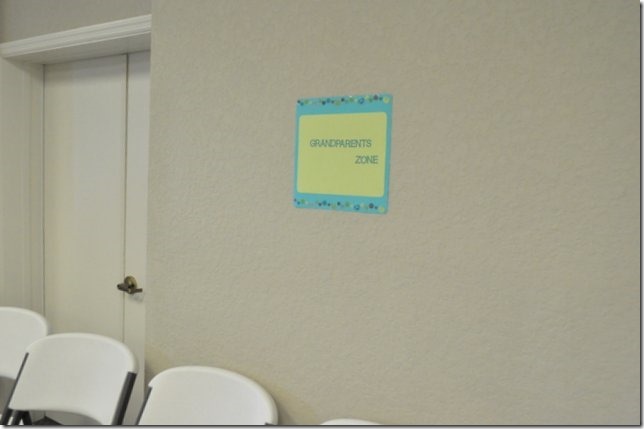 In this photo, Sheri (Noah's other grandma) is holding her gorgeous granddaughter, Abby. I have no idea why I am making such an odd face but I do know that I love how Sheri and I provide sparkling splashes of color in the midst of our blue-ish men.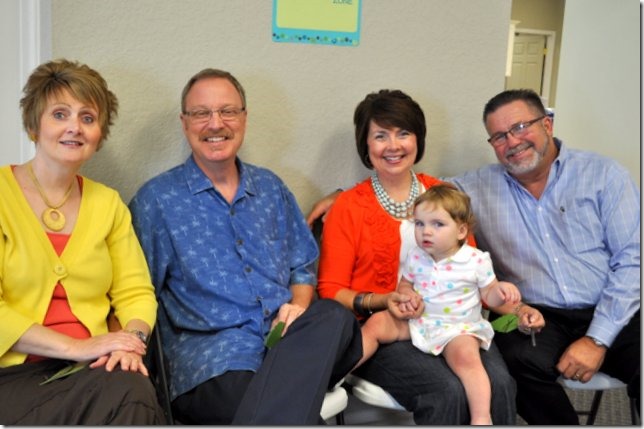 Of course, no baby shower is complete without the baby and his accompanying parents.
Nathan and Meagan entered the room to great applause and the enthusiastic snapping of cameras. (Noah didn't have a lot of say about it but I think he was quite pleased with all the attention.)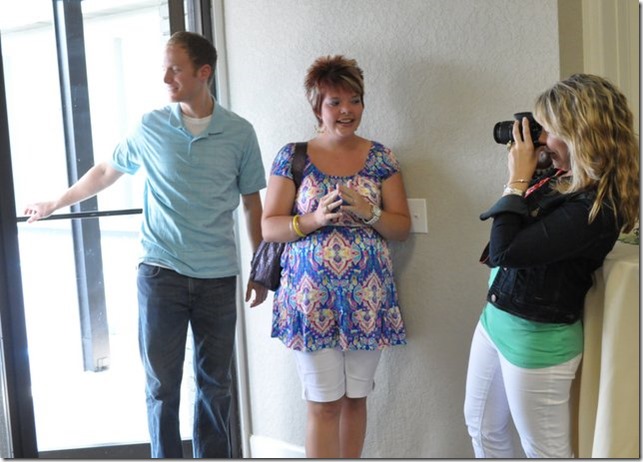 The three of them were escorted to special chairs and presented with the happy task of opening myriad gifts and cards . . .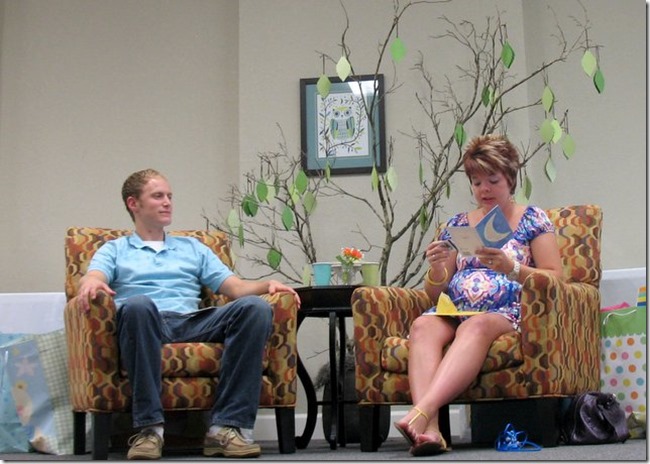 and posing for yet more pictures. (This is their nephew, Spencer.)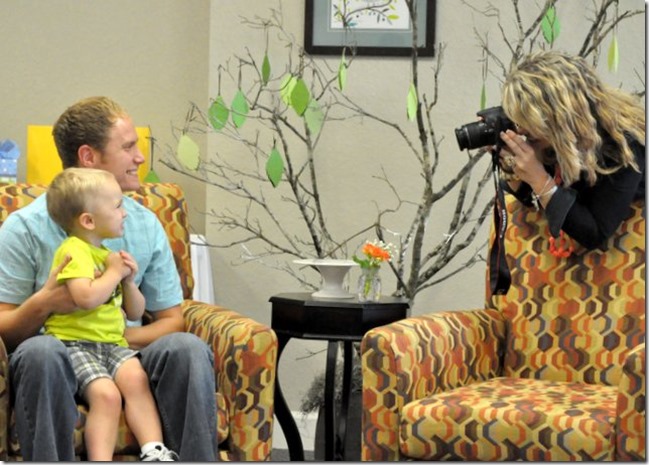 A few little mommy/daddy secrets were even whispered along the way. I think Meagan was probably saying, "You are one handsome fella!" (Or something along those lines.)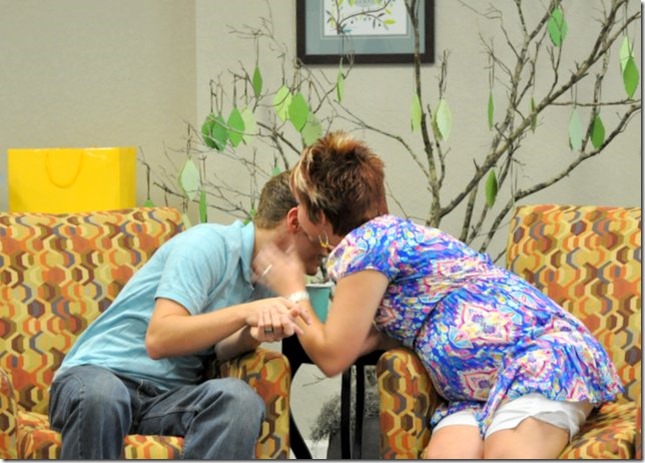 As it turns out, Noah wasn't the only baby who was invited to this shower. It seems as though this line up of infants had somehow wrangled an invitation as well.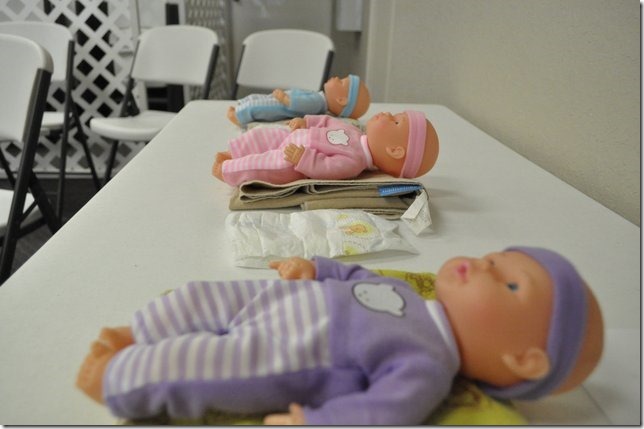 As it turns out, they were there for a special purpose: a game in which each baby had to be dressed and changed by one of three couples. That sounds easy, right? Well, it was, except for that the couples had to hold hands with each other and only use their outside hands for the job which took a lot of coordination. It was also funny to watch . . .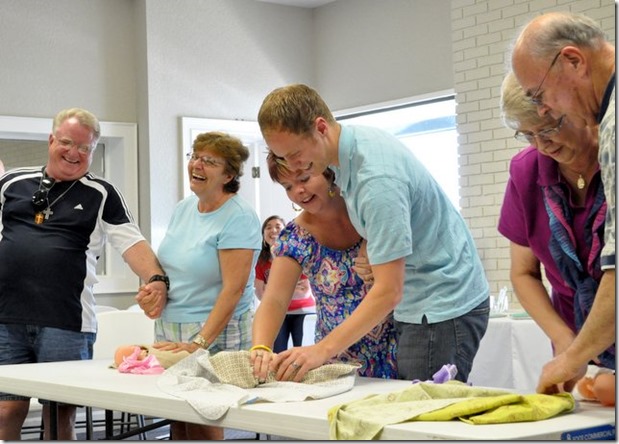 . . . as this picture will attest to.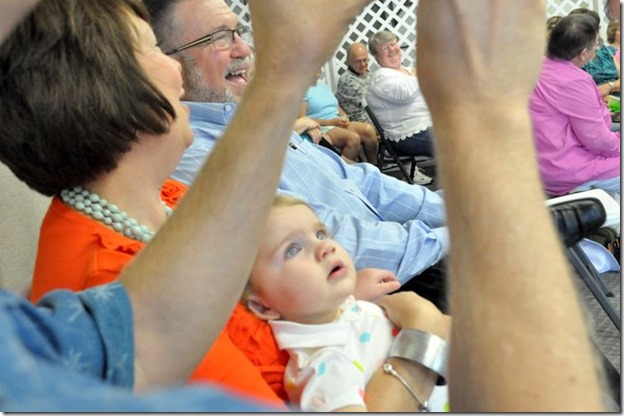 At the end of the shower, the four grandparents (all of whom are credentialed ministers) were invited to gather around Nathan and Meagan and Noah and pray a special prayer of blessing over the three of them. It was such a sweet moment, knowing that our little grandson is starting his life cradled by prayer.
And when it was all over, we posed for a few more pictures.
This is the Grandma Hawley and Grandma Smith Photo.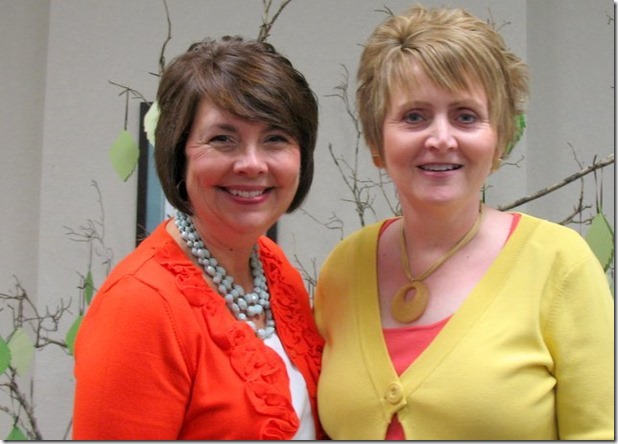 (Grandma Smith? Did I just call myself Grandma Smith? Hmmm. I'm still getting used to that whole idea since I don't see how I could possibly be of a grandmotherly age. I think I was 27 just yesterday.)
There is enough love in this photo to keep Noah supplied for several lifetimes.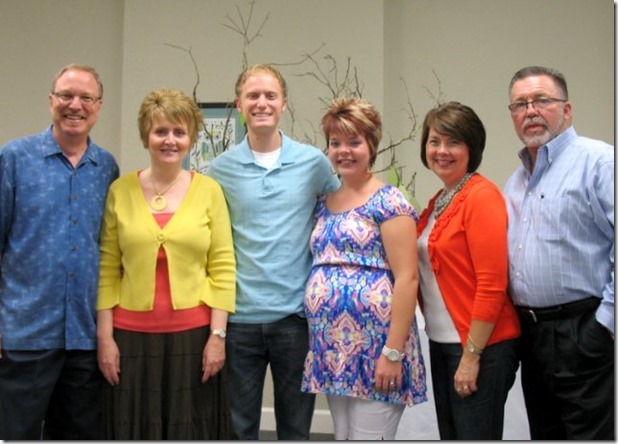 And here I am with my hubby, my son and the daughter of my heart, carrying the grandson I already love.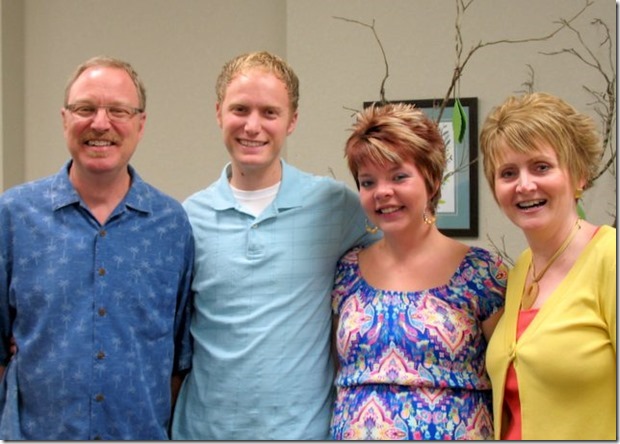 Nathan PLUS Meagan EQUALS Noah. Finally, a math equation I can love.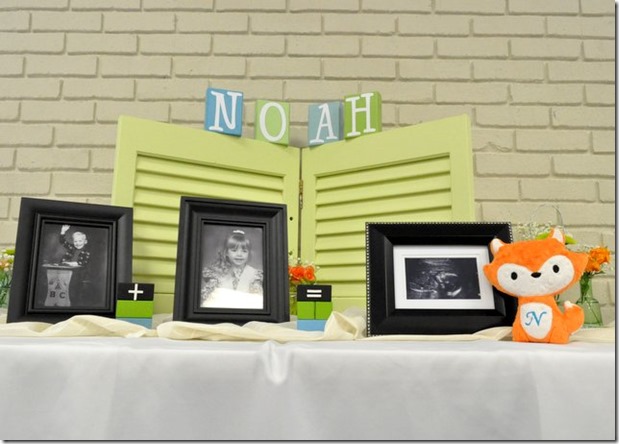 Oh. And speaking of moms and dads and babies? Here's a photo of our grandson's mama. Just six (short) weeks to go!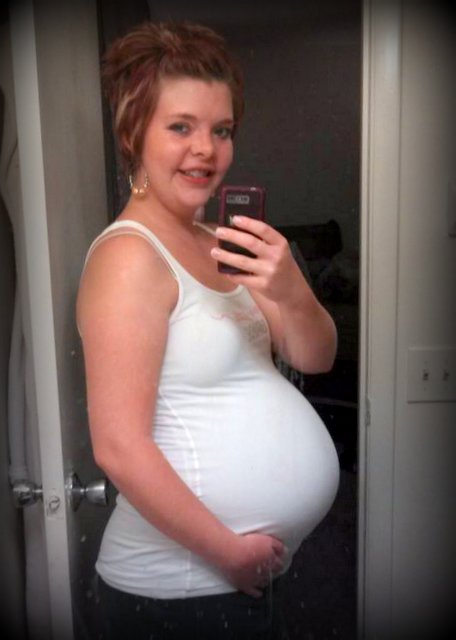 And finally, one last thing!
Just so that you can get a feel for what it was actually like to be at the shower, here's a minute-long video of Nathan and Meagan playing a Shower Game.
The game actually started a few days ahead of time when Nathan was given some questions to answer about raising a baby. Meagan did not know about the questions until the actual shower when she was asked the same questions and had to see how close she came to having the same answers as Nathan.
A couple of notes before you watch:
1. The woman asking the questions is Joy, Meagan's sister. She will watch Noah when Meagan goes back to teaching after her maternity leave.
2. I was amused to see that my "little drummer boy" hasn't changed much over the years. No matter where he's at, he always subconsciously pats the arms of the chairs, playing all the miscellaneous drum beats that are going on in his head. (Of course, being a little nervous about being the center of attention at the shower probably brought out that tendency all the more.) Gotta love my beat-loving son. It'll be fun to see how soon it takes Noah to start picking up those beats, too.