On Monday, I posted a picture and invited you to guess what this guy was doing.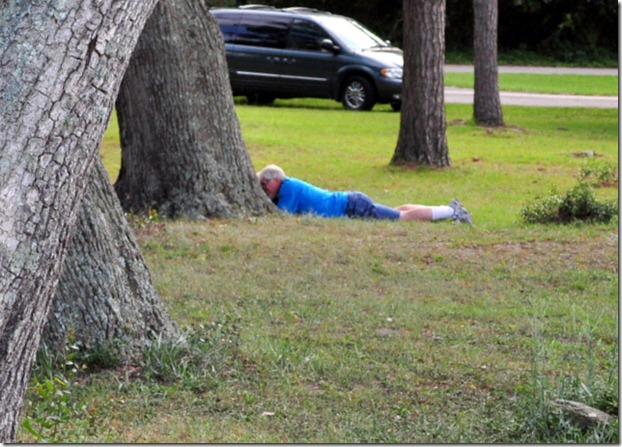 A few of you guessed he was taking a picture.  And you were right.
Another photo. Same guy. Same activity.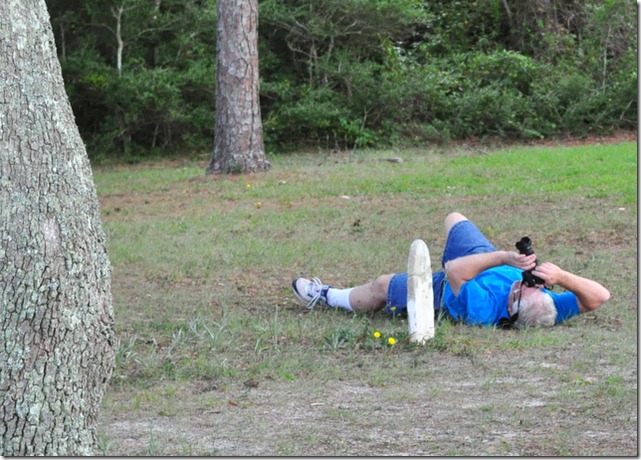 Now some of you may be thinking,"Well, Becky, that's all fine and good, but why in the world were you skulking about, taking pictures of a man taking pictures?"
Good question!
The answer is that the picture-taking guy I was taking pictures of is married to another picture-taking person, named Susan.  (In fact, Susan is a professional photographer who has more cameras and lenses and equipment than you can imagine!)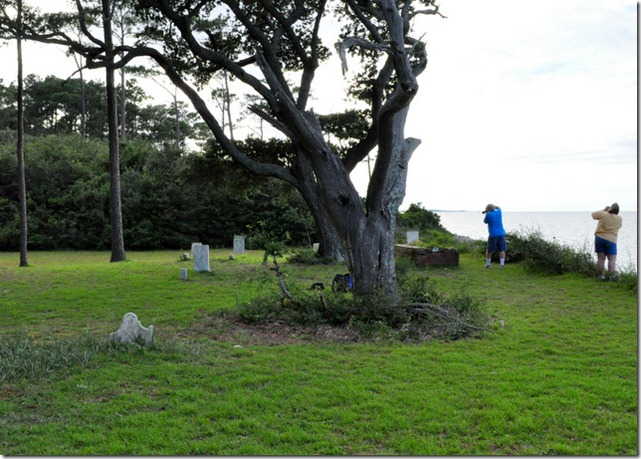 Besides being a photographer, Susan just happens to be a long time Smithellaneous reader.
And when Scott and Susan started seeing all my blog photos of Manteo and the Outer Banks, they started thinking  that a photography trip to this area (they live in Utah)  just might be in their future.
And it was! And they came! 
When they got here they said, "Becky, why don't we go out together one day and take pictures?"
And I thought, "That is a very funny joke.  That would be the equivalent of asking a 3-year old to cook dinner with Julia  Child."   
But I went along anyway because I thought maybe some of their photo-taking greatness might rub off on me.
See if you can guess which camera case belongs to me and which one belongs to Susan.
Yup.  I was outgunned. 
But I still had fun hanging out with Scott and Susan and our cameras; later that evening, they took Steve and me out to eat at a lovely, waterfront restaurant in downtown Manteo.
But the story doesn't end there.
Enter another blog reader. Pamela Doughty.
We actually met Pam several years ago in Atlanta when we had driven there to pick up Nathan upon his return from Israel.  Pam and a couple other blog readers joined us for dinner and ever since then, I have stayed in touch with her through emails and on Facebook.
Well.  Pam is also a fabulous photographer and she and Susan got to know each other on Facebook through their photography; it didn't take them long after that to discover that they were both Smithellaneous readers. And since Pam loved the Outer Banks scenery I posted as much as Susan did, she also decided that she wanted to come for a visit. And then she and Susan put their heads together and decided they would come at the same time!
So.
Last night we had Scott and Susan and Pam and her husband and son over to the house for dinner.  How fun was that? 
This is Pam and her son, who happens to be one of cutest, dearest, most respectful, fun kids I have had the privilege of meeting.  I just loved him.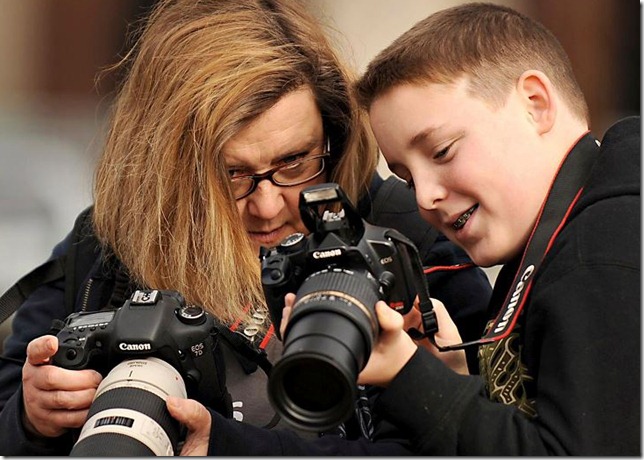 We'd never met Pam's family before and had just barely met Susan and Scott, but it was such an enjoyable evening despite the newness of all the relationships.
As you can imagine, with two pro photographers afoot, there was plenty of picture-taking involved.
In fact, when we were asking Pam's son what sort of mustard he wanted on his hot dog, Steve flung open our refrigerator (which sadly I hadn't cleaned since 1997) and pulled out every single jar of mustard we owned.  (And no, I had not idea we had that many mustards around.)
But Pam thought it would make a great picture. And it did!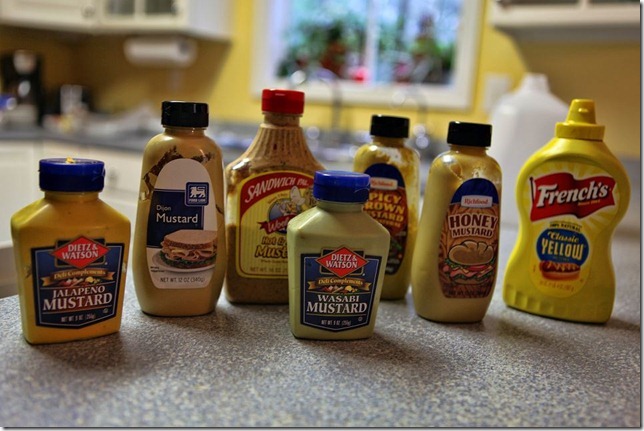 Summer wasn't quite sure what to think of all the people and all the hoopla.  She stayed put for a while and then disappeared from sight.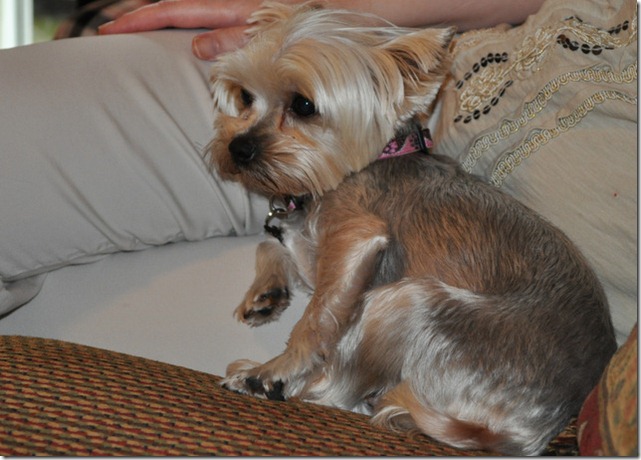 When we went to find her a little later, we discovered that she had gone to the second floor (which she has rarely done on her own) and tucked herself into some of Steve's work clothes on the floor. She stayed up there the entire night, snoozing and taking care of her own sweet self.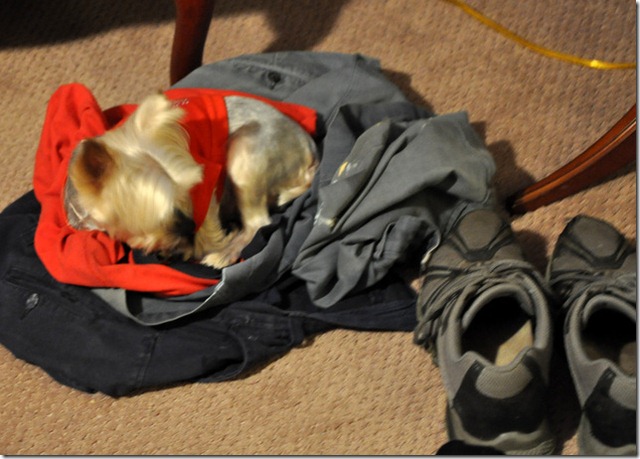 Back when we were all in the early stages of discussing the visit and the dinner, Pam had mentioned that she would be happy to shoot a few photos while she was here.   Here is a sample of one of the photos she took—me and my favorite gal.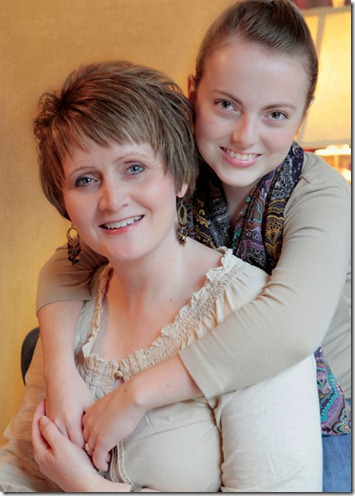 At the end of the night, when we had all said our goodbyes and our good nights, Steve and Summer laid down for a momentary post dinner snooze.   I truly think that this picture needs to go beside the word, "contentment" in the dictionary.
Can't you just feel the "Ahhhh" in the air?