I love it when stories from this blog take on lives of their own; it's great to get to be a small part of events that grow beyond what I could ever plan. The following story is a great example:
Two weeks ago, I wrote about Cody Lynch, the spunky, compassionate, unselfish 11-year old son of two heroin addicts. He gave a rousing speech at a fundraising banquet for Dare Challenge (a local rehab center) that touched everyone who heard it, either live or on the blog.
In particular, Cody's words caught the attention of a long time blog friend named Courtney Hurd. As Courtney read the story,she happened to notice something that other readers may not have paid much attention to; she noticed that Cody was wearing a ball cap with "24" on it, the number of NASCAR champion Jeff Gordon's race car.
Now it just so happens that Courtney is the manager of the Hendrick Marrow Program AND it also just so happens that that program is connected with Jeff Gordon whose generosity, both personally and through the Jeff Gordon Children's Foundation, has been responsible for millions of dollars being raised to help patients who need bone marrow transplants.
Well, after Courtney had listened to Cody's speech and read his story, she just could not get him off her mind. She finally contacted me to say that she wanted to send Cody another "24" hat–except that this one would be personally signed by Jeff Gordon! Along with the hat, she sent a NASCAR backpack, die-cast cars, an official race jacket, a NASCAR stuffed bear and–something extra cool– used lugs nuts that had actually been on Jeff Gordon's car!
Let's just say that there was one happy kid on the Outer Banks last Saturday when Cody was presented with his unexpected box of treasures. (The following pictures were all taken inside the Dare Challenge Thrift Shop, a local business that helps support the Dare Challenge rehab center, the place where Cody is hoping his dad will soon become a resident.)
Cody seeing the autographed hat for the first time!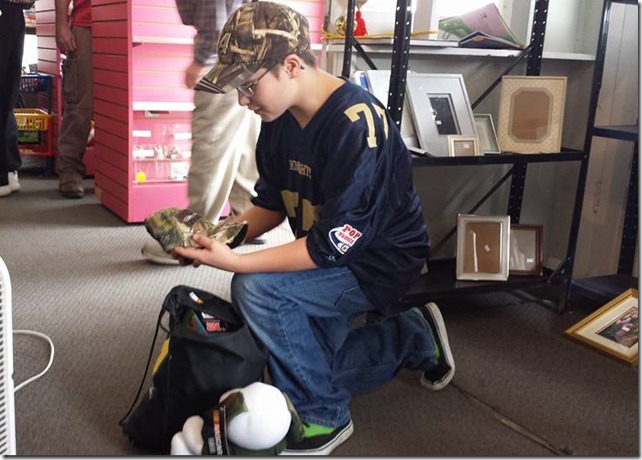 Handsome guy; great looking coat!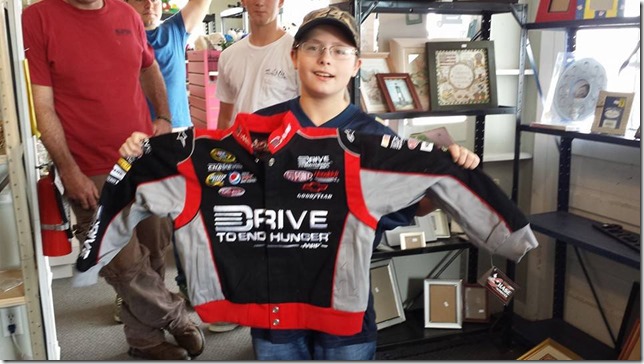 Fits perfectly.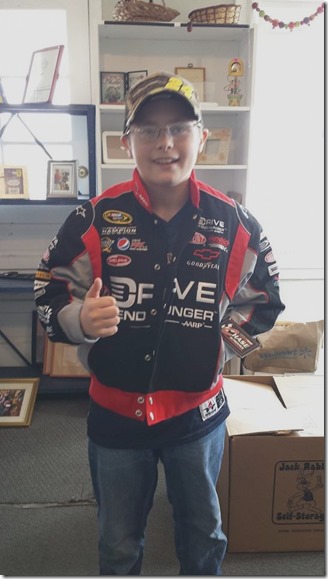 After going through all of his new NASCAR goodies, Cody and some of the Dare Challenge guys went out for burgers; Cody was thrilled to see that his order number was 24! (Too funny.)
Now if the story ended there, that would be enough. Heartwarming, smile-producing words and pictures that remind us that there are still people in the world who spend their time doing things to make other people's lives better and brighter are great!
However, Courtney Hurd is much more than just a kind person who does nice things–her compassion and generosity go far beyond that. In fact, she is a person with such a big heart that she followed up the box of NASCAR goodies with another question, asking me what else she could do for Cody.
This post she wrote on her Facebook page shortly thereafter will let you know she decided . . .
I believe that when you do good, you get good.

I believe that to those whom much is given, much is expected.

I believe that love wins.

Because I believe all these things, I want to help this 11-year old boy I have never met support the facility that he is hoping will help his father kick drug addiction.

So here's the deal – Cody's parents are addicted to drugs. He is being raised by grandparents. I asked someone who knows Cody what I could do for him that would be special.

The response was that Cody would rather give than receive, so could I instead do something to help Dare Challenge?

I am inviting you, my FB friends, my real-life friends, my family, to also do something to help Dare Challenge. The ministry is trying to pay off its mortgage early so it can expand and help more men. Cody wants to help them – so I am issuing Cody's Challenge.

Can we send some money to Dare Challenge to help them pay down their debt?

Caleb and I are going to start with a personal check.

All funds collected by Dare Challenge that have "Cody's Challenge" in the memo line between now and December 2 will be tallied and I'll create a "big" check that Cody can present to Pastor Dustin. (The director at Dare Challenge.)

I have 551 FB friends. If even 100 of you send a $5 contribution to Dare Challenge, Cody can make a $500 contribution to the ministry. All contributions are tax-deductible as Dare Challenge is a non-profit.

I don't know Cody. Cody doesn't know me. He doesn't even know I'm issuing this challenge with his name. But this young man's story has taken root in my heart and I've just got to do something.
If you feel led to contribute, you can send a check made payable to Dare Challenge to the following address:

Dare Challenge
c/o Amy Dough
P. O. Box 123
Wanchese, NC 27981

**Put Cody's Challenge in the memo line!**

If you'd prefer to give online, go here. Scroll halfway down the page to the Donate button; after logging into Paypal, just click on "Special instructions to the seller" and type in Cody's Challenge.)

Thanks friends for taking the time to read these thoughts from my heart, adding Cody and his dad to your prayers and considering this opportunity to give.
Let me just add to what Courtney wrote that Steve and I will be writing a check to Cody's Challenge as well. Also, for our third year in a row, we will be hosting all twenty of the guys at the center at our home for Thanksgiving. We strongly believe in this faith-based rehab center which has an 80% success rate and is making an important difference in the lives of men struggling with addiction.
Please join our family (and Courtney and her family and friends) as we give to Cody's Challenge, knowing that every dollar you donate will propel Dare Challenge another step forward in helping men fight substance addiction. Each one of us has a chance to help provide the most generous check possible for Cody to present to the director of Dare Challenge in December.
If you've ever had a child, a spouse, a parent, or a friend who has struggled with addition issues, give in honor of them. And give in honor of Cody, too, as you support Cody's Challenge–and as you support Cody's dream to have a dad who is finally free of drug addiction.