Since Christmas decorating is not my forte, I am thankful  for the small army of women in our church who transform our space into a landscape of lit up loveliness.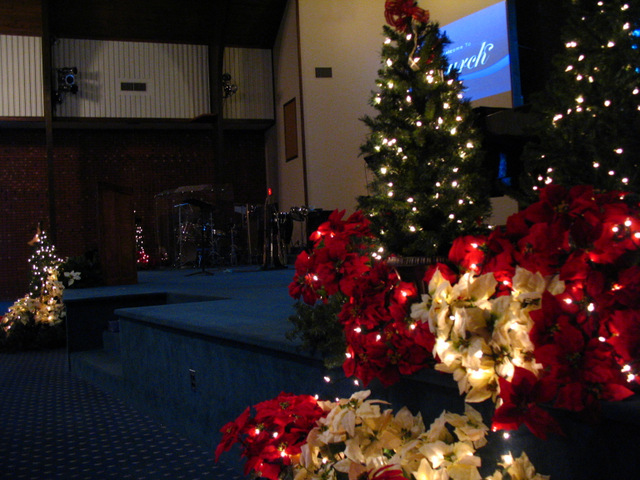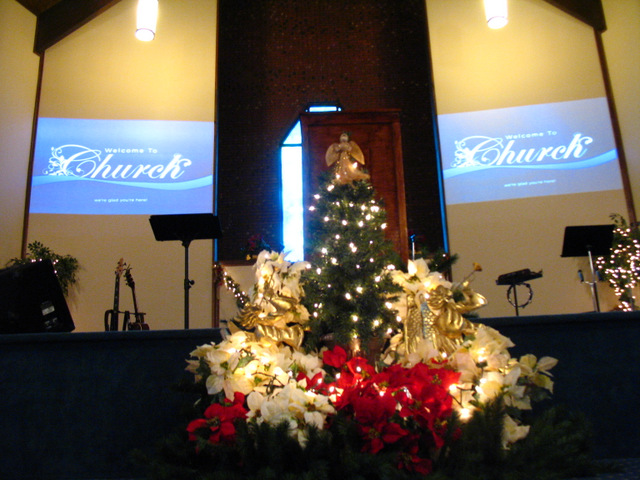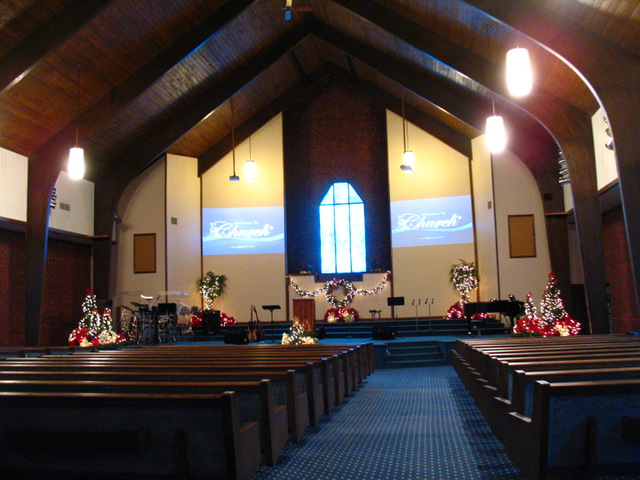 Last night, we used that lovely space for our annual candlelight communion service.  Steve had labored long and hard over the stage/theater lighting to create an intimate inviting place for the church family to sing and worship in. (Lighting design is one of his many talents.)
The rocking chair is on the platform because Steve used it to sit in and read a story, which he does every year in place of a regular sermon.  This year's story was written by Sheri Hawley, my dear friend and our son's mom-in-law.  You can read the story here.  (Scroll down a short ways till you get to the title, The Christmas Cookies.)
Several people told us afterward that they got all sniffly as the story was read; you'll understand why when you read it.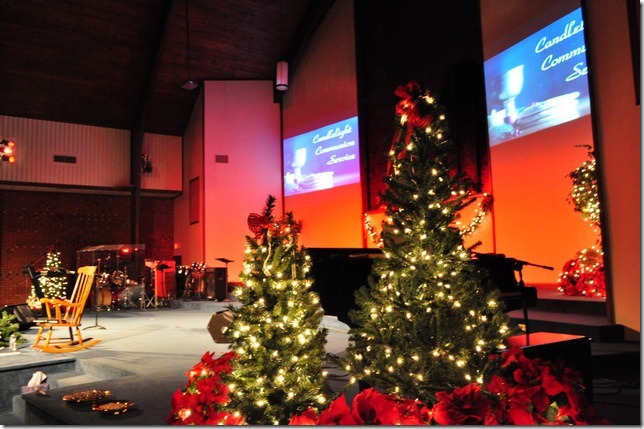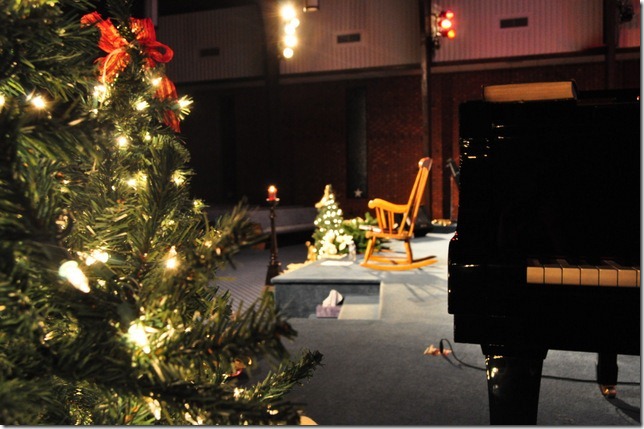 Here is my official perch for the night.  In our regular services I play an electric keyboard but during a candlelight service, an acoustic grand just seems to suit the setting better.  And it is such a joy to play such a beautiful instrument.
I was quite proud of this shot with the rocking chair framed by the piano.  Occasionally even  I have moments of semi-inspiration!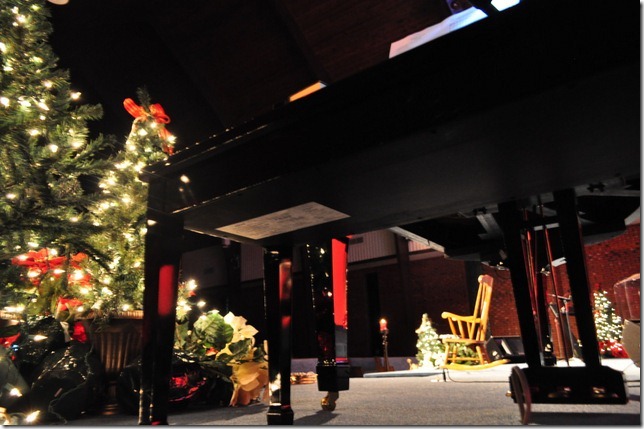 I took this picture (in a hurry) at the end of the service because I needed to get back to playing the piano. Even though it's blurry, you can still get a glimpse of the warmth and quietude of the moment.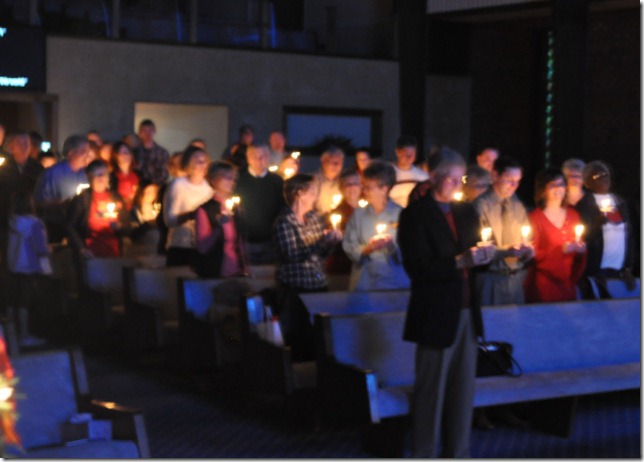 So that was last night.
Tonight Steve and I are singing at a Christmas banquet for over a hundred international students who come to the Outer Banks every year from all over the world to work and/or go to school.
And tomorrow?  We will drive to the Newport News, VA airport to pick up a a certain Mr. and Mrs. Nathan Smith!   We haven't seen them in six months so my mama arms are feelin' a little twitchy getting ready to wrap both of my grown up kids in a big embrace.  (And happy birthday to Meagan who turns twenty-five today!)
And lastly, one of our church members brought this to Steve and me yesterday.
Oh my . . .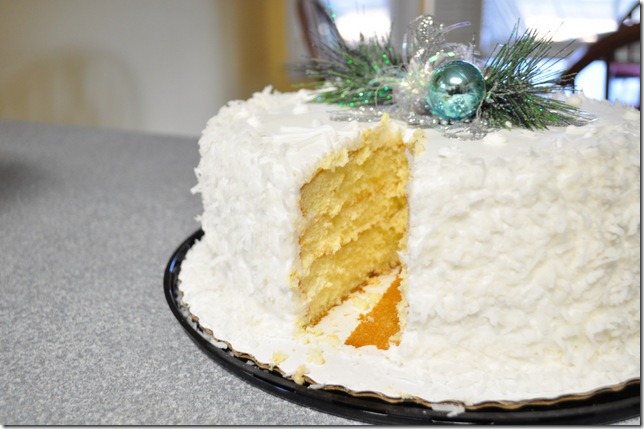 oh my oh my.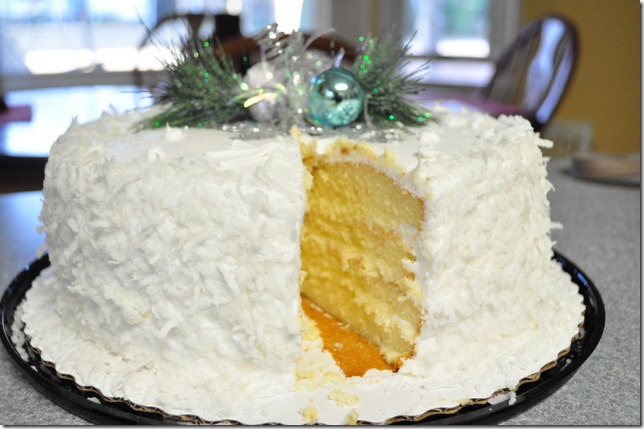 And also, yum.