Mornings at our house start at about 5 am for me, 5:15 am for Sarah and 6 am for Steve.
As soon as Steve gets up, he pours coffee into his travel mug and leaves for the church to pray. (He and another guy meet there every weekday morning for about an hour.)

I read my Bible, pray, eat, exercise, shower, and dress, tending toward streamlined efficiency in the early morning hours.
Sarah however, is just the opposite. Her leisurely morning routine starts with being awakened by her favorite music and then lounging in bed a while to listen to her current audio book.  She then has devotions before moving into her slow-paced eating and dressing process. She could get up a whole lot later than she does and still get to school on time, but she really loves to meander through her morning and not feel rushed.
By 7:45, Steve is finishing breakfast and Sarah and I are headed out the door for the School Run. Before we leave however, one of the best moments of the morning occurs: Steve puts his arm around Sarah and prays for her and the day ahead of her. (I usually stand on the other side of Sarah for the prayer but on this particular morning, I was the resident non-praying picture taker.)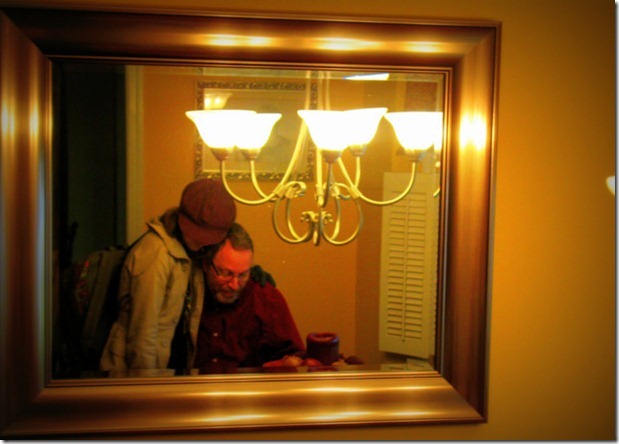 (Sarah is wearing a hat in this picture because today at school, everyone was supposed to dress up as someone they want to be. She chose movie director and wore a black, flowy outfit with big jewelry,in addition to the hat.  Of course, she also still wants to be a writer, but that's a little harder role to dress for.)
It's truly a blessing to spend peaceful mornings with people I love; it's also a special joy to know that Sarah leaves for her day at school with words of love ringing in her ears and words of prayer ringing in her heart.
What about you? Are you a morning or a night person?  Are you leisurely in the morning or do you move at lightening speed? What would a perfect morning look like for if you didn't have any obligations?