My first Remicade infusion on Monday actually turned out to be much less stressful than I thought it would be–an added bonus was that I was offered a piece of chocolate chip cookie cake after my pre-meds.
I could get used to that kind of arthritis treatment protocol: Remicade and chocolate!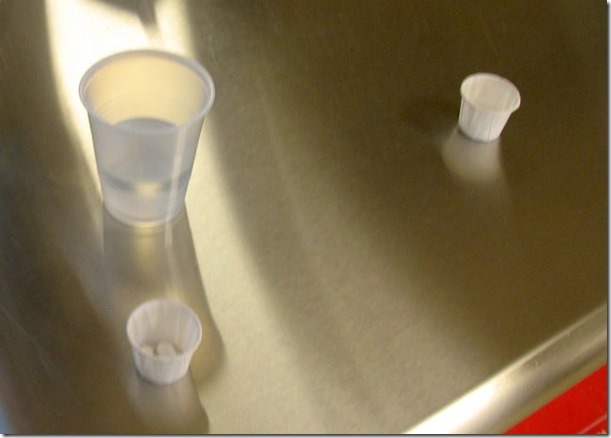 I chose the recliner in the back so that I could be as far away from the television as possible, especially since a soap opera was on and I HATE soap operas.
I hope you appreciate the "artistic fuzziness" of this shot. Actually, it was accidental fuzziness but artistic fuzziness sounds more . . . well . . . artistic.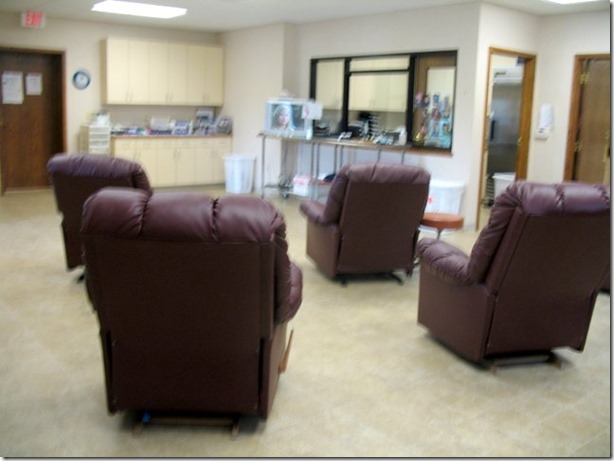 I had my very own personal IV pole . . .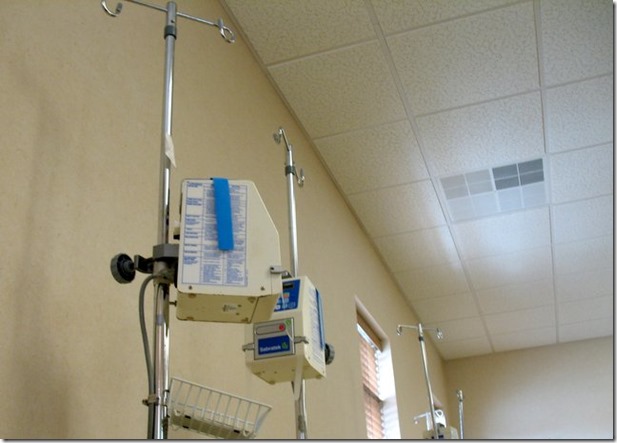 and blood pressure cuff.
The nurse hooked me up and I was good to go!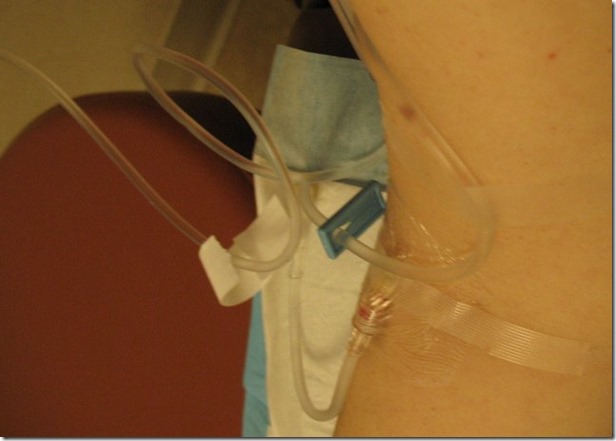 Thankfully the infusion didn't make me feel didn't feel tired or nauseous; I just sat in a comfortable recliner for two hours, puttered on my computer and took a little nap. Not too bad, as medical treatments go!
I'll have the next infusion in 2 weeks, then another one 4 weeks after that and then they will be every 8 weeks.
As long as there is chocolate at every visit, I'll be just fine.
And now for the giggles part of the post.
Our church has something called Connections Groups which meet in homes twice a month in order to help the members of our congregation get to know each other better.
Here's a photo from last year showing our living room after we had set up for the group that met in our home.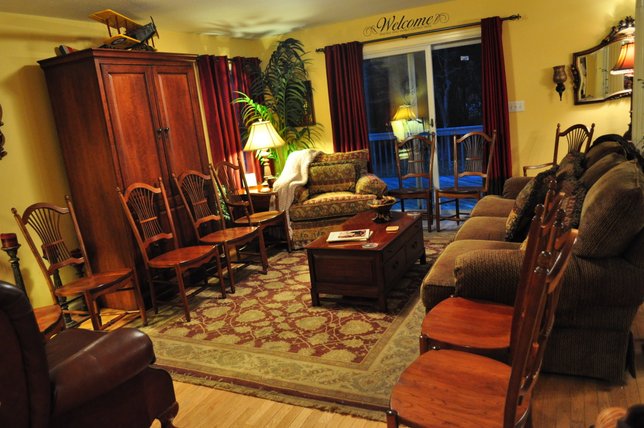 Well, last week, we were needing a couple photos of a Connections group to advertise the upcoming season but unfortunately, the groups had taken a break over the summer and so there was no way to get a photo.
And so? We staff members decided to make up our own pretend Connections group just as a way of illustrating the concept behind the groups. We artfully arranged ourselves in Mary Ann's office (who is our Associate/Youth Pastor) while she took a few shots of us.
We started out all serious and intellectual looking and tried to pretend like we were having great and profound thoughts.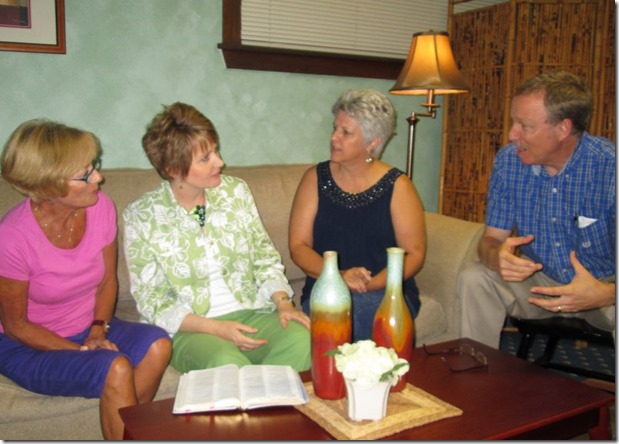 Unfortunately, the pretend profundity didn't last very long.
Linda (in the pink) and Cindy are two fun-lovin' ladies and it only took about forty-five seconds for the serious-esque photo session to break out into some good-natured bantering and teasing.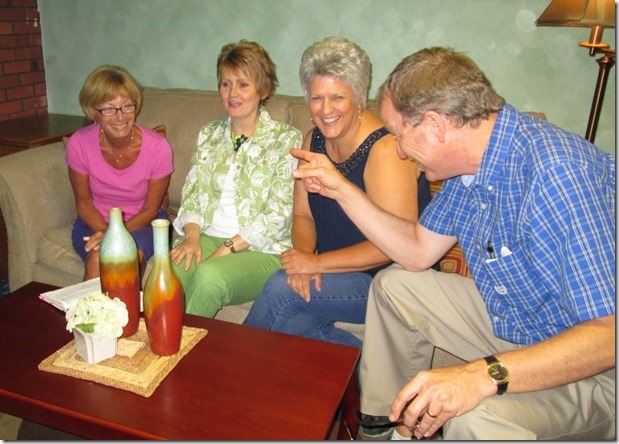 Then Steve and Cindy decided that they should forget all about looking profound and should look bored instead, just for the fun on it. And so they each produced an impressively large yawn. (It looks like I was asleep but I'm quite sure I was just mid blink.
Don't you love Steve's expression? It's really quite inspiring.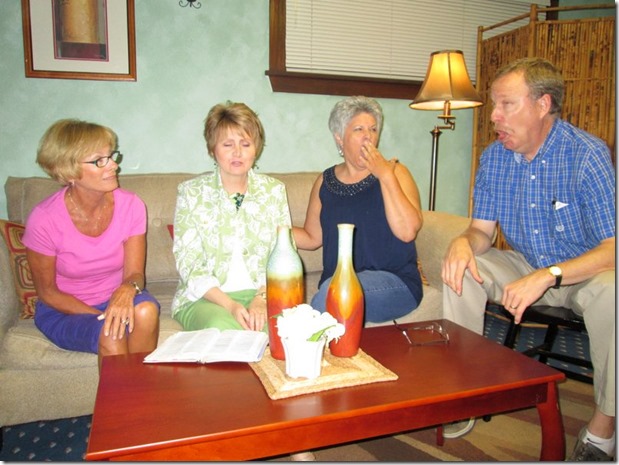 About the time we were getting really rowdy, Sarah came into the church. (She walks to the church after school each day.) She followed the sounds of our revelry down the hall and we invited her to join the fun.
And she did.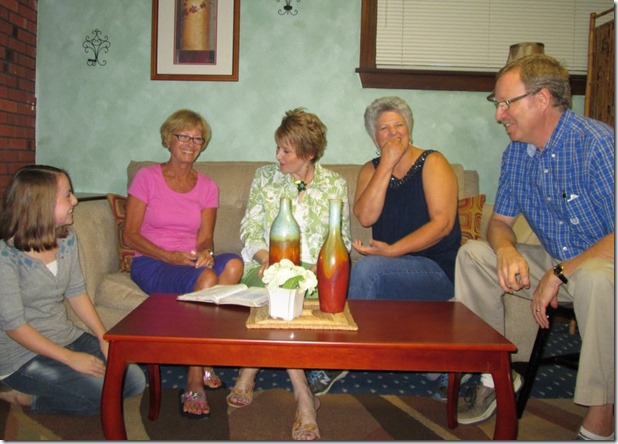 The end.