Yesterday morning as I was ensconced in my recliner working on a blog post, I glanced out the front window and happened to notice a white Dare Challenge van turn into our driveway and park out of sight.
"Hmmm . . . " said I, to myself.  "What is this van doing in our driveway for no reason?"

Now, if you think back on your Smithellaneous history, you'll remember that Steve and I have hosted the guys from Dare Challenge (a wonderful faith-based drug and alcohol program) for dinner two Thanksgivings in a row.
Steve also goes out to the Center every Thursday morning to teach a class and occasionally hires one of the guys to come and help him with lawn work. Usually when he hires someone though, he tells me ahead of time so I won't  be alarmed at the sight of a stranger walking around our yard. I searched my 50-year old memory for anything Steve might have told me about arranging for someone to come and work but nothing came to mind. I tried calling him and got no answer.
My puzzlement increased.
Since I was on the second floor of our house, I didn't have a real clear view of what was going on down below and so I finally just assumed that a guy had come over to do yard work and Steve had forgotten to tell me.
And so I settled back in my chair and continued to type. I had gotten about four words into the next sentence when my concentration was suddenly broken by the sound of singing. Men singing. In fact, several men singing.
Why was I hearing singing?  And why was it coming from my front lawn?  And just what was it that the mystery voices were singing?   
"Daisy, Daisy, give me your answer true.  I'm half crazy, all for the love of you.
It won't be a stylish marriage.  I can't afford a carriage.
But you'll look sweet, upon the seat, of a bicycle built for two."
I leaped up from my chair, peered out the window and realized to my astonishment that Steve and all the guys from Dare Challenge were standing on my front lawn. Singing!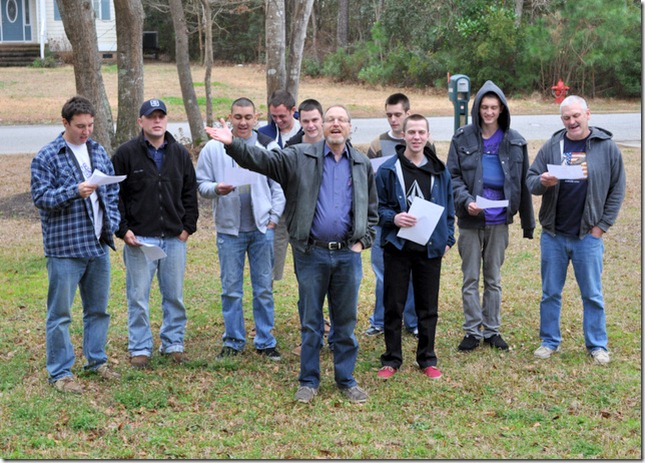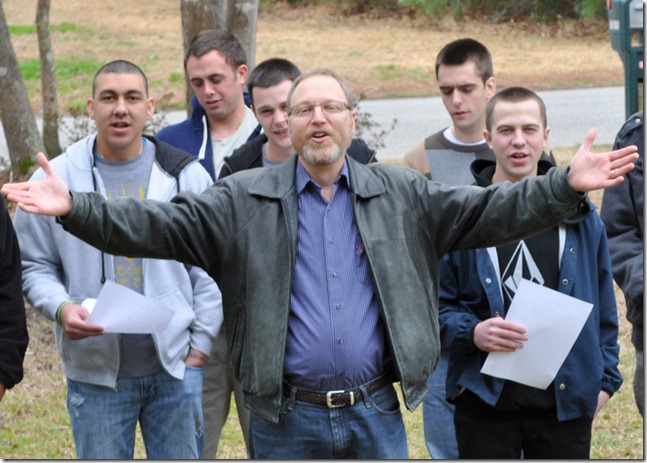 When they all finished their rousing rendition of a song (that most of them had just learned from Steve a few minutes previously), I said, "I think I'm blushing!  I've never been sung to by ten guys before!"
They all grinned, shouted Happy Valentine's Day and then jumped back in the van with Steve and headed back up the street. They left in their wake a surprised, happy, middle-aged woman who went back to her writing tasks with a big grin on her face.
Because, really. What could produce a Thursday morning smile any quicker than precious, enthusiastic, reforming drug and alcohol abusers standing on one's front lawn and singing a spirited rendition of "Bicycle Built For Two?"
Nothing, that's what.