Today's blog will cover a variety of subjects since I have a few miscellaneous things to cover that don't fit into any particular post.
Subject One
My brother-in-law, Randy, just emailed me this photo of my mom reading a particular blog–a particular Smithellaneous blog!
Mom doesn't have a computer of her own so she loves going over to Randy and Debbie's to catch up on all the Smithellaneous News. (Hi, Mom–love you lots!)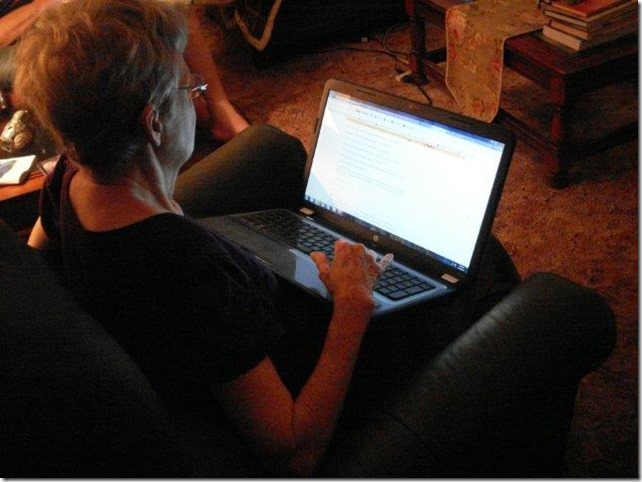 Subject Two
Here's a photo from my early morning bike ride yesterday. I've always loved coming around this corner and catching a view of the sound.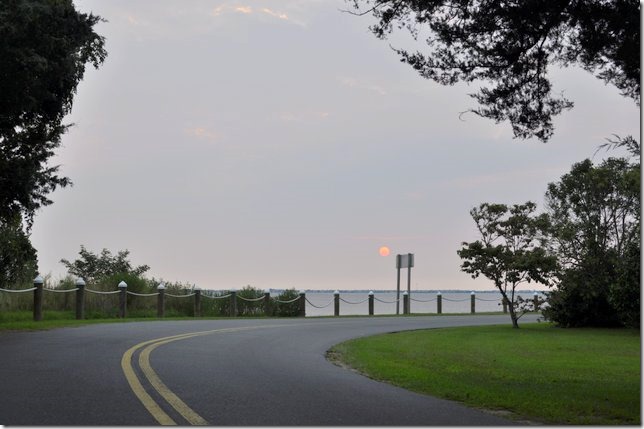 Subject Three
This is an informal tea party some ladies in our church had at the home of a woman who just emigrated from England. (The room is kind of bare because she and her husband are just getting moved in.)
Most of the hats were given to us by our sweet blog friend, Cindy. Such a fun way to pass a Tuesday afternoon.
Subject Four
I'll close out with Sarah's response to a question Lesley asked last week in the comments area. (You can also find this response on Sarah's blog, in addition to an entertaining account of our trip to Florida. Among other things.)
Purpose.
By Sarah.
Lesley recently commented on a blog post of my mom's and I'd like to answer a few questions she posed.
She said:
"Thank you for taking the time to post all those past photos. Such a miracle she is. Does she ever feel burdened with the thought that she has to do something 'special' because she was given the chance for a future, like she was given it for a reason? Or is she content to just be "Sarah"? Odd question, I know lol."
First of all, it's not an odd question at all.

For as long as I can remember, I have been told that my life has a purpose. My life had a purpose before cancer developed in my right adrenal gland: at the time it was primarily to be a ray of sunshine personified as a five-year-old girl who traveled all around the country with her family. My life had that purpose afterwards, as well: then it was to be an even brighter ray of sunshine personified as a six-year-old with considerably less hair who brightened hospital rooms. As I go through various chapters of my life, I have a purpose that might be slightly different than what it was a week ago. All of those various purposes add up to one sum: God's will for my life.
Regardless of whether I ever got sick, I would be living for a reason. Just like everyone else. Just like the hundreds of kids who were also diagnosed with Neuroblastoma and went Home early. Yes, I believe that from the very beginning God had a special plan for my life that has only been furthered by my medical experiences, but that doesn't mean that I am any better than those little babies whose brief lives are spent wholly hospitalized.
Their lives have purposes, too, ones that are fulfilled in a shorter amount of time than mine. Maybe some teach their moms to have a servant's heart; maybe some remind their dads of how fragile life is; maybe some bring distant families closer together during long hours spent in waiting rooms. All lives touched by cancer are touched by pain: period. No one will ever know the exact reasons why some lives are cut short. But as my dad often says, "God never wastes a hurt." (Quoting Rick Warren.)
So yes, my heart is broken whenever I hear of anyone – a child, especially – go through disease of any kind. I do wonder about what exactly God kept me alive for. I'll never fully understand the mysterious ways in which He works. But when I sing the words, "He's got the whole world in His hands," I am reminded of just how big the pair of hands is that hold not only my eighteen-year-long life, but the lives of everyone who have walked, are walking, and will walk the face of this earth.
~Sarah Smith