When you live many hours away from your nearest family members, occasions (and pictures) like this are extra special. (This is Steve and Summer having morning coffee with my brother Tim, who was visiting with his family from Minneapolis.)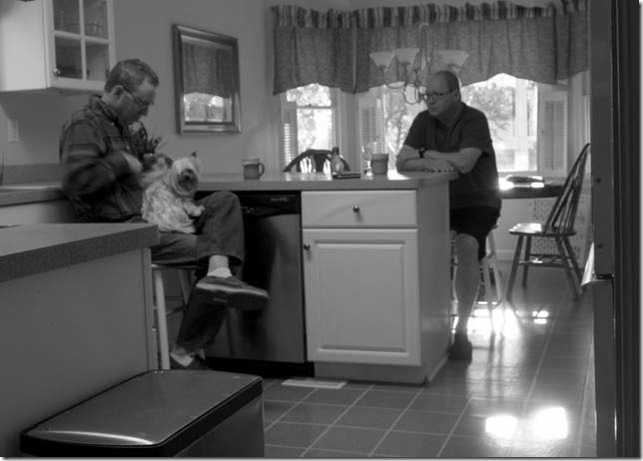 Another thing I really liked about having Tim around was that when we all went out on a sightseeing expedition, I would glance behind me and see this.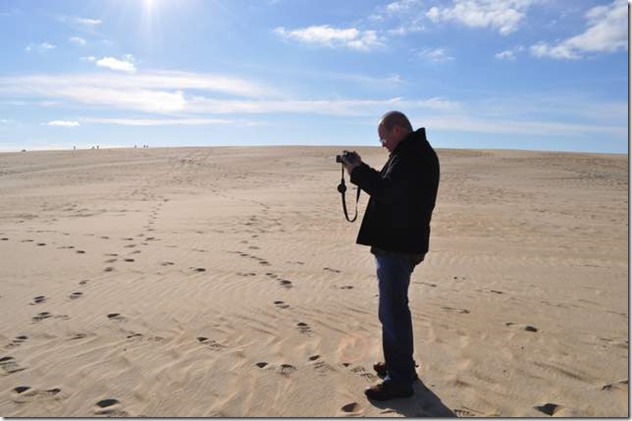 I'm so used to being the one lagging behind any group of people, it was especially lovely to turn around and see someone else actually lagging behind me! (And especially nice that that someone was my big brother.)
Here are a few more favorite shots from our trek up Jockey's Ridge.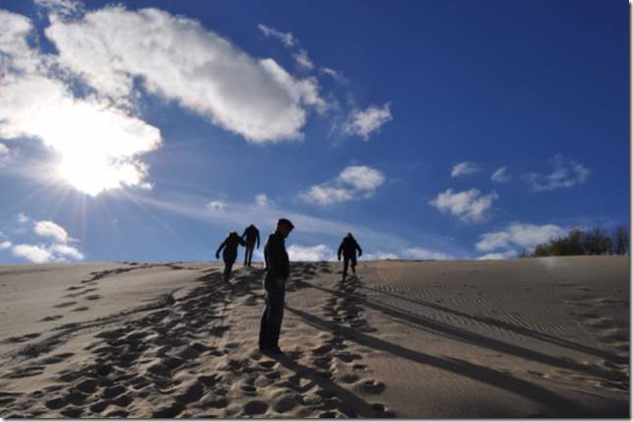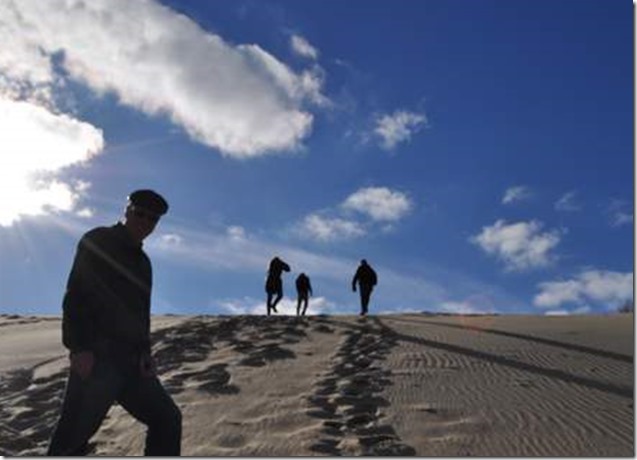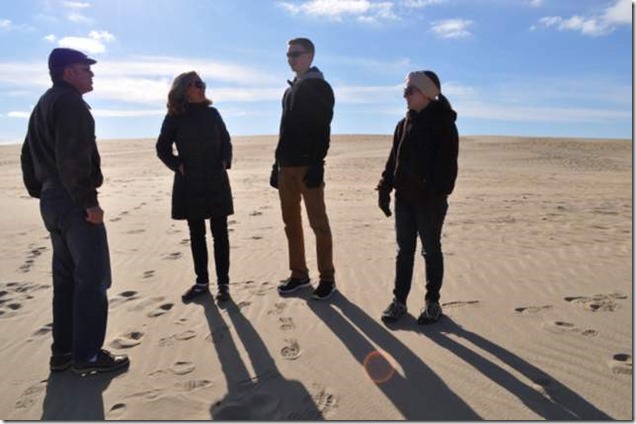 Sarah looked a little bit like a movie star; that is, if movie starts wore sunglasses from thrift stores that cost $2.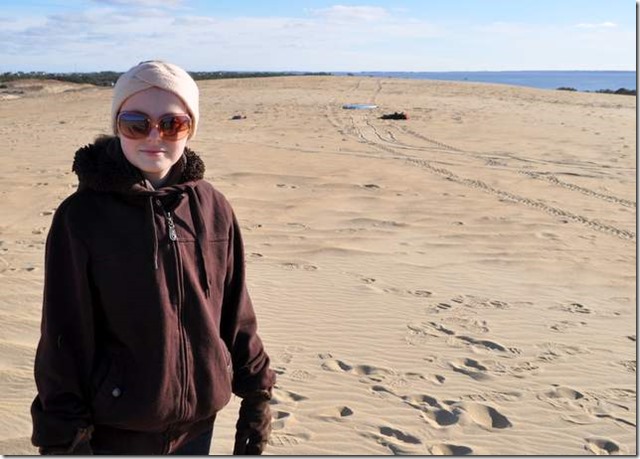 We traveled from Jocky's Ridge across the Bonner Bridge to the ocean.
And let me just add that exactly one week after we crossed that bridge, an emergency measure closed it down for repairs. No one knows how long before it opens again (several weeks, at least) but its closure means that there are a whole lot of people semi-stranded in the areas beyond the bridge. To use the emergency ferry takes 10-12 hours so it's quite a hardship for anyone trying to travel to or from that area.
At any rate, we were thankful the bridge was still open during our outing and especially thankful that we crossed it without incident.
"I hope you still feel small when you stand beside the ocean." That line from "I Hope You Dance," came to my mind several times as we stood and watched the waves.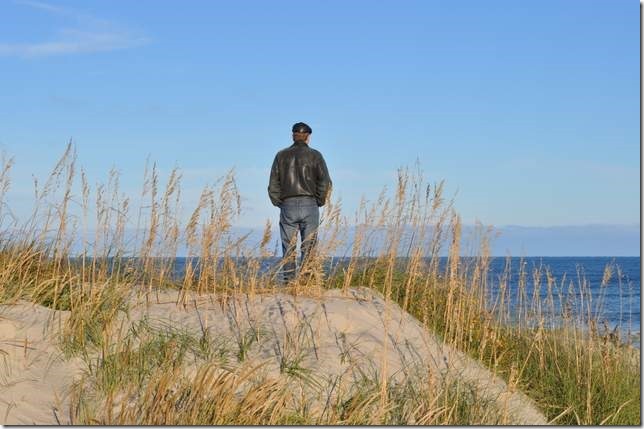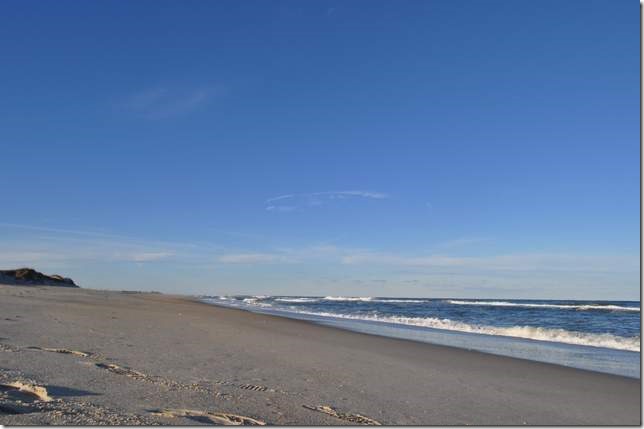 Another movie star sighting.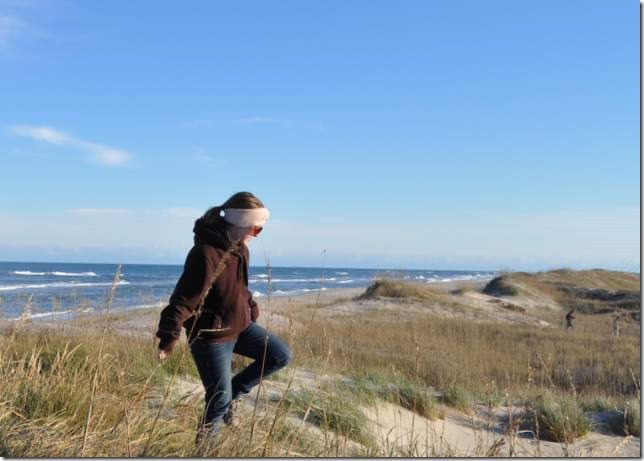 Sarah with her cousin, Andrew. (Shadowed by their parents.)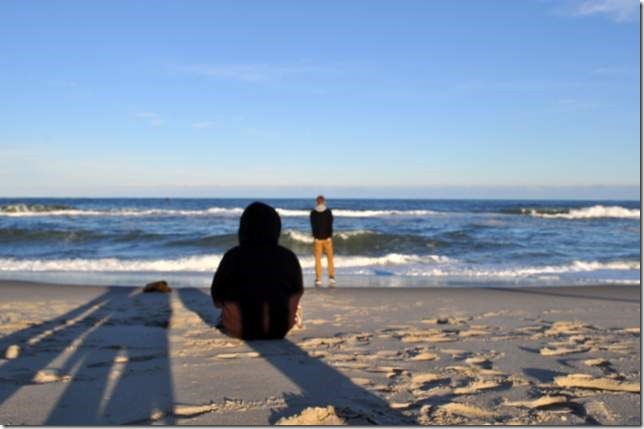 When we were all done admiring the ocean, we crossed the road to the Pea Island Refuge.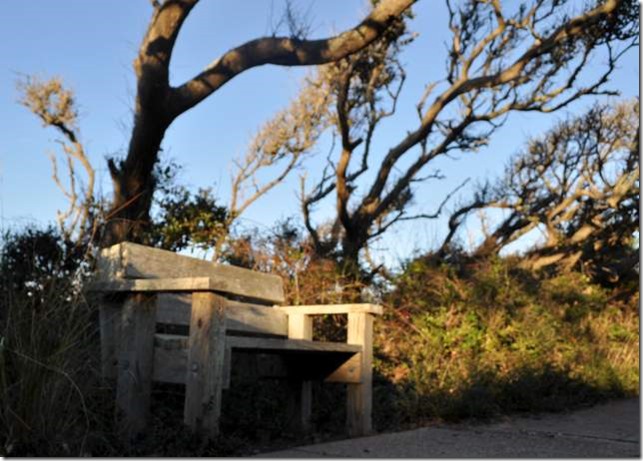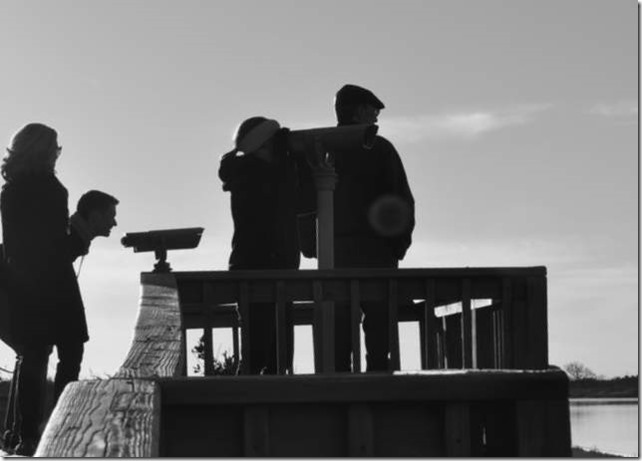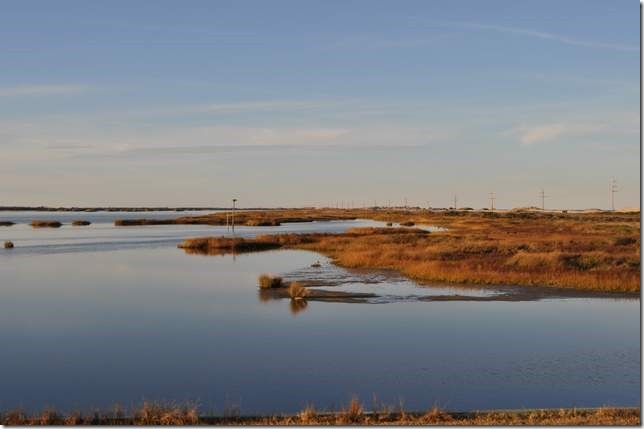 After we had enjoyed the scenery for a few minutes, we started walking back to our vehicle. Well, actually, we all walked except for Andrew.
He started off at a semi-sedate pace . . .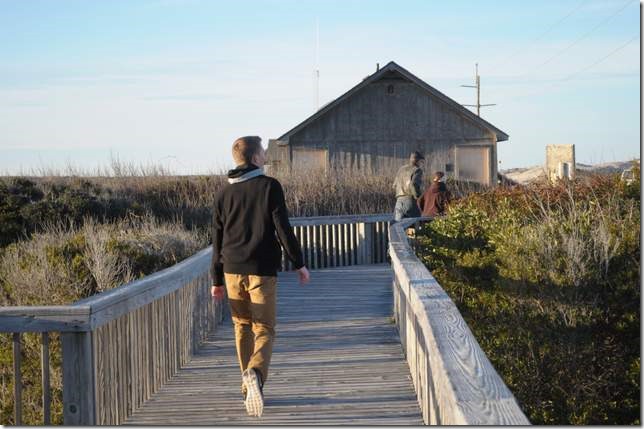 but then, his arms started swinging . . .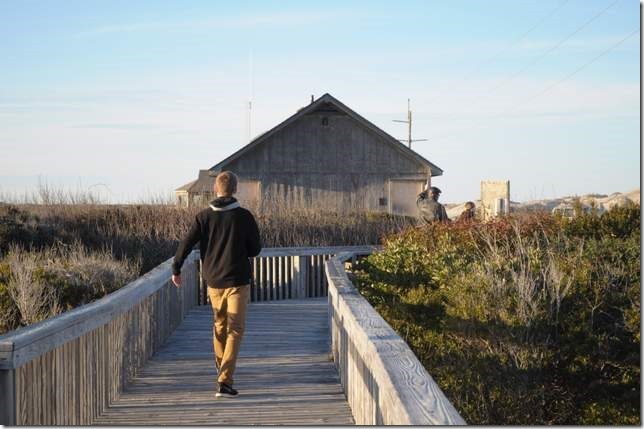 a little skip came to his step.. .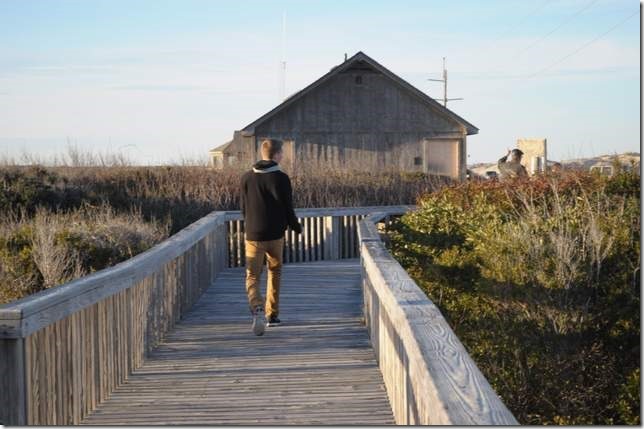 and before we knew what was happening, he was in full River Dance-ish mode.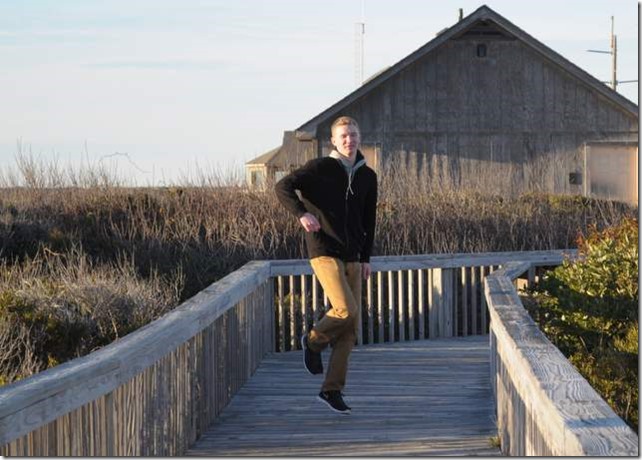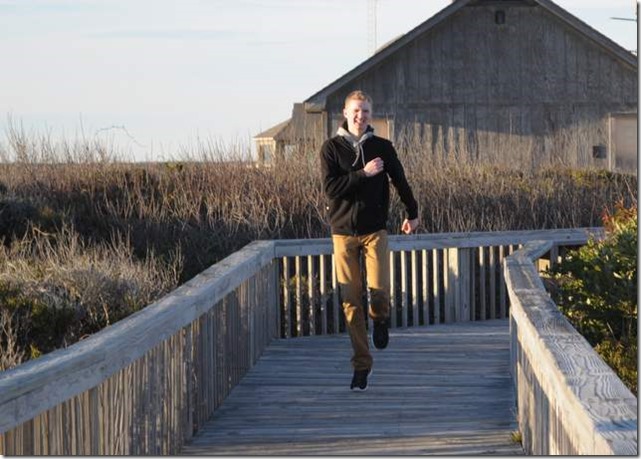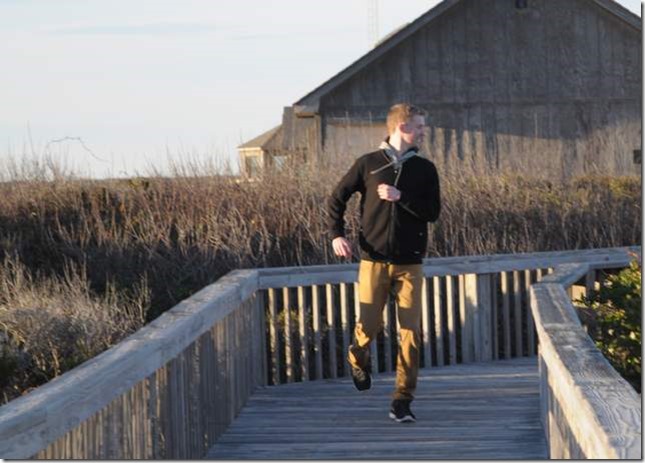 And then? He was done.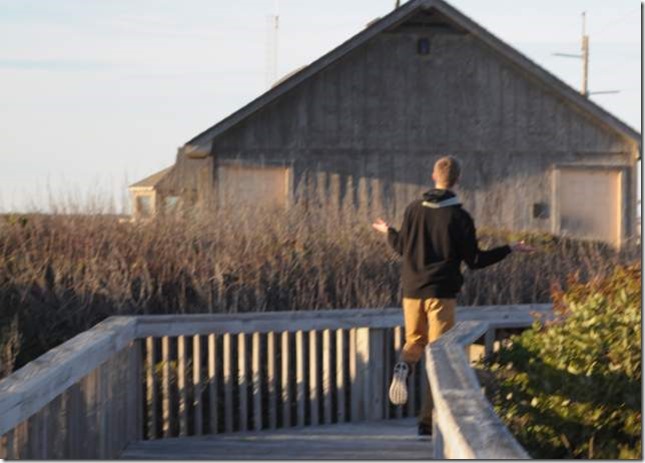 (And may I say again just how much he reminds me of Nathan? I can totally see Nathan doing that.)
It was such a (rare) joy to have family nearby for picture-taking, ocean-viewing, bridge-crossing, river dancing and quiet mornings in the kitchen. So blessed.
What about you? Do you live near your family or far away?
We know a couple here in the area with a large extended family. I asked the wife if she ever wanted a little space and she said, "No, I love having everyone near by." When I asked the husband if he ever wanted a little space he said, "Yep!"
If you had the choice, would you rather live in the same town as your family or have a little space between you?