Last Monday night, Steve and I did a concert at a local restaurant as part of a Concert Series that raises money for the area food bank.
Truthfully? I don't normally enjoy those kinds of concerts. We had performed as part of this series two summers ago and during most of the time we were singing, people were talking and eating and ignoring us. I do understand that when there is music in a restaurant, people are supposed to eat and talk; it's just not my favorite kind of venue.
When the organizer contacted us last summer to come back and sing for them again, I begged off. But when she called again in March of this year, I felt a little bad about saying no a second time since I knew the money was going to help the needy. And so I accepted the engagement–and had been dreading it ever since. (Nothing like a little positive thinking, right?)
As the date got closer and closer, I reminded myself of how it had been two years ago when I had put off preparation until the last minute which meant that I had ended up making lists and burning a performance CD on my laptop on the way to the concert. I was very frantic and frazzled and I vowed that this time around, I was going to be better prepared. It wasn't like it required a great deal of time and preparation to get ready–it was just a matter of doing it.
So on the morning of last Monday's performance, Steve and I talked through our song order and I got ready to burn the songs to a CD using the computer at church. Unfortunately, I discovered that the burning software on the computer had stopped working and so I had to reconfigure my schedule and wait till I could get to my laptop; then several interruptions happened and there were a few errands to run and a quick dinner to make and by the time we left for the restaurant, I still had not burned our performance CD.
So there I was, balancing my computer on my lap and frantically writing out lists while Steve was dodging the heavy tourist traffic on the half hour trip to the restaurant.
I was not a happy camper. In fact I was a little crabby. How on earth had I managed to put this off till the last minute again? I didn't want to do this concert in the first place and now to make things worse, I was frantic and grumpy.
We screeched into the parking lot of the restaurant, grabbed our bottles of water, Steve's guitar and the (very) recently burned performance CD and ran inside to meet up with Kim, the event's organizer. We were chatting and looking over the sound equipment she had set up when Steve noticed something alarming.There was no CD player. And out of the seven songs we were to perform, five of them were to be accompanied by a CD soundtrack.
We all stood and stared gloomily at one another until finally I said, "Well, I did bring my laptop along that has all of our songs on it but I don't suppose that will do us any good."
Kim said, "Well, at least bring it in and let's see if we can figure something out."
After a few failed attempts at making it work, we finally changed one particular plug in and heard a most glorious sound—our songs coming over the P.A. system. We were back in business!
As we finished getting set up, I couldn't help but laugh at the happy coincidence of how that all happened. If I hadn't been running late, if I hadn't had brought my computer along to burn the CD in the car, our advertised musical slot would have been embarrassingly empty.
And you know what? Steve and I ended up having a fabulous time.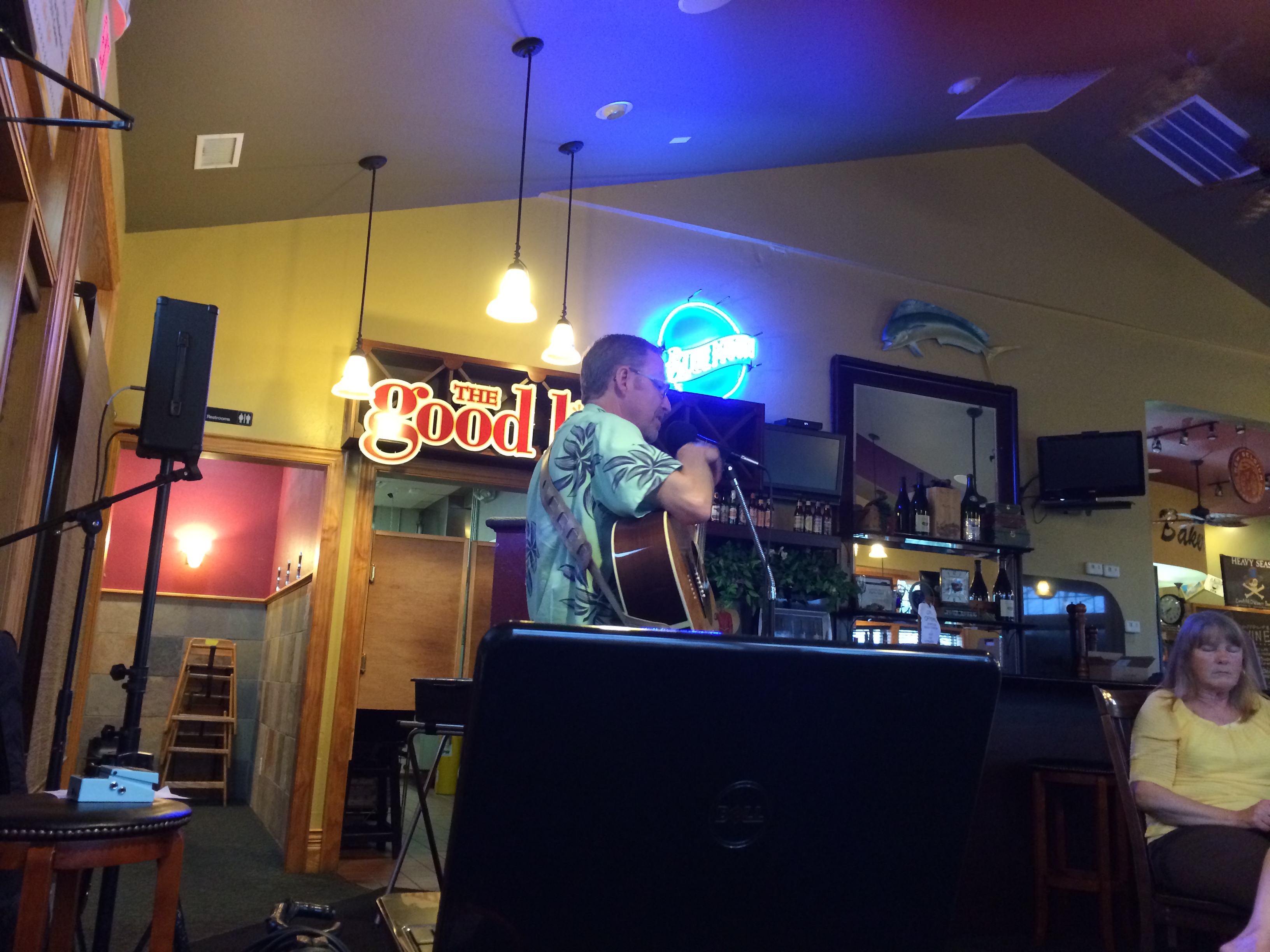 The audience was fun, attentive and responsive; they smiled and clapped and laughed and couldn't have been more delightful. Later on, I told Steve, "And to think I did all that dreading for nothing!"
Here's a video of one of the songs we did.
And speaking of happy coincidences . . .
I have one more to share with you.
Last Tuesday, I was in Greenville for a couple of doctor's appointments. I stopped at the Chick-fil-A drive through for lunch and when I opened my sack to get out my food, I discovered that they had given me two sandwiches instead of just the one I had ordered.
I knew taking it back wouldn't do any good since they wouldn't re-sell it so I figured (as much I hated to) I'd just have to throw it away. I looked around for a garbage can but didn't see one so I put the sandwich on the seat beside me and headed to my next doctor appointment. As I waited at a red light, I happened to glance out the window and saw a homeless man standing on the sidewalk, holding up a sign saying he needed work and food.
Suddenly (and quite happily) I remembered that extra sandwich on the seat beside me! I rolled down my window and handed it to the man who gave me a big grin and even bigger thanks. When the light turned green, I saw him sitting cross-legged under a tree, eagerly taking his first bite.
One hungry man and one extra sandwich. Happy coincidences.
This last thing is not a happy coincidence, but it IS happy news: this Friday, we are starting our vacation! We'll head first to Charleston, SC and then go on to Florida to see this little guy and his fabulous parents. (Photo by Steve's mom, Vernie.)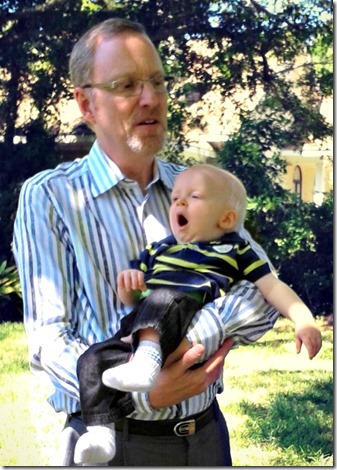 Can't wait!