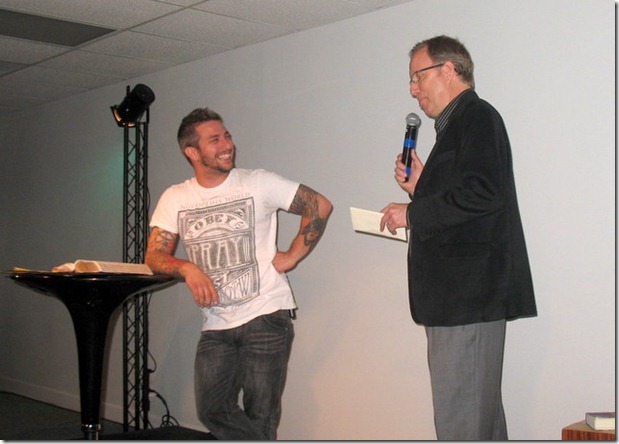 A week before Easter, we attended a special Easter performance at a local school auditorium.
Why was it so special?   Well, one for thing, it featured  a 70-voice choir and a 20-piece orchestra which is rather impressive for a small town.
But the other (even more important) reason it was special was because there were twelve different religious denominations represented in that group. Twelve!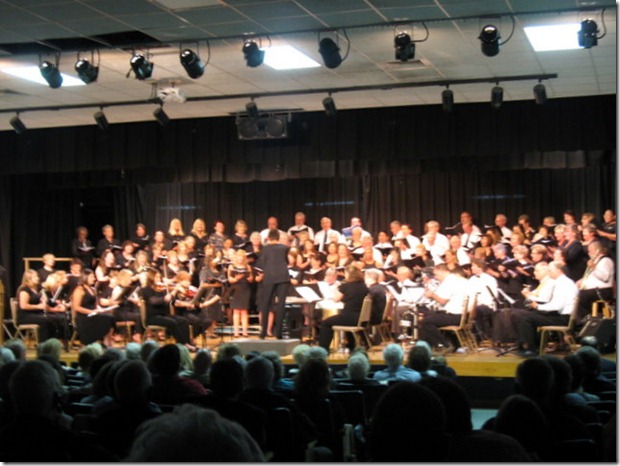 As I sat out in the audience and listened to talented people make roof-raising, heart-lifting music, I was so inspired to know the back story, to know that this wasn't just one church making music for the community, but a whole bunch of people from a whole bunch of different religious backgrounds banding together to celebrate resurrection joy.  They were laying aside their differences and saying, "Let's just concentrate on what we agree on and let's join together and make some great music."
What a novel idea!
Now let's stay on the same subject, but rewind a couple of weeks:
As our own church started gearing up for our Easter production, we were trying to make a decision on who should play the part of Jesus.  After we had tossed around a few names one of our team members said, "Why don't we ask Pastor Frank Lassen from Source Church to do it?"
A pastor? From another church?  Isn't he our competition?  Why would we ask another church leader to come in to our church? What if he started stealing people from us? 
(That is a list of  things we did NOT say.)
Instead we said, "Let's go for it!"  Our church slogan is "Building Bridges" and we thought this would be a great way to do that.
And so Pastor Frank was asked and Pastor Frank said yes.   And he did an amazing job.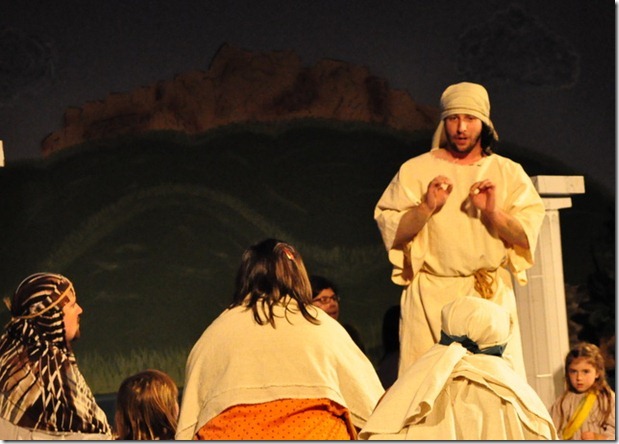 During the process of rehearsals and drama prep, Steve said to me one day, "You know, Frank's church is outgrowing their little store front building and they're trying to raise money to buy property.  Why don't we receive offerings on both of the nights of our drama and give all the money to his church?
Give money away?   Doesn't our church need the money, too? Don't we have drama expenses that need to covered? Why should we give money to the competition?
(A few more questions that we did not ask.)
We didn't tell Pastor Frank or any of his church members who were attending the drama what we were going to do; we just did it.  And it blew them away.
I talked to Frank's wife, Cindy, after the first night's performance and she said, "When Steve got up and said the offering was going to go to our church, well, it just honestly took my breath away.   I was just absolutely shocked.   You guys will just never know how much this means to us."
Over the space of the two performances, $3,000 was raised to help Source Church get started on a building fund.  Just recently, they asked Steve to stop by their church before our service started so that they could say thanks personally.
Now Pastor Steve Smith and Pastor Frank Lassen are very different guys, from vastly different backgrounds.   In fact, if you took a quick look at their churches, you would find all sorts of things that they don't have in common, from their congregational demographics, to their buildings, to their music styles, to their preaching styles.  In fact, the affectionate joke around town is that you can't go to Source Church unless you have a tattoo.  (And having a Harley would be a good thing too.)
But just like the community choir found things in common even though it was made up of twelve denominations, these two wildly differing churches found plenty of things in common too.
Here are a couple of shots from Steve's visit to Source Church where he received a very sweet thank you from the congregation along with a gift certificate to one of our favorite local restaurants.
Can't you just see the animosity . . .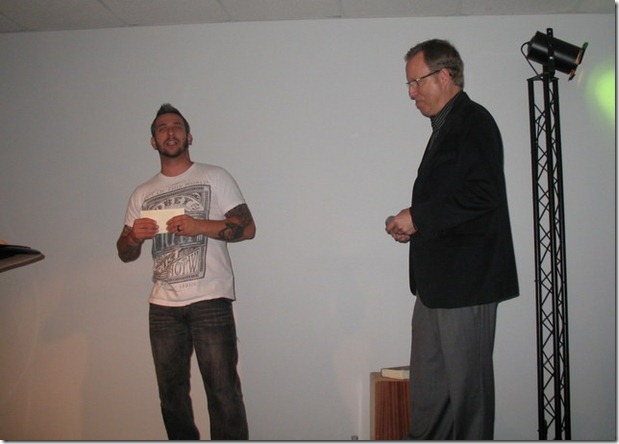 . . . the competition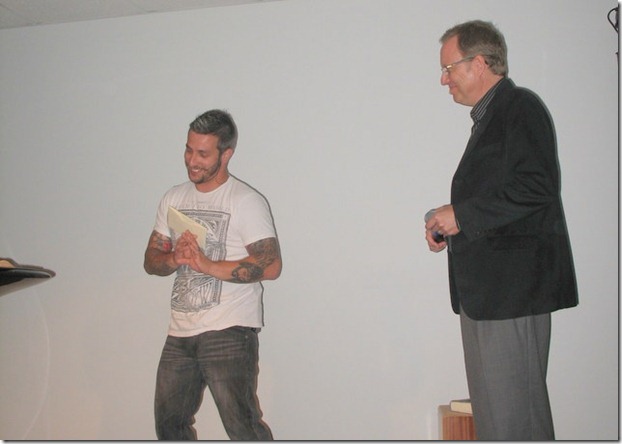 . . . and the discomfort between them?
I didn't think so.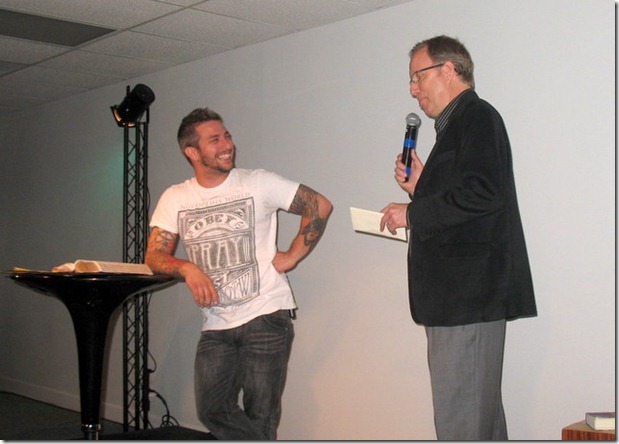 Over these past weeks since that Easter offering, we have heard dozens of people around the community comment on it.
But the best comment was one that Frank told us about.  He said that a friend of his who doesn't attend church anywhere told him, "I've always thought churches and preachers were just in it for themselves and I'd never heard of one church giving money to another church before.  It really blew me away. I guess it looks as though I have one less thing to criticize churches about now."
So. Do churches fight?  Do preachers compete and talk badly about each other and try to undermine each others' work and ministry?
Sadly—sometimes.   But happily—not always.
Sometimes preachers (and churches) get it right.
And when they do, I think it makes God smile.