I heard a woman speak at a conference a long time ago who said, "There are people waiting for you on the other side of your pain."
That line took root in my heart and has never left. Whenever I am in the middle of something incredibly difficult, the one small consolation I have is that when I come out on the other side, I will be able to use that pain to help someone who is going through the same thing.
You might say, "Well, that's not much of a consolation for a hard time, is it?"
And I agree. Pain can be so big and that consolation can seem so small. And yet it's when we know that our pain has a purpose that it becomes just a little easier for us to bear.
For example, I never thought I'd be thankful for the excruciating times we went through with Sarah's cancer treatment. I constantly wondered if she was going to die, even as I dealt with the heartache of caring for her–my bald, brave, emaciated, vomiting, hallucinating daughter who had to take morphine for her unremitting pain. To be honest, I didn't sit in her small room on the transplant floor at Duke and say to myself, "Oh, I am ever so glad we are going through this because someday I will be able to help someone else!"
And yet deep down in the quietest places of my heart I became aware of the sure knowledge that the pain Sarah was experiencing, and the pain our family was experiencing, would represent something important to someone else down the road. Our pain would turn into someone else's healing, someone else's hope. And that knowledge gave me a better ability to deal with those dark, dark days.
And now in this season of life as a pastor's wife–when someone in our church has a medical crisis, when a child dies, when a spouse leaves, when a teenager rebels, when mental illness strikes, when a home breaks, I feel grateful to be able to enter these peoples' stories with a heart that has already been broken by what they're experiencing.
No, they are not going through the exact thing I went through with Sarah–maybe it's not even a medical crisis they're facing. But whatever title their situation has been given, its name is still pain. Its name is still fear. Its name is still anxiety. Those feelings are universal and well understood by those who have walked the path of suffering.
And for those who make it through their particular shadowed valley and find a way to help people on the other side of it–well, that is when pain finds its purpose, that is when beauty is birthed from despair.
I'd like to close with a story from Sarah's cancer days that beautifully illustrates this truth. I posted this story about a year after Sarah's bone marrow transplant.
Written in 2004
In between all of Sarah's appointments at Duke yesterday, she and I walked over to the inpatient area to visit Vivien, a new friend of Steve's and mine. She had just been diagnosed with an advanced stage of liver cancer.
When Sarah and I arrived at her room, we found that her brother and sister-in-law were also visiting so we all just stood around and chatted politely until Vivian suddenly got quiet. She looked across the room at Sarah and said, "I'm a little bit afraid. Sarah. Were you ever afraid?"
The rest of us faded silently into the background as my little cancer lady stood strong and tall and said, "Yes, Miss Vivien, I was afraid at first, too."
The two of them went on to talk about fear and scans and radiation and treatments and all of the things that only cancer patients can relate to. I was amazed at Sarah's calm, peaceful presence and the way she brought a sense of hope and joy into that somber room.
Right before we got ready to leave I asked Sarah if she would mind praying with her new cancer friend. I certainly wouldn't have blamed her if she had declined since she was with three adults who were strangers to her. However, Sarah quietly clasped Vivian's hand in her own small hand, closed her eyes and took off praying. This was no short, polite, formal prayer–it was a prayer from a little heart that had suffered much, it was a prayer prayed wholeheartedly for someone in the midst of her own suffering.
I was too busy crying to remember everything Sarah said but I do remember her praying that Miss Vivian would not be afraid and that she would have peace, even with all the things that were going on in her body.
When my little girl finally got to her "Amen," I looked up and saw that there were tears on every face. For those few quiet moments, we were gathered on holy ground as a young, veteran soldier took the hand of an older, new-to-the-battle soldier and spoke words that brought healing and hope.
I was so thankful to be in that place at that moment, so thankful to be a witness to the powerful faith of a child as she prayed with all the confidence of one who had already beaten incredible odds. It was a privilege to have church in the hospital, to have peace when there was no reason for peace, and to see a soul who had suffered bring comfort to a suffering soul.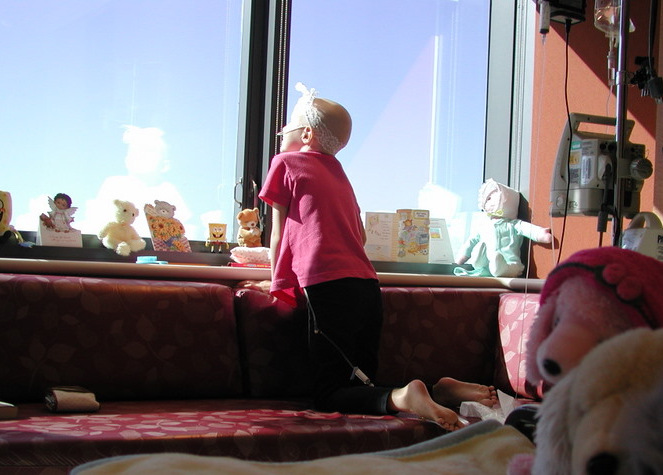 Sarah had found someone waiting for her . . .on the other side of her pain.