Chocolate.  Oh, sweet chocolate.

And a sweet card accompanying the sweet chocolate?
Be still my heart.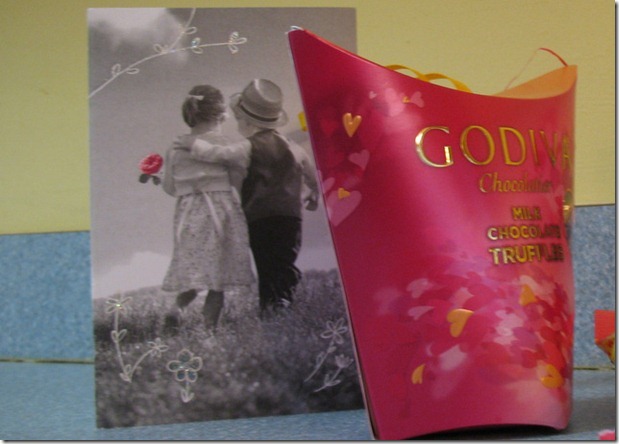 And (also from Steve), a Valentine's card and a sweet treat for Sarah?
Be even stiller my heart.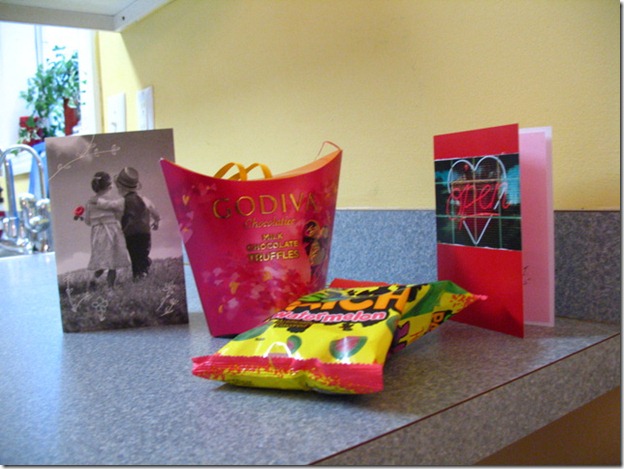 Sarah and I are definitely two blessed ladies, that's for sure! We both know that we are well-loved by our very own personal man of the house because he shows it to us every day in so many ways.
But wait a minute!
Hold everything!
Stop the violin music!
Halt the warm fuzzies!
Why in the world is this desk so rudely interrupting my Valentine post? This desk doesn't have anything to do with love! Right?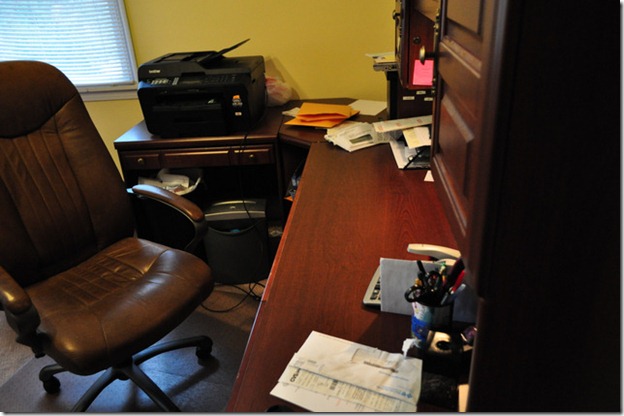 Well, actually, it does.
Let me 'splain.
Steve and I have been celebrating Valentine's Days for thirty-one years now. Over the course of our marriage, we've always made every financial decision together. We have a joint checking account and the money that each of us earns goes into that account and is spent from that account.
So far, so good.
Over these past three decades, however, Steve has always been the one to pay the bills and balance the checkbook because I have a great loathing of math and all things number-related. I look at a line of numbers and my brain freezes and I feel all twitchy.
Ask me to balance the check book?  I would rather have a root canal. I would rather have two root canals. I. Don't. Do. Numbers.
A few times over the years, I have sat down with Steve while he's paid the bills in an attempt to gain some understanding of our financial doings; however, after a couple of weeks, I've sort of drifted away back into my numberless life and just let him do his thing.
Which is fine, as far as that goes. He's good at it, he can take care of things quickly and efficiently, and the arrangement has worked just dandy.
But here's the thing.
Let's say he runs to Ace Hardware this afternoon to pick up a gizmo for some handyman project he's working on.  On the way home, he's hit by a driver who ran a red light.  And he dies.
There is nothing written anywhere, no promise made by anyone, that that is not a possibility in our lives–or in any life.
And so all of a sudden, out of the blue, I would be slammed with immense grief. I would have children to comfort. I would see my life completely upended.  And on top of all that unspeakable trauma,  I would have a whole stack of bills continuing to arrive. They would need to be dealt with.  And I would have no idea even where to start.
For instance:
We have a couple different places we pay Nathan's college bills to. Would I know how to do that?

We're still paying on my breast cancer bills.  Would I know how much is paid each month and to whom? 

Steve has to take money out of our salary every month for taxes and then every quarter, send off a payment to the IRS.  (Since he is considered to be self-employed.)  Would I have any clue how to handle that?

A bank statement would arrive each month, announcing that it was time to balance the check book.  And I would be clueless.  And adrift. And beyond overwhelmed.
Now to Steve's credit, he has brought this subject up to me numerous times in our marriage saying over and over, "Becky, if something happens and I died unexpectedly, you would have a very tough time managing the finances."
And I'd say, "Yeah, you're right. I sure would."  And then I would make a half-hearted attempt to sit down him and have him explain things but after a week or two, I would wander away from it in a bewildered haze. Because numbers are not my friend.
But when 2013 arrived?  Things changed.
Steve put on his most loving but stern husband voice and said, "Honey, I am not truly showing you love, and I am not being a good steward as a husband when I haven't made sure you know how to handle our finances.  And so for this whole year, you and I will sit down every Monday night and pay the bills together; I will also teach you to balance the check book."
Well. After getting over my momentary panic, I jumped in with both feet.  And you all would be proud of me! I have started wading through all sorts of number-related mysteries and some of the muddle is even starting to make sense. I haven't balanced the check book on my own yet, but I've done it twice with Steve and my non-mathematical brain is starting to see some light at the end of the knowledge tunnel. A couple more times and I should be able to do it myself.
I know that many of you who have paid bills and balanced checkbooks for your entire adult lives are probably amazed (and appalled) that I could have gone this long without those life skills.  And truthfully,  I hate that I have gone this long.  And I'm almost even embarrassed to it admit it.
But the reason I am putting aside my embarrassment to even write about it is because I want to be an encouragement to any of you who might be in the same place that I was.  Please, please make it a priority to learn this stuff.  It won't be easy at first, but you will feel so much more peace of mind, knowing that you are able to handle this vital part of life.
And as for me?  I'm turning into a Bill Paying Ninja!  Don't I look like I actually know what I'm doing?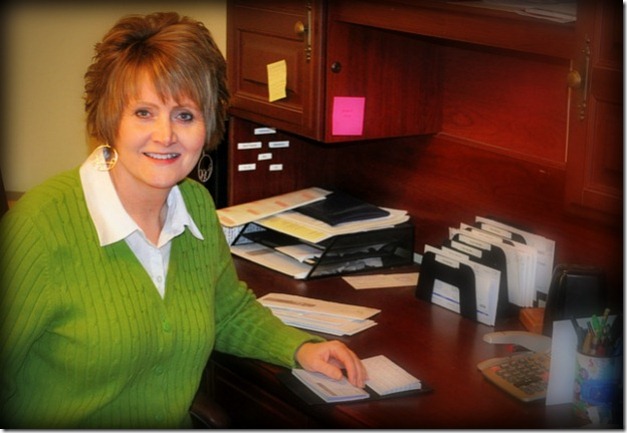 (By the way, the slots in the small black file are labeled, "First Monday, Second Monday, Third Monday, Fourth Monday, Fifth Monday and Check Balancing. When bills come in, we write on the front of the envelope what day they need to be mailed and then we file that bill in the appropriate slot. Each week when we pay bills, we only have to look at the ones in that week's slot which makes things simpler.  And I am all about simple!)
And so. On this Valentine's Day 2013, I have an important question to ask you:
Which of these two things show love: Chocolate?  Or a checkbook?
The answer is, "Yes."