During last week's storm, we three Smiths decided it was time for some Big Time Comfort Food.  One of the most comforting foods that I know of is Chicken and Dumplings and I especially love this recipe because it's simple and uses Bisquick for the dumplings.  That means that if you're looking for a complicated gourmet recipe that a French chef might spend days and day preparing–well, this ain't it!
But if you love quick comfort food (well, quick if you don't count the hour it takes to boil the chicken) this is your recipe!
You can use either boneless or bone-in chicken; they both work well.  Keep in mind that boneless chicken doesn't take quite as long to cook and it's easier to cut up when it's done.  However, the fact that it doesn't have bones means the broth won't be as flavorful.  So I just use boneless chicken breasts and cook them in a big can of chicken broth–the best of both worlds!
If you don't have any chicken broth on hand, this stuff can be your new best friend.   Add a tablespoon or two (or three) to your cooking water and you'll get a really nice chicken flavor.  (It comes in beef flavor, too.)  Of course, you can always use the regular bullion cubes or granules, but I think has better flavor.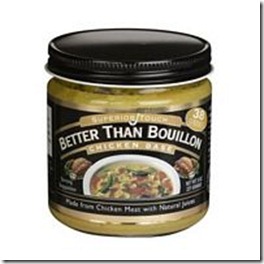 Quick, individually frozen breasts are a staple in my freezer, I'm always grabbing them for a quick meal. (You don't even have to thaw them first.)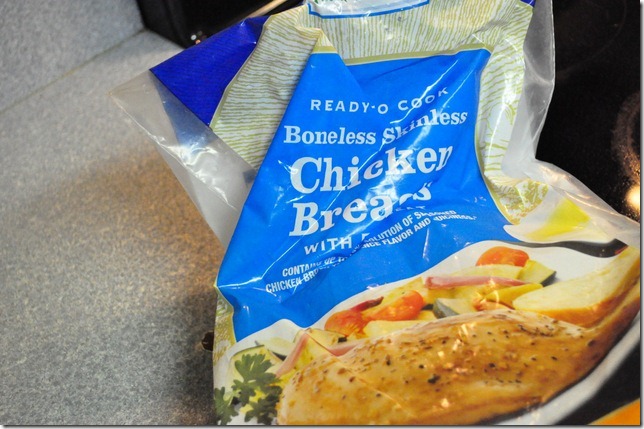 I used about half the bag and added parsley for color.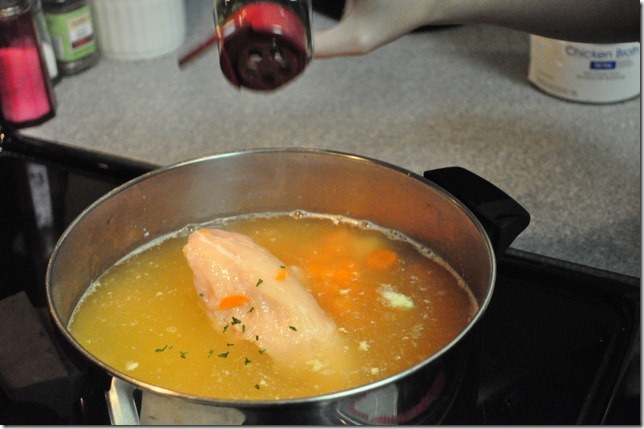 I put in a quarter cup of rice (which gives the broth some body), cut up some carrots, and then chopped up a little onion.  (You can also buy frozen diced onion which is wonderful to have on hand for these kinds of recipes.  In a pinch, you can also use dehydrated onion flakes or onion powder.)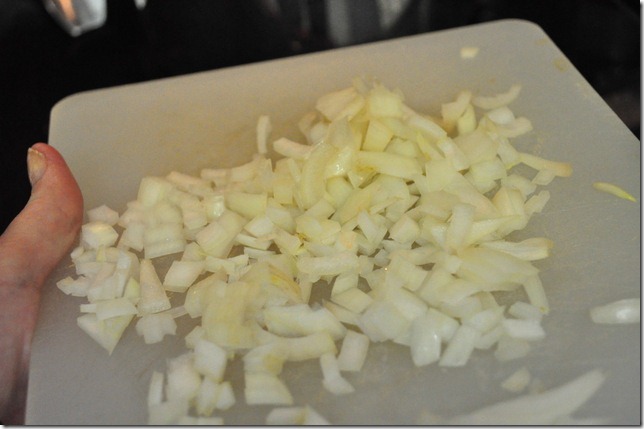 Eight or ten shakes of poultry seasoning made me feel like I was a genuine grandma-type cooking person.
I don't usually add celery because I don't usually have any in the house but I threw a little in, just to continue with the whole grandmotherly vibe thing.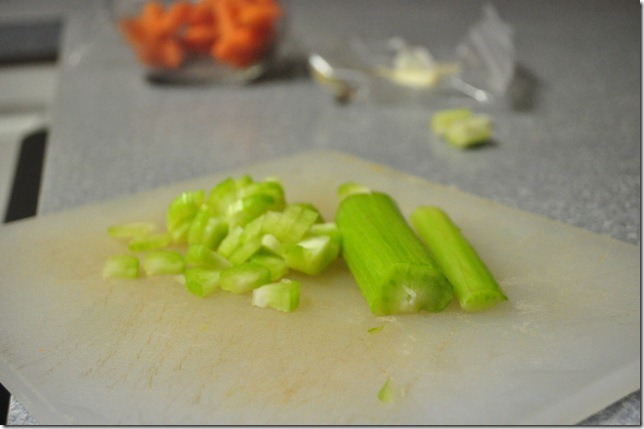 I also added a teaspoon of  (optional) rosemary leaves.  (My grandma would be smiling.)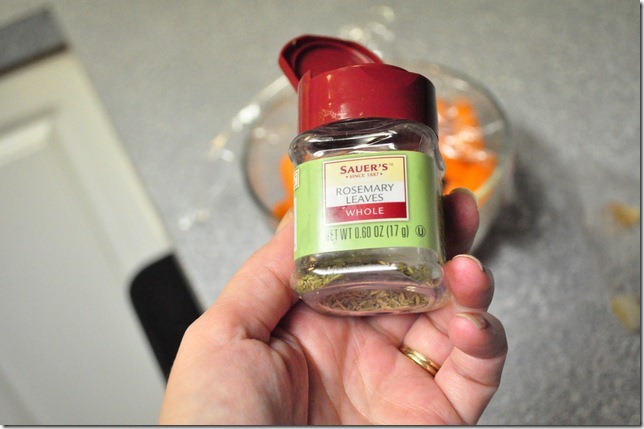 And then?  Then I popped it all on the stove, covered it with a lid, put it on a low boil and took off to look at the storm.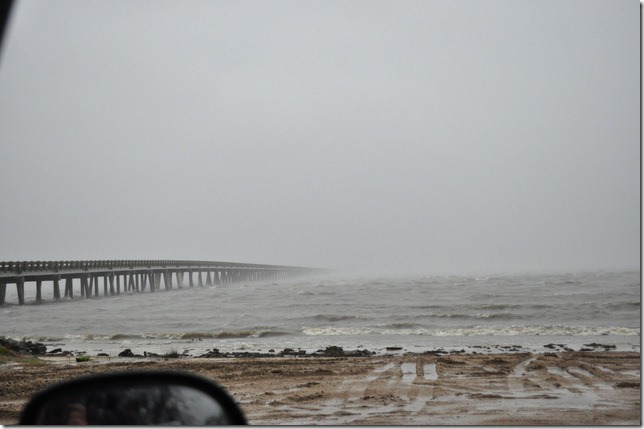 You are welcome to skip this step in the recipe if you so choose.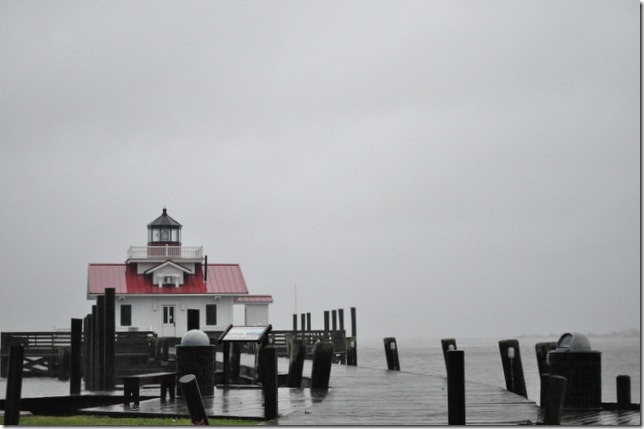 Upon my arrival back home, I retrieved the chicken from the pan (after poking it with a fork to make sure it was tender) and stuck it all in the overturned pan lid.
And why did I put the chicken on a lid?  Because it occurred to me several years ago that getting out a clean bowl to put the chicken in created unnecessary clean up.   So I started putting the chicken in the lid to cool instead.  (If you're in a hurry, you don't have to let it cool if you just hold it with a fork while you're cutting it up.)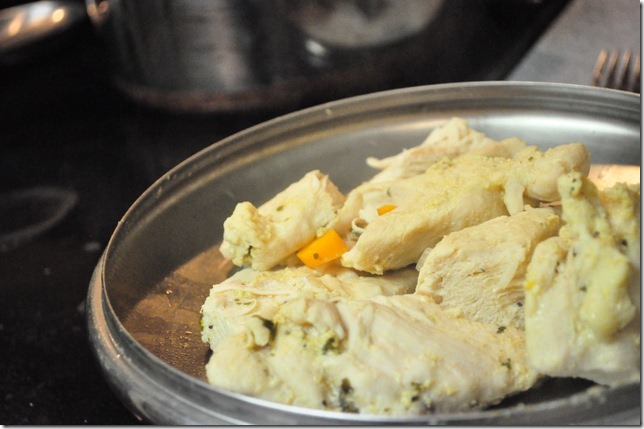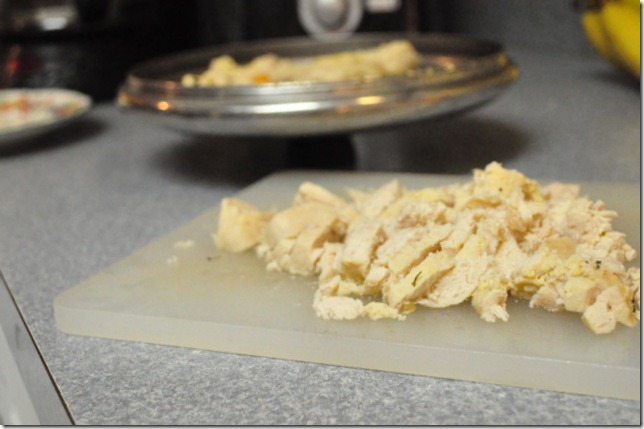 I added the chopped chicken to the pan . . .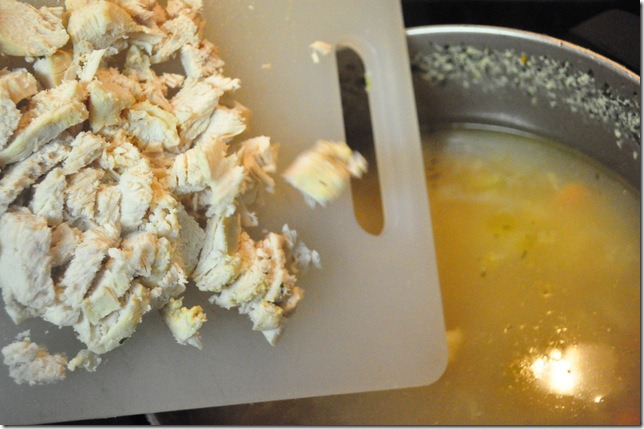 and then got out my trusty box of Bisquick.
I mixed together 2 C Bisquick,  2/3 C milk, and a few shakes of parsley flakes (optional) and stirred it together lightly.
(You can also had a few shakes of rosemary or some other favorite herb if you'd like.  But I won't hold it against you if you don't.)
Sarah, my intrepid cooking assistant,  dropped the Bisquick mixture onto the boiling stew.  (It is important the stew be boiling when you add the Bisquick.  Very, very, very important.   If it's NOT boiling, I cannot be held responsible for any less than savory results.) 
You can use a teaspoon to drop the dough onto the stew, but Sarah just did it the old-fashioned, finger-proven way.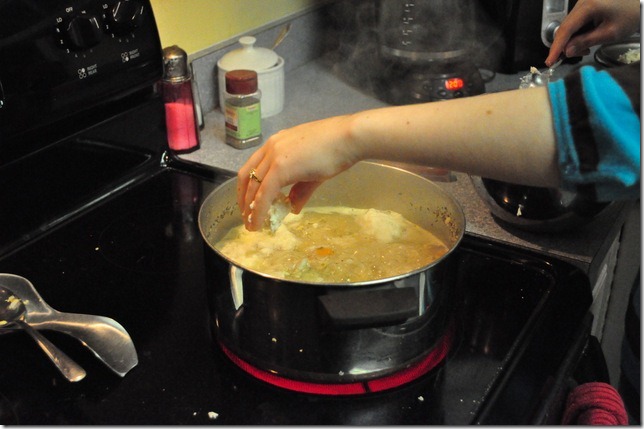 I turned the heat to medium and let the dumplings cook uncovered for 10 minutes and covered for another 10 minutes.
I removed them from heat immediately and this is what  I saw.  A pan full of fluffy dumpling-y goodness.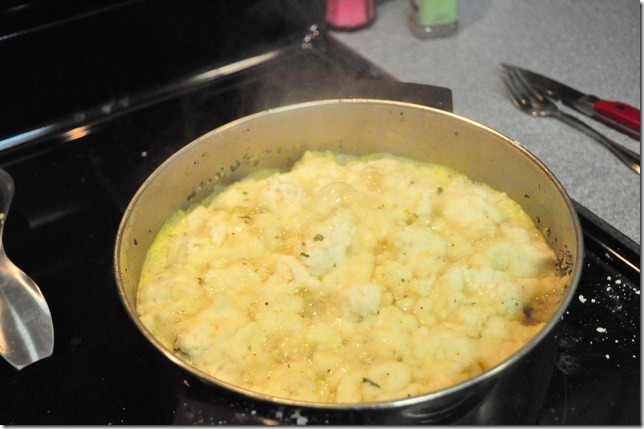 There was just one little teensy problem.  It was a little "blah" looking.  And there are few things worse than blah dumplings.
So I grabbed some paprika . . .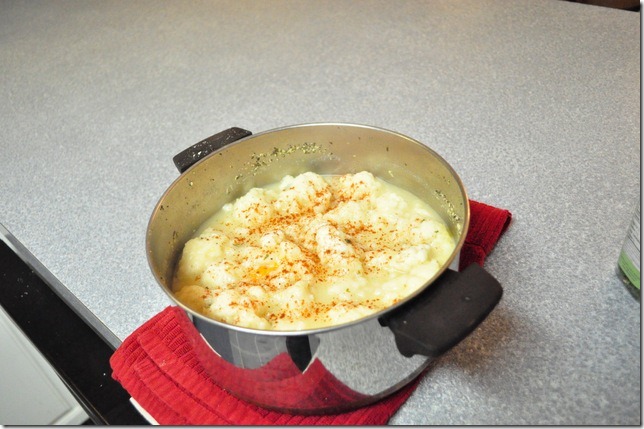 and some parsley and I decorated them babies!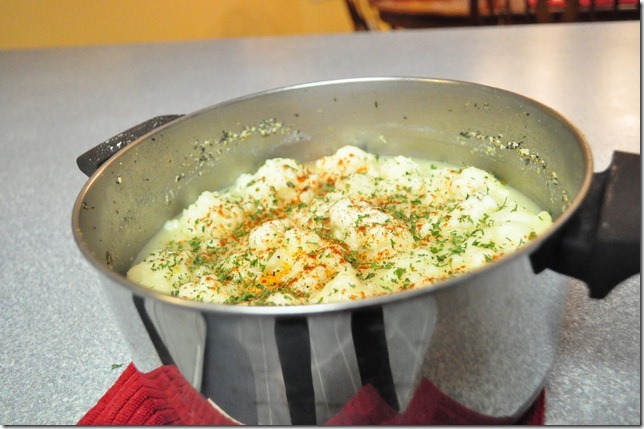 Then I scooped some into a bowl and ate them while the wind whipped outside the house.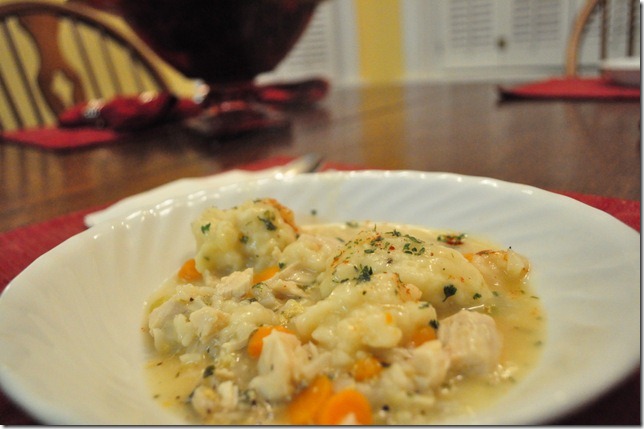 And if the wind isn't whipping?
Feel free to make 'em (and eat 'em) anyway! 
(Note:  If you have variations on this recipe, please share in the comments.)
Chicken and Dumpling Recipe
3-4 chicken breasts
If you use bone-in chicken, just boil in a pan of water.  (It is important for the pan to be at least 3/4 full of liquid.)
If you use boneless chicken, boil it in a big can of chicken broth, or add bullion. You can also add bullion when you use the bone-in chicken, if you want extra flavor.
1/4 C rice
A few shakes of dried parsley for color
Diced onion (can use frozen or dehydrated onion flakes)
Chopped carrots (optional)
1 teaspoon rosemary   (optional)
1/4 C diced celery (optional)
Six or eight shakes of poultry seasoning (optional)
(Note:  Although I've never tried it, I imagine you could add a can of Veg-All to the broth, too.)
 Let chicken and seasonings simmer, covered, on medium until meat comes apart easily with a fork.  (Boneless will take an hour or less; bone-in will take a little longer.)
Let chicken cool a little and cut up into small pieces.  Add the chicken pieces back to the broth.
Mix together 2 C Bisquick  and  2/3 milk.  Don't over stir.  (Can add favorite seasoning and/or parsley.)
Drop by teaspoonfuls onto boiling chicken/broth mixture and cook for ten minutes uncovered and ten minutes covered.
Sprinkle with paprika and/or parsley.
Enjoy!