Last week, a somber occurrence took place at the Smith House.
Sarah grew up.
Now I understand that growing up generally consists of a process– a process made up of life's subtle shadings that shift slowly from moment to moment, year to year, and season to season. But not in this case. In this case, the growing up happened in just a matter of moments.
And just what could have possibly precipitated this remarkable and particular change? What was the mysterious tipping point that moved my darling daughter past childhood into adulthood?
Quite simply, it was The Talk.
No, not that Talk. That Talk occurred many years ago. This was the other Talk; the Talk about . . . money.
Over the years, Sarah has always earned an allowance and has always managed her money well—giving some, saving some, spending some. But now she is at a point where her financial picture is changing in significant ways.
For one thing, she received many generous graduation gifts from many generous friends (including some of our wonderful Smithellaneous readers), and she realizes the importance of managing those gifts wisely. Also, she just started a full-time job at Food Lion and so she will be bringing home a bigger paycheck than she's ever earned in the past.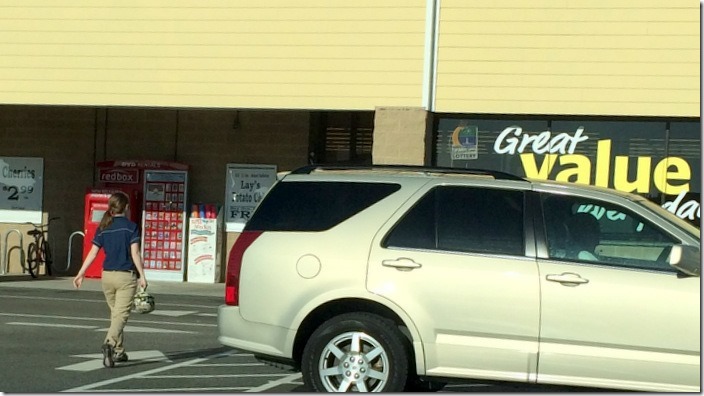 On the other hand, she's about to start college and buy a car, so expenses are going to start rising, right along with the increased income.
With all that in mind, she and Steve and I figured we'd better get ahead of the game and sit down together to make some plans.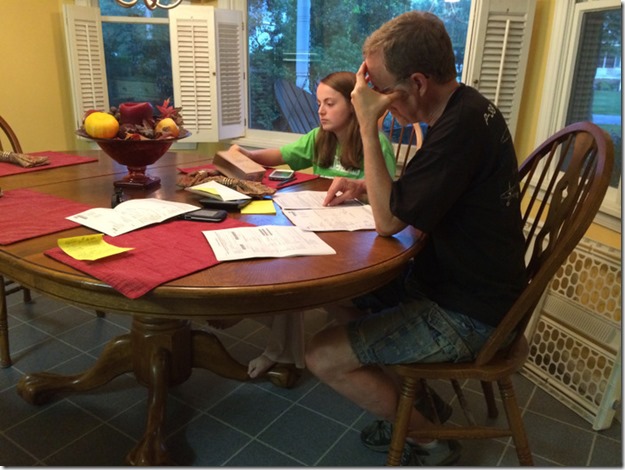 We got started by discussing how much she needs to put into savings (from gift money and summer work money) so that when college starts, she'll be able to work fewer hours and concentrate on her studies. We talked about all the expenses that will come with a car–insurance, gas costs, the price cost of tires and repairs.
She also just got her first smart phone (after being content with an old-fashioned, non-smart phone for five years) and so we calculated into her expenses what that monthly fee will be. She thought that it would be a good time for to open her own checking account and so she and Steve have plans to go and get that done.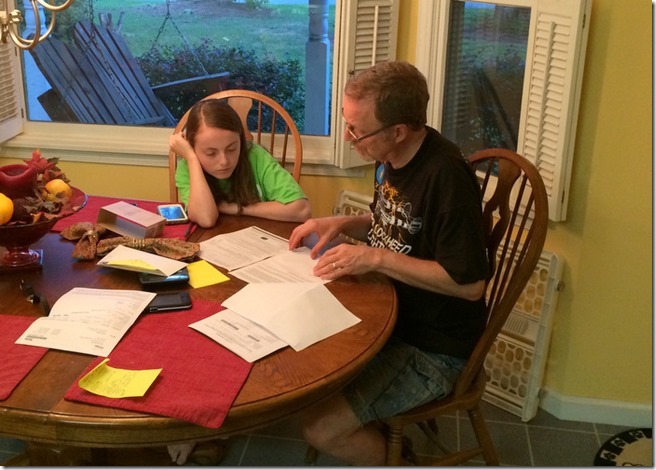 With all those serious subjects on the table (both literally and figuratively) Steve still couldn't keep himself from making at least one funny face. (Can you see where Nathan and Noah get their ham qualities from?)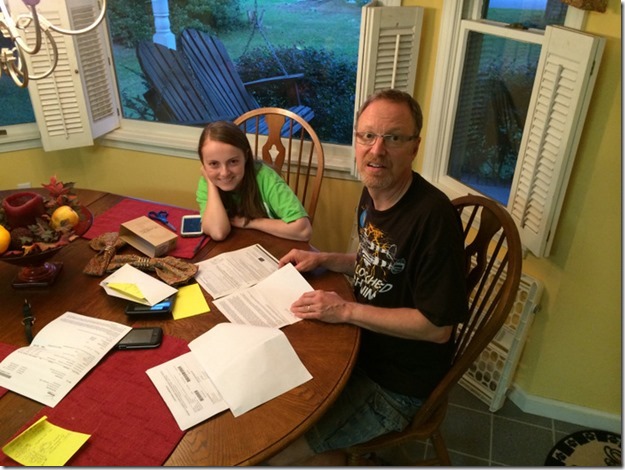 As the two of them continued to talk and flip through papers and enter mysterious numbers into the calculator, I got the distinct feeling that my brain needed a break from those computational conversations. (We all know that math and I are not the best of friends)
And so I went out to the front porch for a few breaths of sweet evening air and a brief concert of sweet evening sounds. Just as I figured it was time to turn around and head back inside, I happened to glance through the front window where I witnessed something invisible to my eyes, viewable only to my heart.
In that one moment, in that one look, I saw the pages of the season turn. I saw the sweet, serene, simplicity of Sarah's childhood gather itself into a small, fragile bundle and whirl its way out through the window pane, out into the night, out of sight.
At about the same time, I saw the weight of adulthood–its responsibilities, its burdens, its obligations–make its appearance and wend its way through the same window to take up residence on the small shoulders of my girl.
In that briefest of moments, I saw my child become an adult.
As I stood pondering it all in the evening's silence, I well understood that the transition was an exciting one for Sarah–putting away childhood, embracing adulthood. I also understood though, that it wasn't completely without anxiety. In fact, during one part of the earlier conversation with Steve, when he was gently laying out all the things that would be required of her, I saw tiny tears gather in the corners of her eyes. I didn't say a word—I just looked down at the table to hide my own tears, even as a part of me longed for earlier, simpler days.
That longing came back to me even more strongly the morning after our conversation when I went downstairs at 4:30 a.m. to take Sarah to work. As I walked quietly around the corner into the kitchen, I found her sitting at the table, wearing her blue polyester work shirt and spooning Cheerios into her mouth. Her eyes were glazed with fatigue, her body weary from the hours spent on her feet the day before.
As soon as I saw her I stopped short and thought, "This is it. This is real. This is my child who has stepped over the threshold and will never, ever step back. She has gone from wearing cute school clothes and carrying a colorful book bag to this . . . the trappings, the wrappings of a working woman.
A working woman making her breakfast, packing her lunch, and walking out into the pre-dawn of a new day—taking another step away from what was and taking another step forward into the beginning of what is yet to be.
I was (and am) so very proud of her, so very proud of the way she is writing this chapter of the in-between.