(Note: For Sarah's first day of college today, she will work eight hours and then come home to do an online course. I figured I would wait to take her actual First Day of College Picture tomorrow because that's when she will attend her first official college class.)
And now on to the last post from the Great Charleston/Florida Excursion of 2014 . . .
I love trolleys.
I love sitting by the window and gazing at the various permutations of people, businesses and architecture that whirl by me. And coming from a small town, I am always amazed by just how busy a city street can be.
When we were in Charleston two weeks ago, we decided to ride the free trolley that runs downtown. I was quite the happy woman perched in my window seat and taking it all in.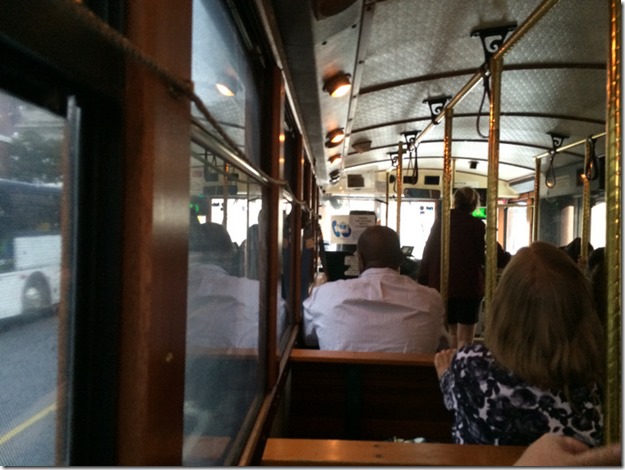 After we had ridden the trolley hither and yon, gotten off and on a couple of times, and walked quite a while, we were starting to fade a bit. Our steps got a little slower, our conversation got a little more sparse, and the thought of getting back to our van and sitting down in its welcoming peacefulness was becoming more and more appealing.
But then it happened.
We rounded one particular corner and saw this sight: books on a bike.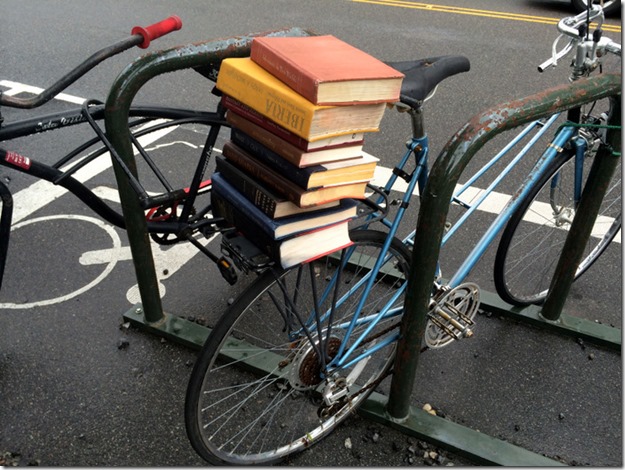 It's amazing how much of an energy infusion that seeing a stack of books can provide for bibliophiles like Sarah and me. We miraculously experienced an infusion of vivacity into our previously dragging steps as we veered off course to investigate, leaving Steve to trail in our newly revitalized wake.
We discovered that the store was called Blue Bicycle Books–the books on the bike out front are permanently adhered to the bike as a way of advertising the store. ( It certainly got our attention!)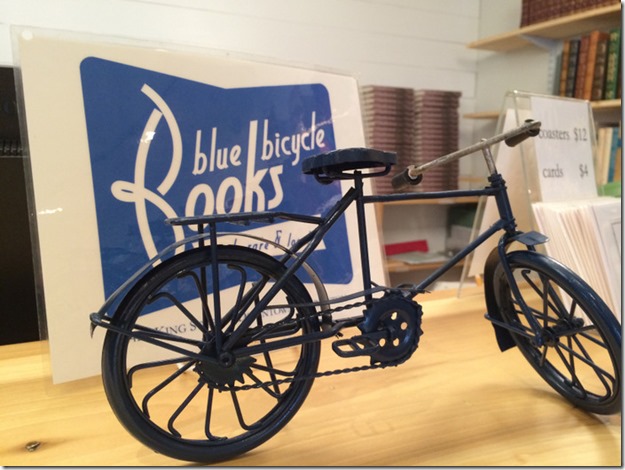 Imagine our happiness when we noticed an old typewriter on the front table as soon as we walked in; we were also happy to find that many of the books were used and therefore cheap!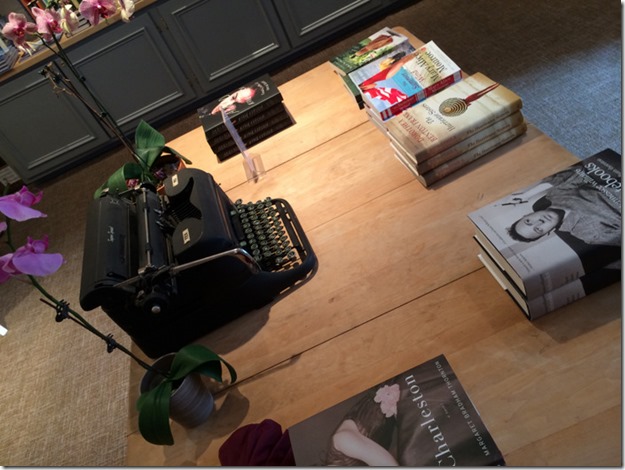 We spent a long happy time meandering through shelves and images and pages and words.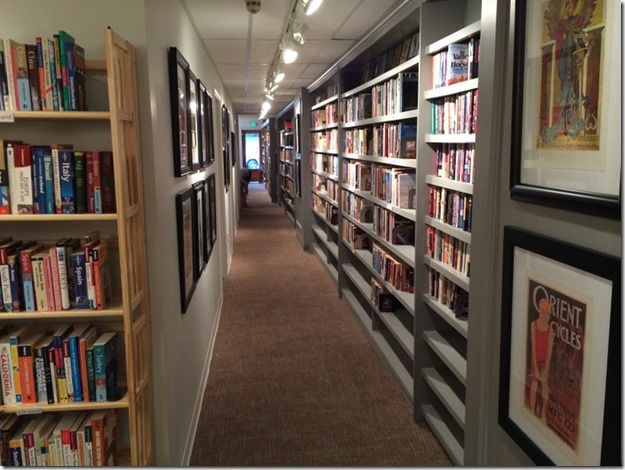 We even found a few more bikes as we wandered our way to the back of the store.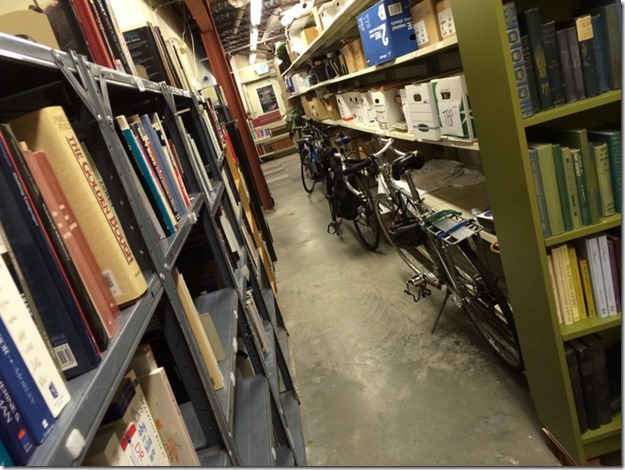 Once I arrived at the back, I saw this sign which at first alarmed me and then made me smile when I realized I was still in the "customer" part of the store and really would not need to whip out any I.D. (I love a store owner with a sense of humor.)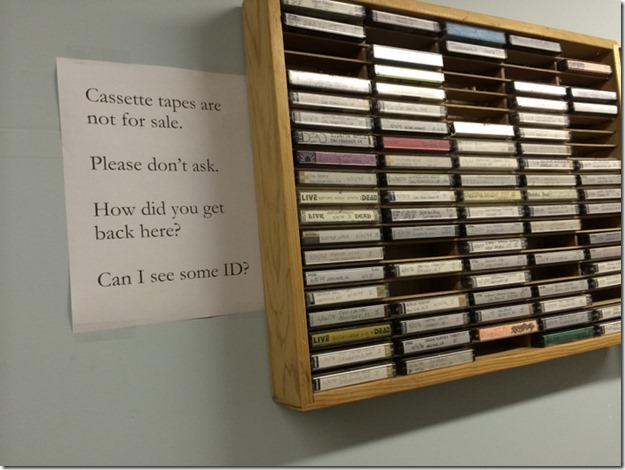 At the end of our shopping trip, we posed beside the book bike with our newly acquired purchases. Two happy, tired women!
Another interesting Charleston sight was this bridge. We drove over it . . .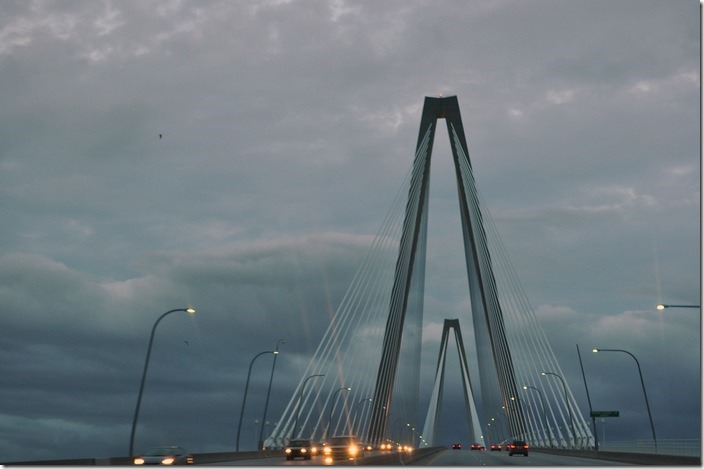 and then walked . . .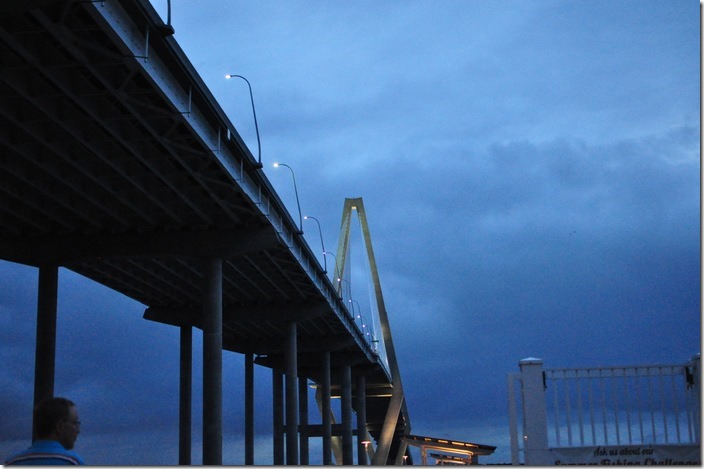 and sat under it.
I love interesting creative structures.
Speaking of which, this is the hotel we stayed at in Charleston; I found it on Priceline for a nice cheap price!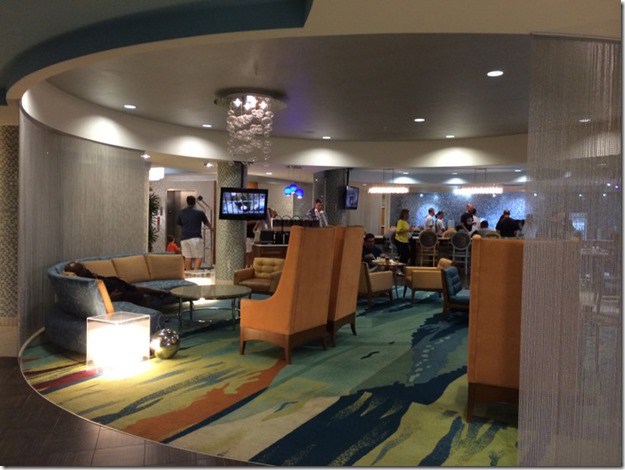 The three of us had more than one discussion over the way the hotel combined the colors and patterns in the wall and floor. The hotel was definitely on the artsy side so I imagine that's where the inspiration came from for this particular look but it's not something I would ever choose to use. I guess that's what makes life so interesting—all the differences!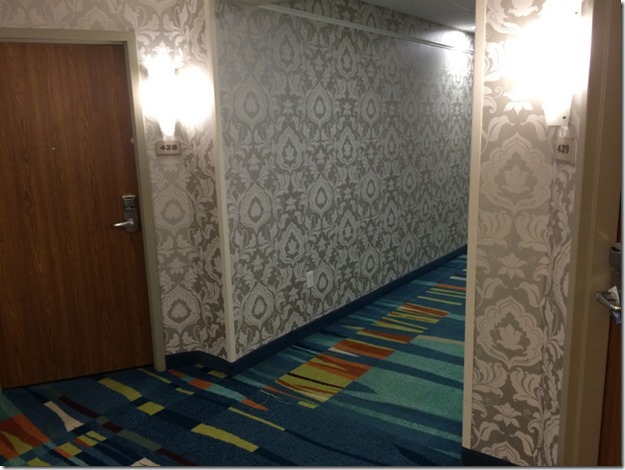 On our way out of town, we detoured a bit and drove through the Citadel. I have always been fascinated by institutions that are in any way connected with the military so I was glad we had a chance to do a quick drive through the campus.
I loved the verse that was inscribed on the front of the chapel, "Remember now thy creator in the days of thy youth."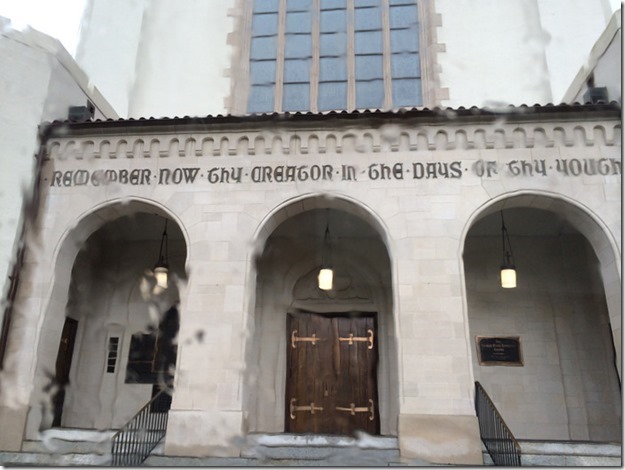 Steve was thrilled to see a fighter jet on display. We hopped out in the rain to get a quick picture.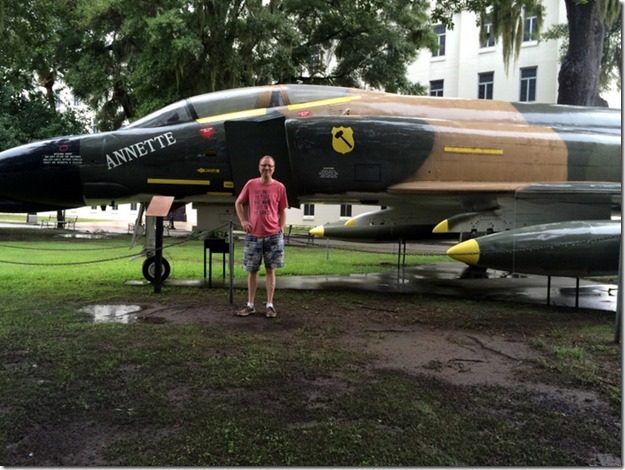 A few hours later, after we'd finally left the rain behind and driven into sunshine, Steve snapped this photo of me.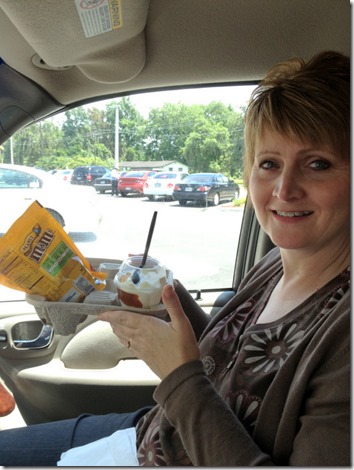 In my defense, I was not planning on eating the sundae AND the whole bag of M & M's right at that very moment–the M & M's were for all of us to share down the road. I do look sort of glowy though, just being in the presence of so much sweetness?
And here's one final story from our great adventure.
While we were in Florida, the Hawleys invited us to their home for Family Dinner. This is a tradition where Frank and Sherri, all three daughters, two sons-in-law, one fiance' and three grandchildren gather for a weekly meal.
Meagan's Mom, Sherri, is a wonderful cook who, in the middle of an incredibly busy schedule, prepared a veritable feast for the assembled crowd; it included two main dishes and a dizzying array of side dishes. The table was beautifully set with goblets and cloth napkins and we were made to feel like extra special guests.
I was especially touched to see Noah surrounded by all those people and all that love—aunts, uncles, cousins and grandparents whose faces lit up and eyes shone at the very sight of him. It made my grandma heart ever so happy.
When we had finished eating, the men went out back to play Frisbee and the women embarked on an after dinner stroll with the kids.
Here's Noah with one of his cousins, his mama, and two aunts. (Kristin, in the middle, is getting married in October.)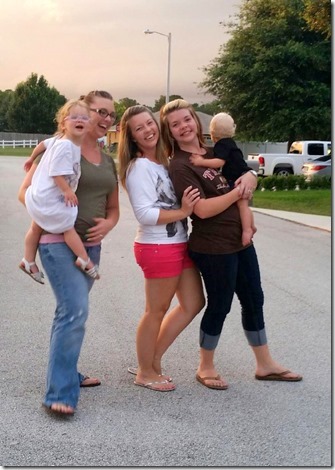 It was such a joy to stroll along beside my dear friend, Sherri, and look at the melding of our families and our friendship–such a privilege to wander through the golden hour and hear the laughter of babies and see the smiles of the ones who love them so much.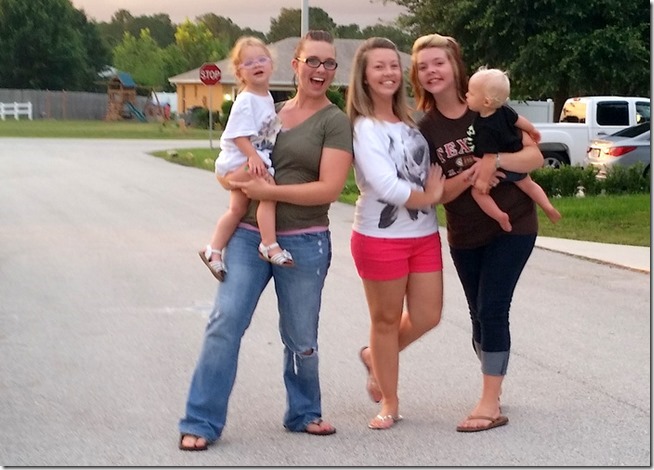 Books on a bike. Babies in the twilight. Happiness.