Last Monday night, I launched myself into a veritable frenzy of cooking.
Veggie. Two desserts.  Muffins.   But no main dish.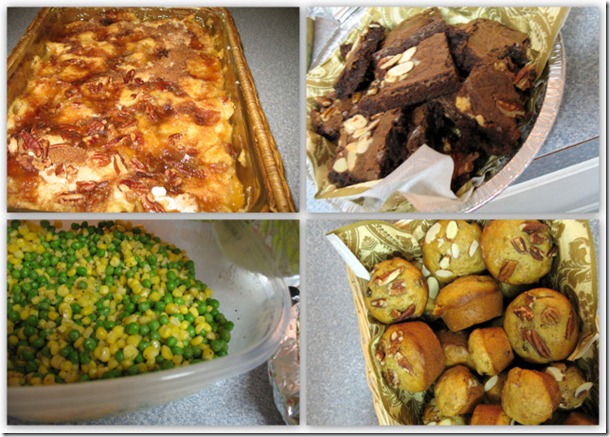 The reason I didn't do a main dish was because (happily) I was tag teaming with Margaret, a lady from our church who had volunteered to be the Official Main Dish Lady.  And boy, did she ever fulfill her responsibility in a great way, showing up at our assigned location with two bigger-than-enormous pans of chicken casserole in addition to two large pans of green beans, prepared and seasoned like only a true southern woman knows how to do.
The two of us were providing dinner for our homeless guests whom we host twice a year for a week at a time.  (All the churches in the area take turns hosting.)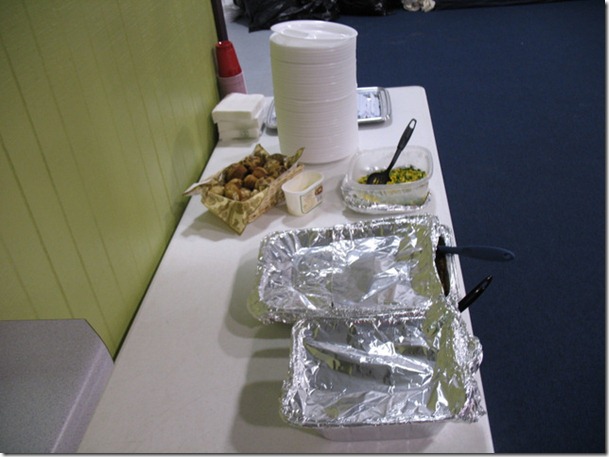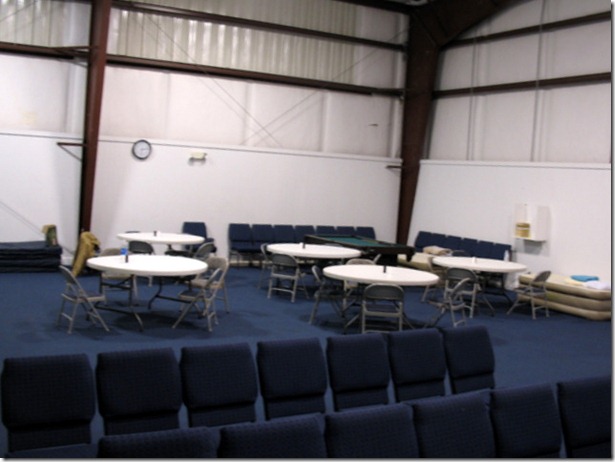 Before everyone arrived I had a few moments to take a brief photographic tour of their lodgings for the night, which were set up in our church's auxiliary building across the parking lot from our main building. This building is used for church dinners, youth meetings, Bible studies, Red Cross Blood drives, wedding showers, funeral luncheons, movie nights, local sportsmen events and also as a training location for our local teachers. It is definitely not one of those church buildings that just stands around all the time doin' nothing!
Out of all the events that are held there though, one of its noblest purposes is to host the homeless. We cook them dinner, give them a place to sleep, prepare a home cooked breakfast, and pack a lunch to send with them. They return again that night and the whole process starts again.
A dozen or two people needing clean linens every night for four months at a time could create a rather daunting challenge for the organizers; however, a local laundry service called White Cap Linen picks up all the sheets, towels, wash cloths that are used, washes them and delivers them to the next church in line. And they do it for free!
Here's a shout out to a great business with a heart for the less fortunate. Thank you, White Cap!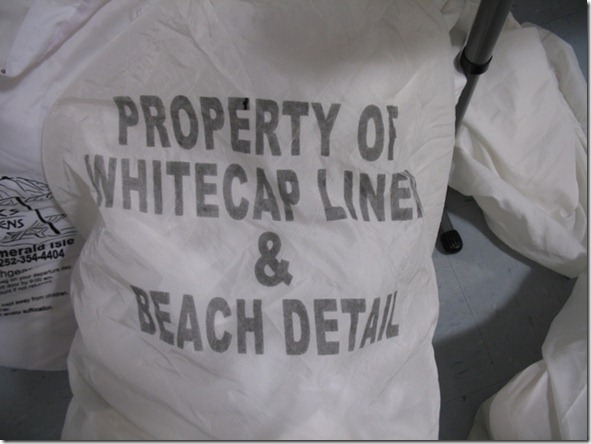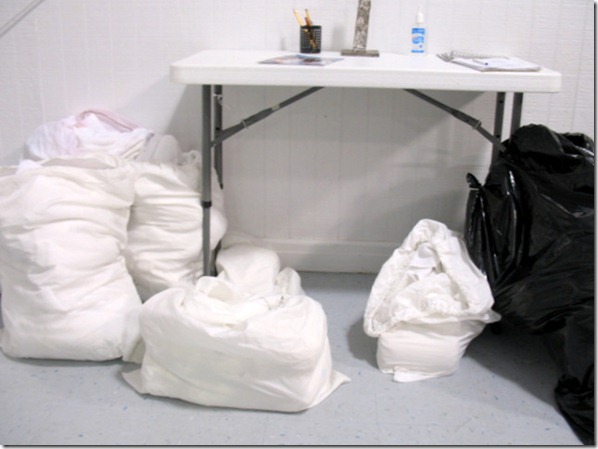 One of our church board members, George Davis, has been the impetus behind our church getting involved every year. Not only does he head it up, he also takes time out of his exceedingly busy life to show up every night and make sure that everything is in place and the needs of the guests are taken care of.
He even encouraged the church to install a shower in one of the bathrooms so that the homeless guests could have a hot shower every day. This sign was made to let people who were waiting in line know that the shower was being used.  (A sense of humor is always a good thing.)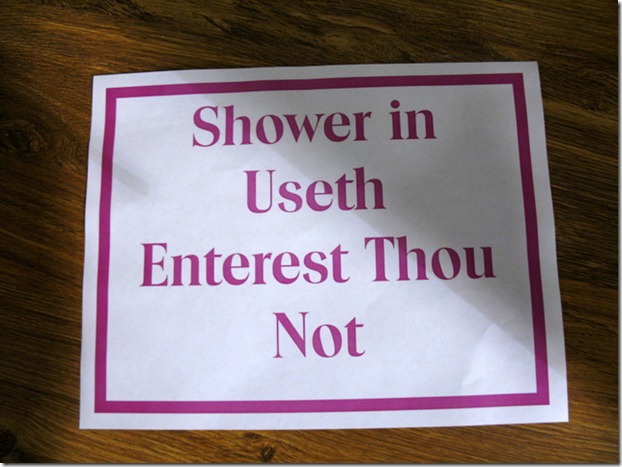 My tour continued with seeing where all the beds were set up. The men were on the main floor; the women were in a separate, upstairs room.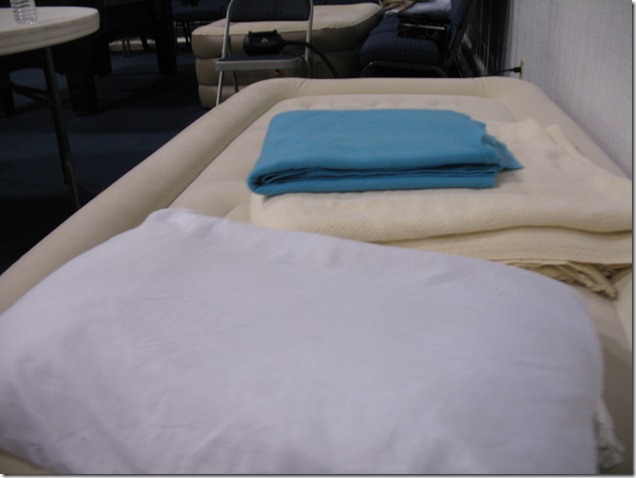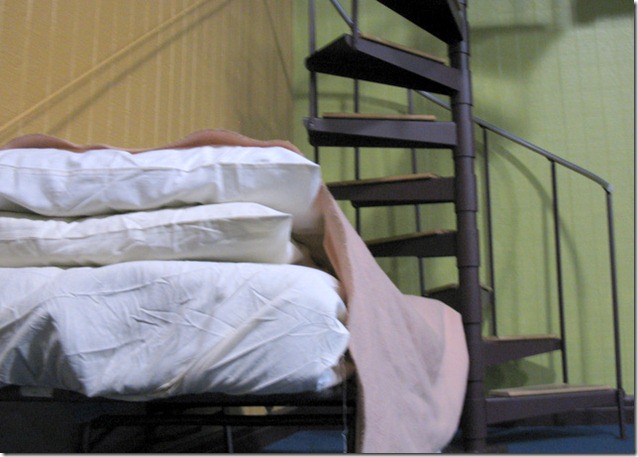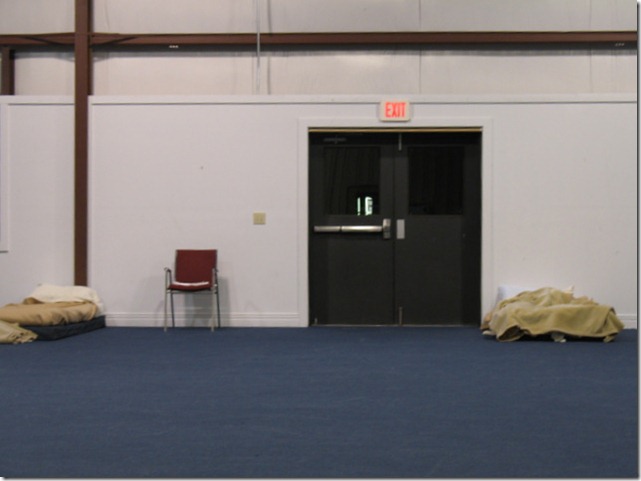 I was especially touched by this scene.
A mattress on the floor.  A small bag tucked into the corner, probably holding most of this person's worldly goods.  And a Bible on a table.
Such a poignant life tale wrapped up in those few items.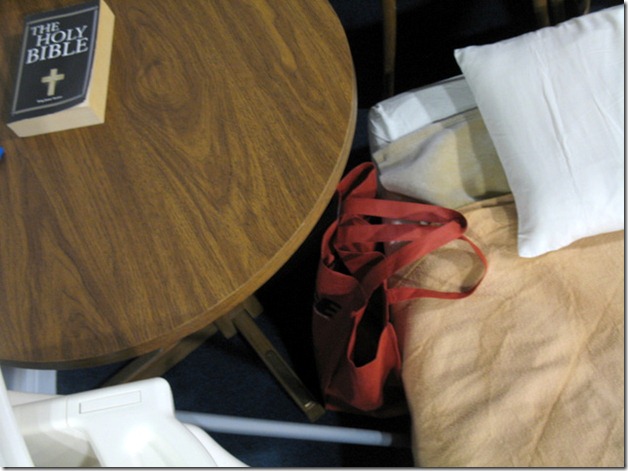 This man folded his sheets and blankets much more neatly than I could ever have done. Although he doesn't own much, it's obvious he takes pride in taking good care of the few things that pass through his hands.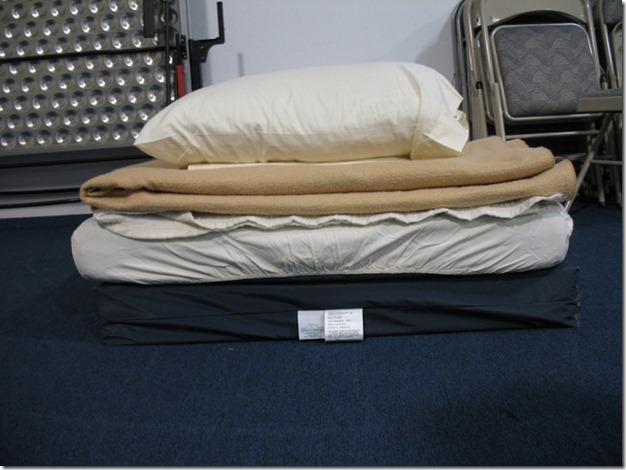 I participated in this outreach before and once again this year, I have to admit that I was a little nervous about finding things to talk about with our guests. But when the van pulled up outside and the men and women started coming in from the cold of the outside world to the warmth of our welcome, I just started shaking hands and saying hello; it wasn't too long at all before my shyness and introversion disappeared.
One older guy who I greeted had a skinny, gray beard that was about six inches long; it hung so nice and straight that I asked him how he got it to do that.
Well, he was only too happy to explain his procedure, which involved putting small rubber bands up and down the length of the beard before going to bed each night. He and I spent about five minutes discussing that; he even went and got his little baggie of bands so that I could see them. He was so dear and sweet and so happy to talk about something that was important to him. I couldn't help but smile the whole time we were discussing the beard and the bands.
When it came time to eat, I sat down with a guy who was about forty and a woman a little older than that. Once again, my shyness came back with a vengeance as I tried rather frantically to think of things to converse about that would make the two of them feel at ease. As a conversation starter, I asked the man's name; when he told me, I blurted out, "Oh, what a cool name.  It sounds like a writer."
And he said, "Oh, I am a writer. I write songs!"
Well, of course that made the two of us instant buddies and for the longest time, we happily discussed songwriting and music. The woman at the table with us was delightful, articulate, and intelligent, and the most pleasant company.  She entered enthusiastically into our conversation, telling us about some of her favorite bands and singers. Since they were both big Johnny Cash fans,  I impressed them by telling them I'd actually seen him in person when I was a teenager. It's amazing how music can break down bridges so quickly.  If I hadn't known better, I would have thought I was sitting at a table of friends, instead of homeless strangers.
And you know what? The bottom line is that I really was sitting with friends–friends I've never met before and friends I may never see again.
Every year that we've done this outreach  (I cook and Steve serves as an overnight monitor), I find myself taking away so much more than I could ever give. I find myself grateful all over again for the privilege of crossing paths with people who have fallen on hard times; people who have very little to give in the way of material goods; people who have no way of paying back any given kindnesses.
But they are also people of  great dignity and warmth and humor and generosity. They are people who keep a Bible by their bed and who fold their bedding with the precision and pride of ownership–even if that ownership is only temporary.
They are people who enjoy good cooking and good chats with a sheltered, introverted, insecure, southern, small town pastor's wife.
They are people who fill up my Thankful Cup, and send me home with a big smile, a full heart, and a changed soul.
"There but for the grace of God go I" can sound so trite but it is so very, very true. We're all fellow sojourners on a long life's journey and we have no idea where that journey will take us.  And if you or I ever wind up in a tough place, without a home and without family nearby, I  can only hope and pray that we will land in the hands of compassion.