When I went to the rheumatologist yesterday, she said my blood work came back great.  No elevated sed rate (which measures inflammation in the body) and no rheumatoid factor were present.
Well, when she said all that I just smiled, sat back and got myself ready for a nice little non-scary chat about osteoarthritis, the "regular" kind of arthritis that occurs naturally with aging and is not as traumatic (to me, at least ) as rheumatoid arthritis.
However, I was rudely awakened from my relieved ruminations when the doctor added,  "Based on the x-rays and your symptoms, I am about 80% sure that you have rheumatoid arthritis and that it is not a mild case."
I stared at her slightly agog (and also agape) and quickly brought all my attention back to bear. Normal blood work?  And I could still have this disease?  What's that all about?
Although I had the ridiculous urge to burst into tears, I forced myself to listen calmly as she explained that negative blood work does not always indicate an absence of RA. The small finger joint on my right hand (swollen to at least twice its size with a bone spur poking out) and some other indications are all causing her to lean toward the RA diagnosis.
She is putting me on two relatively mild meds (a light-dose steroid and Plaquenil) for three months to see what the response is. If things improve, I'll stay on that same regimen but if things stay the same or get worse, she'll get me going on something stronger.  It looks like I'll be taking some sort of arthritis med for the rest of my life but I know so many people have things so much worse than I do.  I'm counting my blessings!
Before I move on from medical talk,  I wanted to mention two brief things:
1. Looking back at my appointment yesterday, I have to say that I really appreciated a doctor who was very "hands on" with me. She didn't just poke disinterestedly at my hands with her forefinger and say, "Yep, you've got it bad.  Look at all these problems.  Who's next?"

No, she sat beside me, took each of my hands in both of hers and gently and compassionately pointed out the areas of concern.  It was such a small thing in the grand scheme of things but her actions made me feel cared for and cared about; I felt like I wasn't just another patient in a long line of patients but that I had a face and a name and she was concerned about me as a person and not just as a collection of symptoms.

 

2.  In a similar vein, when Nathan and Meagan were home for Christmas, he and I were in the kitchen together one day and I showed him my swollen little finger. I was so very touched by the compassion that immediately bubbled to the service as his voice took on a sweet tone of concern.  He gently touched my finger with his and said, "Oh, mom that looks really bad.  I bet it hurts.  Have you had a doctor look at it yet?"

He spent five minutes patiently and intently listening to me share my worries and my concerns about not having full use of my hands and how difficult it was already to do certain things.  When he finally left the room I sat at the table by myself for a moment and just savored the feeling of being comforted by my child.  

I have kissed his owies and bandaged his knees a hundred times in my life and it has been my great pleasure and joy to bring him that comfort. And when the tables were turned, the compassion and comfort he gave to me were better medicine than any doctor could ever prescribe.
 I love this (grown up) boy!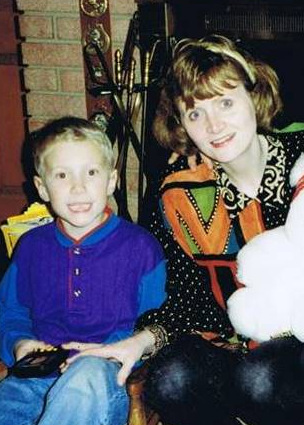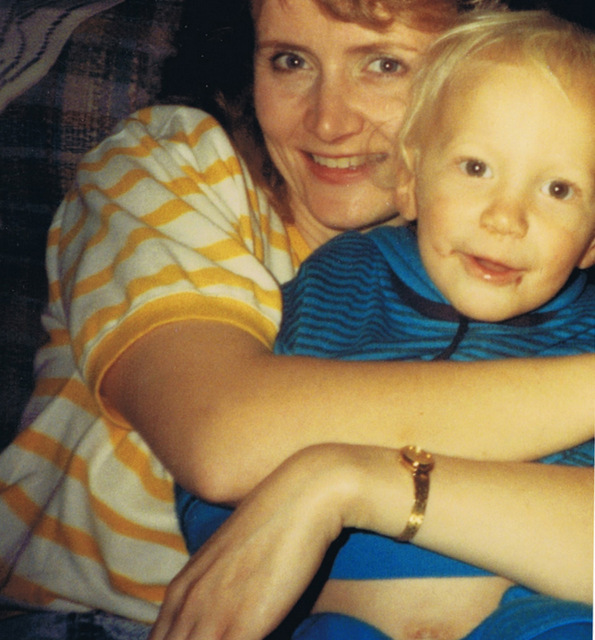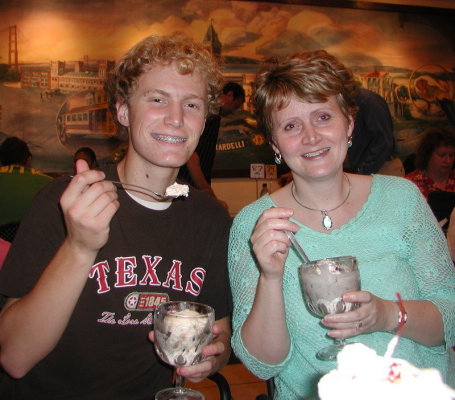 Alright then!  Let's close out with a few miscellaneous pictures that don't really fit into any particular blog post:
This first one shows the result of one of my rare creative moments. During the height of my Christmas gift wrapping, I got tired of rummaging through a bag looking for a certain spool of ribbon so I temporarily commandeered a pants hanger from Steve's closet. The ribbon spools fit on it perfectly which made finding (and using) the right ribbon a breeze!
Don't you just love it when something that's previously hard or frustrating gets all breezy on ya? I sure do!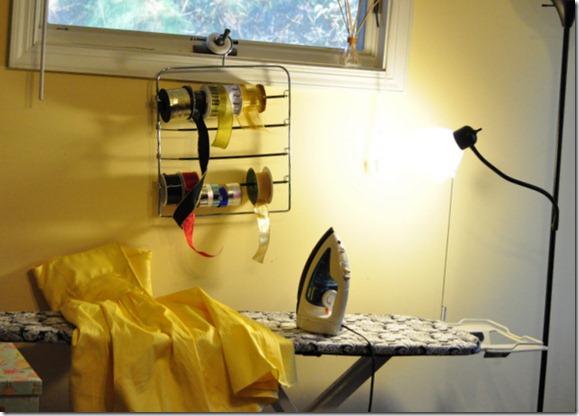 Here's another miscellaneous picture that I snapped in church last Sunday from my spot on the second pew.  One of our ushers always finds himself accompanied by one of his three small daughters when he is scheduled to receive the morning's offering.  Here he is standing at the front of the church while another usher prays over the offering. His youngest daughter is hanging on tight to his hand as she gets ready to help her dad with the collection.
Love it.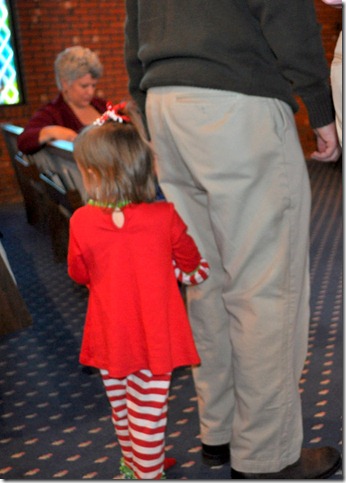 And lastly, even though I am not a big tea drinker, I love this graphic and this sentiment too much not to share it.   Books are such a wonderful gift. (And tea, too, if you like that sort of thing!)  :-)