I've been taking my new Rheumatoid Arthritis meds for almost three weeks now and have been relieved to have had so few side effects–mainly a little queasiness and fatigue immediately following my weekly Methotrexate dose.
Yesterday, however, my symptom-less season came to an end. Steve and I were having lunch with Mary Ann and Jason, our Associate Pastor and her husband. As we sat at the table chatting, I felt a little wave of dizziness hit me but it passed pretty quickly and I didn't think much about it. When we stood up to leave, however, it hit me again and this time harder.
I said, "Oooh. I'm getting a little dizzy here," and sat myself right down on a nearby bench.
Long story short, I wasn't able to drive myself back to work so Steve left his car behind and drove me home. Jason followed behind so that he could take Steve back to the restaurant to retrieve his car. Both guys gallantly guided my wobbly self up the stairs of our house and onto the couch where I lay for quite a while before getting up the gumption to climb the stairs and collapse into our bed.
Not so much fun.
Under any other circumstance, I would have stayed in bed the rest of the day, especially since the dizziness was also accompanied by a headache and light sensitivity. However, Sarah had a big deal going on that night—her National Honor Society Induction Ceremony. For a young woman who was supposed to have massive learning challenges and an ongoing struggle with all academics, this was a huge, huge deal.
I vacillated all afternoon as to whether or not I was up to attending; finally, without about 20 minutes to go, I heaved myself out of bed, slapped on some make up, grabbed my camera and eased myself out the door with Steve's arm to hold on to. I was so glad I was able to attend; it was a beautiful event and Steve and I were so very proud of Sarah for her accomplishments.
Here she is walking forward when her name was called. (She's wearing her bridesmaid dress from Nathan and Meagan's wedding.)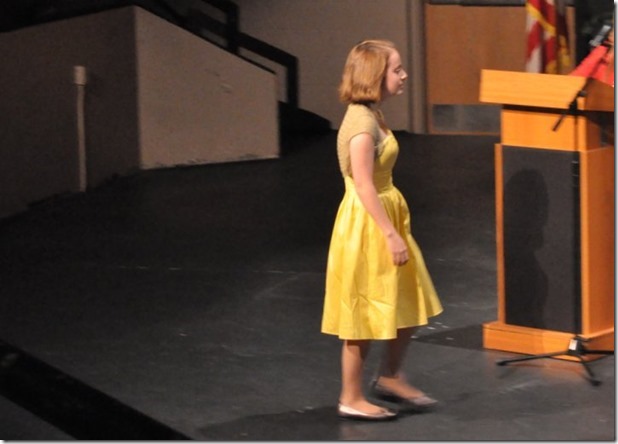 Each inductee signed their name on an official NHS document.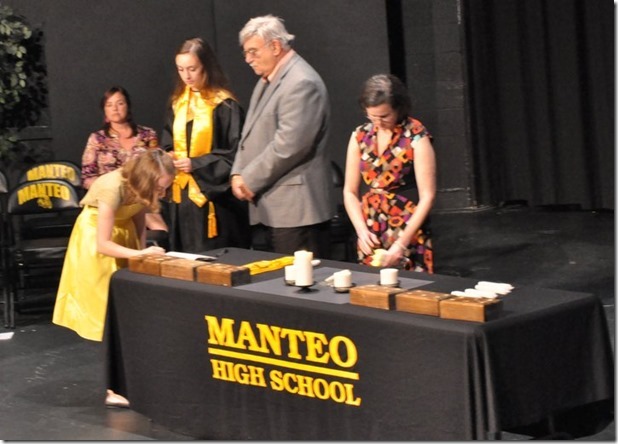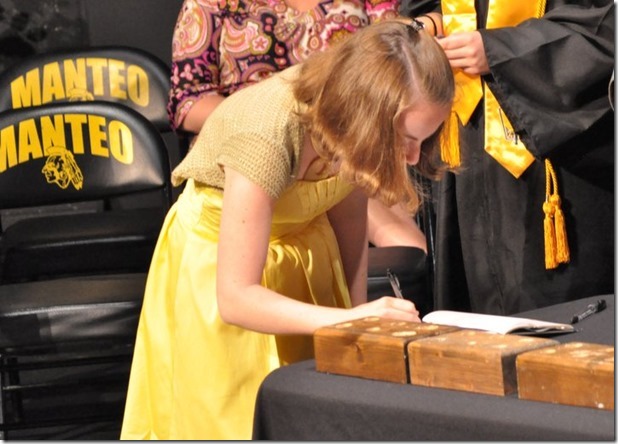 Then they were congratulated by the principal.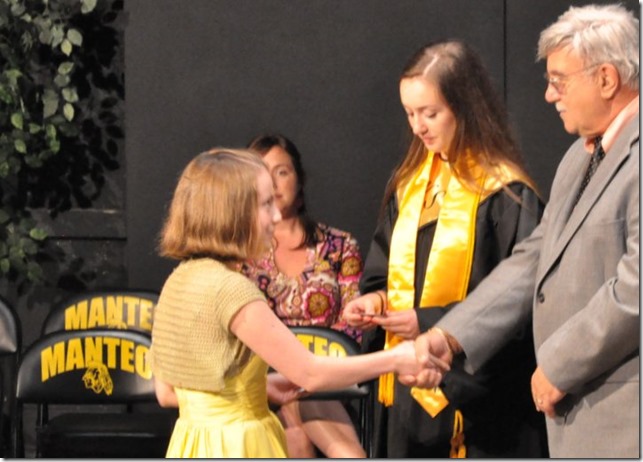 An outgoing member of the NHS (a graduating senior) gave her candle to Sarah to signify the "passing of the torch" to the new chapter of NHS members.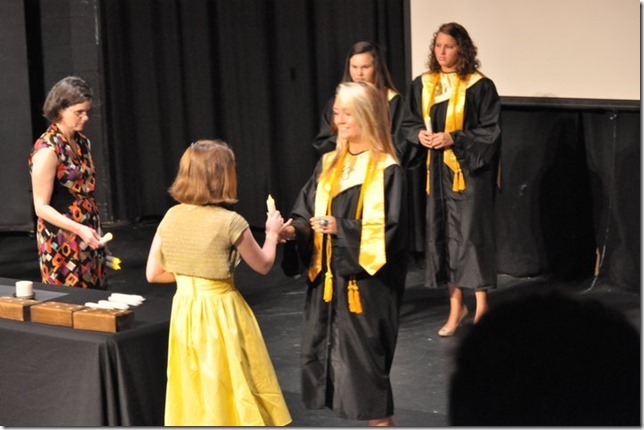 As Sarah got ready to leave the auditorium at the end of the ceremony all I could think about was her whole beautiful future ahead of her.
After the ceremony, refreshments were served in the cafeteria. I opted to sit in the lobby and wait rather than have to do a whole lot of (woozy) standing around. As Steve and Sarah took off down the hall Steve turned around and said, "Wait! We need to skip!"
(If you've been reading here for any length of time, you know that Steve and Sarah have a father/daughter tradition of skipping in random places.)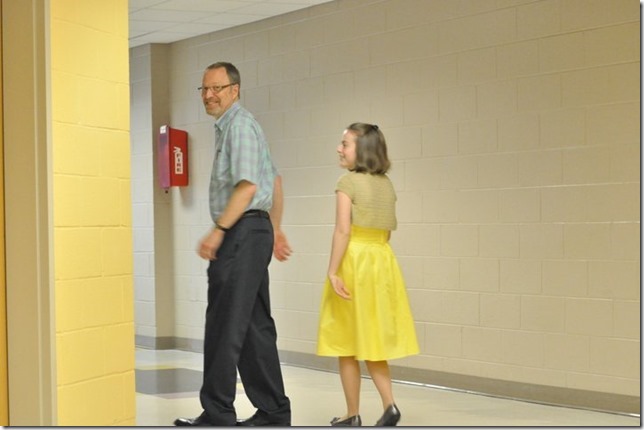 Sarah is saying, "Dad? Here?"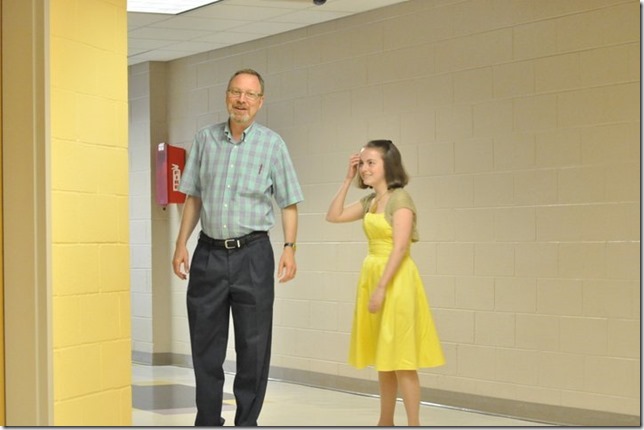 Why not?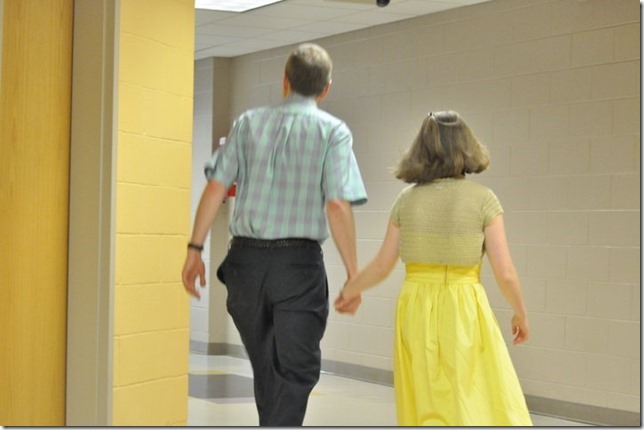 Fortunately the hallway was largely deserted so The Embarrassment Factor was kept at a minimum.
With the skipping accomplished, they disappeared around the corner leaving me to contentedly scroll through the pictures I had taken and await their return.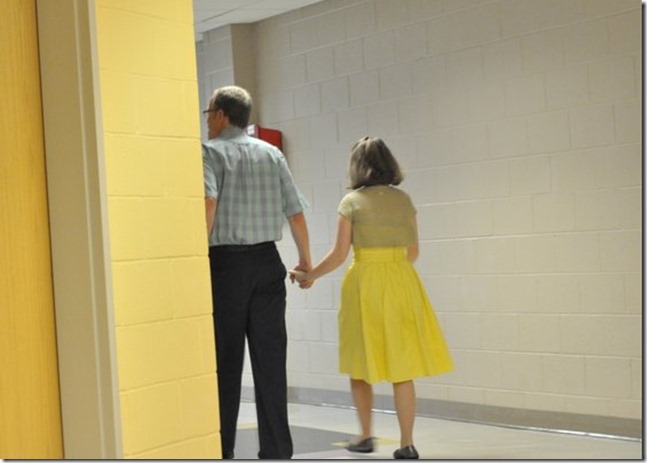 When we got home, I was still in photographic mode and thought it would be nice to grab a few photos before we called it a day.
Here are the ladies in yellow.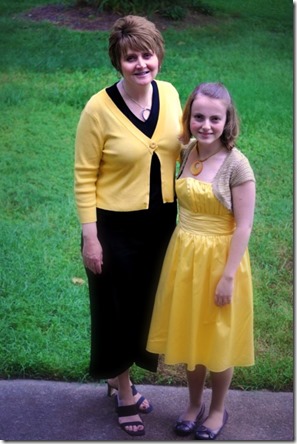 Steve was in fine fatherly fettle.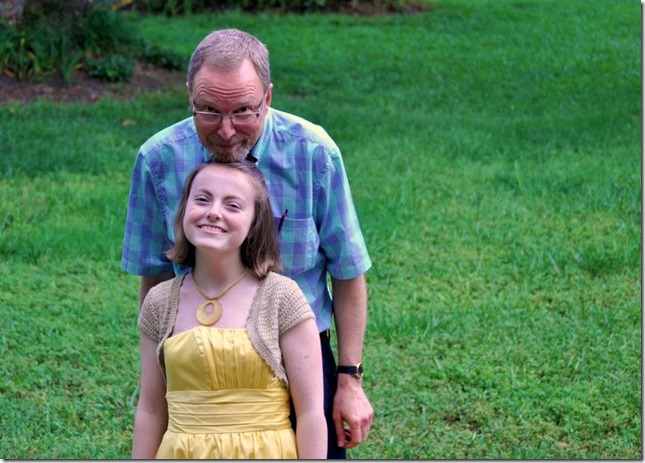 He finally did straighten up though, and got himself arranged into Regular Paternal Posing Fashion.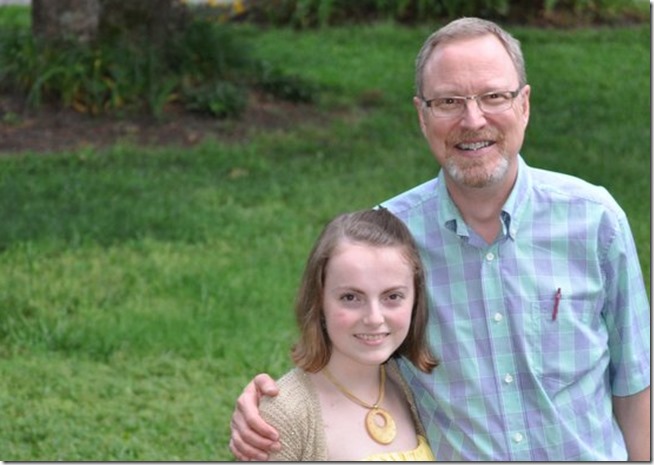 This month marks Sarah's 11-year anniversary since diagnosis. We are so proud of our National Honor Society student and so thankful to be living with a miracle.