Once upon a time (about a year ago), in a kingdom far away (actually, our house), we  invited some friends (and their whole passel of children) over for dinner.
Somewhere in the course of Our Festive Banquet, the Royal Table got bumped and a couple of candles that had burned too far down did what all self respecting candles do when jostled—they spilled their copious quantities of wax all over the tablecloth.
 
And alas, there was great sadness throughout the whole kingdom and especially in the heart of the Queen Mother who dearly loved yon tablecloth.
But all was not lost.  Thankfully I, The Queen Mother of the Kingdom of Smith, immediately displayed my stellar qualities of being proactive and diligent and responded to the Royal Tablecloth Crisis by. . . um . . . bunching up the tablecloth.  And putting it in a closet.  Where it remained until yesterday. 
Although the Smith Kingdom does have in its Royal Possession a second, gold-colored tablecloth that is large enough for The Smith Castle Dining Room Table, I, as The Royal Queen Mother, had decreed that the red tablecloth would be more suitable to festoon the table for The Annual Thanksgiving Feast of the Calories.  
But it was ruined!  
Alas! And, oh my!  And, oh me!  And also, oh you!  (I didn't want you to feel left out.)
But thankfully, even with this Great Crisis facing the Kingdom of the Smiths, hope still remained.  Assistance was afoot. 
You see, when my very own personal King in Shining Armor Husband discovered that I wanted to use the unusable red tablecloth, he immediately leaped to his Royal Kingly Feet and said, "Have no fear, my darling, damsel Queen!  (And also Wife.)   I shall hereby and forthwith and forthrightly and also immediately come to thy rescue!" 
He then rode his Royal White Steed up the stairs to the second floor closet where the tablecloth languished in exile. Ten minutes later, he had ensconced himself (and his White Steed) next to the ironing board. Before I  even knew what had happened, he had taken the Castle Iron and ironed out all the wax by putting brown paper bags over it.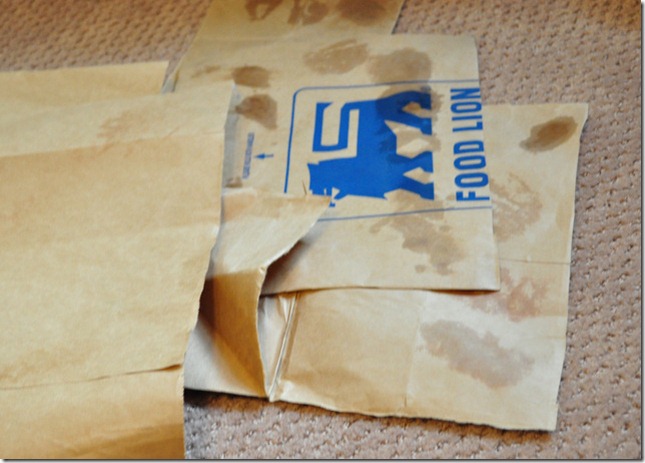 My King in Shining Armor then ran (oh sorry, rode his White Steed)  downstairs and applied some pre-cleaning stuff to the tablecloth and put it in the Royal Washing Machine and oversaw the washing and drying of this most vital Feast of the Calories Item.   
And so?
When I brought my Royal Personage downstairs this morning and wandered into the Smith Kingdom Banqueting Hall, I was greeted with the sight of my previously banished, wadded up, wax-assaulted, dusty, musty, and all-but-forsaken tablecloth spread out in all its glory, looking Royally Wonderful!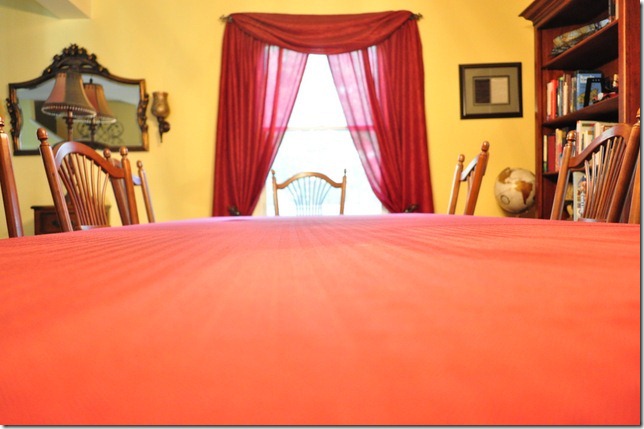 It was a great moment in The Kingdom of Smith.  That which had been grievously beset by ruin had been made new again.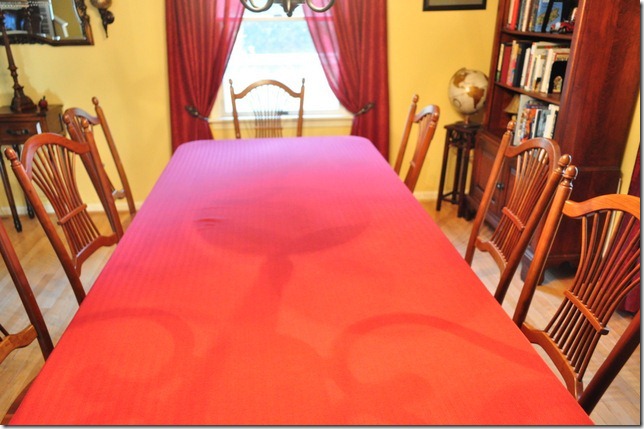 And to make life even better, my  very own personal King Charming and the Smith Kingdom's Royal Princess are going to diligently labor together this afternoon and get the table decked out in its most Royal Splendor for the special guests who will be arriving tomorrow.  
And also? They both went out last night on yon Royal Steed (AKA The Oldsmobile) and got a huge, long list of groceries for the Royal Feast!
I'm pretty sure that I love living in the Smith Kingdom, festooned as it is with a King Charming, a Royal Princesses and also wax free table cloths. And on this day before Thanksgiving, let it be known and decreed throughout the land that the Queen Mother of the Smith Kingdom has very much to be thankful for.